Show Low, AZ, Petrified Forest National Park, Fort Apache October 2015
Summer and it's high temps, 105 to 115 degrees, finally came to an end. So with temps in the mid 80's to low 50's it was finally time to load up the Beemer and go! Our last trip had been in May, so we were definitely ready to ride. We decided on Show Low, AZ. for a two day getaway.
The route:
A beautiful morning, temps in low 60's – heading into the sun, east on HWY 74. Let's get this party started!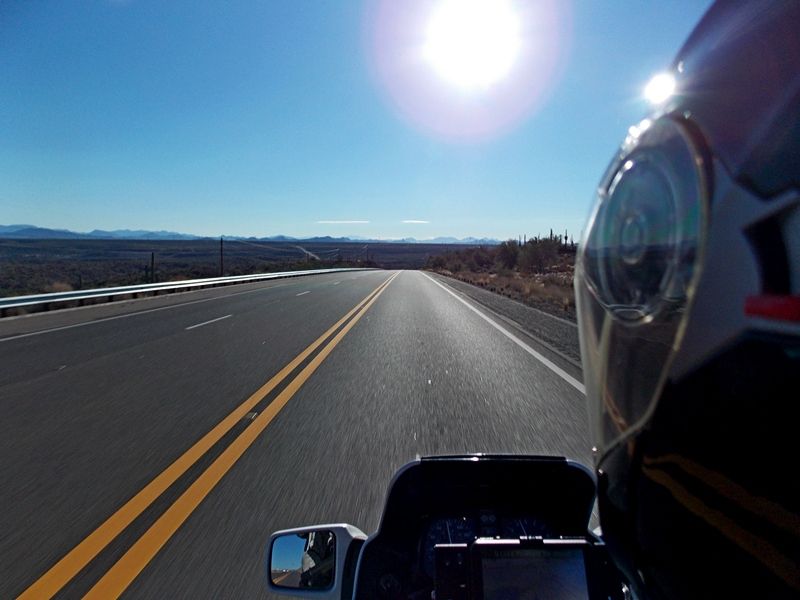 North on I-15, almost to the Camp Verde exit.
Riding east on HWY 260 through the pines. We had the road all to ourselves.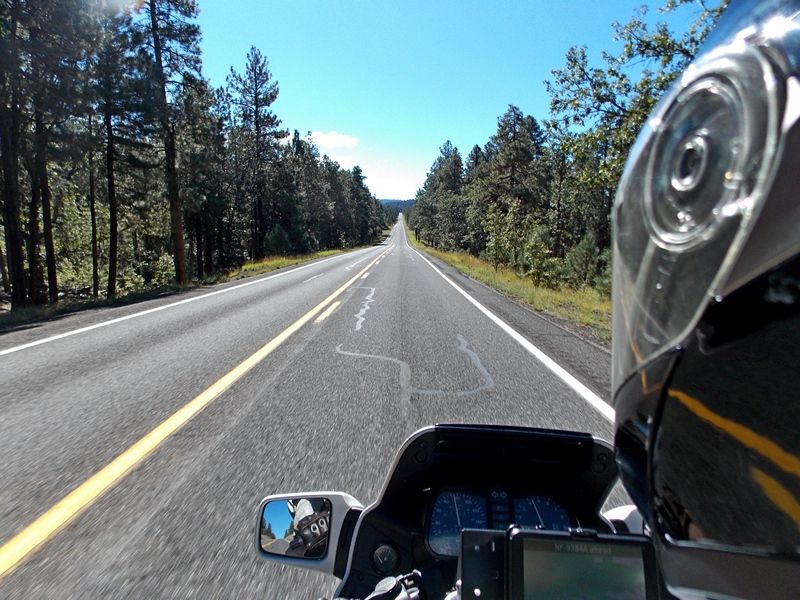 Time for breakfast at the Early Bird restaurant in Pine, AZ. A nice little "mom & pop" cafe.
Almost to Payson, AZ. on HWY 260, a nice ride, we have taken this road several times.
Several nice views on HWY 260 after leaving Payson.
I always enjoy watching Donna gear up after a butt break!
Riding on HWY 73 into the Fort Apache Indian reservation.
We stopped and toured Fort Apache. The fort is run by the White Mountain Apache tribe and there is a charge to enter. I love old west history and was happy to pay the fee. General Crook's cabin.
Very spartan for a general, at least by today's standards. The rest of the cabin had historical displays on the hunt for Geronimo and the treatment he and his Apaches received at the hands of the U.S. government. Not one of our country's finer moments.
The Army deserted the fort in 1922. In 1923 Fort Apache became the Theodore Roosevelt Indian Boarding School, a school run for Indian children. It became a National Historic Landmark in 2012.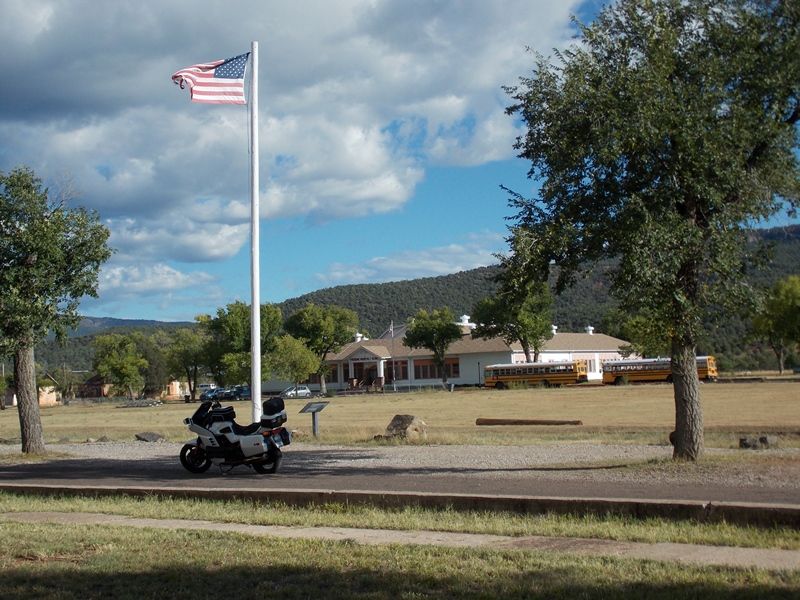 One of two large dormitories is still in use today for students at the school. The Fort is somewhat off the beaten path, but well worth the visit.
On our way to Show Low, we passed through Pinetop–Lakeside. Several businesses had planted Aspen trees along the road and they were in full color.
As we were going through Pinetop, I smelled something wonderful, and made note to come back and have dinner there.
We checked into our motel in Show Low, walked down to a Mexican place, had dinner and called it a day.
The next morning we were on the road at 7am, taking HWY 77 north to Holbrook, AZ.
We had breakfast in Holbrook at this cafe. We had eaten here before on our way to Canyon de Chilly in May.
Another "Kodak" moment.
The Painted Desert from Tawa point.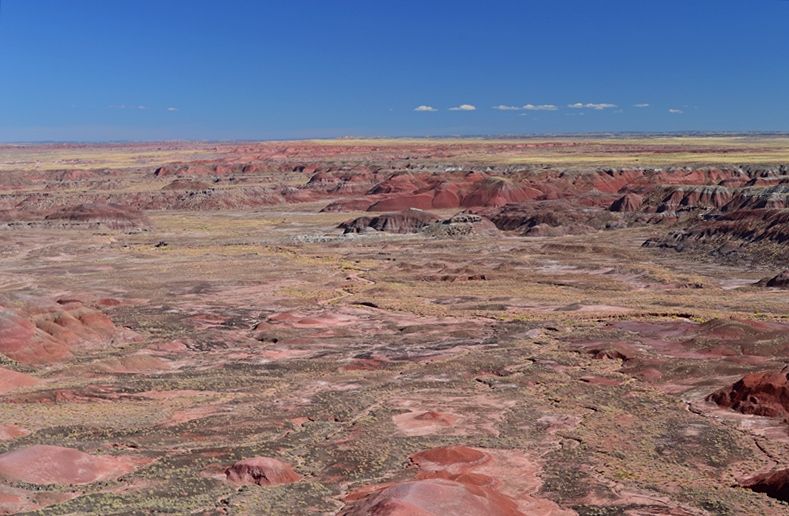 Donna takes a break while I get some pictures, the Park's visitor center in the back ground.
Chinde Point.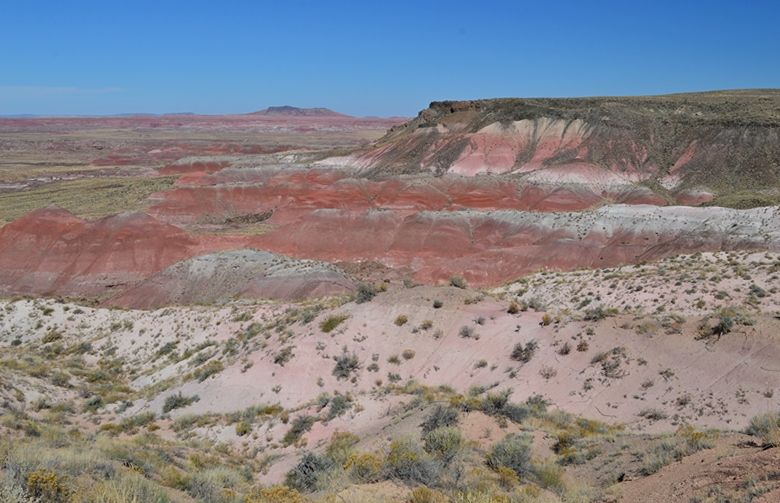 Definitely not the most picturesque National Park we have been to!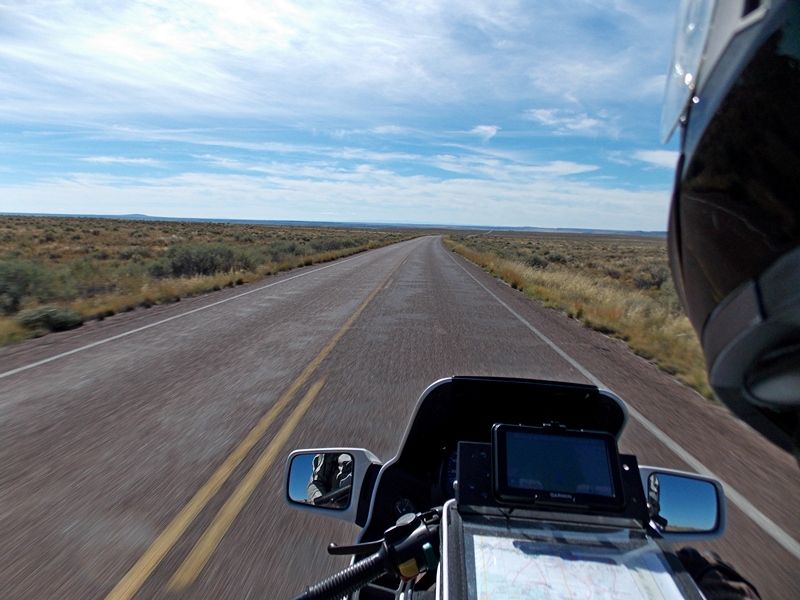 Jasper forest overlook. Plenty of petrified trees to see here. Very barren desert!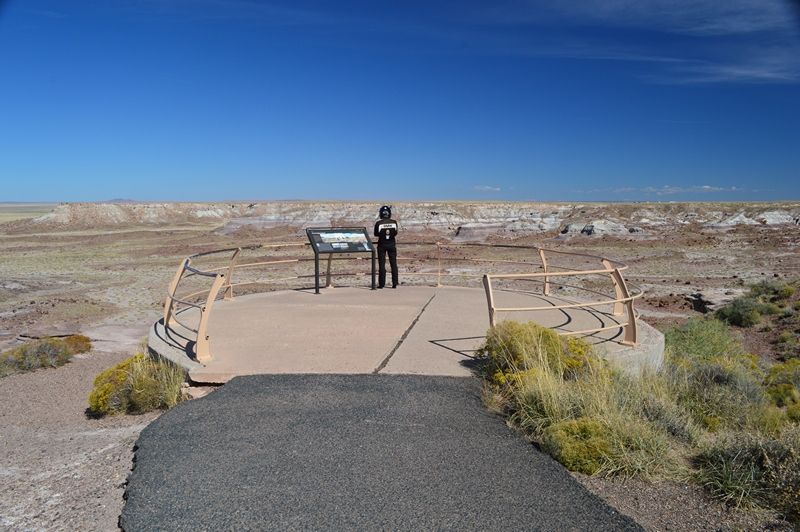 Almost to the end of the Park, we stopped at the Rainbow Forest gift shop and took a long break.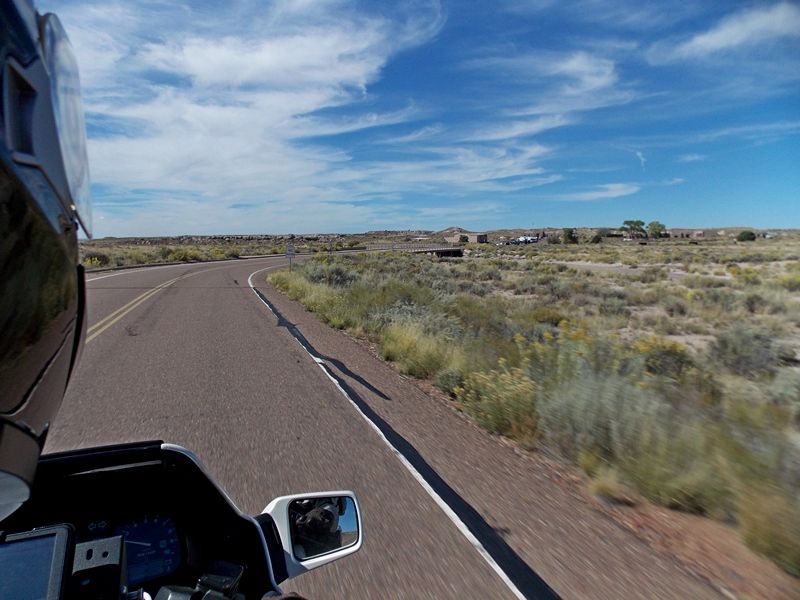 Hard to believe that 230 million years ago this was a living tree, now a beautiful display of colorful quartz. This piece was at the south entrance/ exit at the park outside a gift shop.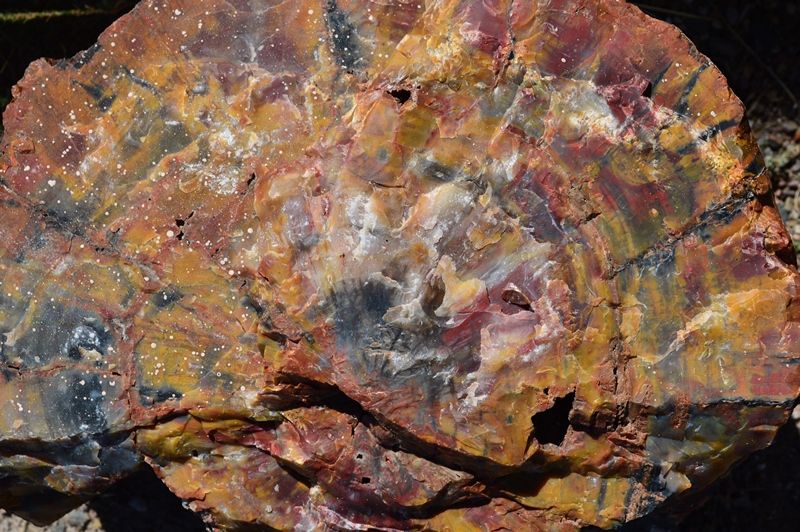 South on HWY 180, desert, then more desert!
After making a few wrong turns and driving in circles in Eagar, we finally found HWY 261.
This would have been a nice ride, going up to almost 9200 feet with some good views of the desert below, but the road was in terrible shape.
High meadows and a bumpy ride for about 25 miles until the junction with HWY 273.
Riding north on HWY 273 was exactly the opposite! A very well maintained road with nice wide sweepers, now this was fun!
And, something we haven't seen in many years – snow drift fences along the highway!
After a full day of riding, it was time for some dinner. We stopped at Grumpy Jake's barbecue (they had the smoker out front that I had smelled) and had some delicious smoked meats & hand made fresh batter dipped onion rings. Oh man, was it good! Then a piece of coconut cream pie, which we split. Perfect dinner after riding.
A perfect sunset completed the day!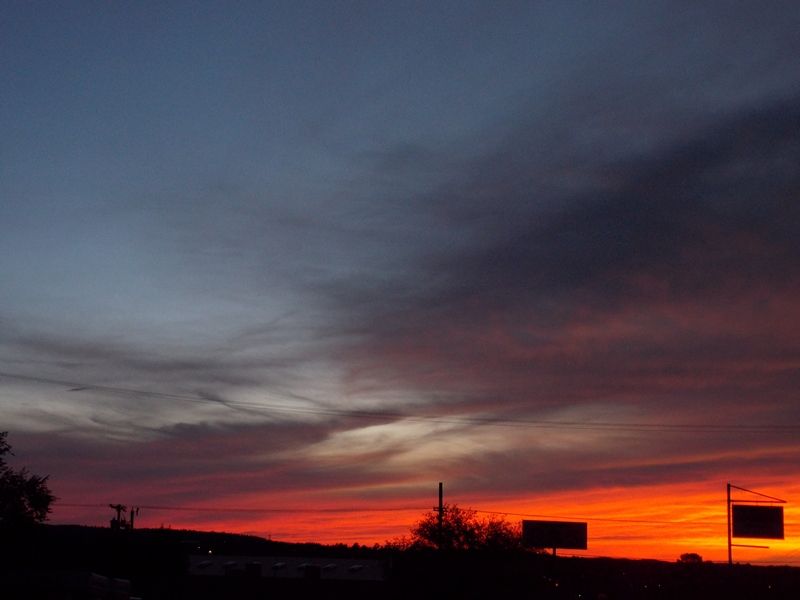 Up & riding early through Show Low. Another perfect morning!
I always take Donna to the finest places, breakfast on milk crates at a Circle K!
South on HWY 60, again, we had the roads all to ourselves.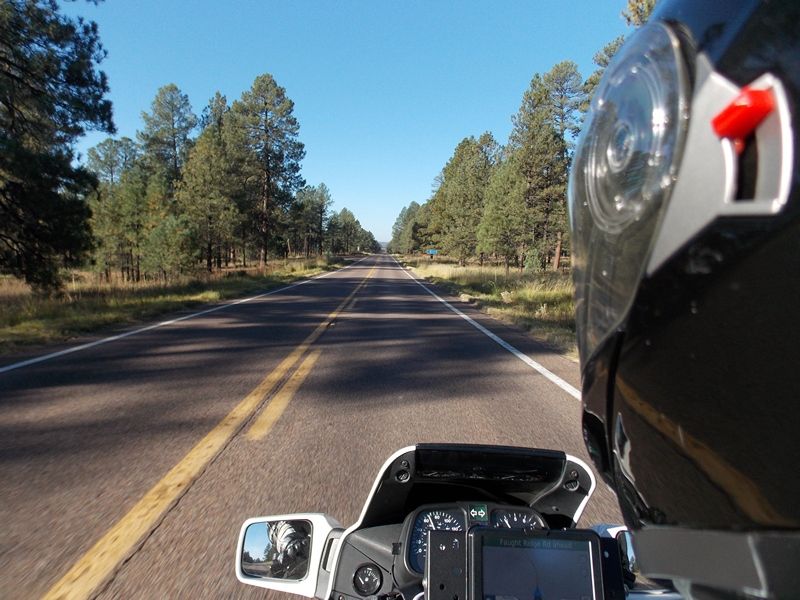 We stopped and enjoyed the view as we got closer to the Salt River canyon.
I've had this BMW for almost 23 years, and I still enjoy riding it as much now as the first day I bought it. I am also extremely happy with my new RKA tankbag. The added dashboard works perfectly with my Garmin.
Coming into the canyon from the north.
We stopped at the rest area at the bottom of the canyon and took a long break and just enjoyed the views.
I walked out on the old roadway bridge:
And took these.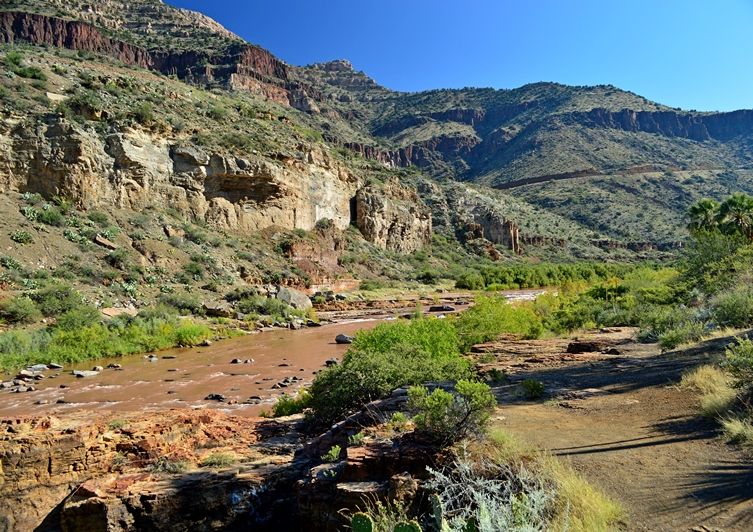 The end of the road!
Donna & I took pictures of each other at the same moment – how scary is that?
Back in the saddle, going up out of the canyon.
Why we ride!
More nice scenery coming out of Globe west on HWY 60.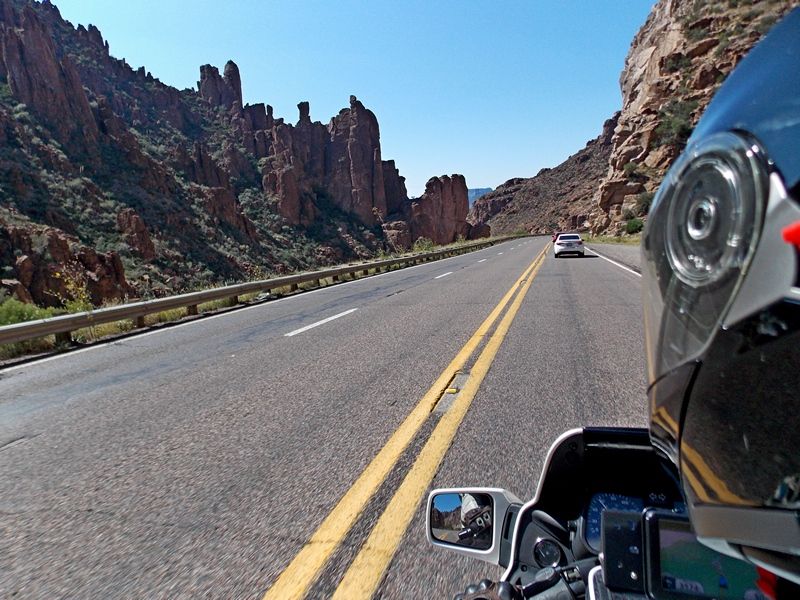 Out of the mountains and back into the desert valley floor. It warmed up fast!
Back in the big city!
Through the tunnel on I-10. Not much traffic on a Sunday afternoon. Love those HOV lanes!
We stopped in Surprise and had some Chinese buffet, then back on HWY 60 to Wickenburg.
Almost in the driveway.
Of course, my frosty adult beverage after another successful trip!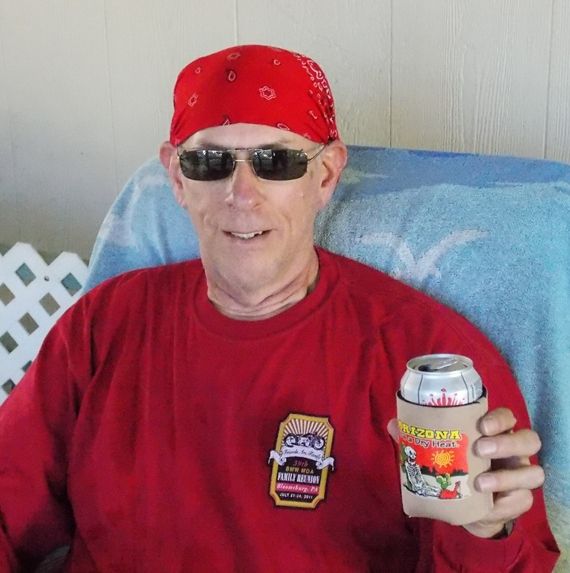 Donna took 354 pictures
I took 48 pictures
Total miles – 854
Total gas used – 15.91 gallons
Total spent on gas – $42.68
MPG average – 53.1