Canyon de Chelly & Hubble Trading Post May 2015
I had another three day weekend approaching and decided to surprise Donna with a trip to the Canyon de Chelly National Monument. I always take a look at the ten day forcast and it looked like a good time to go, with the forecast calling for temp's in the mid sixty's and sunny skies – perfect riding weather, so I made motel reservations in Chinle, AZ. and began counting down the days. I checked the forecast about four days before we left and learned that a big cold front would settle over that area, the forecast now called for a very windy Friday, cloudy and possible showers through Sunday. I was not too happy about that, but I decided we would go anyway.
The route:
It was in the low 50's when we left & a little hazy, east on HWY 74, into the sunrise.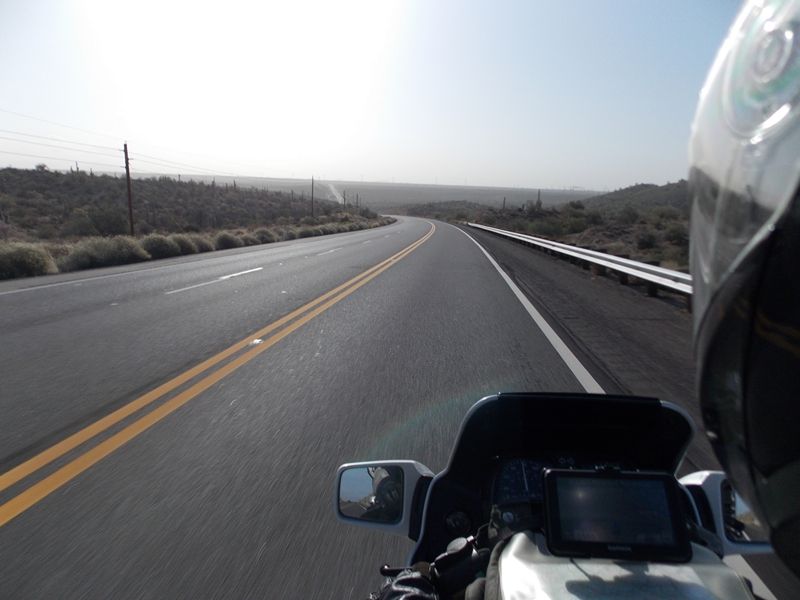 Our first and only construction delay on HWY 74 just west of I-17. About 15 minutes.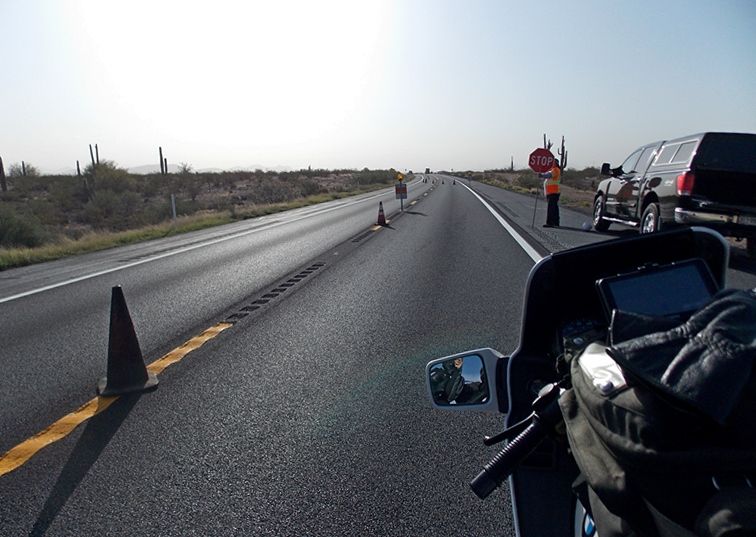 We stopped for gas and then north on I-17. A few clouds but nothing serious.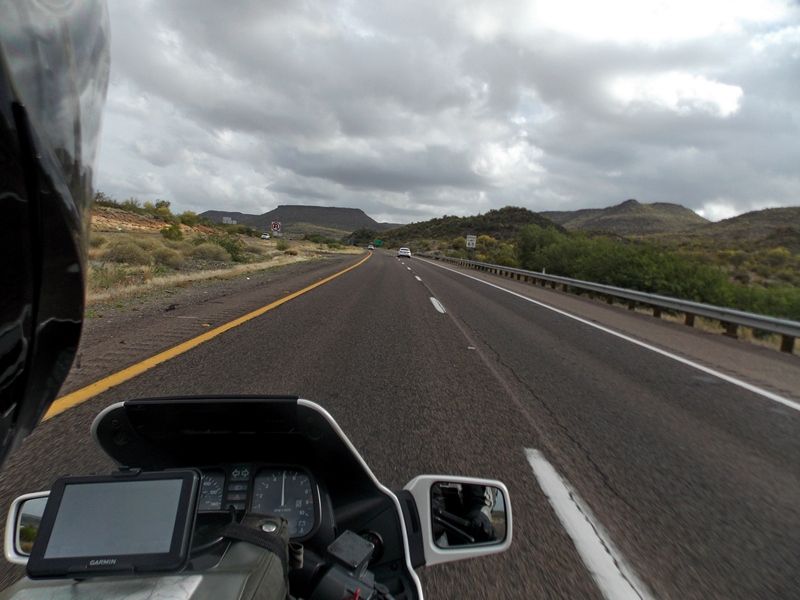 East on HWY 260, going up, nice sweepers, a fun road to ride!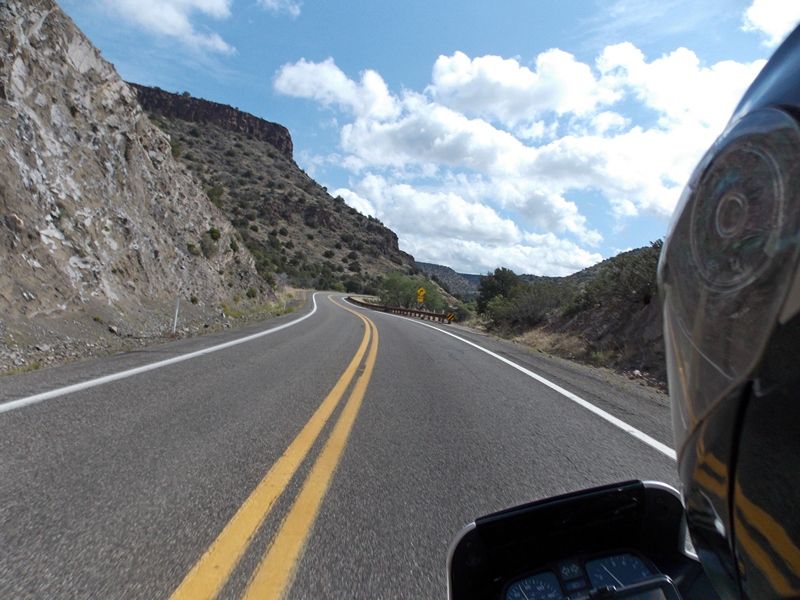 Riding through the pines of the Coconino National Forest. on HWY 87. We were up over 7000 feet, it was noticeably cooler, in the upper 40's. Thank goodness for heated grips!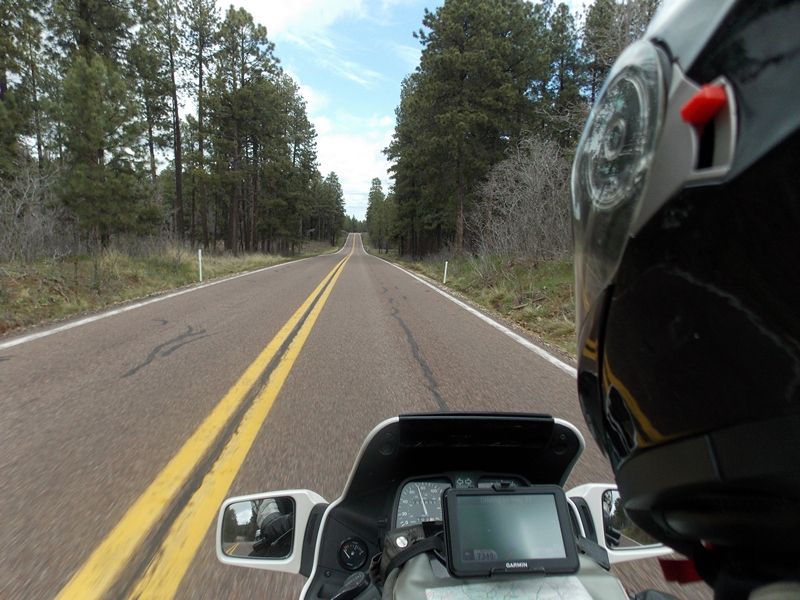 Out of the trees and across high desert plains, not much to look at. The wind was blowing hard, but it was blowing with us, so I hardly noticed it.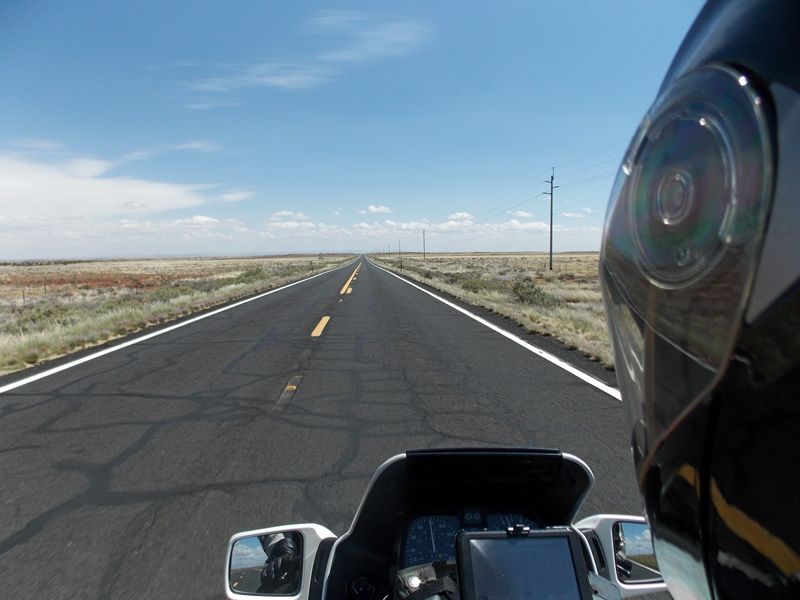 We stopped in Winslow for gas, the wind was blowing about 30 mph, and the gust were really blowing. We would now be riding across the wind & the gusts. I told Donna, this would not be fun.
Like most motorcyclists, we have ridden in rain, sleet, hail and even snow on a few rare occasions, but riding in a strong crosswind is the absolute worst, at least for me. The next 34 miles on I-40 to Holbook were as bad as I can remember riding in. Passing a slow moving 18 wheeler was a real terror, as the wind while passing next to the truck was blowing us right, then as you passed the front of the tractor, the wind sent us left towards the mediun. I'm sure my heart rate was in the 100's and my hands had a death grip on the handlebars & throttle! Donna was not able to take any pictures on I-40.
We made it to Holbrook, I was definitly ready for a break! We had a good breakfast at this cool RT66 diner.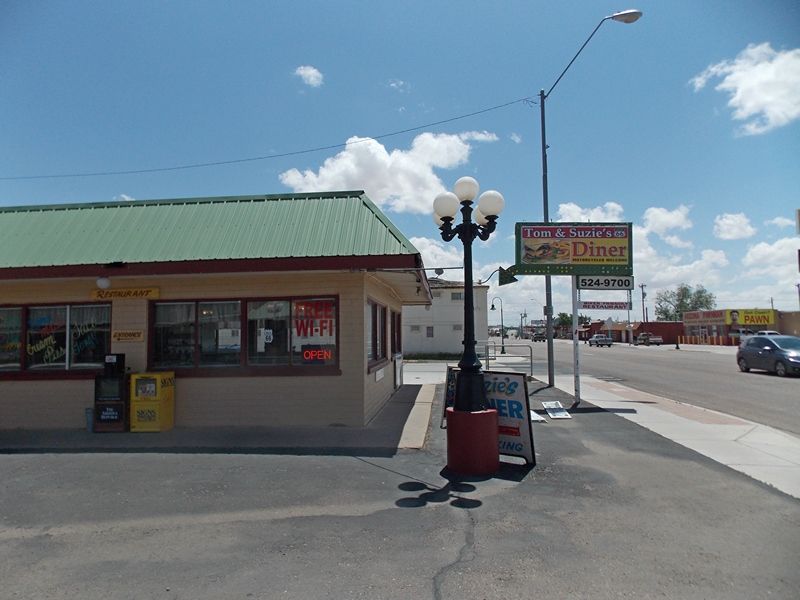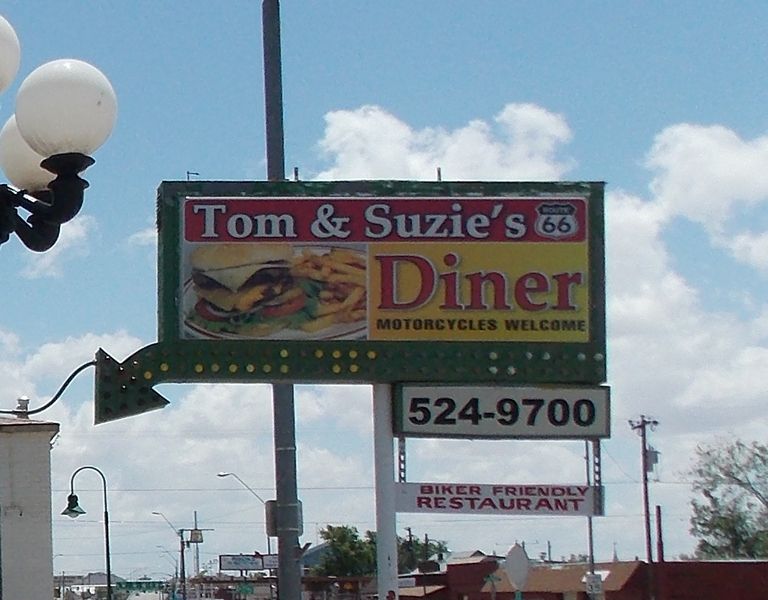 The next 41 miles on I-40 were not as bad, we had some crosswinds, but nothing like before. We turned north on HWY 191, the wind was now blowing with us, so it wasn't too bad.
The clouds did not look good to the east!
Almost to Chinle.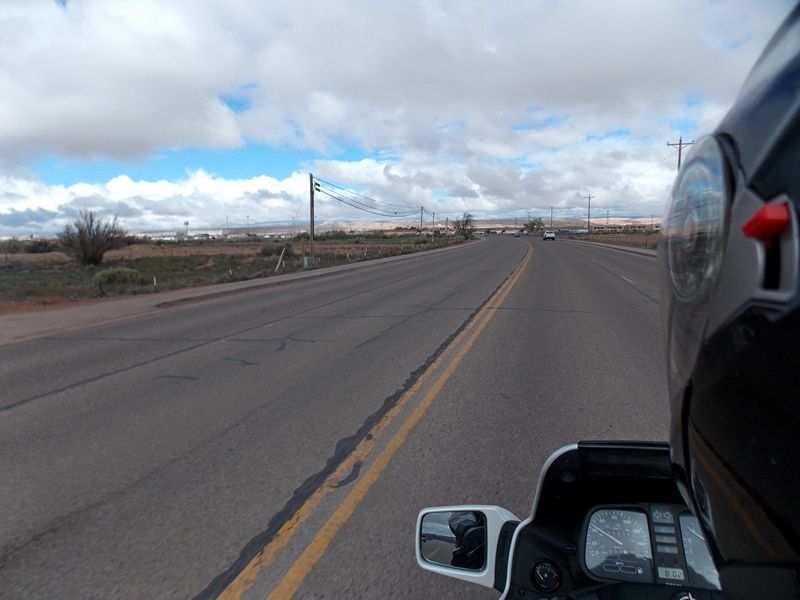 We checked into our motel, then decided that the weather was just to risky. We had dinner & called it a day.
Saturday wasn't much better, but we started with the northern drive. My first photo at the Antelope House overlook wasn't of the canyon, just the desert colors.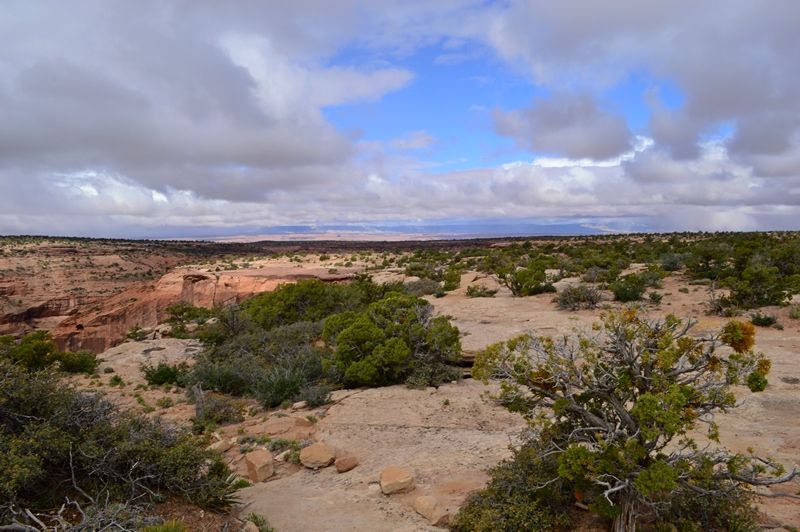 Donna couldn't wait to see the canyon, off she went.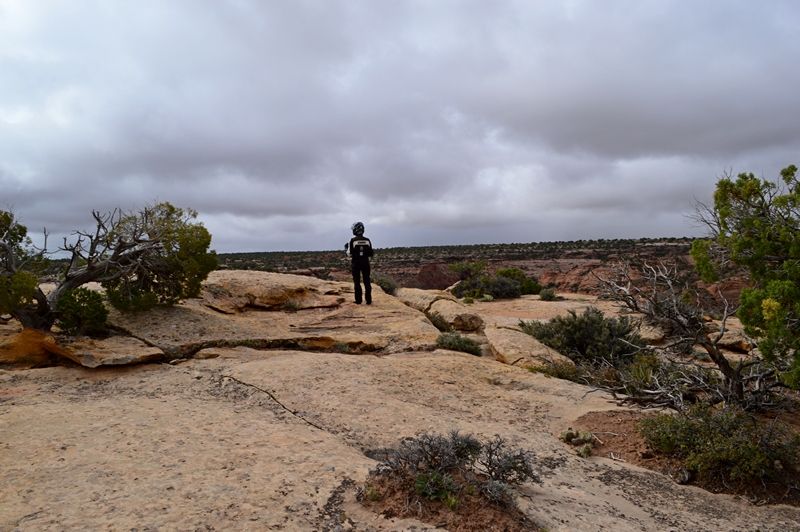 My first shot of the canyon.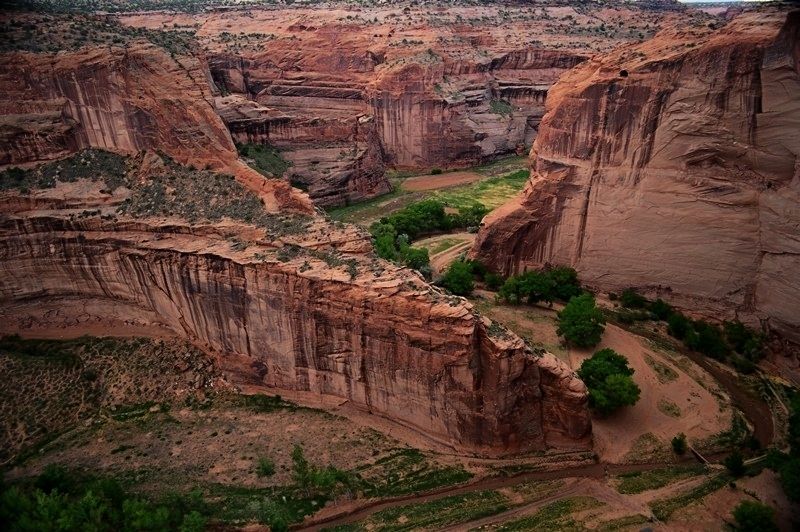 Anasazi ruins in the bottom cliffs.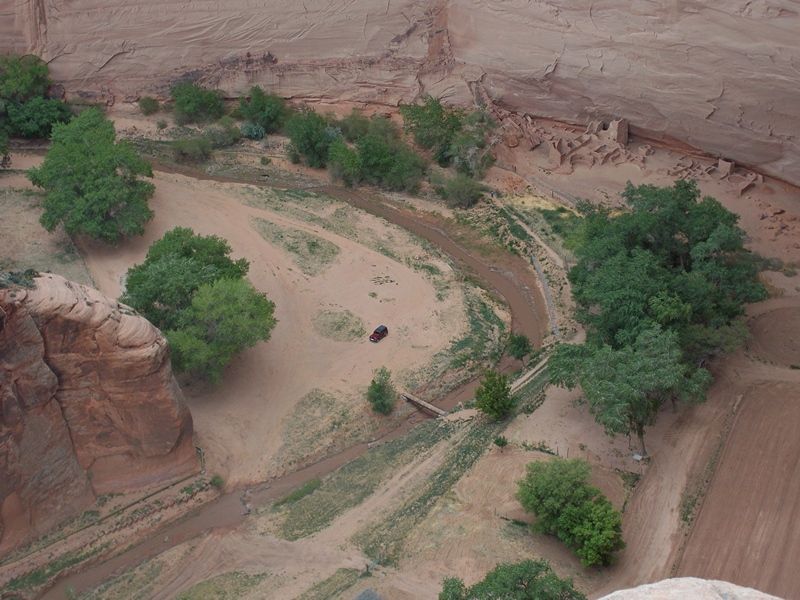 The Navajo still live & farm in the canyon.
Juniper trees, to me at least, have character.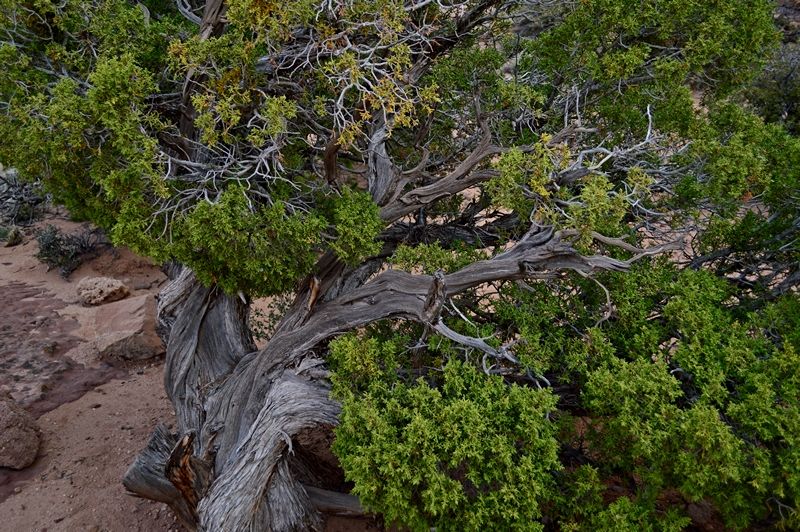 A splash of real Prickly pear red cactus flowers.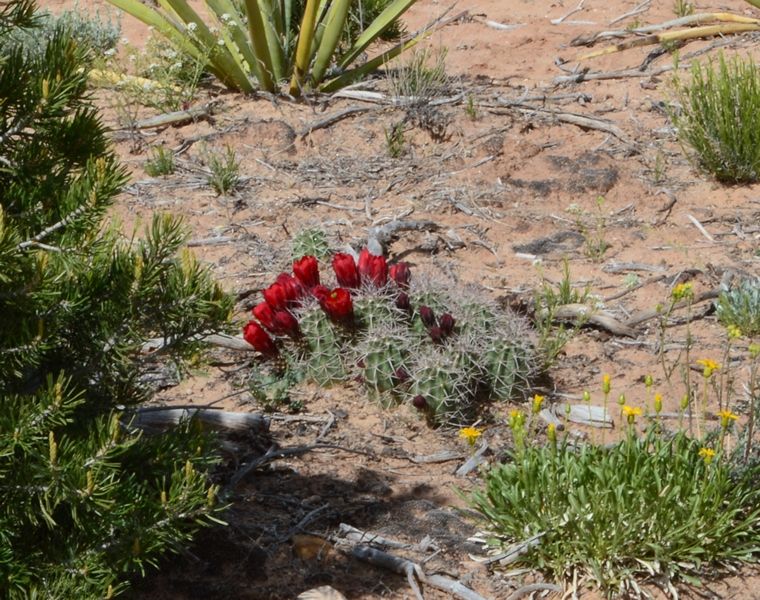 Donna says – come over here & check this out!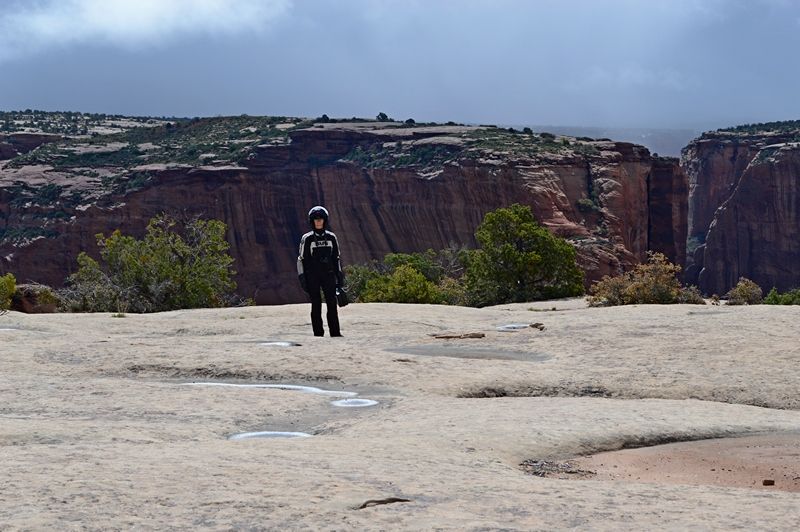 Low clouds start to fill the canyons.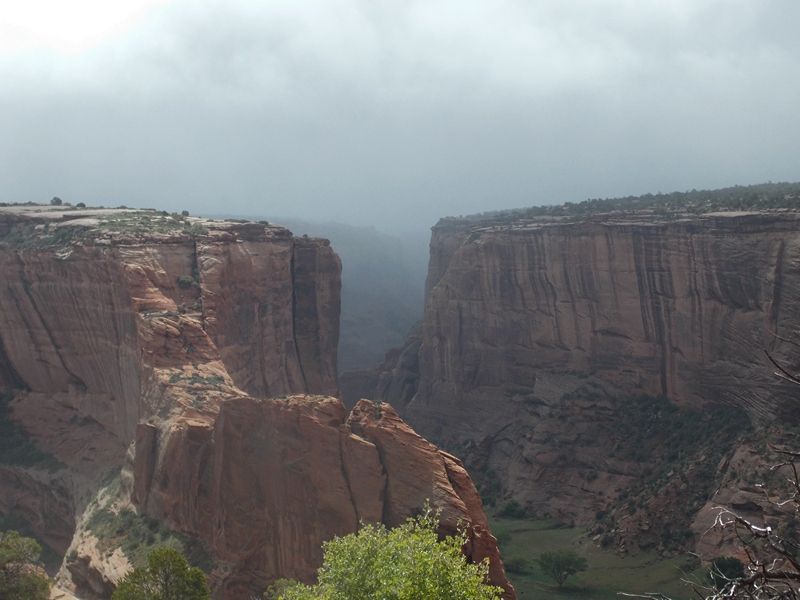 Getting a big Juniper tree at the Massacre Cave overlook.
That big Juniper!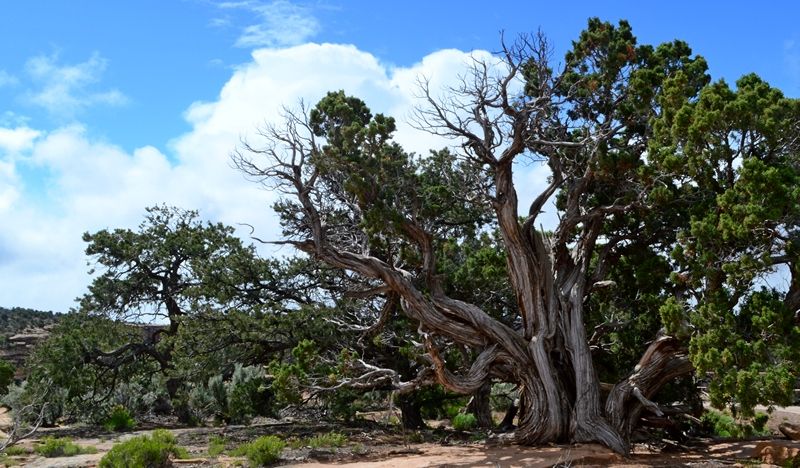 I walked down to a different overlook.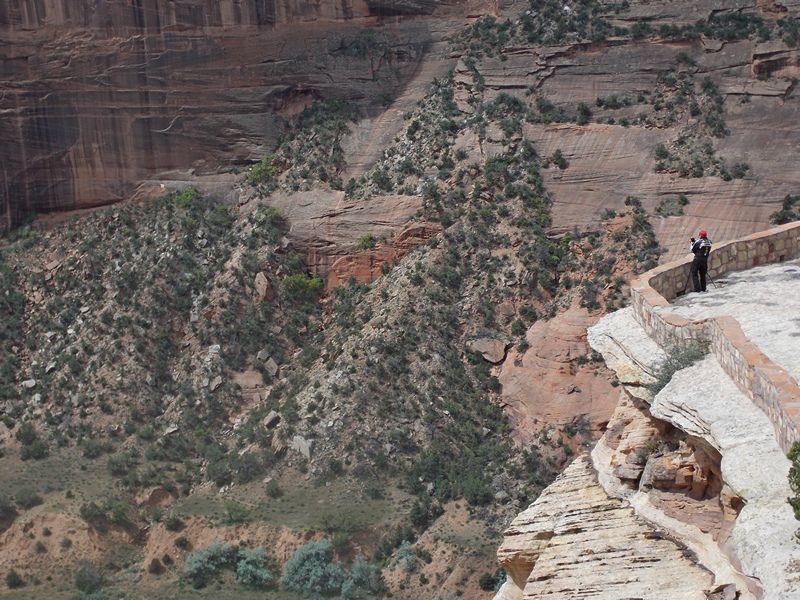 The canyon from the same overlook. The overcast sky is washed out, but still a good shot.
Yep, we are having fun now!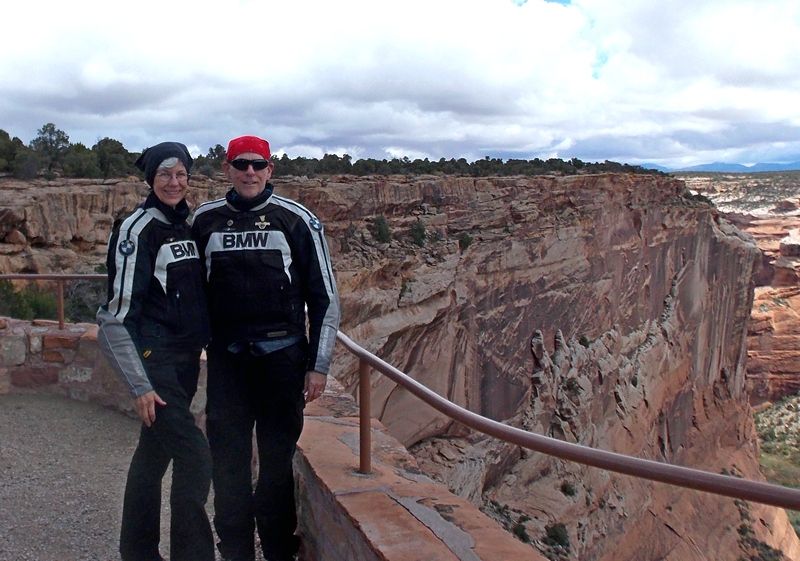 As we packed up to leave, it started to snow. I was like – Really!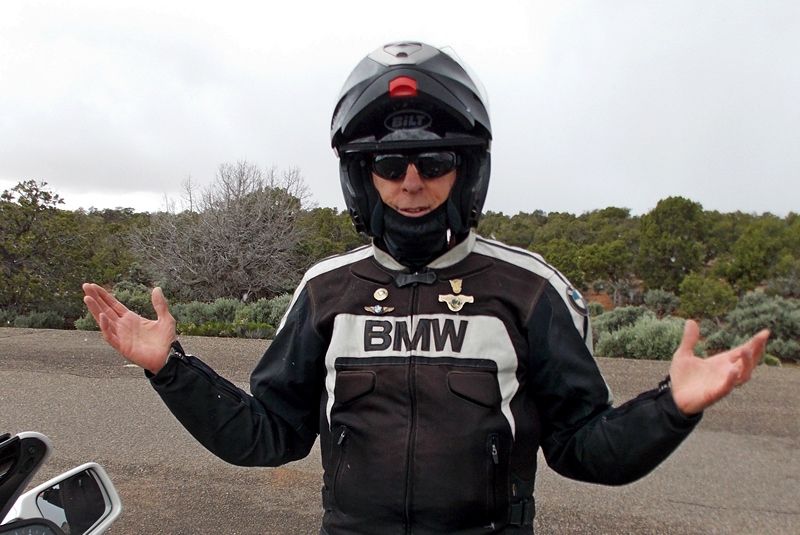 The dark clouds were rolling, so we decided to head back to the motel. We did get sprinkled on, but most of this cloud burst stayed north of us.
We stopped at the visitor center, added another magnet for our collection. We decided to go on back to the motel, as those dark rain clouds behind Donna is where the southern drive to Spider Rock is.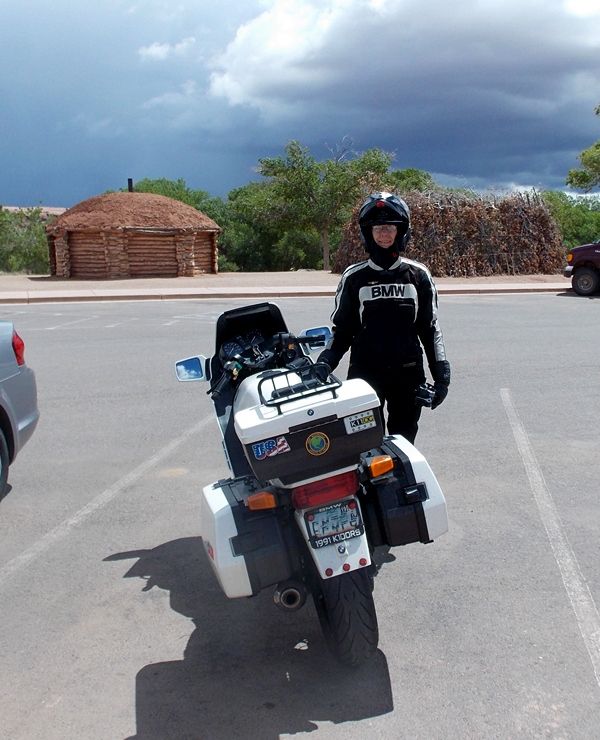 After a short nap for me and lunch for Donna we went to the White House overlook.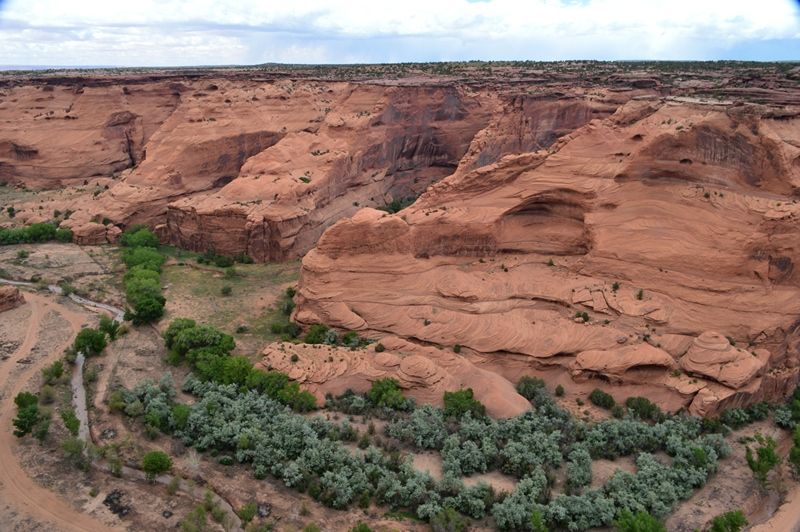 Donna got a good shot of the ruins.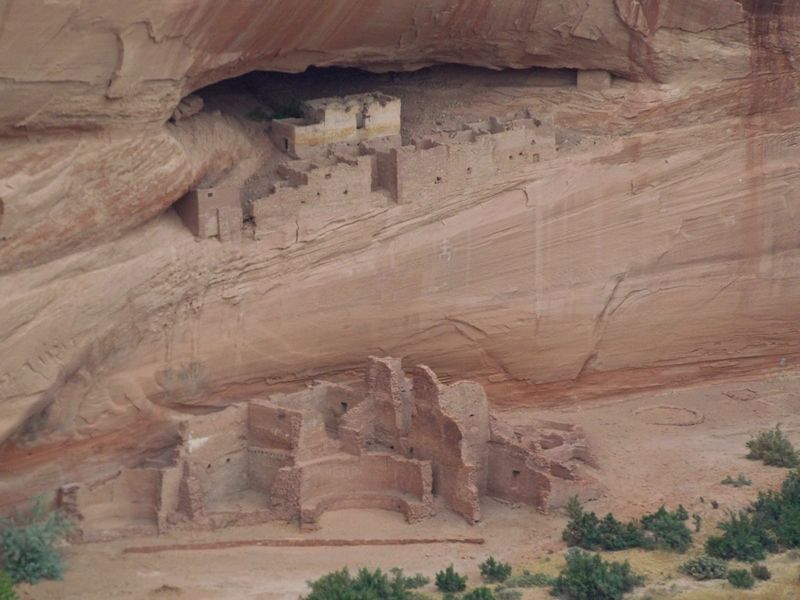 The Junction overlook.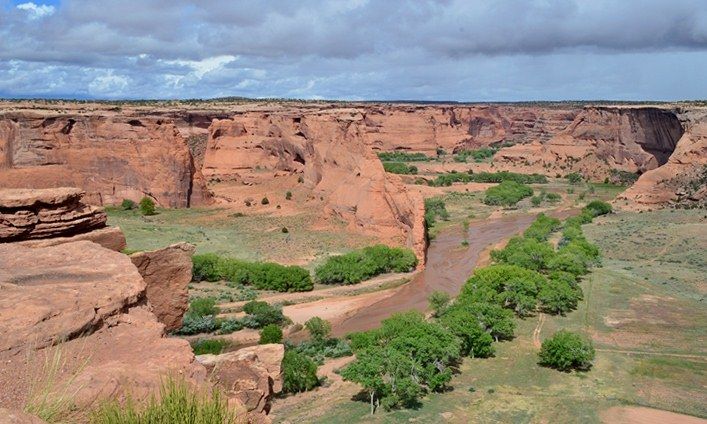 This is as close to the edge as I wanted to get, no barriers and a straight shot to the bottom.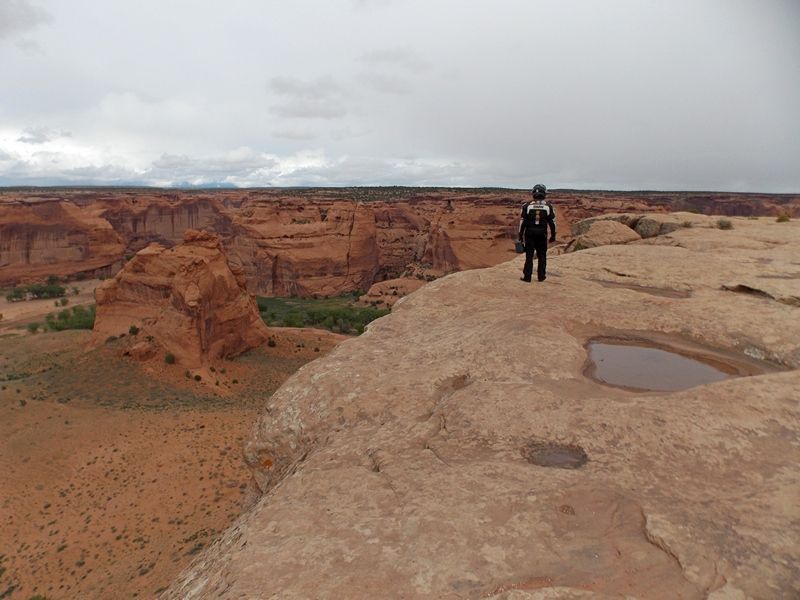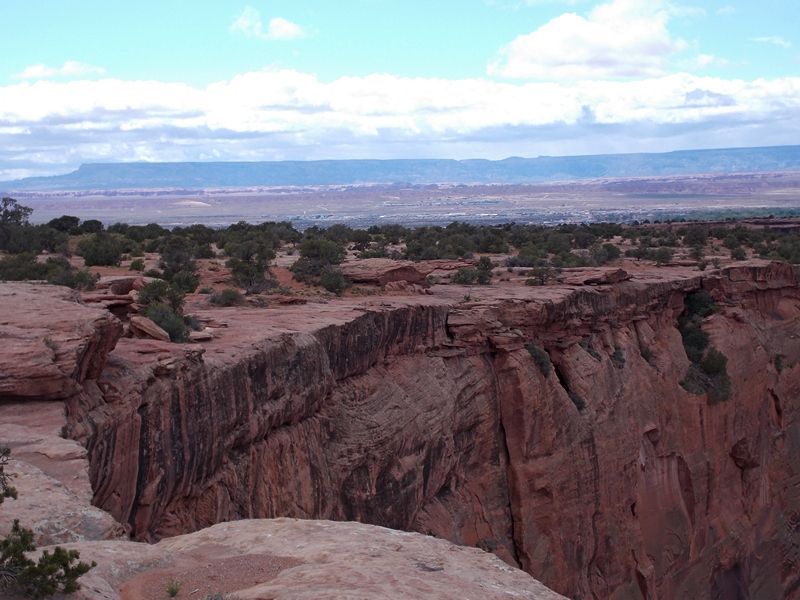 A vehicle driving through the Chinle wash.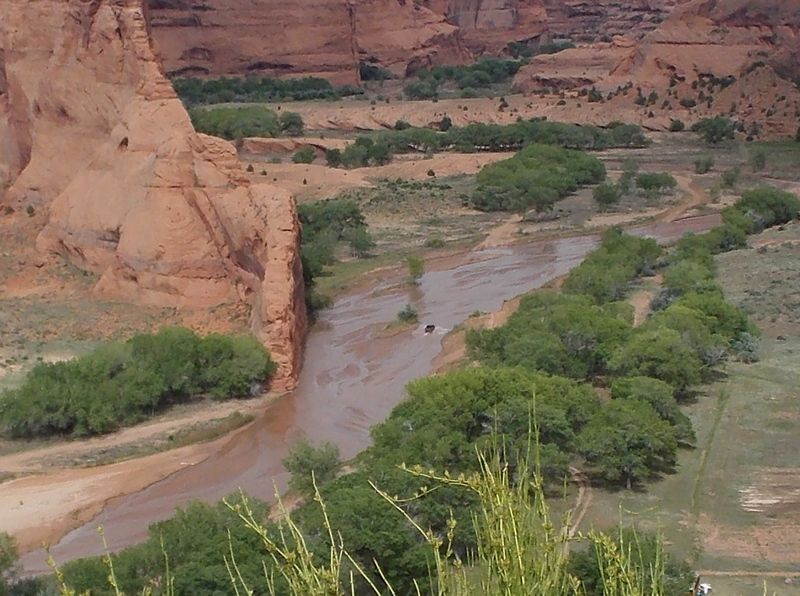 Donna strikes a pose!
The weather hadn't cleared, but we had to get to Spider Rock.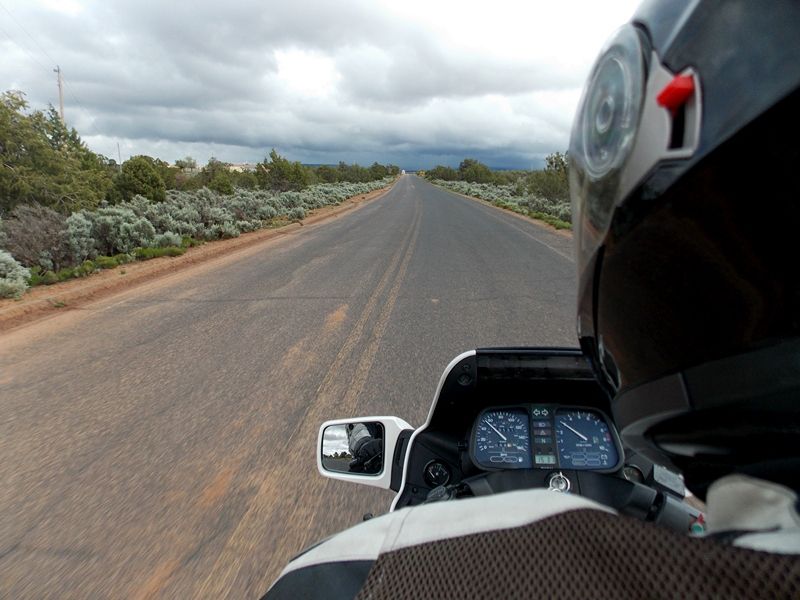 It was worth it! We spent over an hour at the overlook, waiting for the sun. It made a very brief appearance. Note: at several of the overlooks, we kept our helmets on, mainly because it was easier and the wind was blowing & it was somewhat chilly!

Several different shots with the ever changing cloud cover.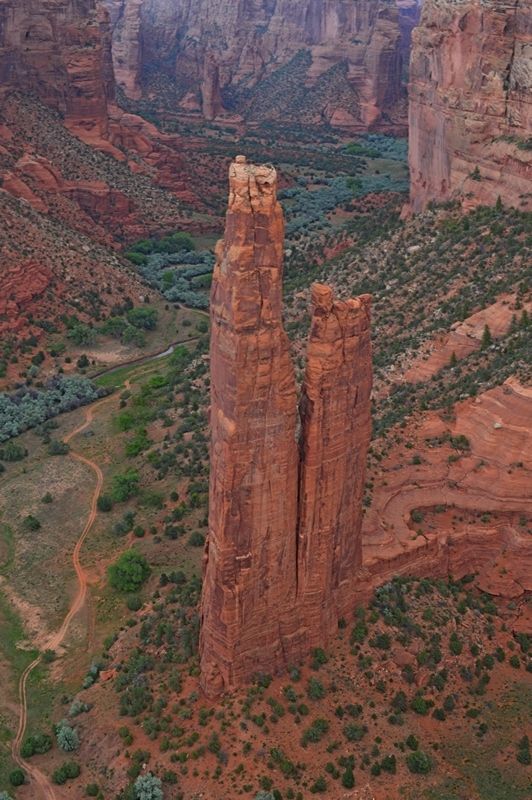 My favorite.
We would have stayed longer but it began to hail and a very dark cloud was staying right over us, so we packed it in.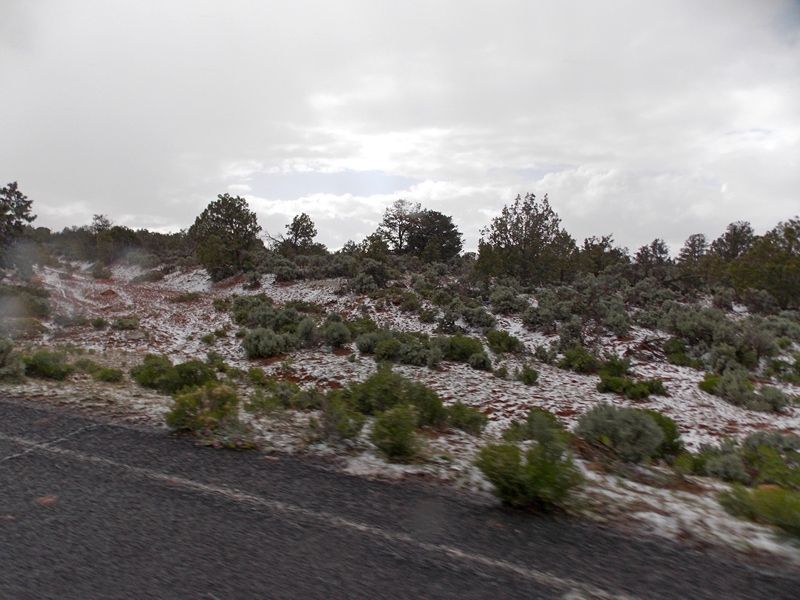 It hailed and snowed on us for about two miles, then cleared a bit.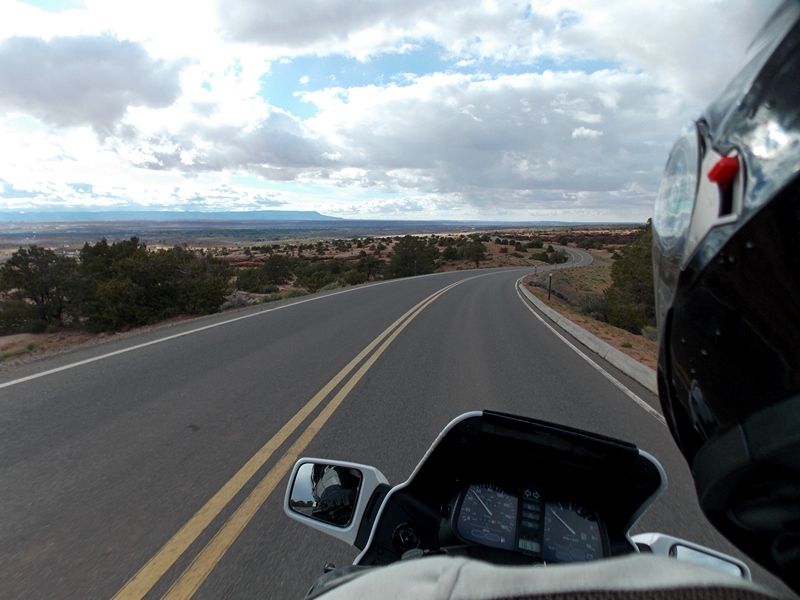 It wasn't too bad and cleared by the time we got back to the entrance, had to get this Kodak moment!
Sunday morning, we had to start heading back, so of course, the weather was perfect!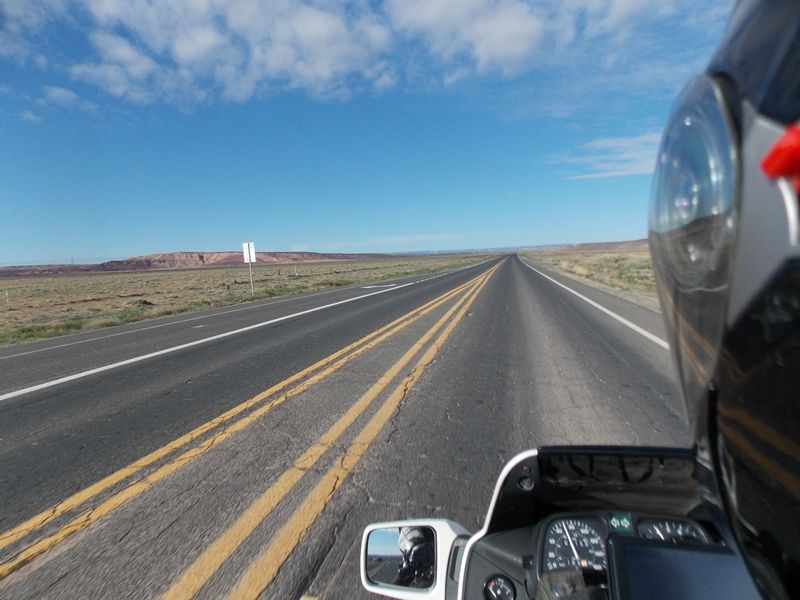 More wide open spaces.
Our next stop was at the Hubble Trading Post in Ganado. I really enjoy old west history!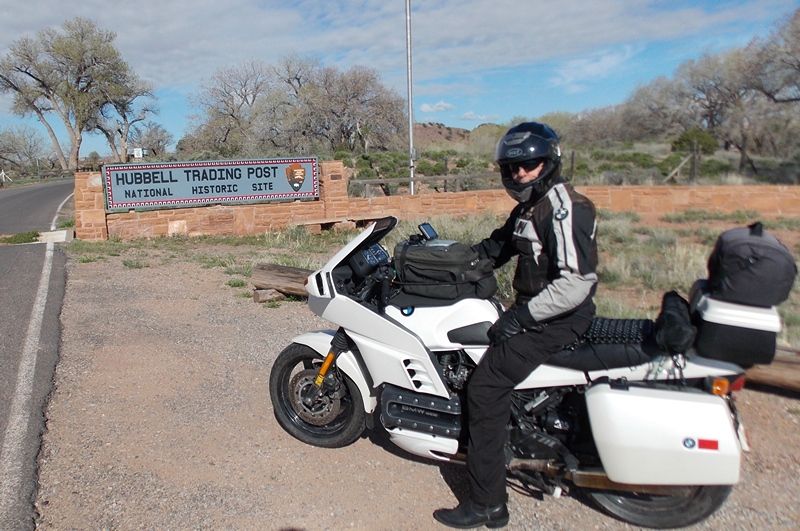 A big building.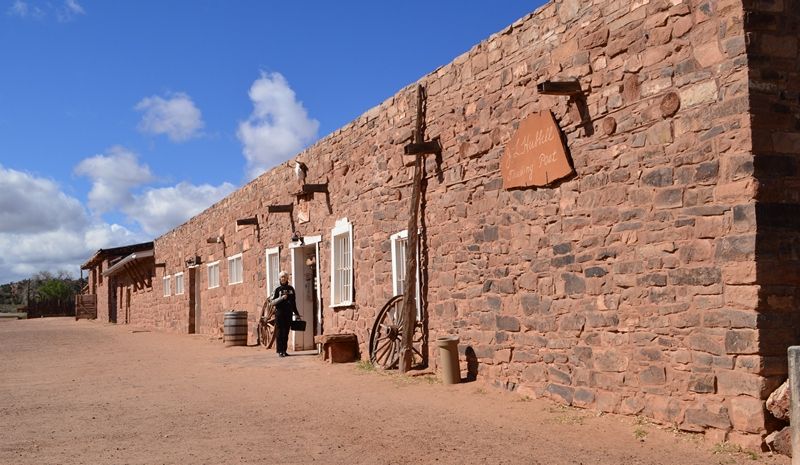 We had some time before the Hubble house tour, so we stuck our heads in the barn.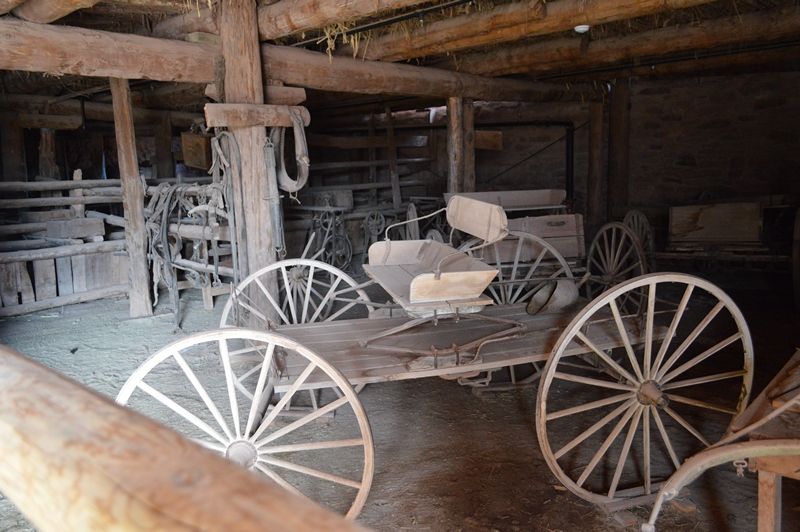 How about a cross country tour in the late 1800's in this!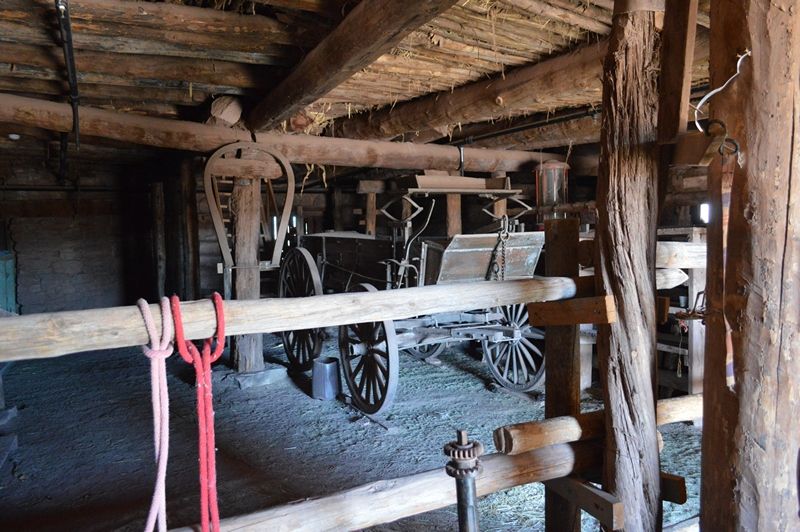 The trading post. According to our tour guide, all the sandstone was cut on site, the big timber beams came by wagon from New Mexico. Most of the actual building was done by Navajo craftsmen hired by Mr. Hubble.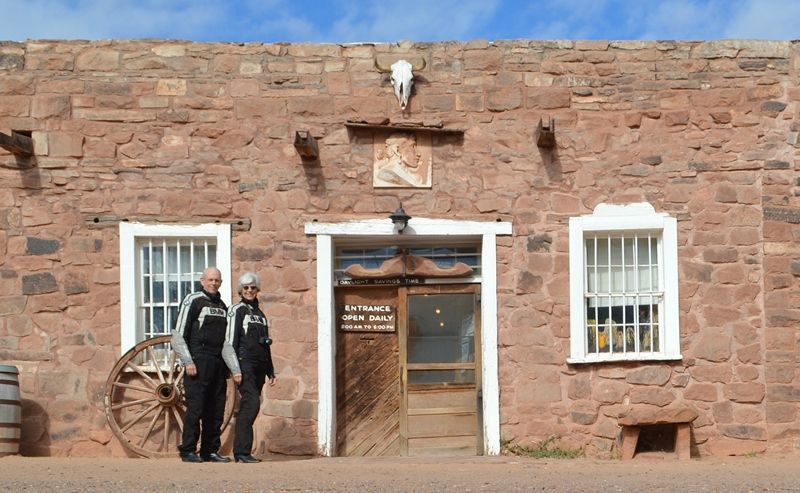 Inside, still an active trading post.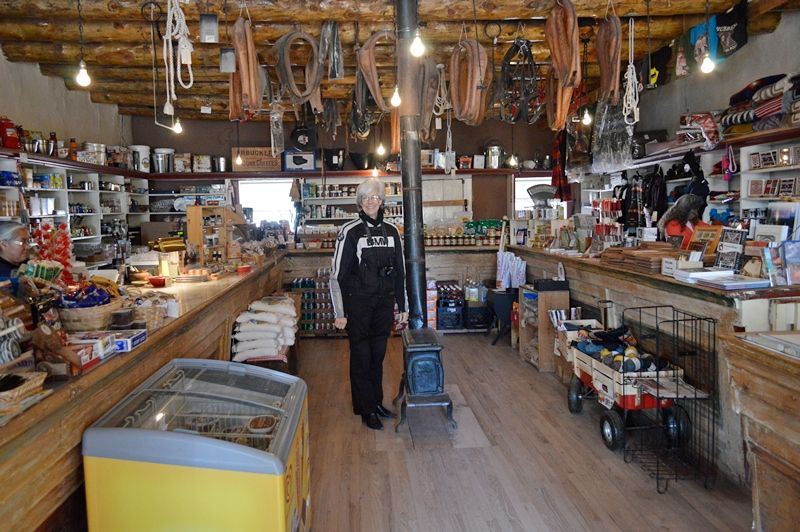 As a drinker of fine coffee, this really caught my eye. I really wanted to buy a pound, but the bike was fully loaded. Might have to buy some online.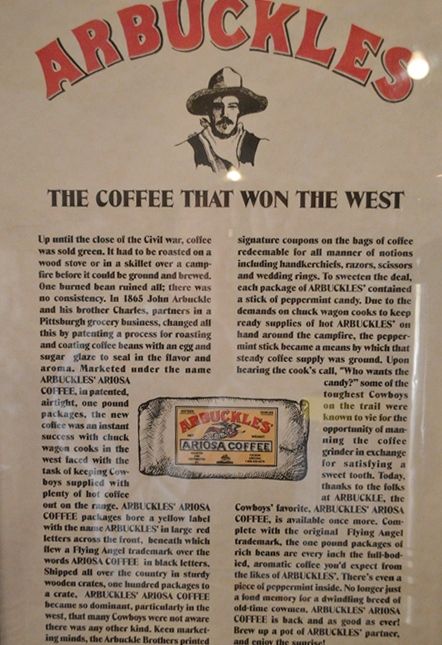 Couple of interesting items in the trading post.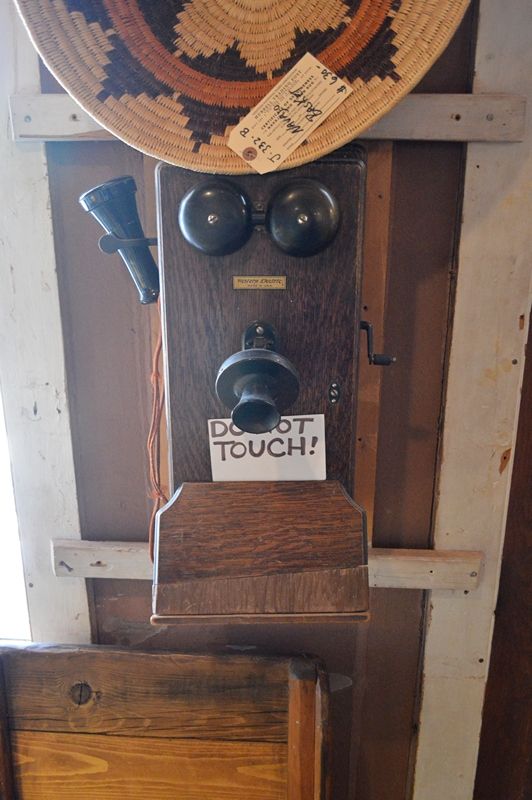 A gun rack of history! A Sharp's 50 calibur and several Winchester's along with others I did not recognize.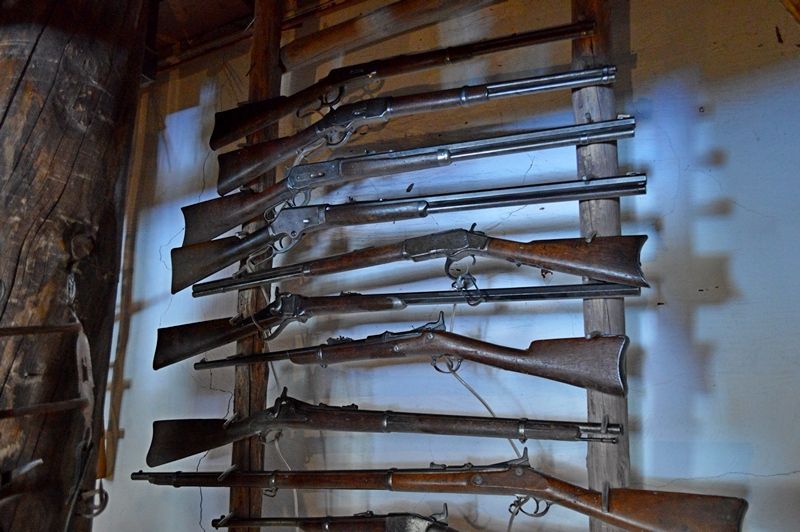 The famous Navajo rugs, woven by hand. Takes about 5 months to do one rug, working on it 32 hours a week. The Hubble Trading post really put these rugs into the mainstream by trading with the Navajo's.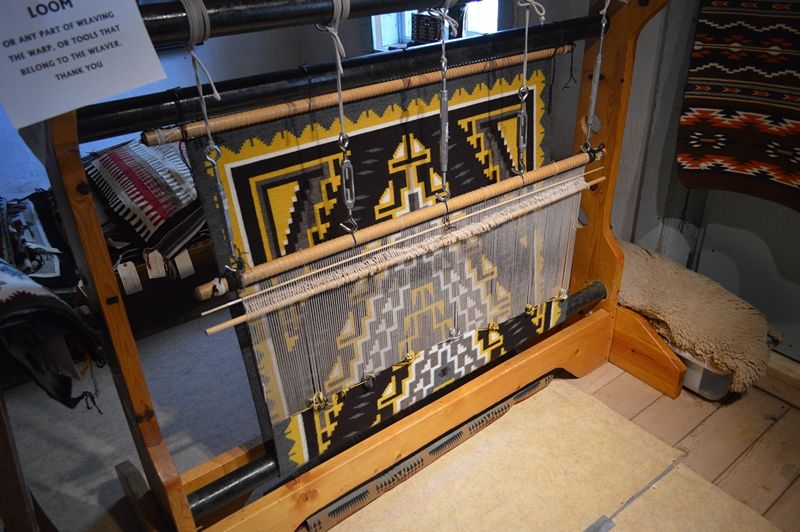 The Hubble house tour was $2 each, money well spent. Inside the home. The Hubble's were very big into native art, the house was filled with native paintings & woven baskets adorned the ceiling.
The home entertainment center.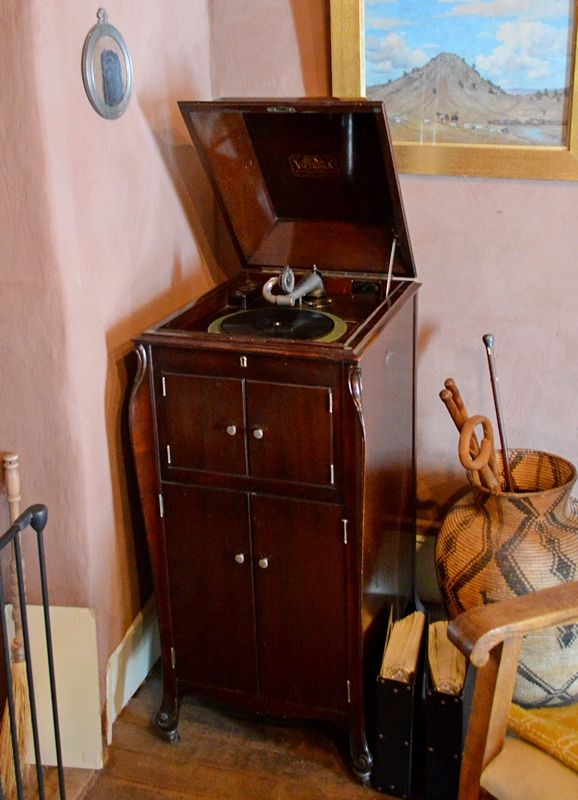 This was the most fascinating to me – the book collection. No TV, or internet back then, so reading was the way to pass the time. I could not use the flash inside the home, so some of the titles are a little blurry.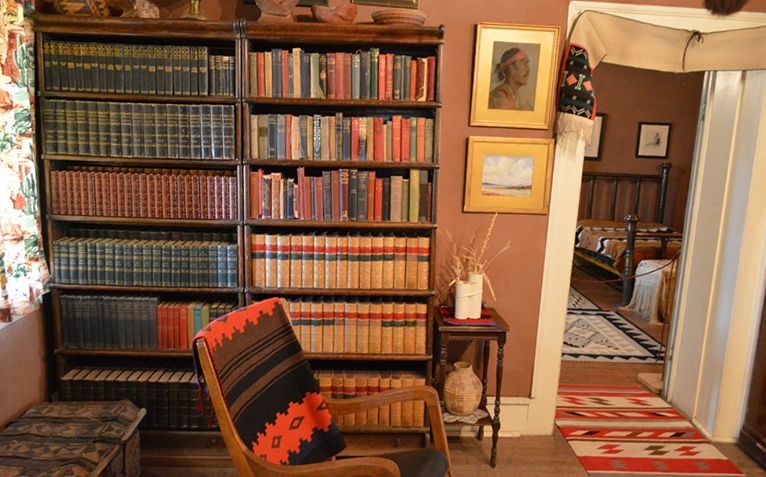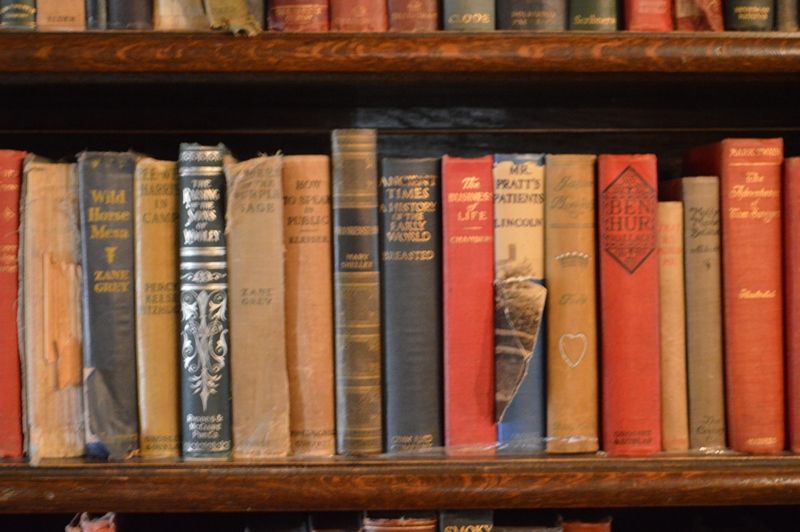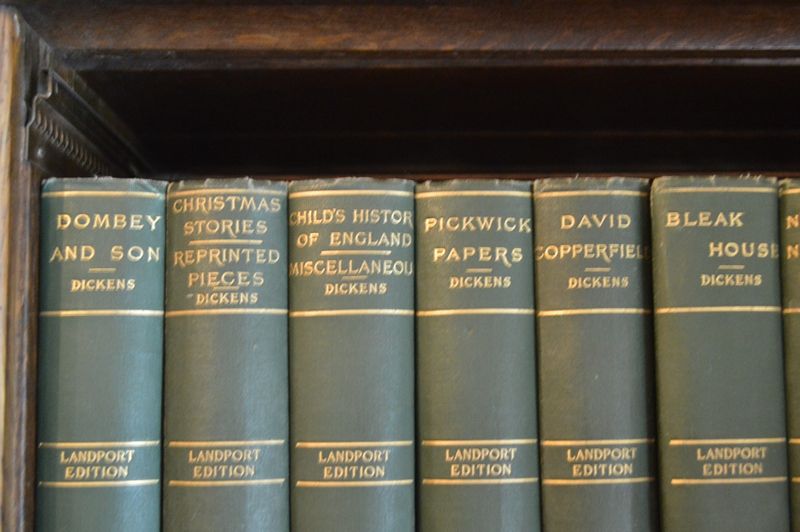 Mr. Hubble was good friends with Teddy Roosevelt, he stayed in this bedroom when he came to visit.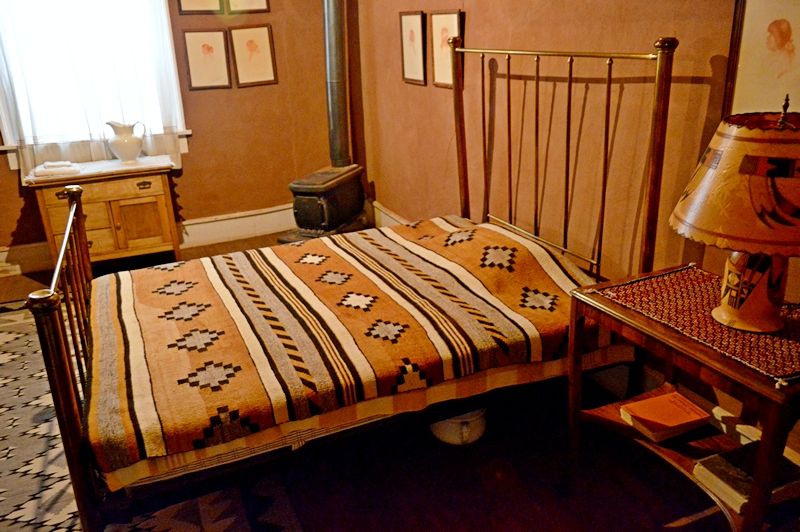 The dinner bell.
The bunkhouse.
The tour took an hour, fasinating history!
We took a different route back, but still had to go through Holbrook, so we stopped and had lunch at this diner, Mr. Maestas.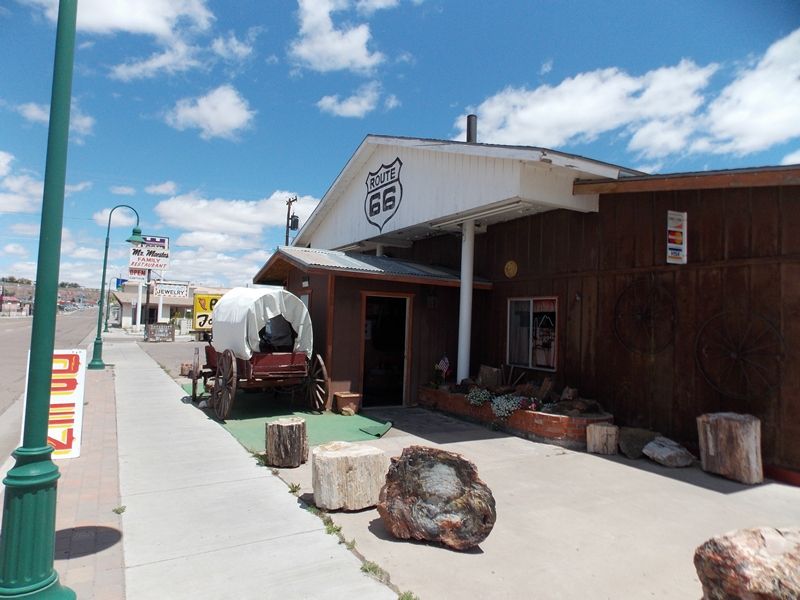 They had a great collection of RT66 items from that era.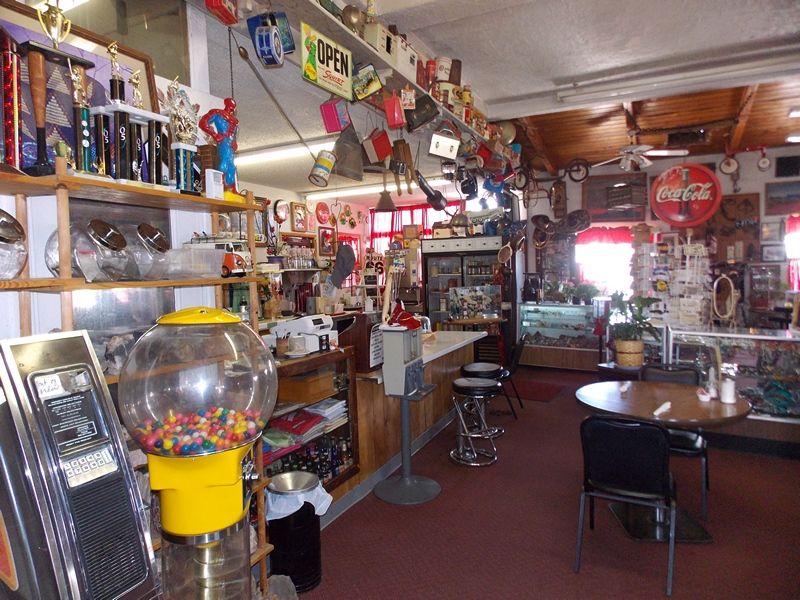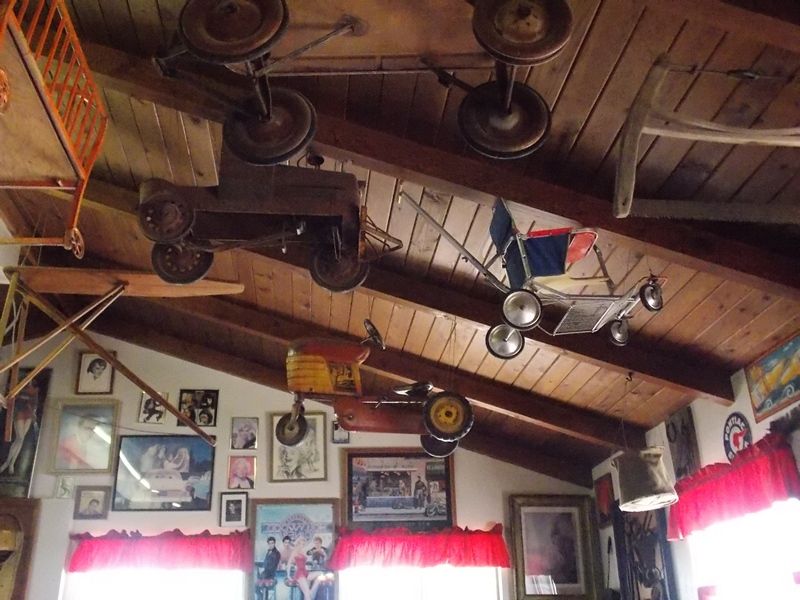 South on HWY 377.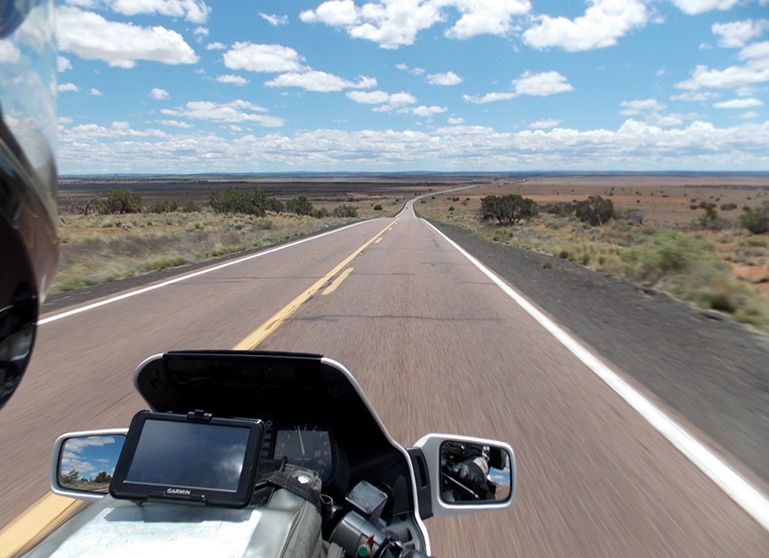 HWY 260, going through the Apache-Sitgreaves National Forest, about 7300 feet, still very chilly.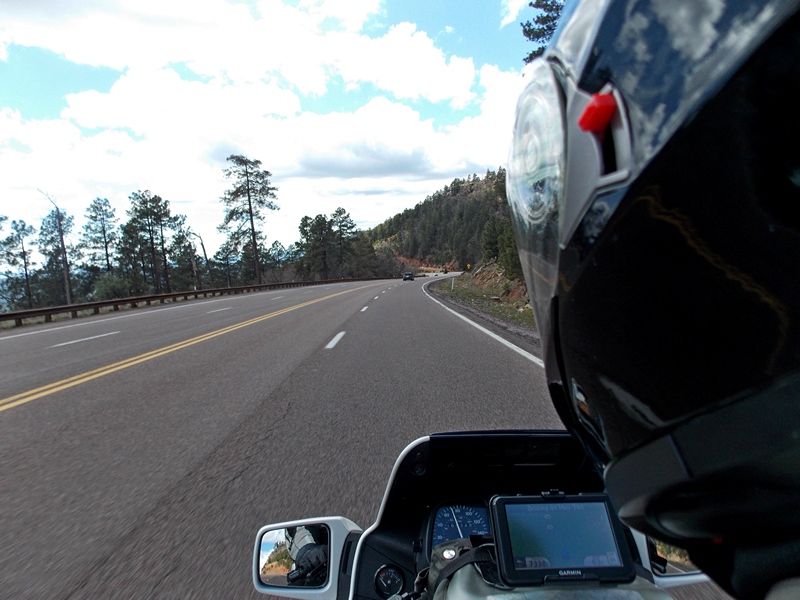 After going through Forest Lakes estates, HWY 260 turned into a very nice four lane highway, with nice views off to the south.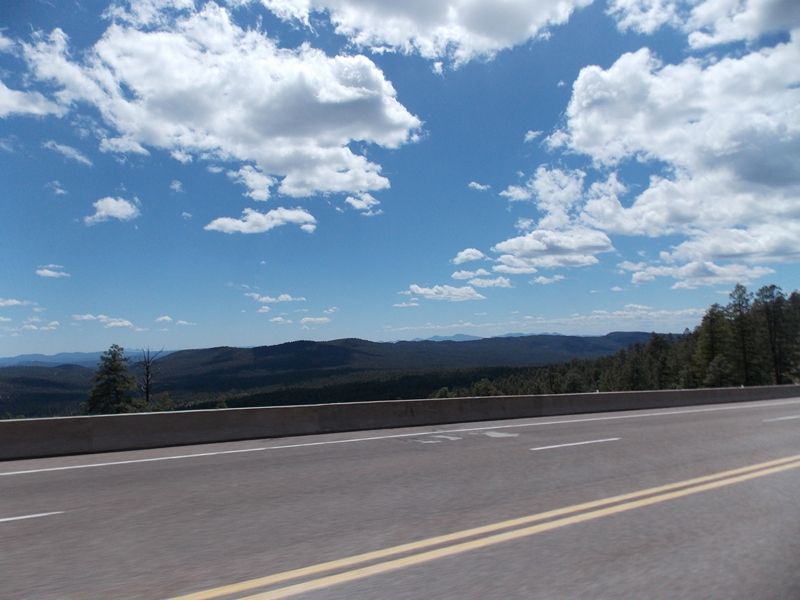 Almost to Payson.
HWY 87/260 north out of Payson is a nice ride. We have taken it before.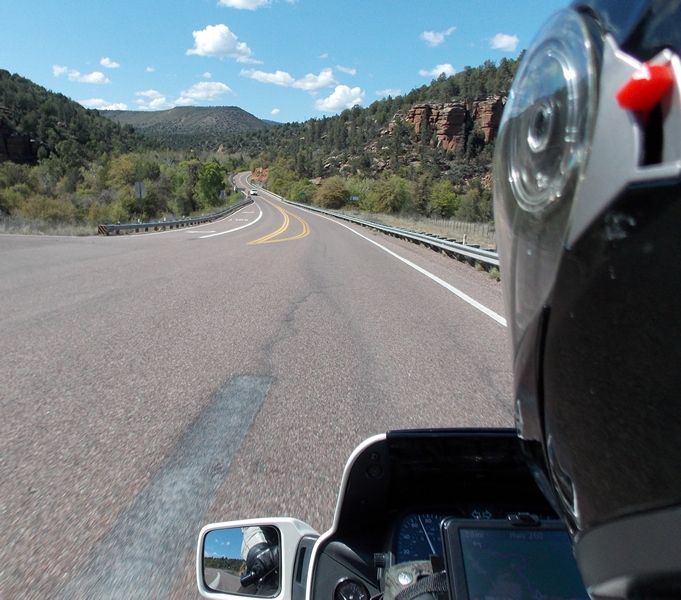 Coming down HWY 260 into Camp Verde.
We stopped for gas in Camp Verde, and for the first time on this trip, we were able to take off our winter gear and enjoy some warmth for the rest of the trip home. HWY 60, almost back to Wickenburg.
Another fun trip, must be time for a frosty adult beverage!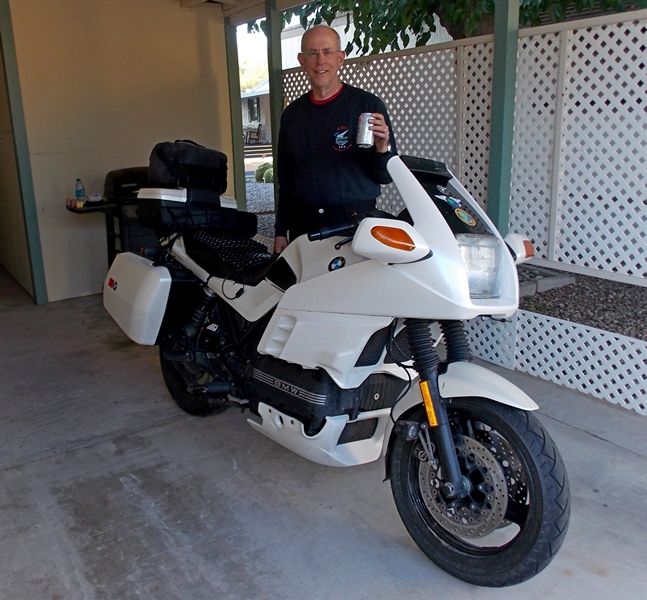 Even though the weather could have been better, it was still a fun trip. We always enjoy seeing new country. This will be the last ride with my trusty Eclipse tank bag, after 30 years, it is just getting worn out. I plan on getting a new RKA tankbag, we have their luggage for the saddle bags and are very well made.
Donna took 419 pictures
I took 145 pictures
Total miles – 829
Total gas used – 18.51 gallons
Total spent on gas – $58.04
MPG average – 44.7