Laughlin River Run April 2015
We had a three day weekend, where to go? The Laughlin River Run seemed like a good choice. We had planned on meeting a friend in Kingman AZ. for breakfast and then spend the night and go to Laughlin, but he had to cancel. So, I decided to take a longer route to Kingman and travel Route 66 from Seligman to Kingman.
The route
A cloudy, cool day to ride, looked like rain coming into Prescott.
It did sprinkle on us just as we got to Prescott, but we missed most of it.
Still cloudy, but no rain on HWY 89 north bound.
Lunch in Seligman at Westside Lilo's. A great little German owned cafe, we had a huge blooming onion along with our lunch, great place to eat!
On Route 66, west bound, miles and miles of wide open nothingness!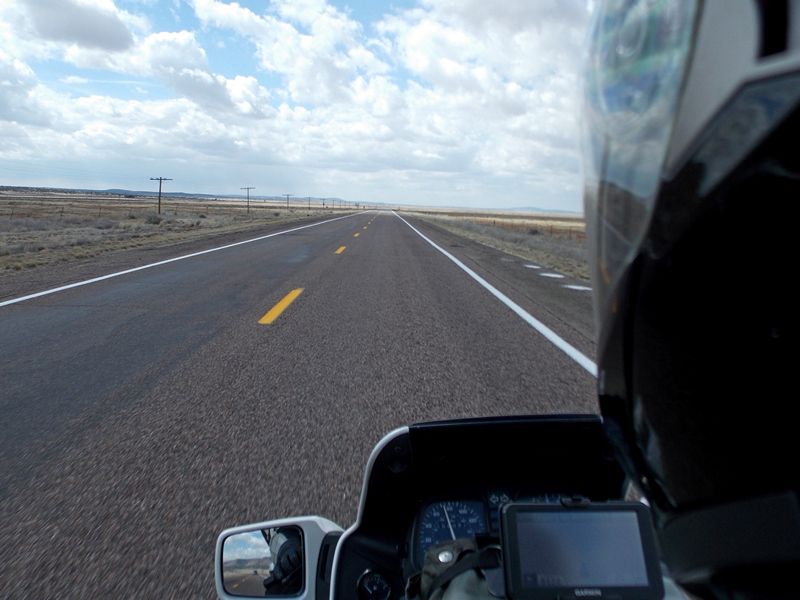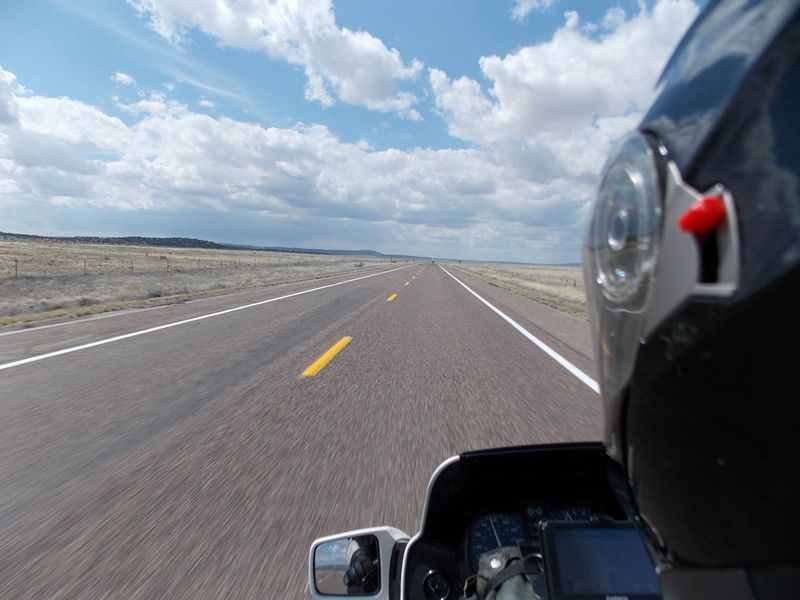 Finally, a few curves and some hills!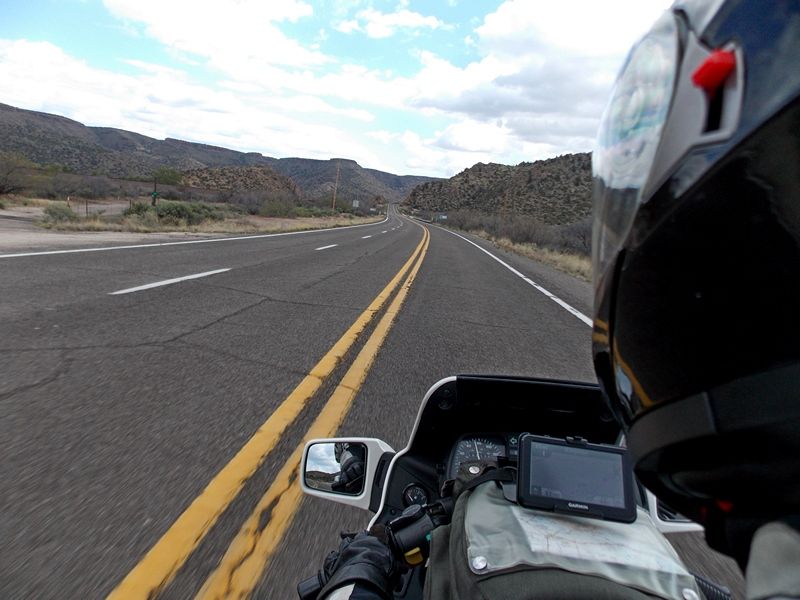 As we were zipping along through Hackberry, AZ., we passed an older building and I noticed some old gas pumps and some people walking around them. I decided we needed to go back and take a look. I'm glad I did – the Hackberry General store.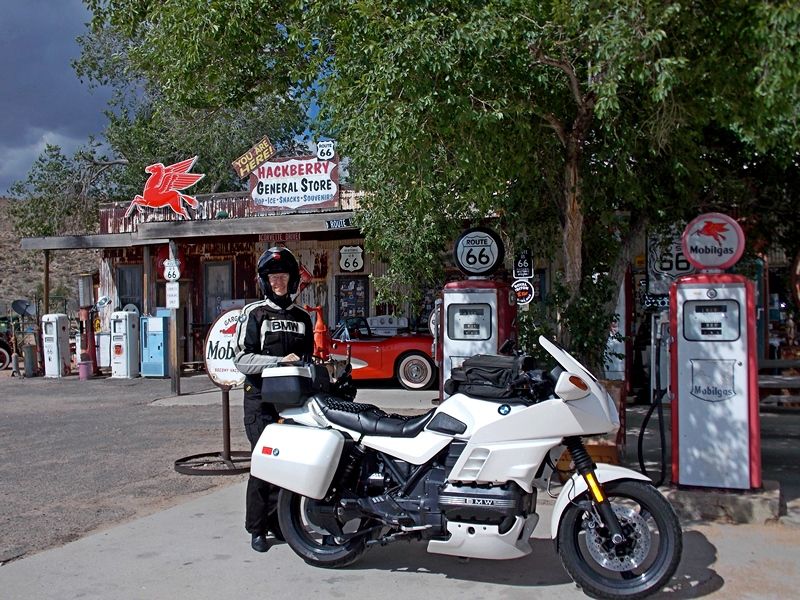 What a fun, cool piece of Americana! According to the lady working inside, this store opened in 1934 and closed when I-40 was opened in 1970. A gentlemen bought the store and had reopened it. A 1957 Corvette, all original, was right by the entrance.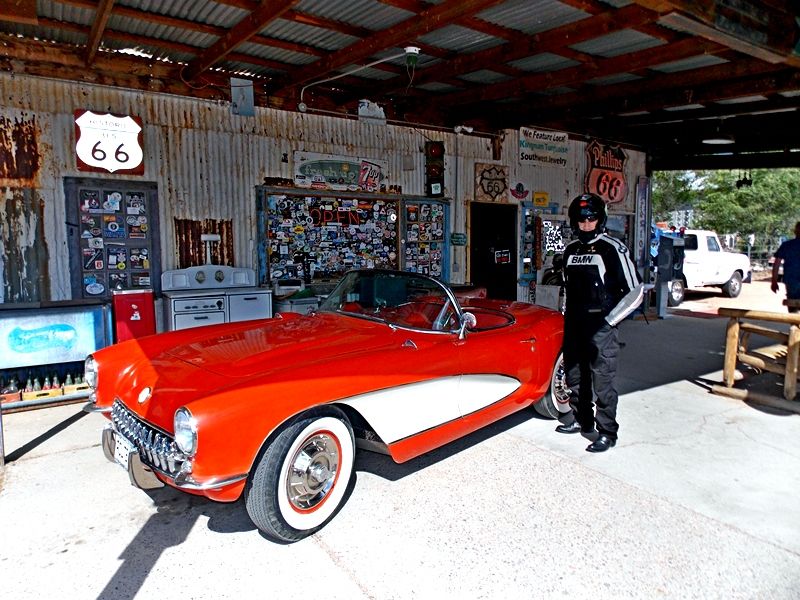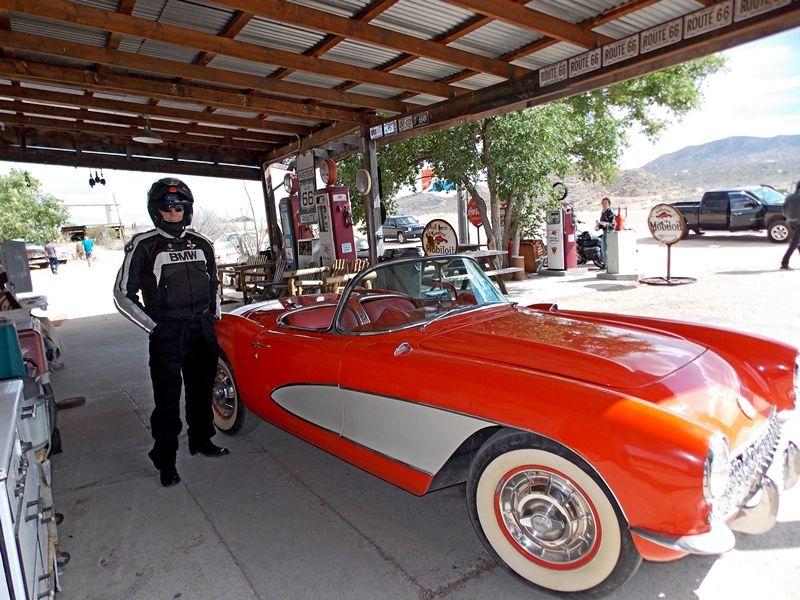 I spent about a half hour just walking around the outside enjoying the history. 34 cents a gallon….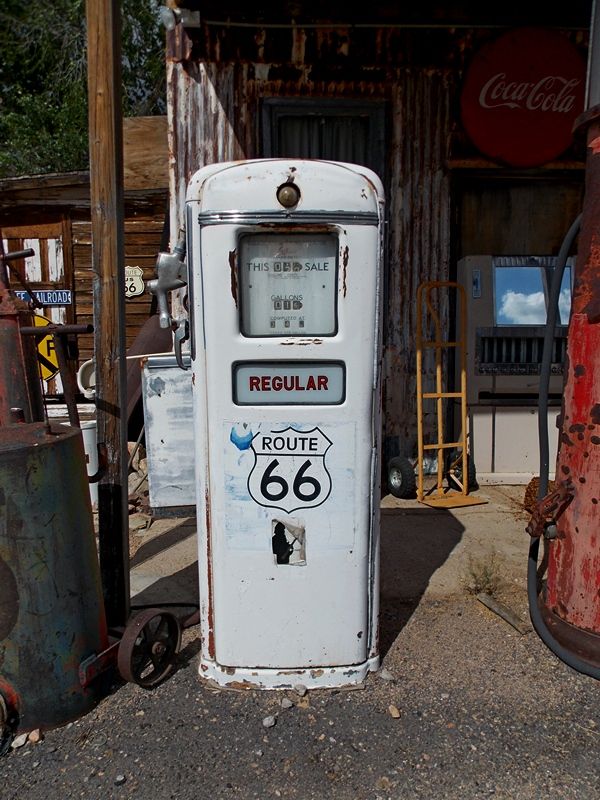 Model T, need alittle work.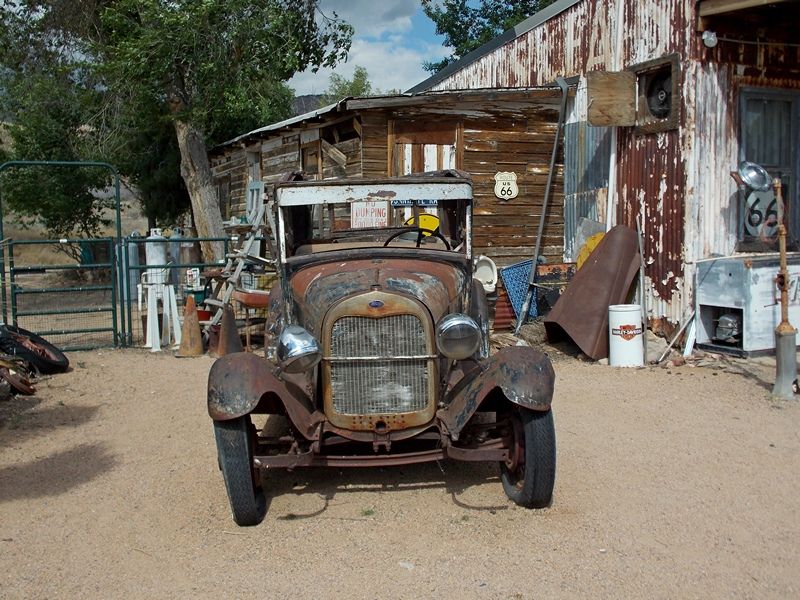 I always take Donna to the finest places….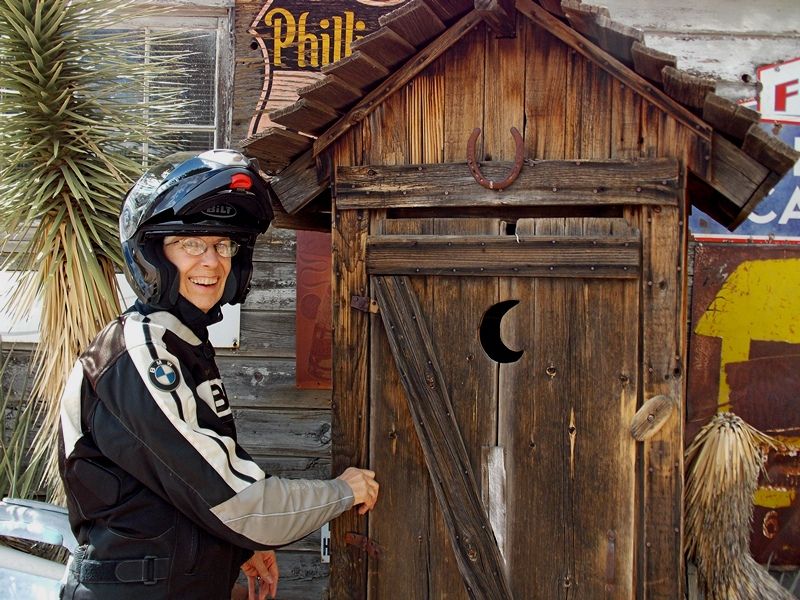 Around the back, another classic – a 65 (I believe), Plymouth Sport Fury convertable, all original. What a cool car to cruise down RT 66!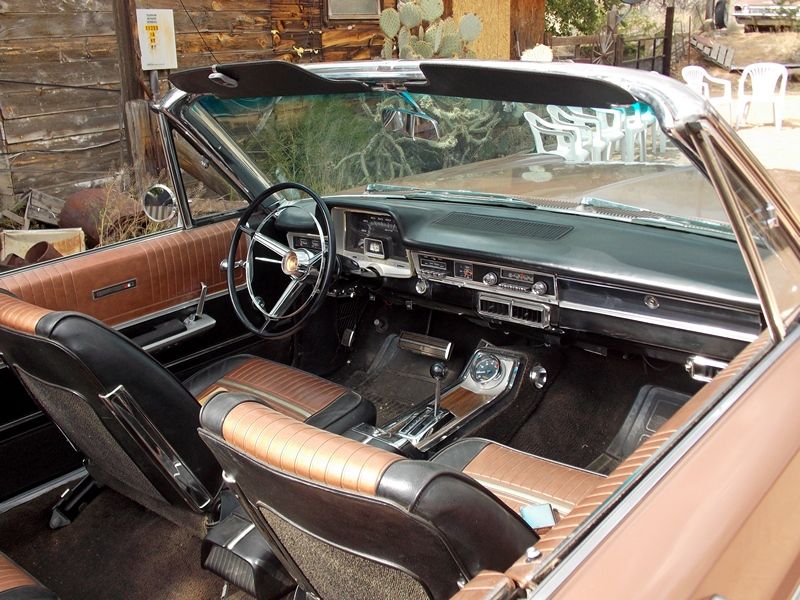 The garage was full of old parts and a Chesterfield sign.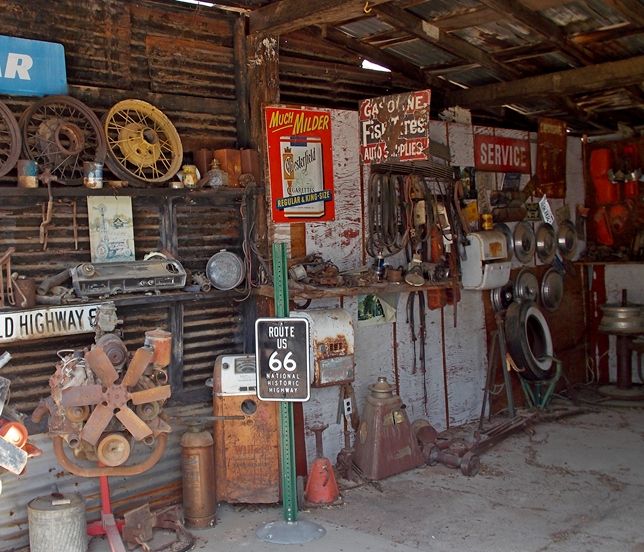 More pumps with old oil cans.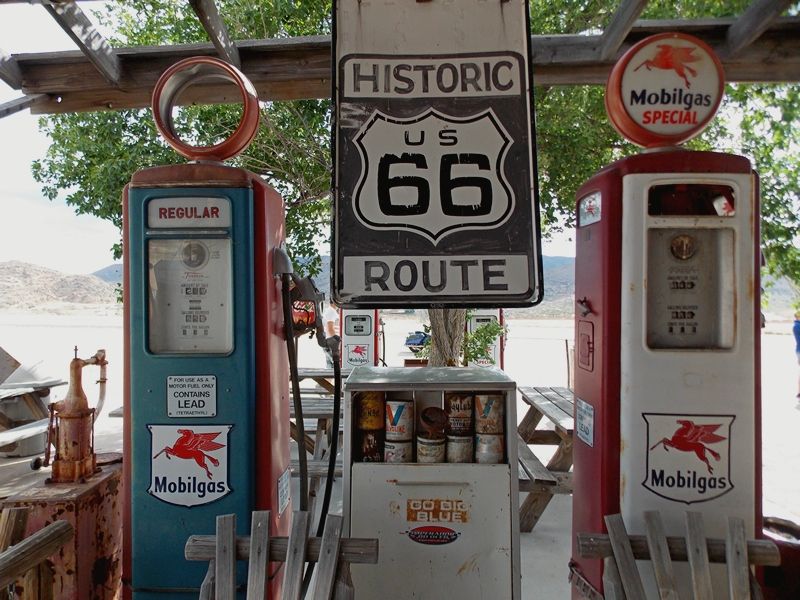 Time to go inside, and no, I didn't use the "hippies" side door!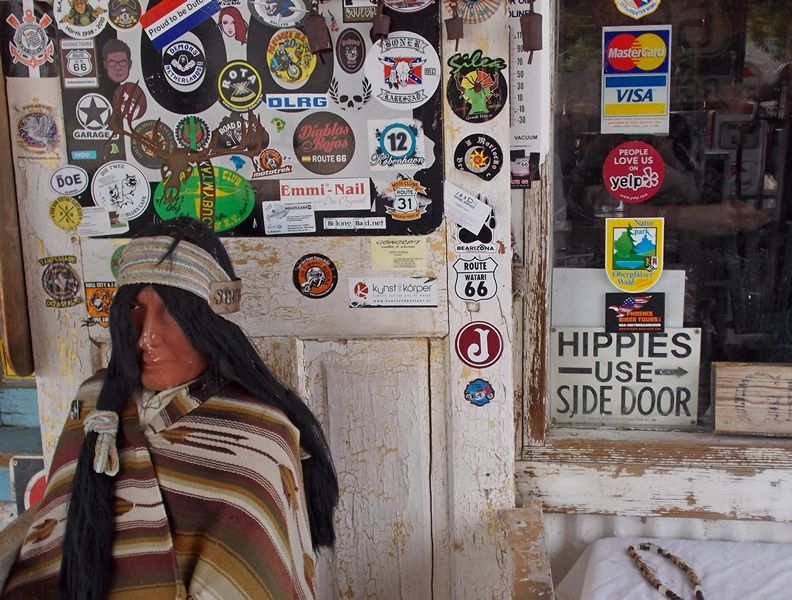 Police patches from all the world were on the wall map of RT 66. You can also see the original diner inside.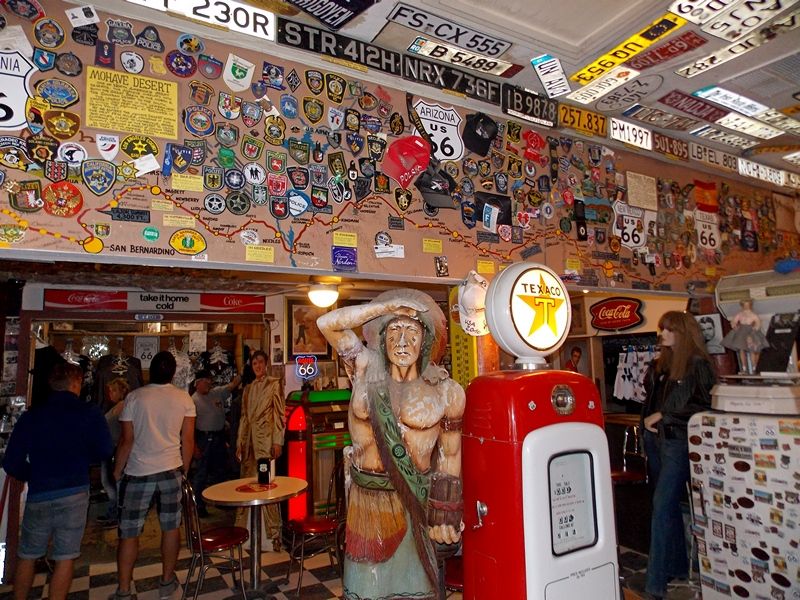 These signs caught my eye.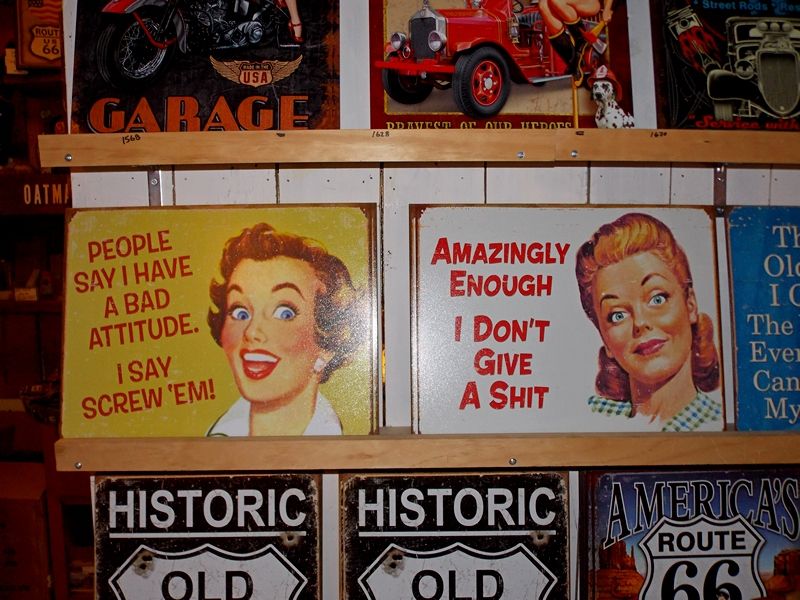 Great place to take a break! Back on RT 66, wind was blowing big dust clouds off in the desert.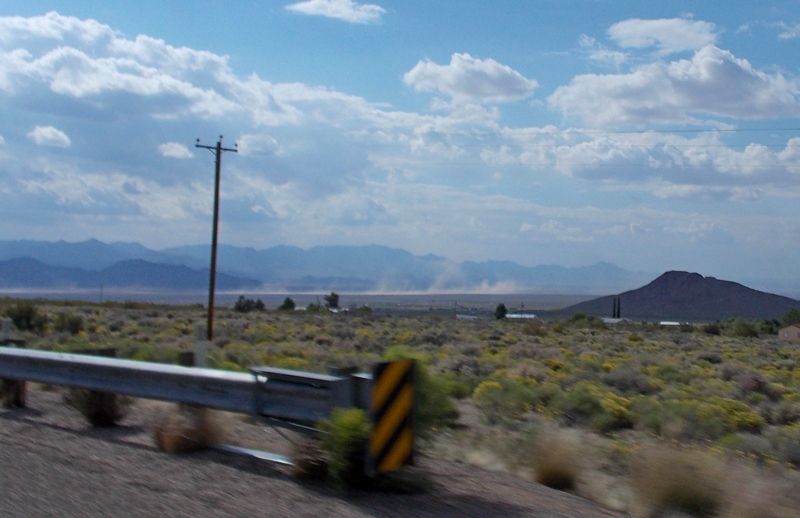 A last, long stretch going towards Kingman.
After checking in to our motel, we walked down to the Pizza Hut for chicken wings & salad. The next morning, another cloudy day, luckily the wind wasn't blowing so hard on HWY 68 west bound towards Laughlin.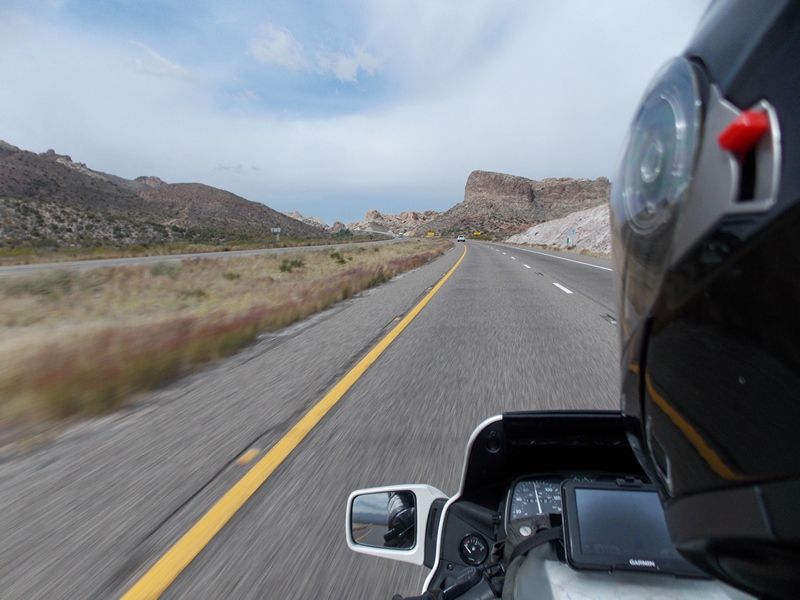 I love this rock formation, not sure if it is saying goodbye to Arizona or welcome to Nevada!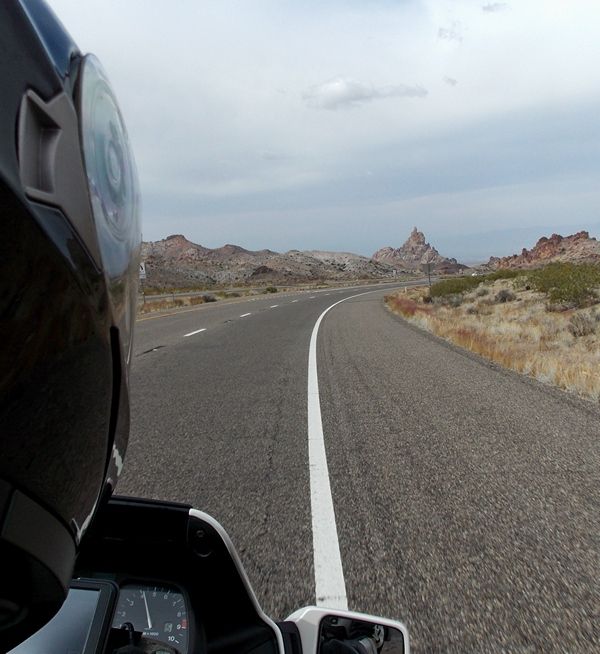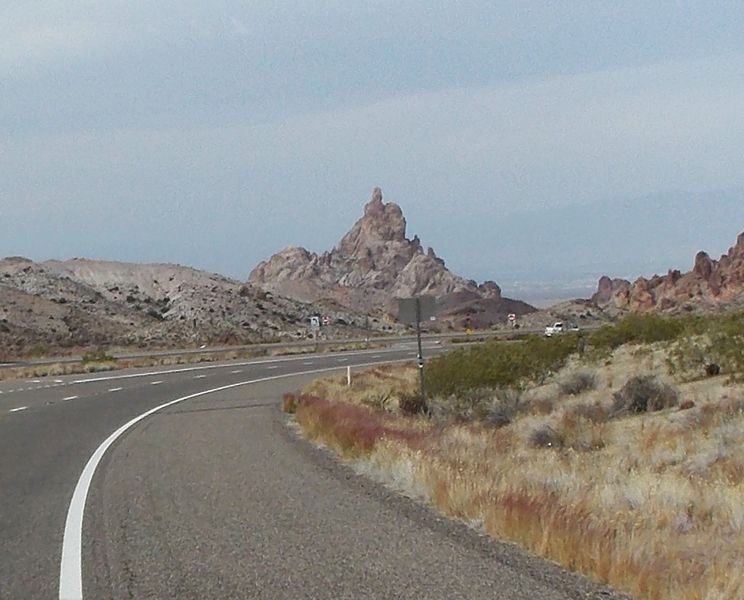 S. Casino Dr in Laughlin.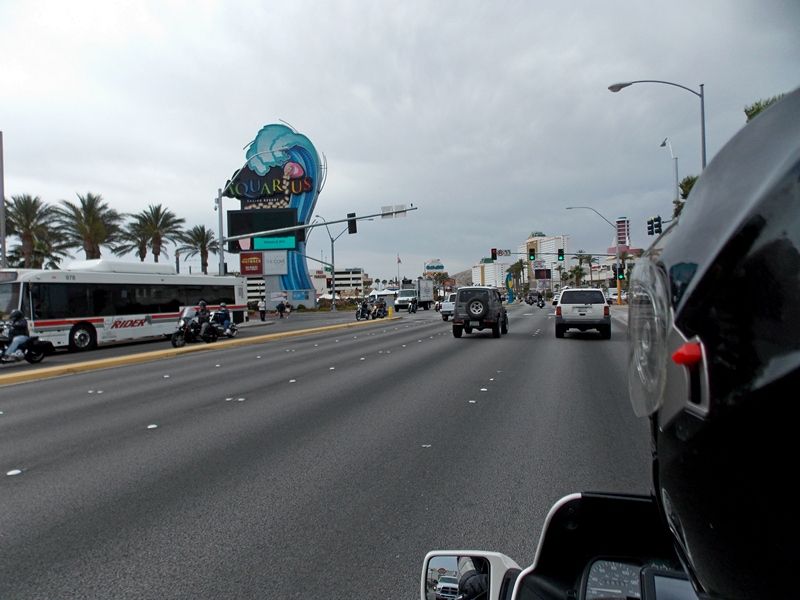 We spent a couple of hours just walking around and checking out the vendors. Even though it is mainly a Harley Davidson run, still enjoy just taking in the sights.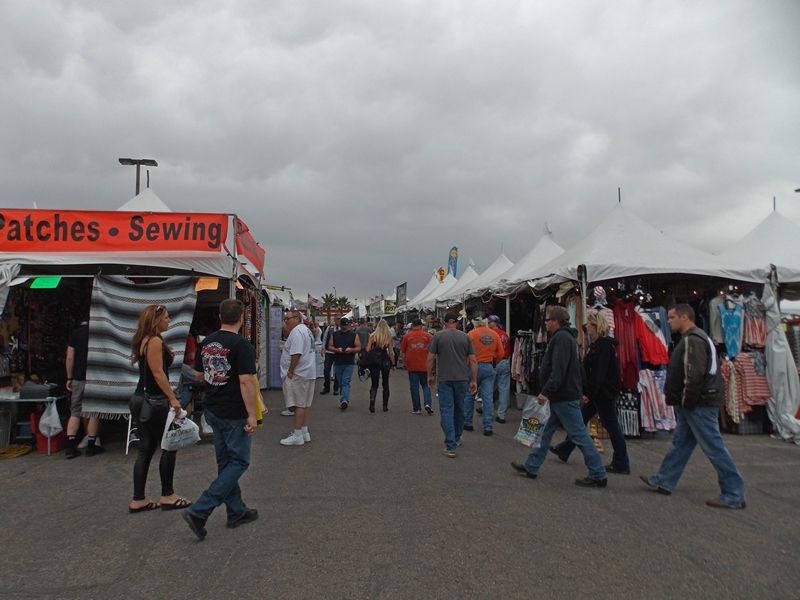 I don't think I would make the cut for the SOA!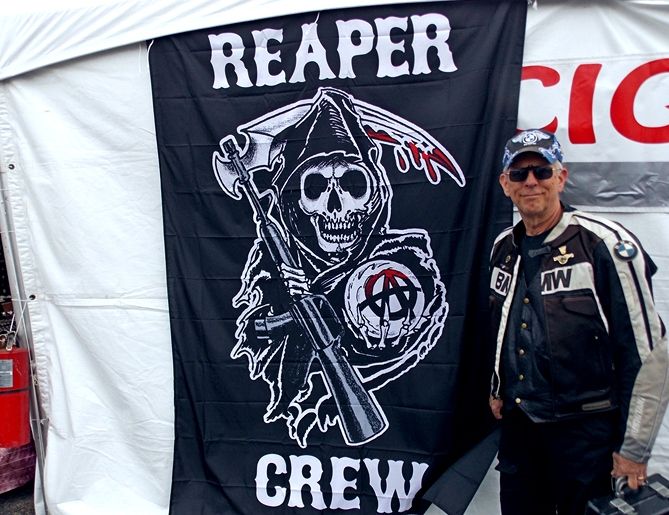 Just one of many "show" bikes, don't think I'd enjoy touring on it though. After having some ice cream, it was time to head home.
A nice ride back home, never did get rained on.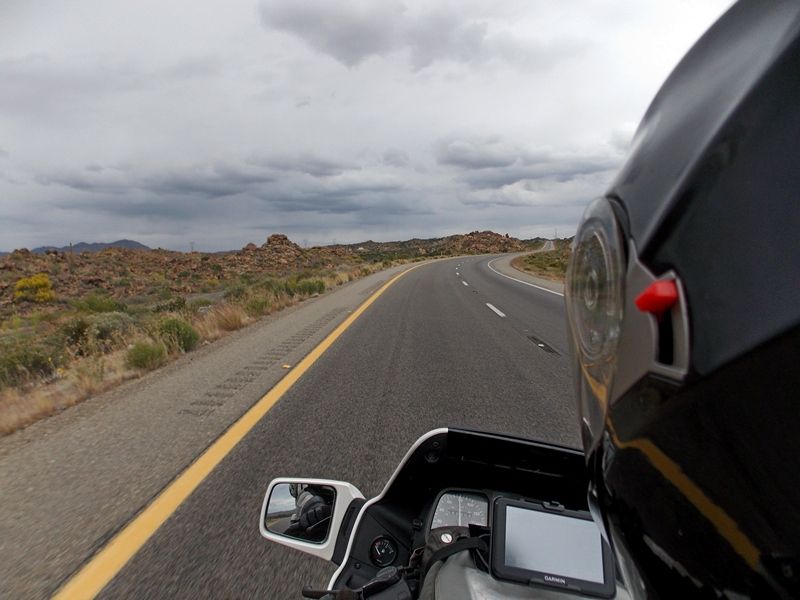 HWY 93
We finished off the weekend riding down to Tempe, AZ. to have lunch and wish grandson Brayden a happy 2nd birthday.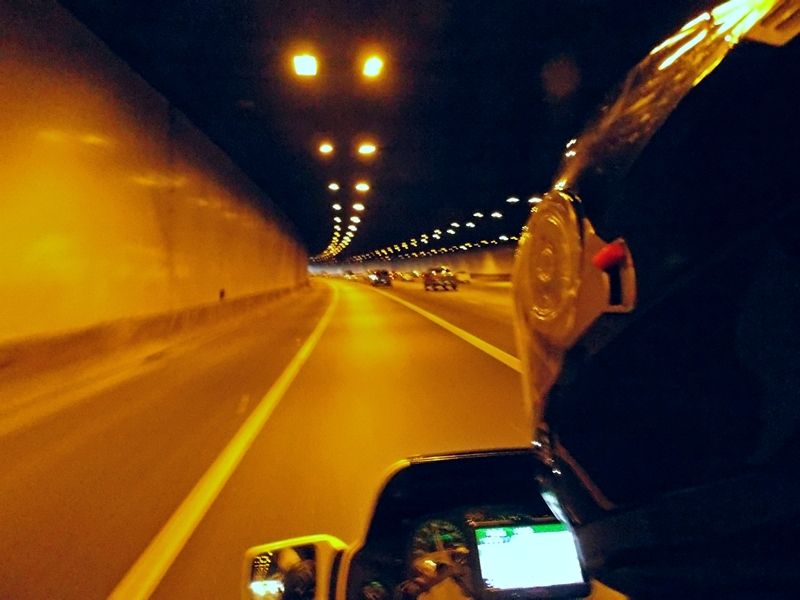 Yours truly, Brayden, proud papa Steve and photobomber Donna!
There were several thunderstorms in the Phoenix area, but we missed them all!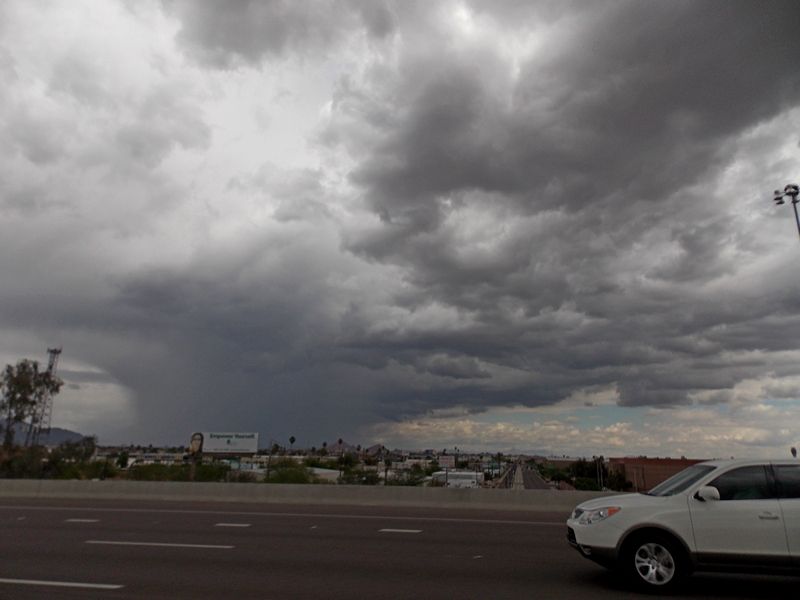 Nice finish to a fun weekend!
Total miles – 585
Total $ for gas – 37.00
MPG – 50