A "Boys Only" Ride Labor Day Week 2014
"Boys Only", this would be my first trip in many years without Donna. I had been invited to ride with four of my good friends from the Wyoming Highway Patrol on their annual Labor Day ride. Donna was invited, but since no other wives were coming, she decided to go to Casper, WY. to visit her son & grand daughters. I left the Patrol in 1999, but had stayed in contact and visited with Tom, Marty, Dave & Jess on many bike trips back through Wyoming, and when they came to Las Vegas. Tom and his wife Jo had taken several trips with us on their Harley. After almost a year in the making, it was finally time to ride!
Donna had to get up and be at the Sky Harbor airport early, so she was on her way around 4am. I had to kill a couple of (long) hours waiting for the sun to come up.
Note: Since Donna would not be my backseat photographer, I would be trying to do two jobs, driving the BMW and doing the pics from the road. I was using a smaller digital camera, but it seemed to work well. There were several times during the trip that I wanted to take photos (Zion National Park, for instance) but could not do it safely and drive. I sure missed my backseat photographer!
The route. NOTE: Google maps "improved" their maps, and the newest version does not support embedding into a blog. So I am using and older version which did not allow me to put in the last two destinations, but I took the same route from Mexican Hat to Wickenburg. You can enlarge the map by right clicking on the VIEW LARGER MAP and opening the link in a new tab.
The plan was to meet up in Grand junction, CO. on August 28th. I decided to leave on the 27th and spend the day around Monument Valley, then spend the night in Mexican Hat, UT.
Finally on the road at 7am. My first attempt at riding & using the camera, north bound on I-17.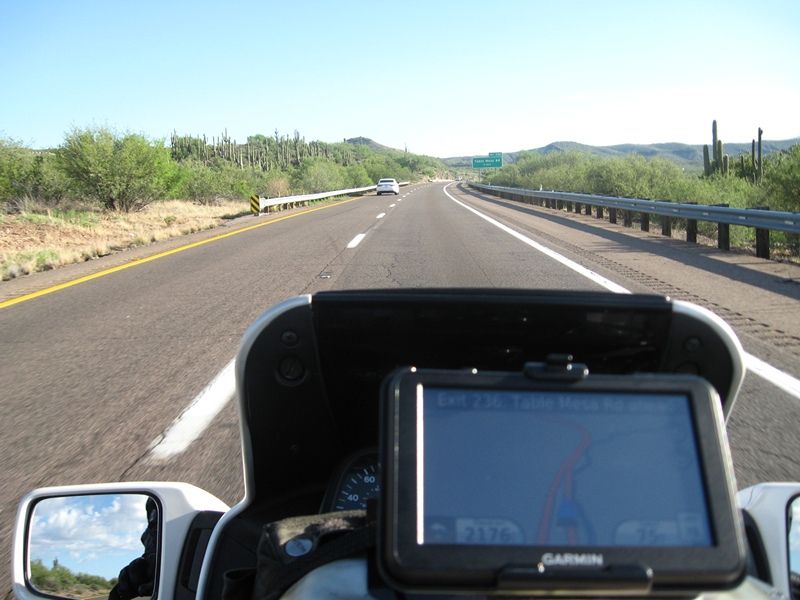 As I rode higher in elevation, a few low level clouds, but no rain. It cleared quickly, and I had a beautiful day to ride.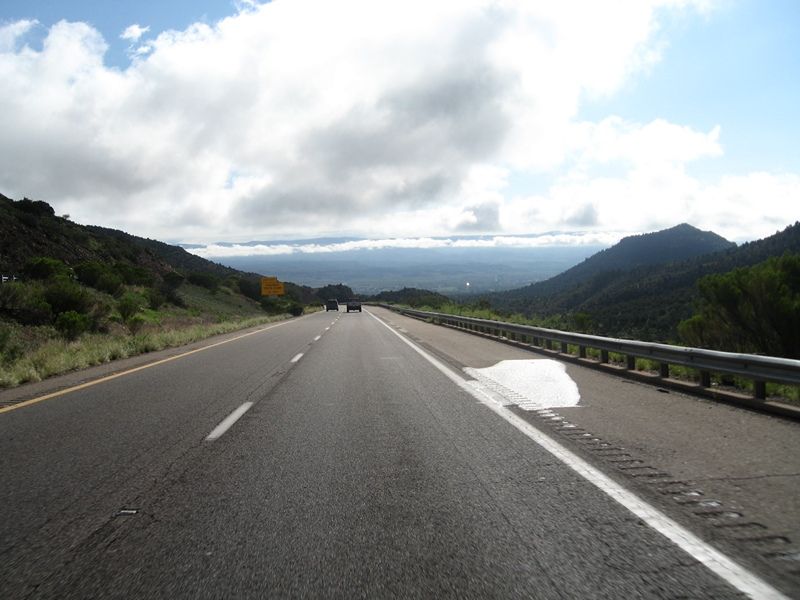 North on HWY 89, adventure beckons!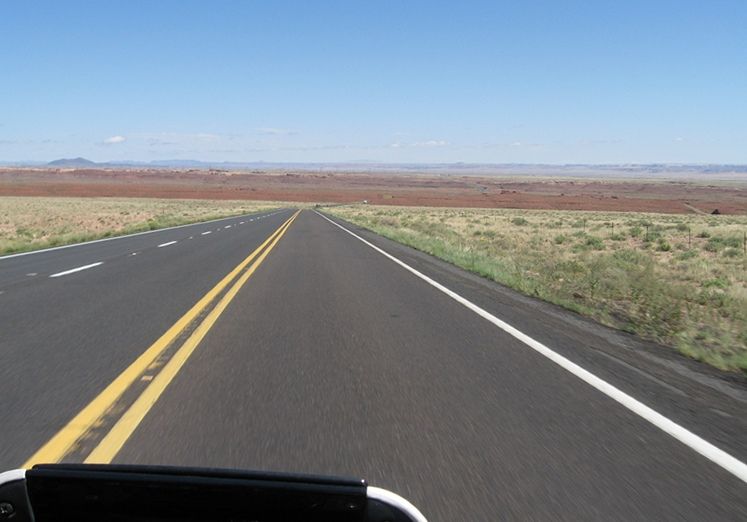 Agathla Peak, north of Kayenta, AZ. on HWY 163. A great landmark, letting me know I'm close to Monument Valley.
A big thunderstorm east of HWY 163. The only rain on the trip that I saw.
Monument Valley comes into view, I never tire of this part of the country.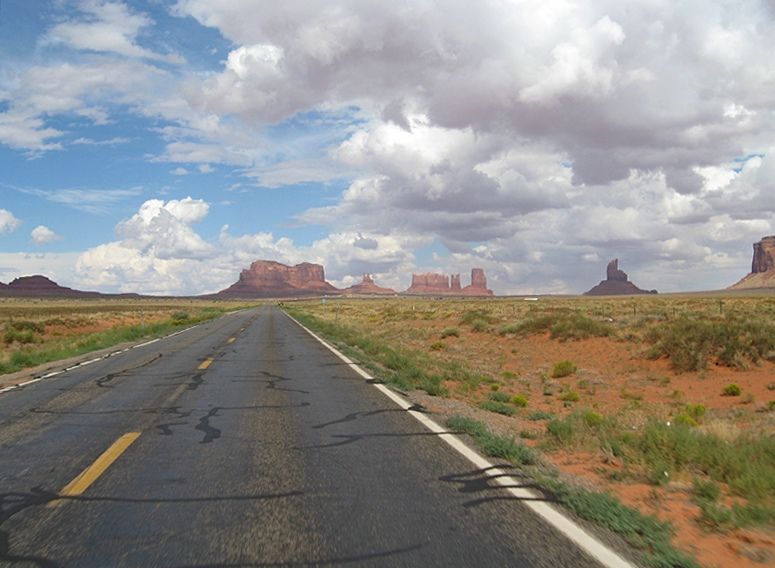 Monument Valley, one of my favorite places to visit & photograph.
As usual, a lot of visitors. I spent a couple of hours at the new hotel, just sitting outside and enjoying the view & people watching.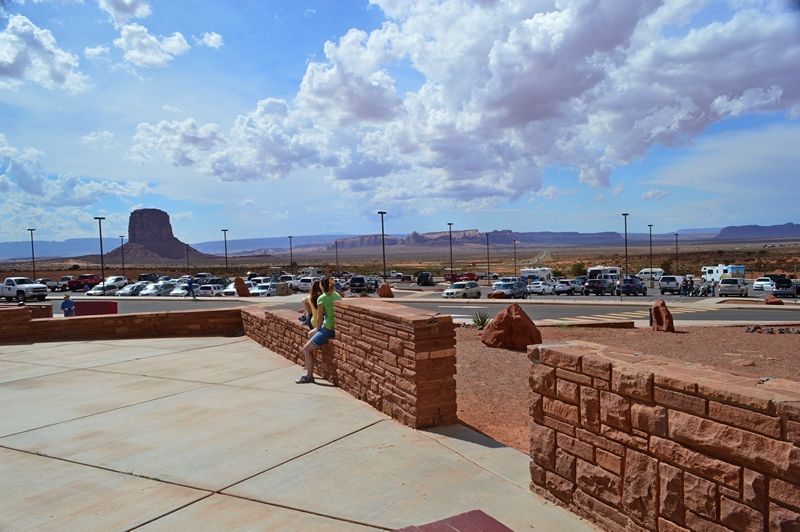 On to Mexican Hat, UT., I had a room at the San Juan Inn. Several other groups of bikers where staying there.
Some rafters went by on the San Juan river as I was unpacking the bike.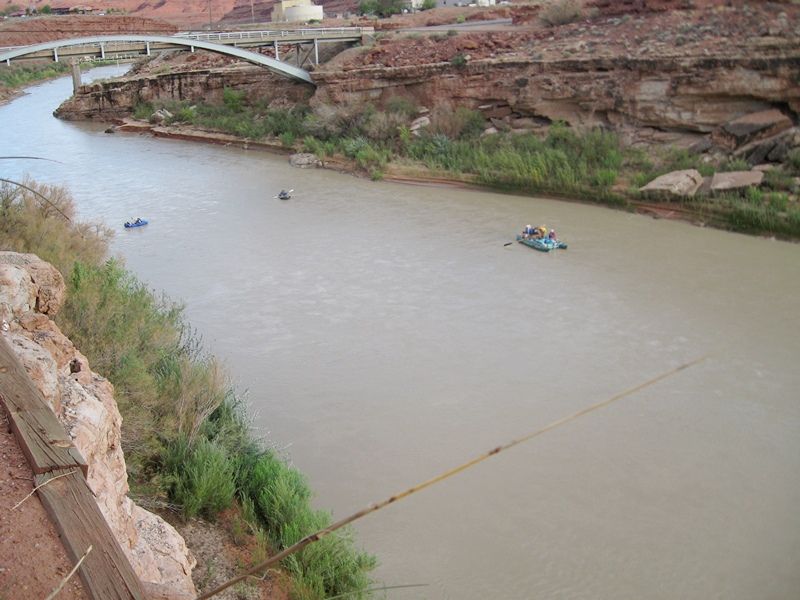 The next morning I received a text from Marty's brother-in-law, Sam (from Phoenix), letting me know that he was joining in on the ride and was at the same motel. We introduced ourselves over breakfast and then hit the road. I showed him the route I had picked out and away we went.
A perfect day to ride, north on HWY 191.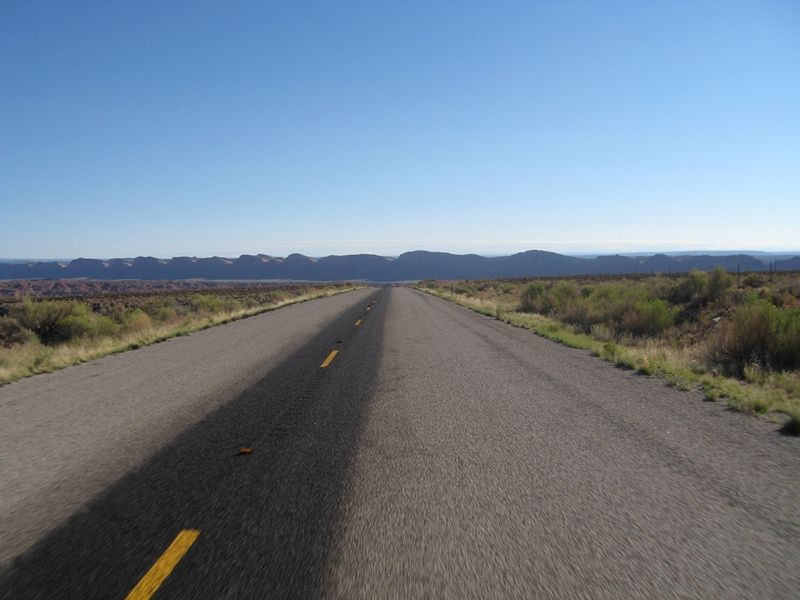 We stopped in Monticello, UT. to gas up. A gentlemen pulled up in this Model T, that he had restored. We (Sam is in the orange shirt) spent several minutes with him admiring the car.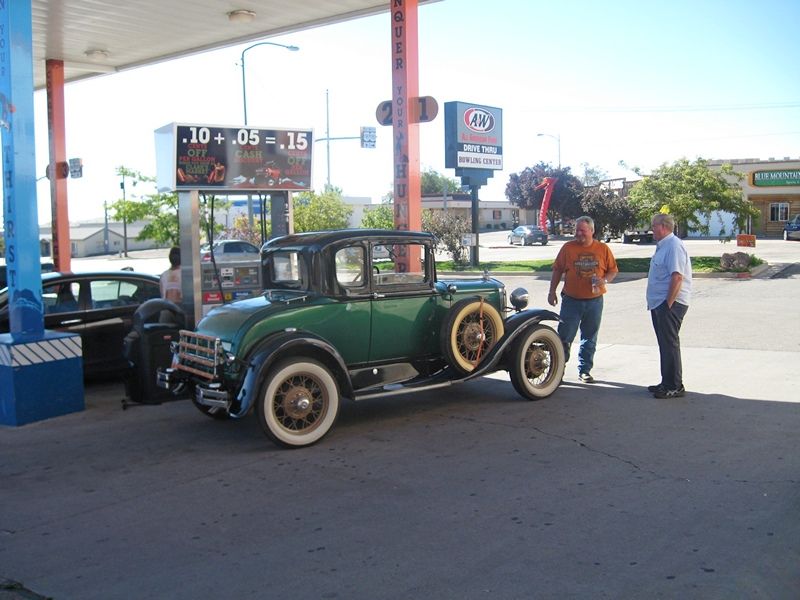 Just south of our turnoff at La Sal junction, we stopped at "Wilson's" arch.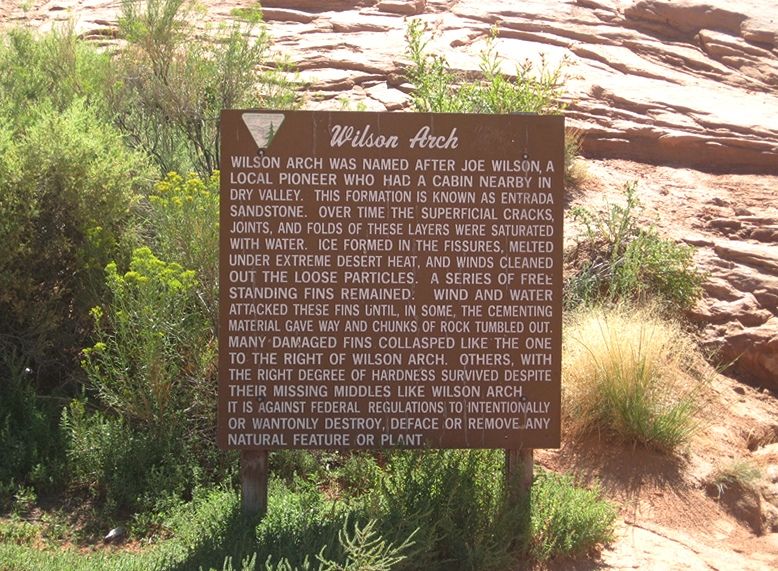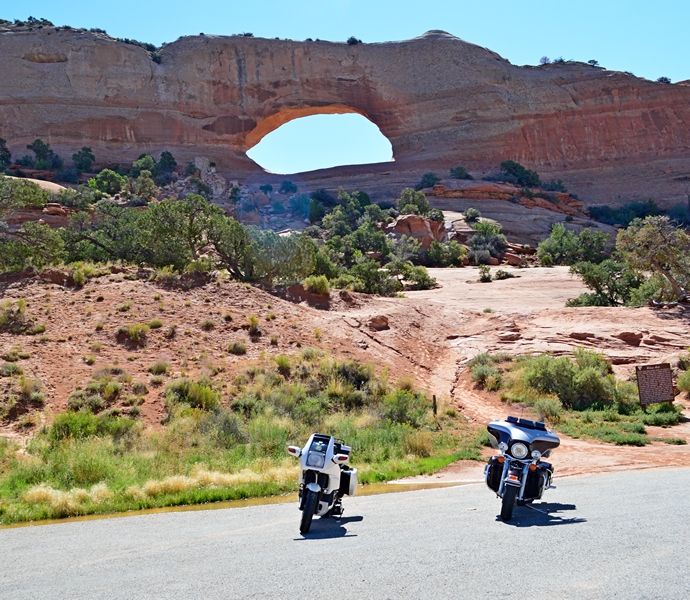 HWY 90 in Colorado, all the reasons to ride in one picture!
We stopped at this old building in Bedrock, CO. and found some local history. The store was closed in 2011, but was for sale. The owners still lived in an apartment behind the store and had to close due to medical issues. It had been established in 1881.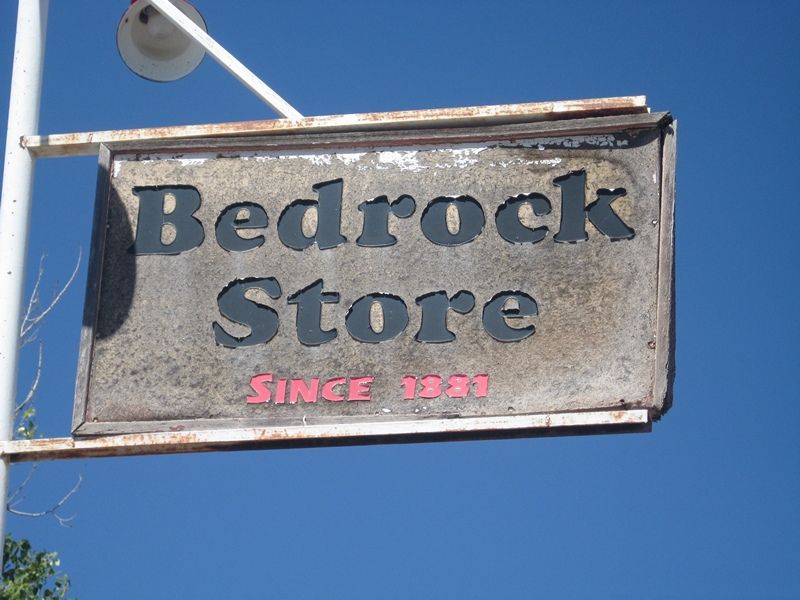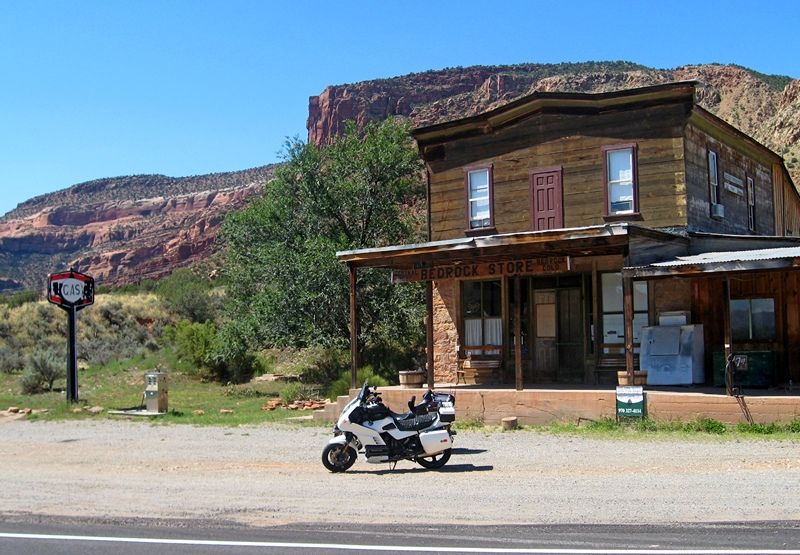 Even the outdoor facility was chained up!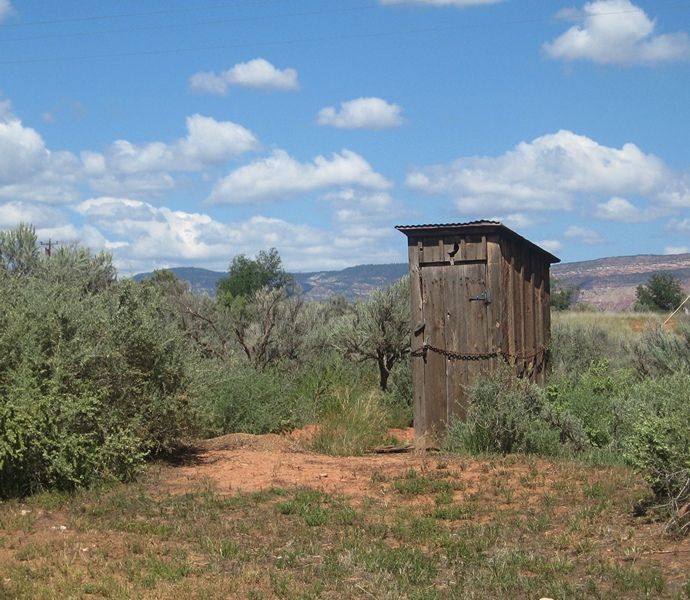 The small town of Naturita, CO., a good spot for a butt break & gas.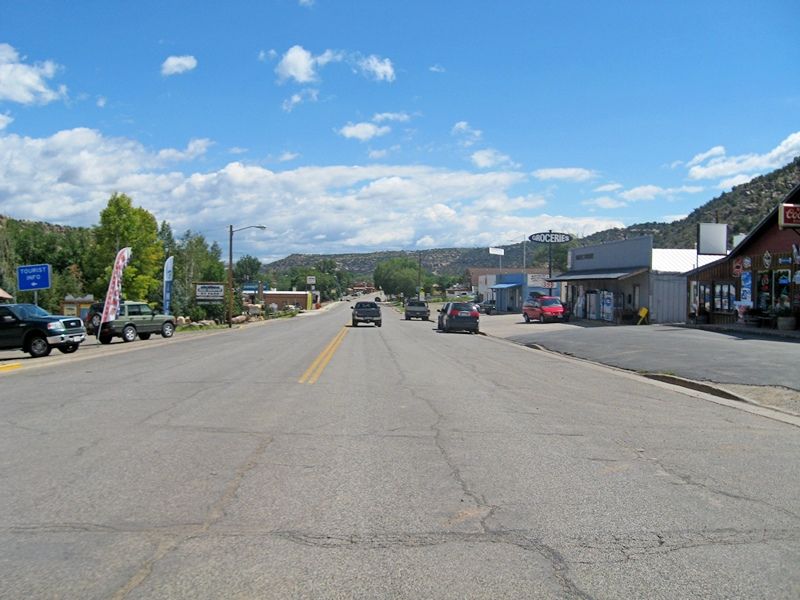 North bound on HWY 141, my first time on this highway, a perfect road for motorcycles.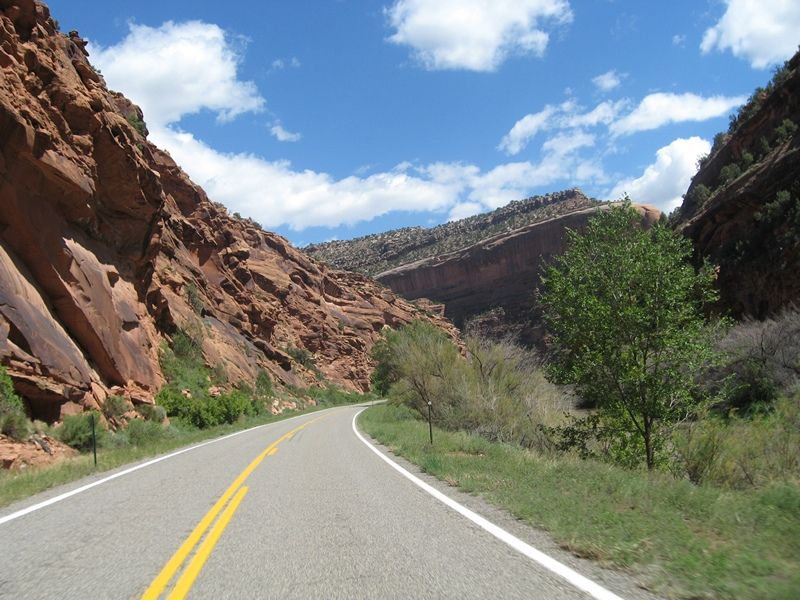 I will have to bring Donna back for this ride! Wonderful ride along side the San Miguel river.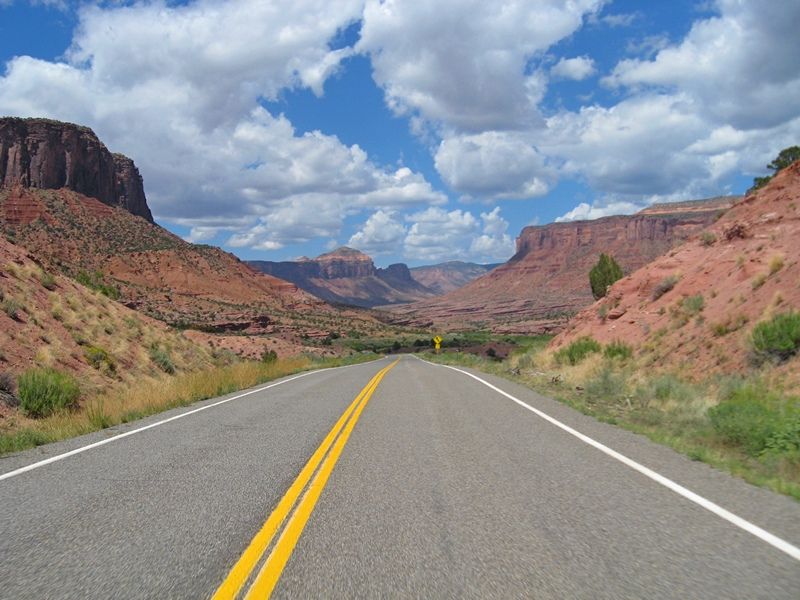 A quick stop at the Gateway Canyon general store to check on the location of our Wyoming friends. They were in Rifle, CO., so our timing looked good for meeting up in Grand Junction.
More canyons on HWY 141, just perfect!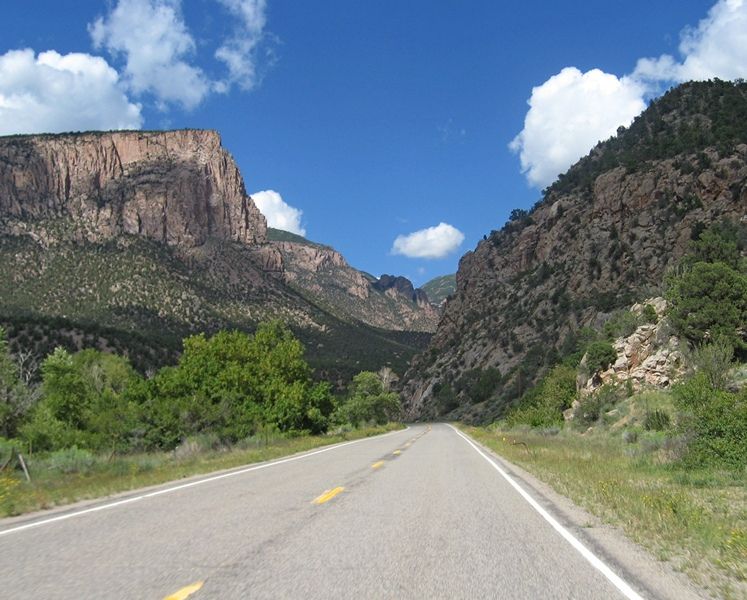 Sam & I got a motel, Jess, Tom, Dave and Marty arrived about 15 minutes later. Tom & I joined the Patrol in 1984, Marty & I were roommates for 26 weeks at the Wyoming Law Enforcement Academy in 1986, Dave & I worked together in Evanston, WY. for about 8 years, and Jess (poor man) was my supervisor while I was in the Motor Carrier Division in Evanston. Catching up with them was great, good friends can be apart for years, but it is amazing how easy it is to just act like it was last week. I have been truly blessed to have friends like this!
A little throwback. This what we looked like in 1995 or 1996, Motor Carrier Div., Wyoming Highway Patrol. From left to right, me, Tom, Jess & Dave on the right side. Marty wasn't in the Motor Carrier Div.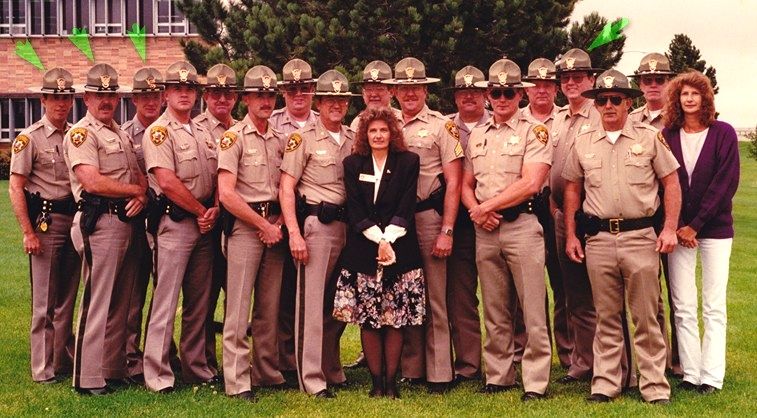 Up and on the road the next morning, trying a "behind me" pic, need a better plan for this!
On HWY 92, we pulled off to admire the view.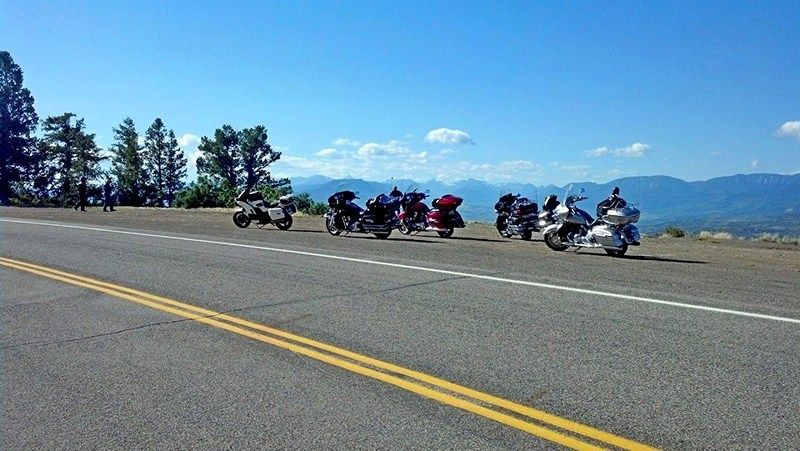 And took some group photos.
Jess, me, Marty, Dave, & Sam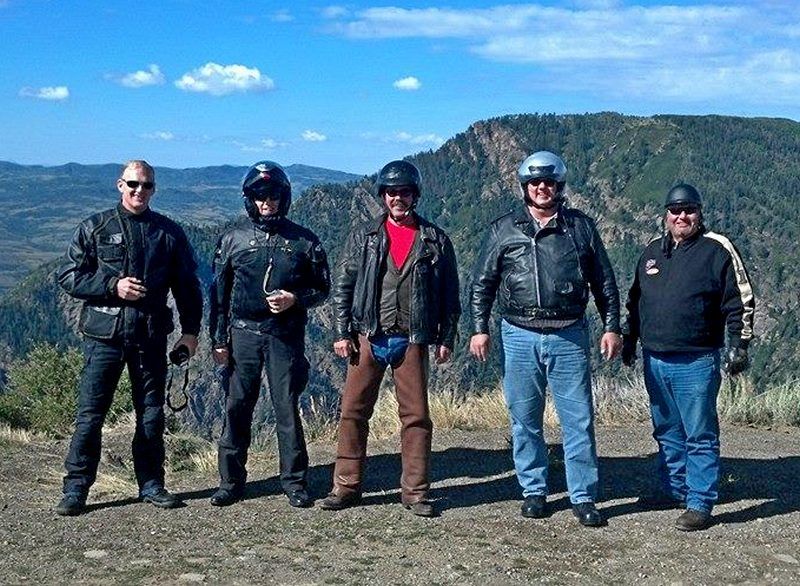 Tom & Jess changed places.
About face…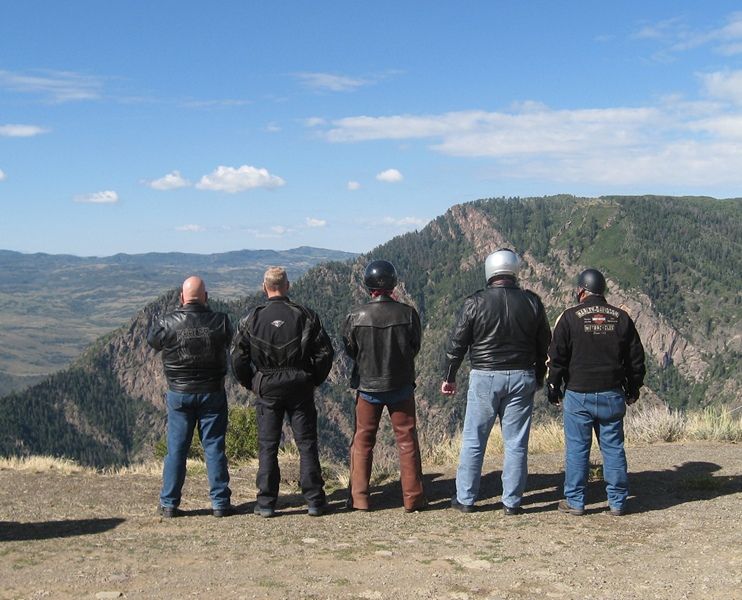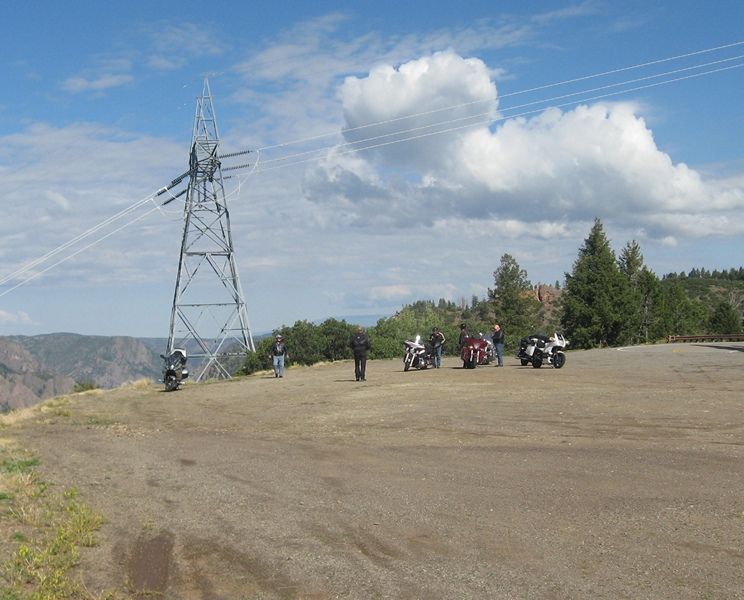 I jumped ahead to get this.
I think Marty was enjoying the ride! His Victory is one large motorcycle.
Yours truly at Cochetopa Pass on HWY 114.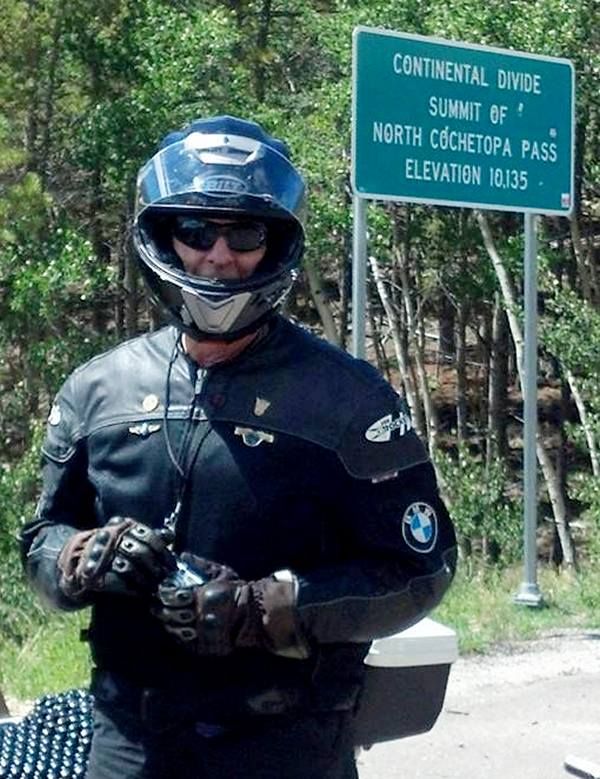 HWY 114 had some excellent sweepers going up & down, I couldn't stand it any longer and jumped ahead and got on the throttle. I told everybody it was to get this pic.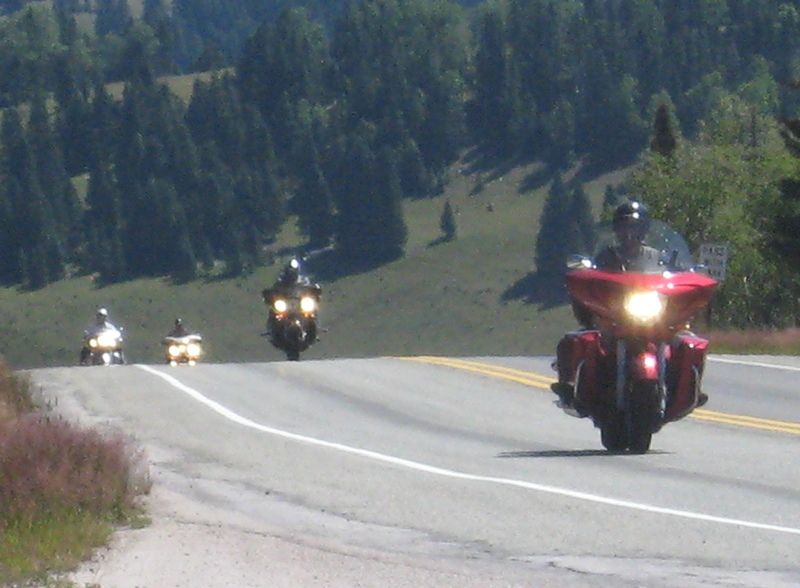 HWY 114, out of the mountains, long & straight.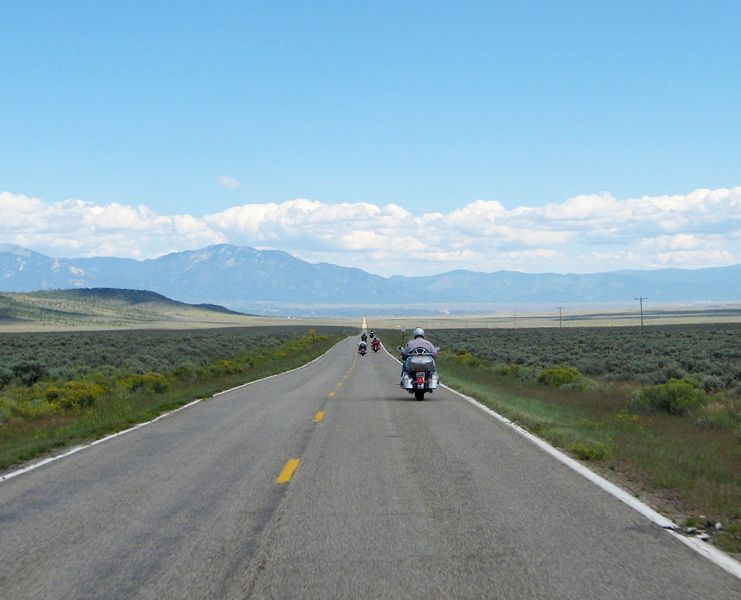 This one turned out a little better….Tom, Dave, Sam, & (you can hardly see him) Jess.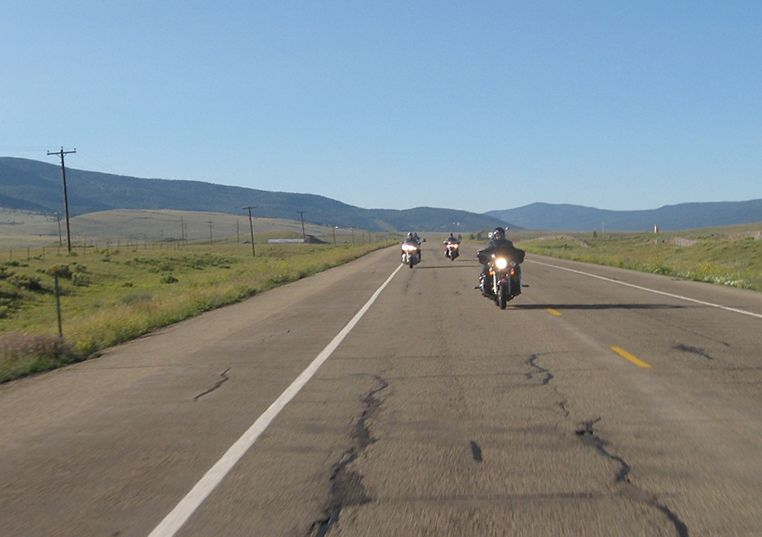 Sam took care of packing the important stuff!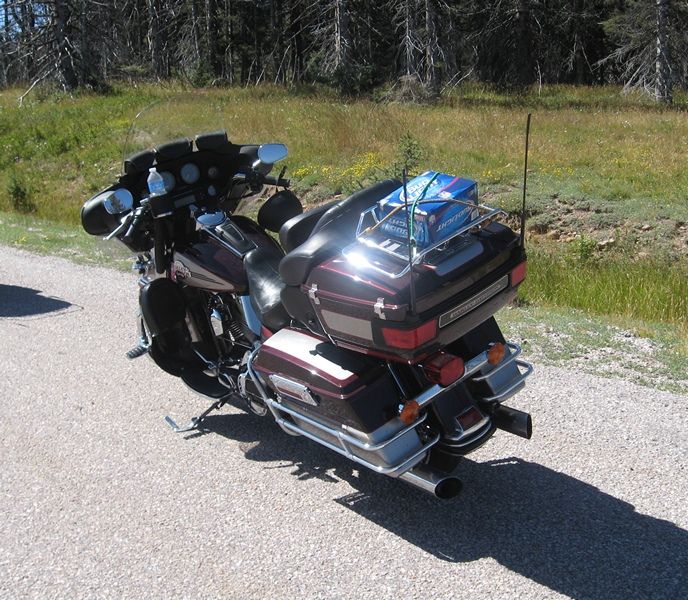 I went ahead again to get them each on their motorcycles as they passed.
Jess on his BMW 1600 GTL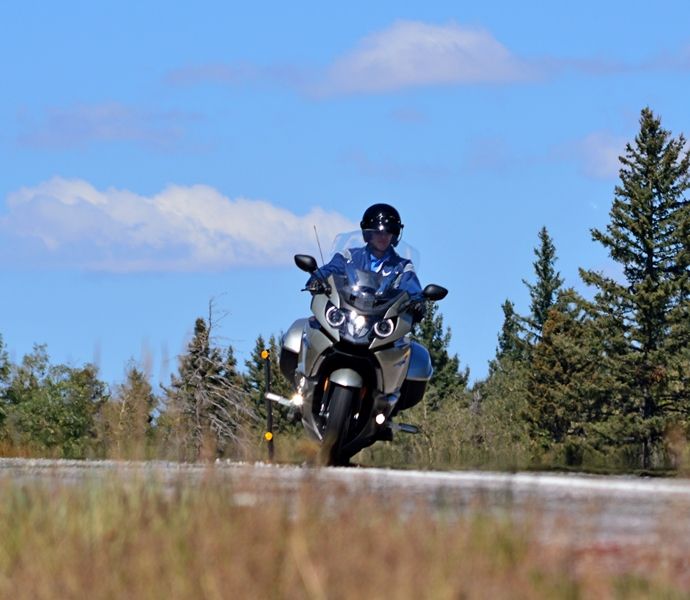 Marty on his Victory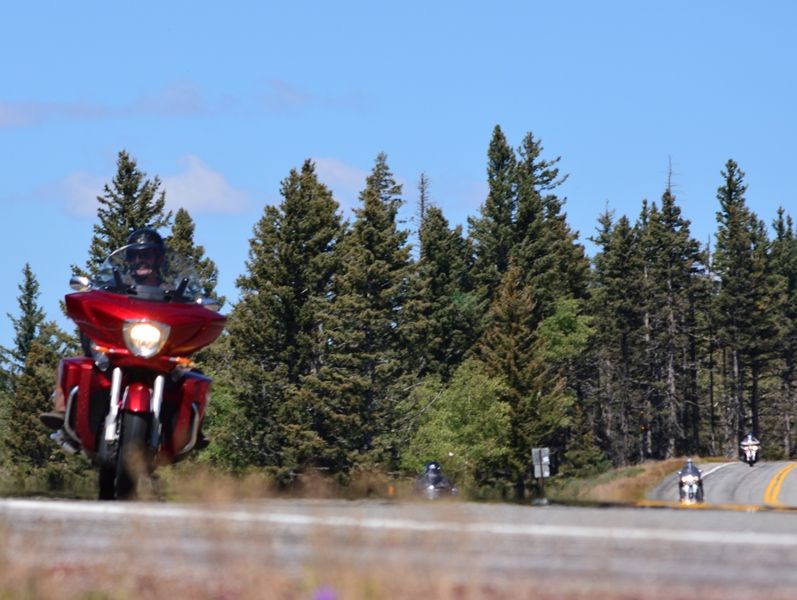 Tom on his Harley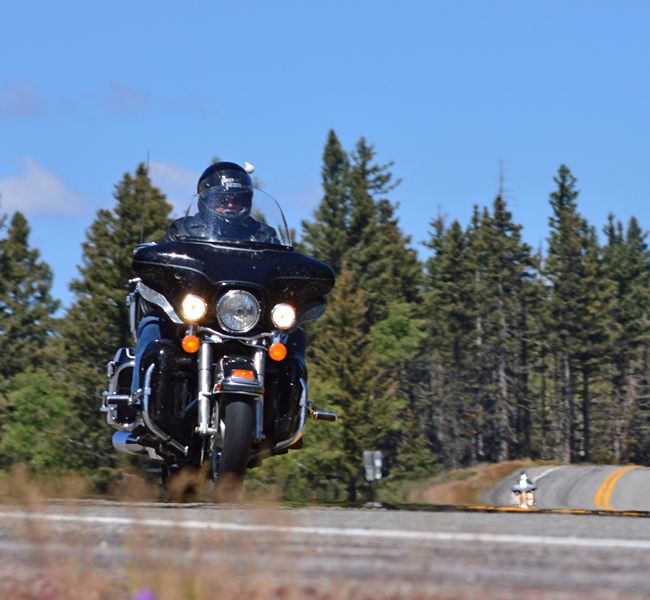 Dave on his Yamaha
Sam on his Harley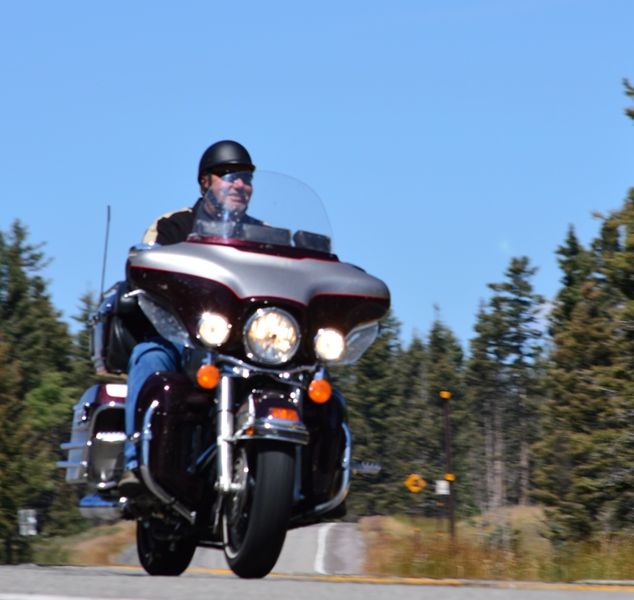 We spent the night in Taos, NM. The next morning we did a big circle on HWY 64, stopping to have breakfast near Eagle Nest, then looping back on HWY 38 & 522. Everyone had on their cold weather gear as it was definitely cool that morning.
West bound on HWY 64.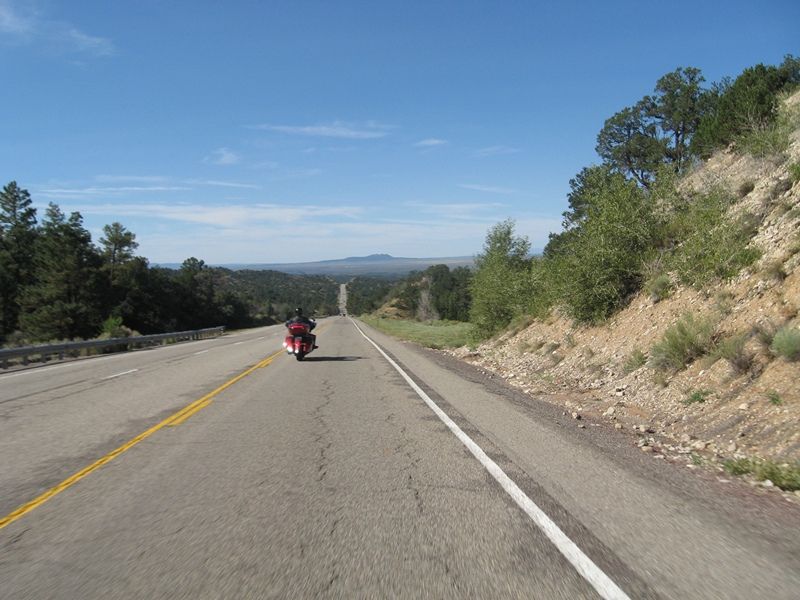 We spent the night in Farmington, NM.
Only the finest for us…actually, we picked this motel, as it was a very short walk to a Bar-B-Q place we spotted on the way to the Harley shop to get Tom a headlight bulb.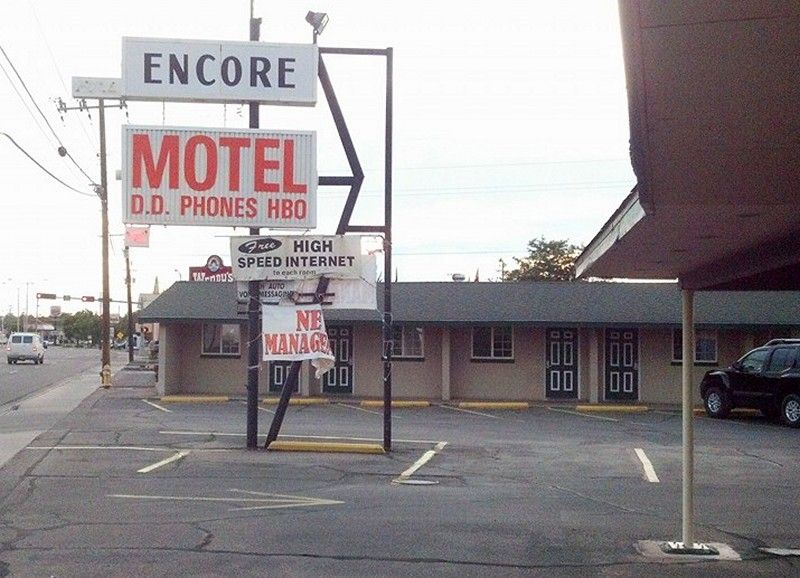 Our only issue on the entire ride was a burned out headlight. Tom supervised the job, Jess did the work, with an assist from Sam.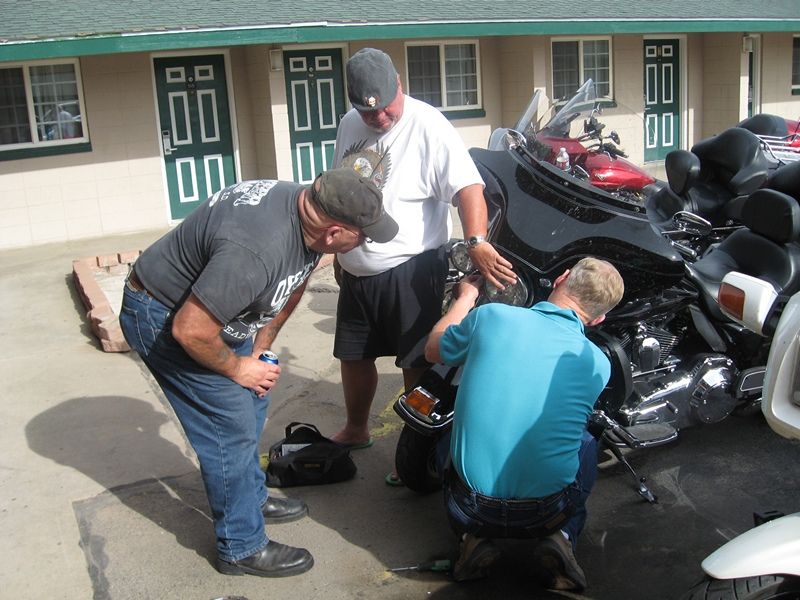 Marty & Dave offer their encouragement!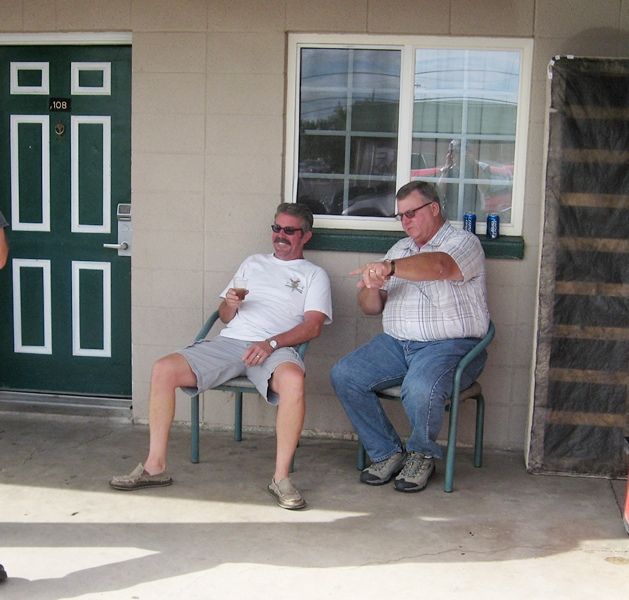 Then a short walk down to eat Bar-B-Q. Another small mishap as Dave walked under too many pigeons & took a direct hit!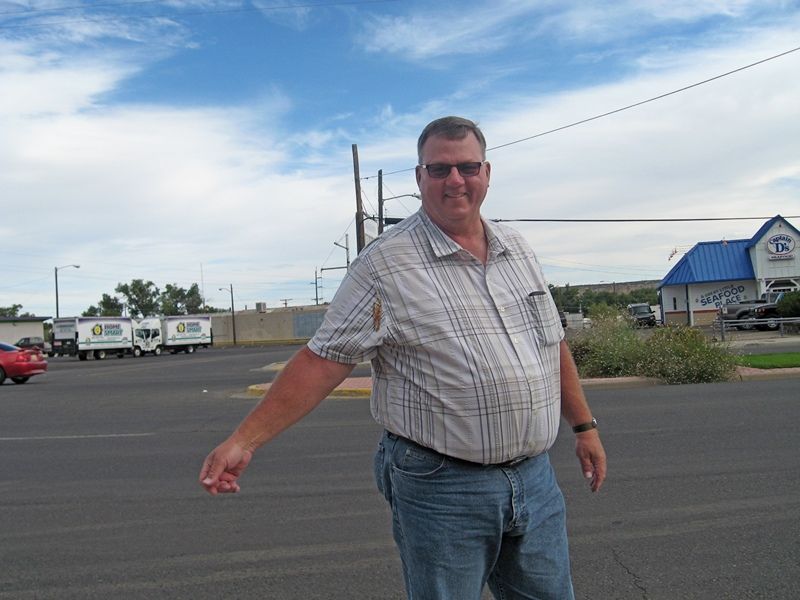 Nobody left hungry, this was some good Bar-B-Q!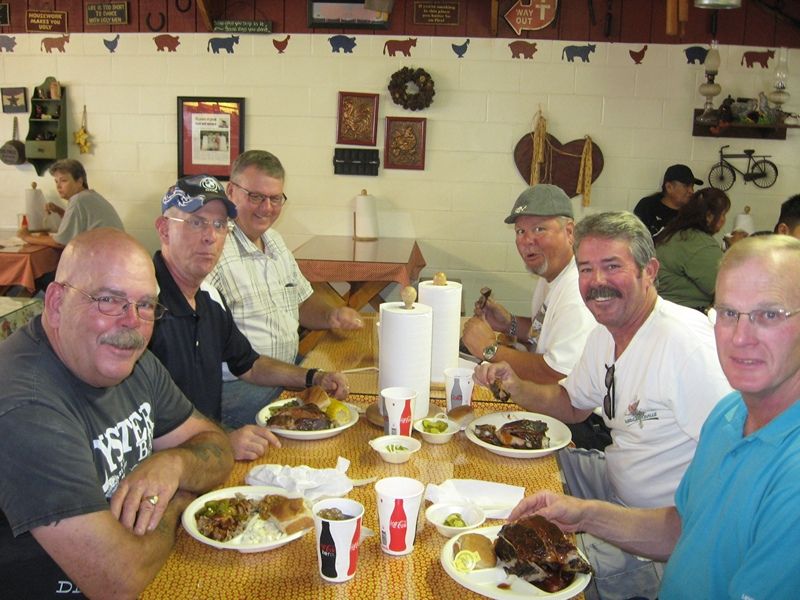 Then back to the hotel for planning tomorrow's ride. (and more frosty adult beverages!)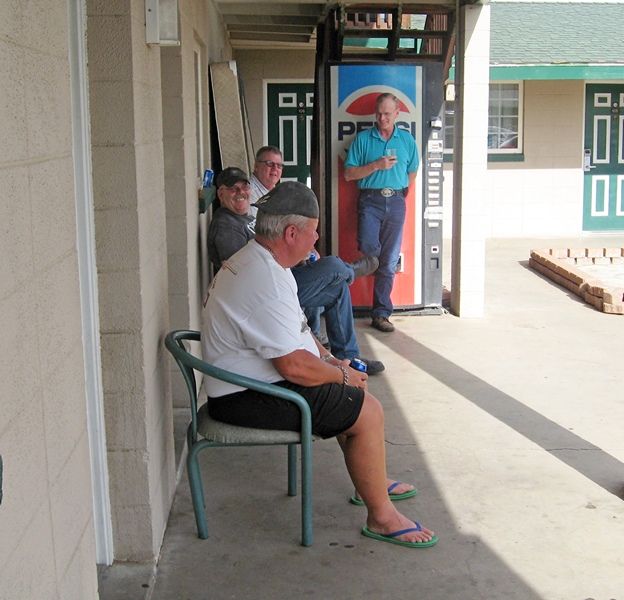 Gassing up for another fun day of riding.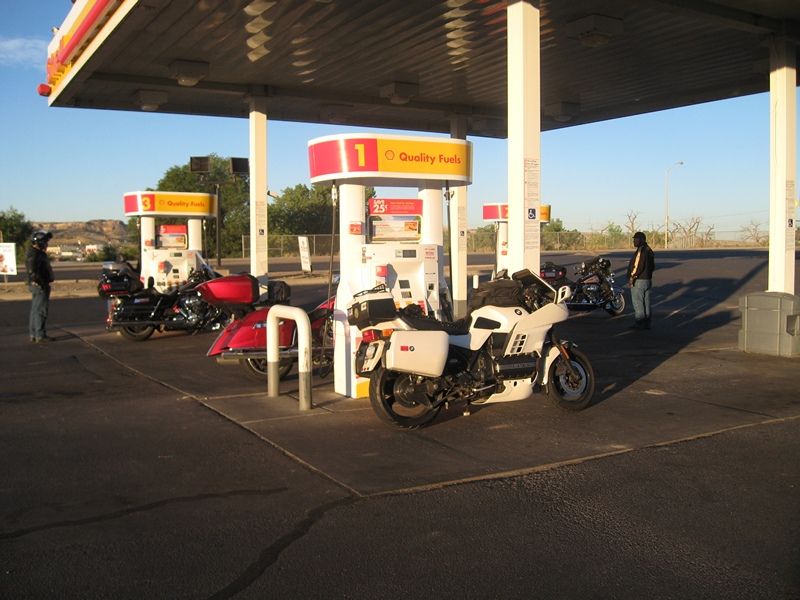 HWY 64, on our way to the "Four Corners", another perfect day! This road could use some new blacktop, a very bumpy ride.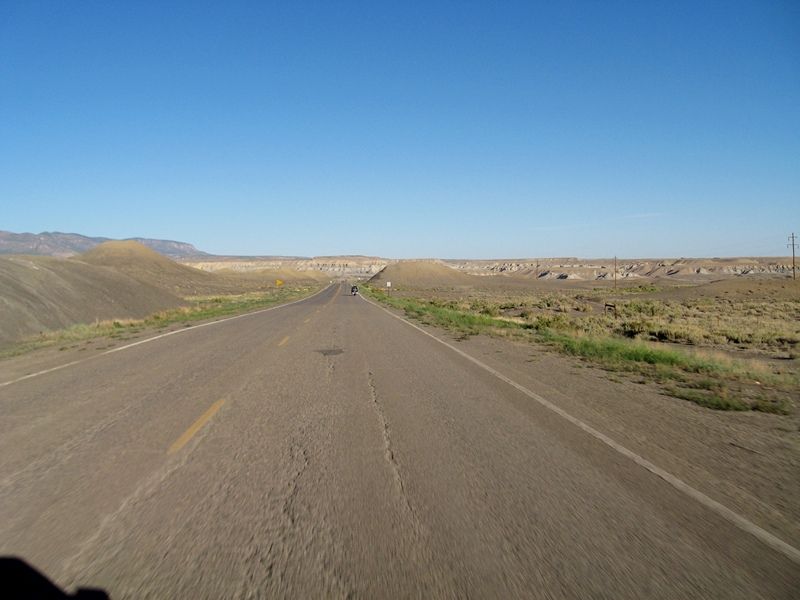 An attempt at an "artsy" pic.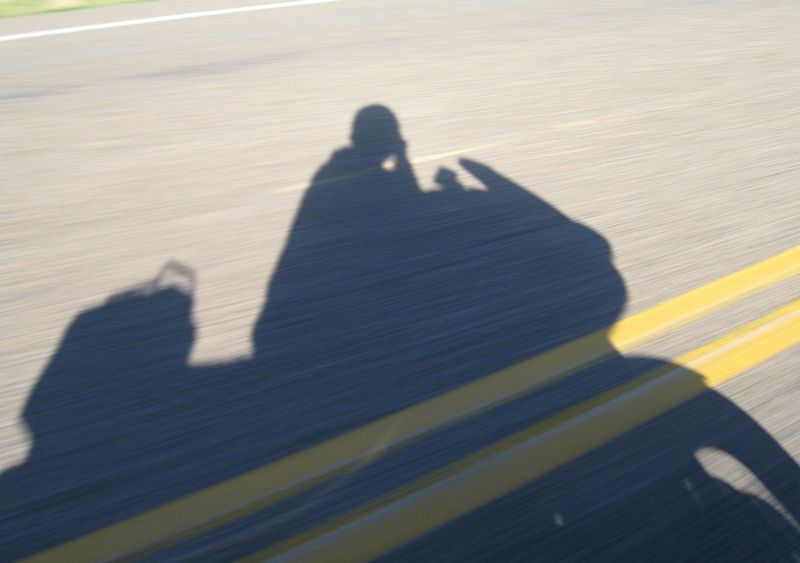 Sam, Dave, & Marty with me at the four corner's marker.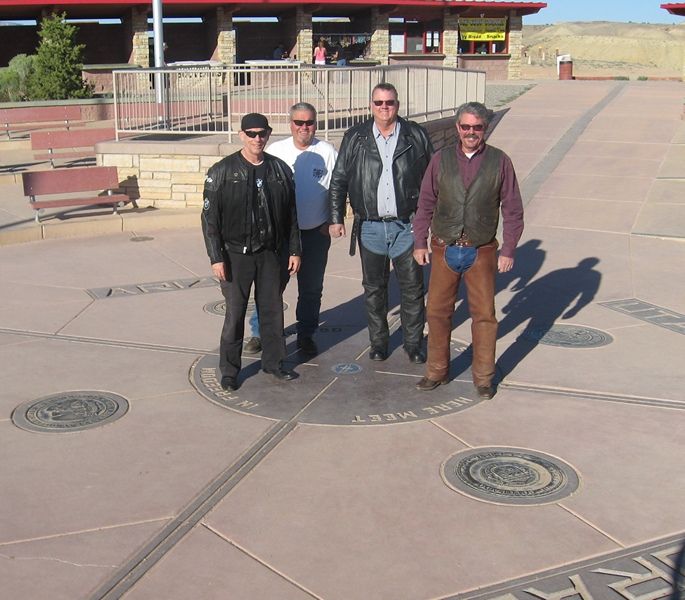 Back into the high country on HWY 145 in Colorado.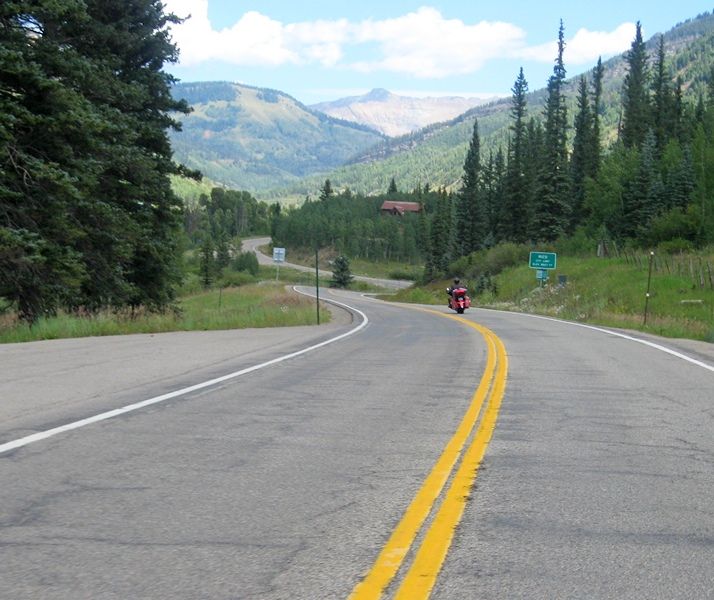 Going up…
We stopped to get back out some cooler weather gear.
Ouray, CO.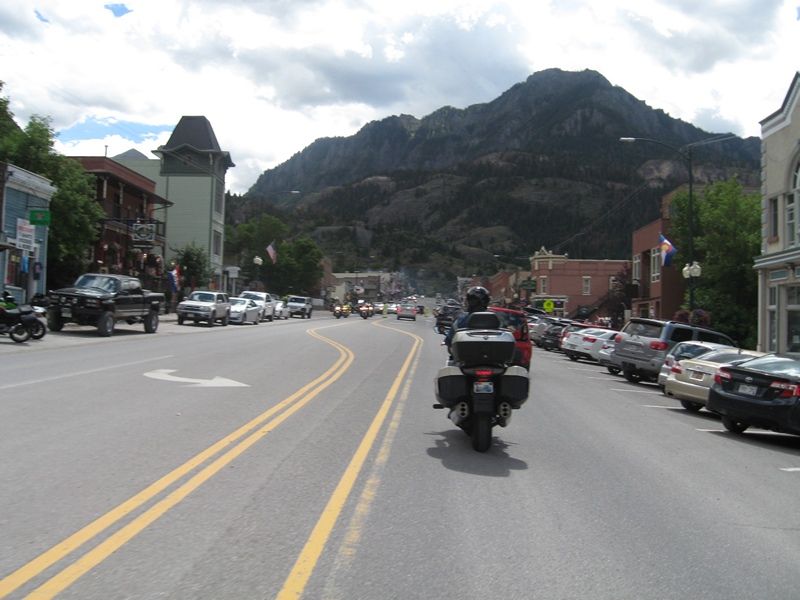 Our plan had been to ride HWY 550, the "Million Dollar Highway" to Durango, but the Labor day weekend traffic made us change the plan. We rode as far as Silverton and turned around. A quick stop to get a picture of the Red mountains.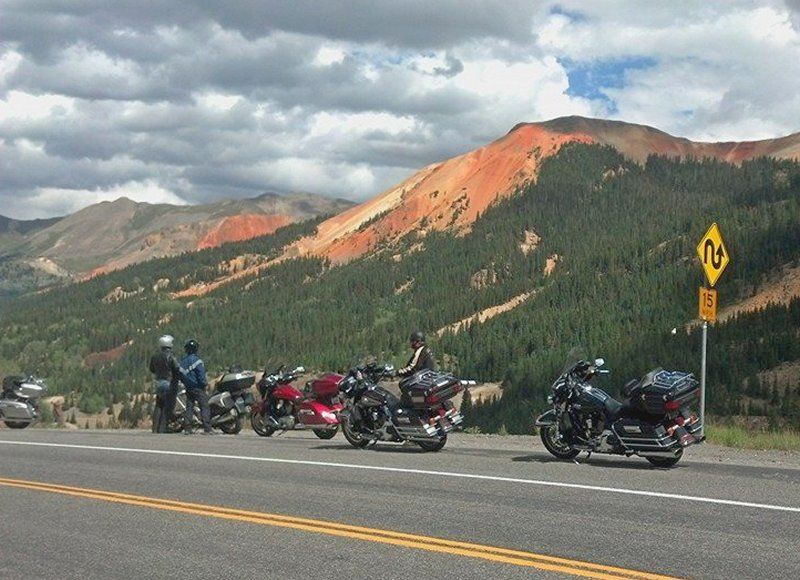 Back on HWY 50, heading north.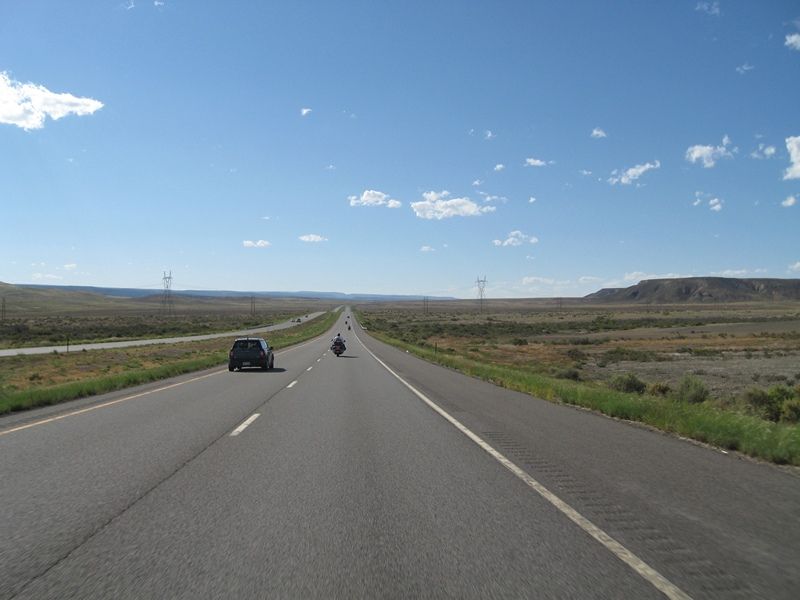 We ended the day in Grand Junction, and stayed at the same motel. We walked down to main street and were having a good dinner until a karaoke contest started. The singing was not conducive to eating, so we finished quickly. After dinner, we went into the bar that was right next to the hotel. It wasn't your typical bar though, we had wandered in on "transgendered dress up karaoke night". A daily double on karaoke! He shall remain nameless on this blog, but one of us (not me) absolutely rocked the house with his rendition of the Johnny Cash song – Ring of Fire! Then back to the motel for more planning, and frosty adult beverages.
Dave had to head back the next morning for Wyoming, so our group was down to five. I enjoyed the ride Dave!
The next morning, we took HWY 141 south, the same HWY Sam & I took going to Grand Junction on the 28th. We stopped at an old closed down diner, named the 1+1 Diner & Mobil gas station, just north of the Gateway Canyons resort. It still had the red winged horse sign and a what looked like a lighted red winged horse on the building that Mobil used many years ago. It also had a for sale sign in the window.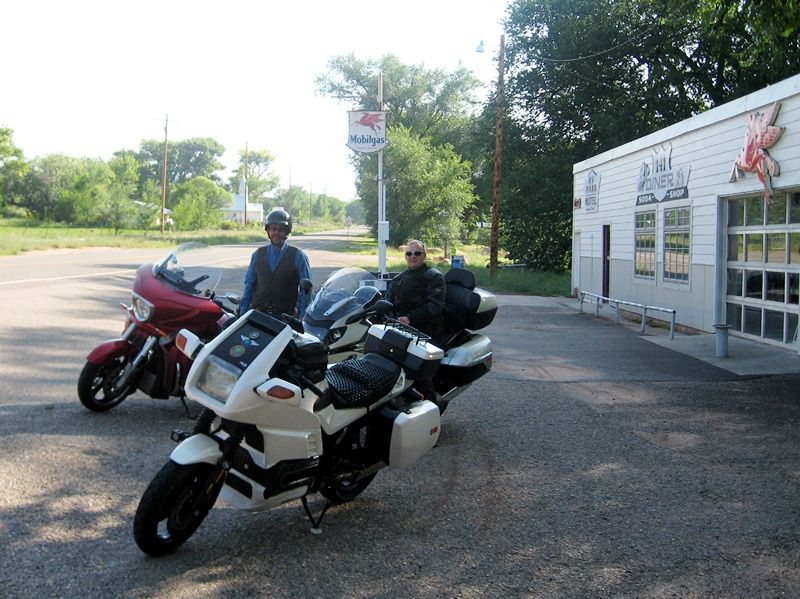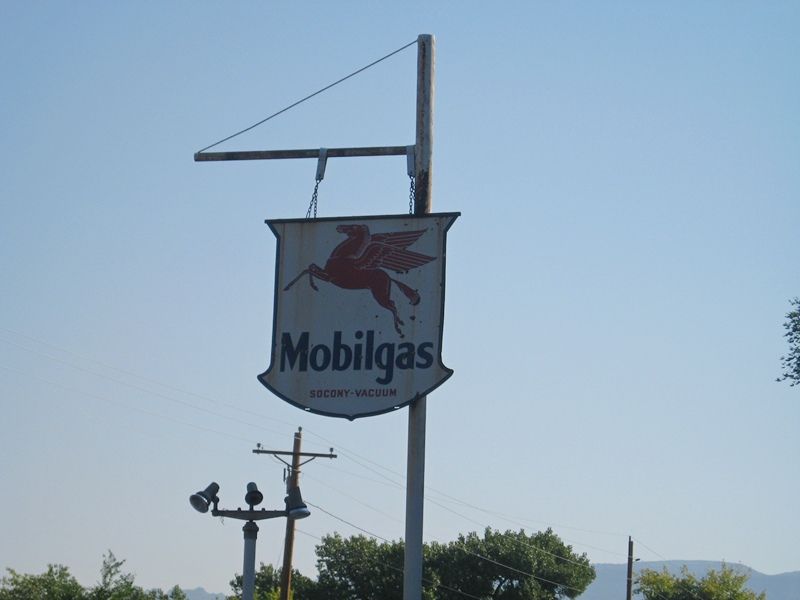 There was also an old pay phone booth with the coin phone still intact, not many of those left in the era of cell phones.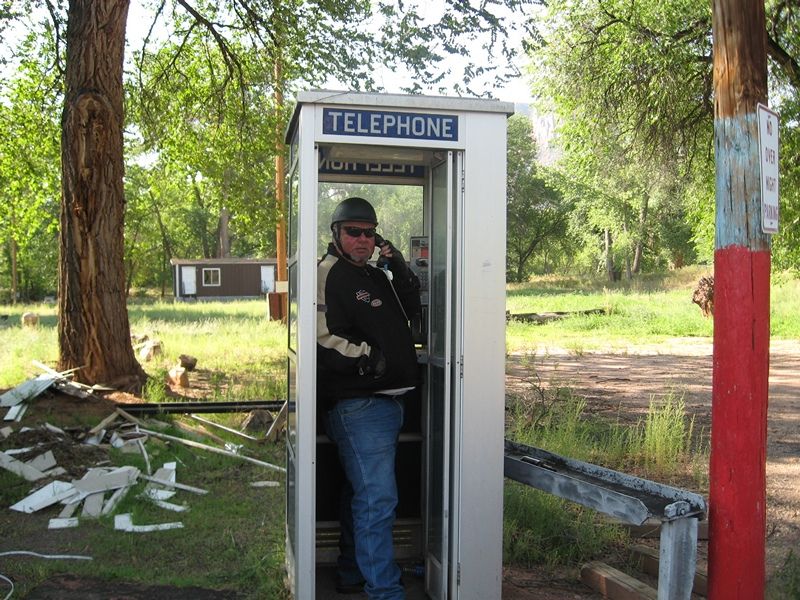 HWY 141 was just a fantastic ride with great scenery!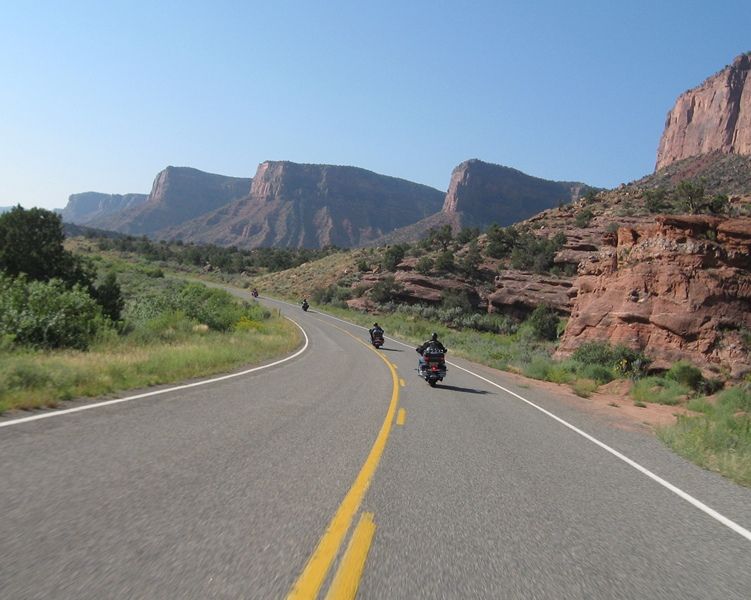 We stopped and took some photos of the river & canyon.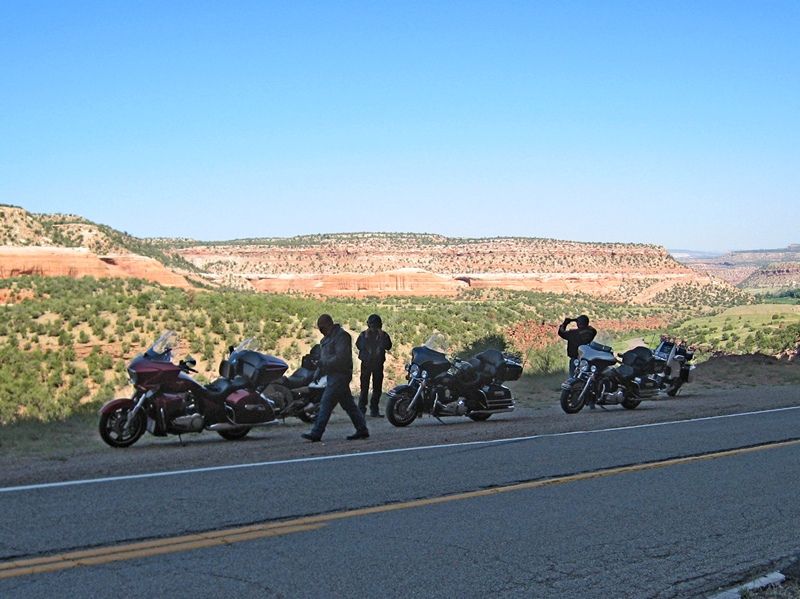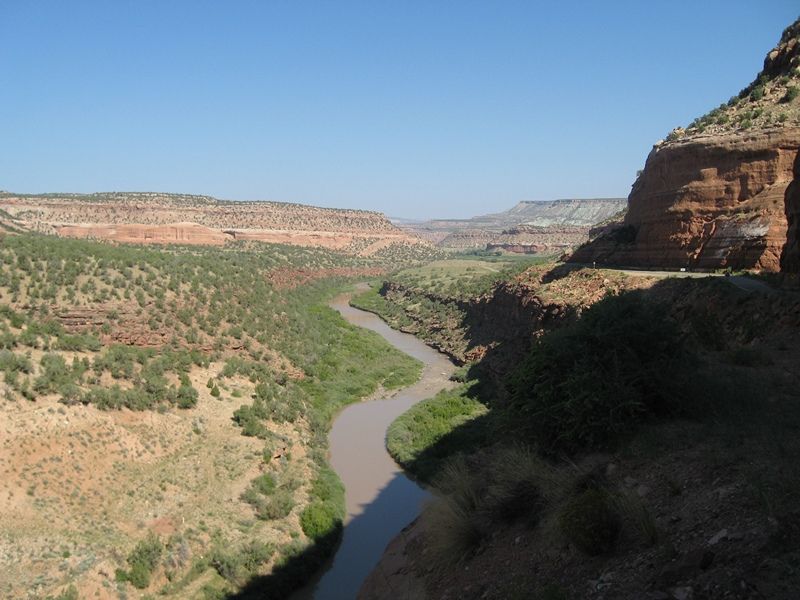 Jess & I stopped at the next pull-off to read the historical sign.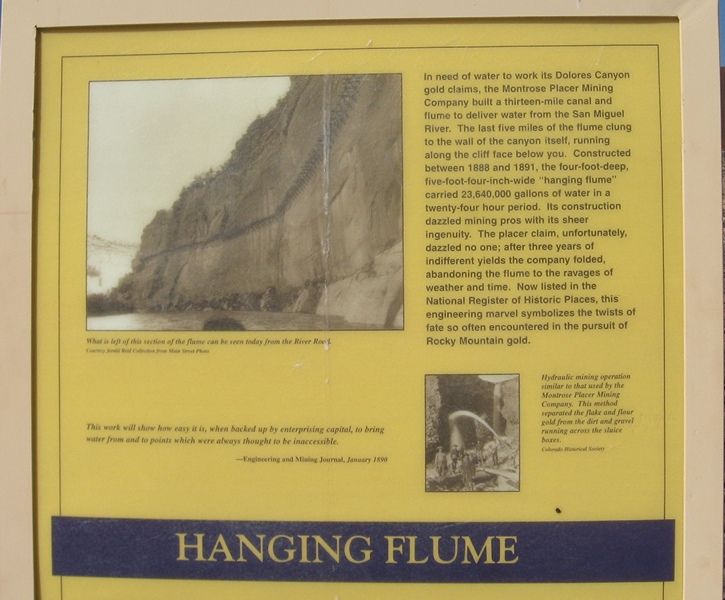 Parts of the flume were still visible (red arrows). Glad I wasn't the guy who had to repel down and drill those anchoring positions!
There was also a couple of what appeared to be wrecked cars at the bottom, no telling how long they had been there.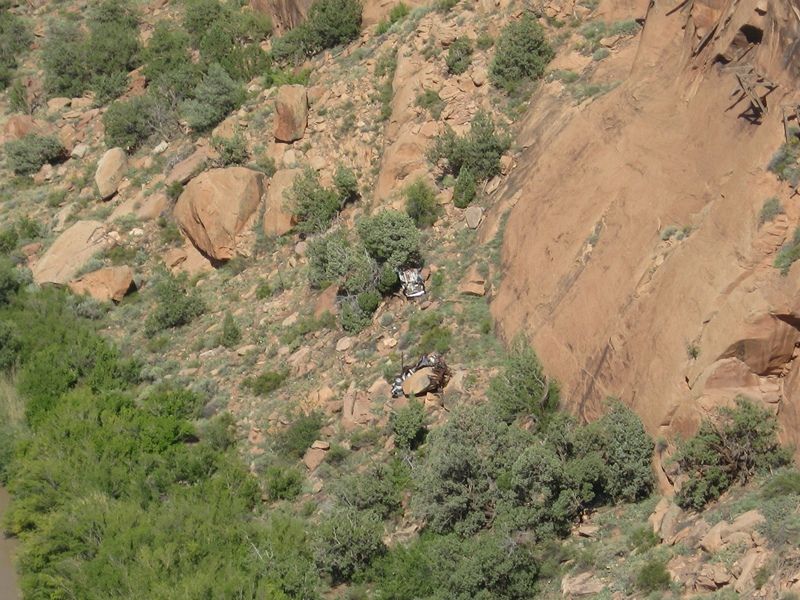 Back into Naturita, CO. for gas & a cold drink.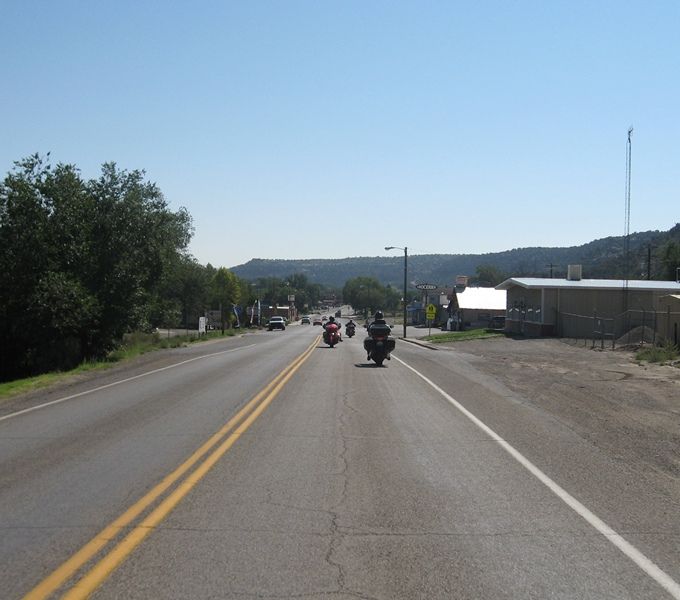 We stayed on HWY 141 going south.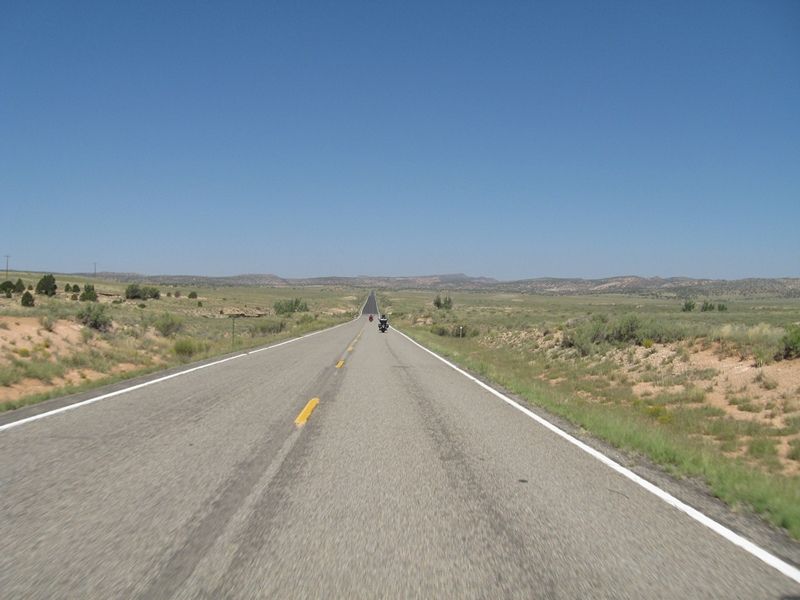 Before reaching Monticello, UT., we pulled over to plan our next route. Tom offers no input and waits while his fate is decided! We decided on going to Page, AZ. for the night.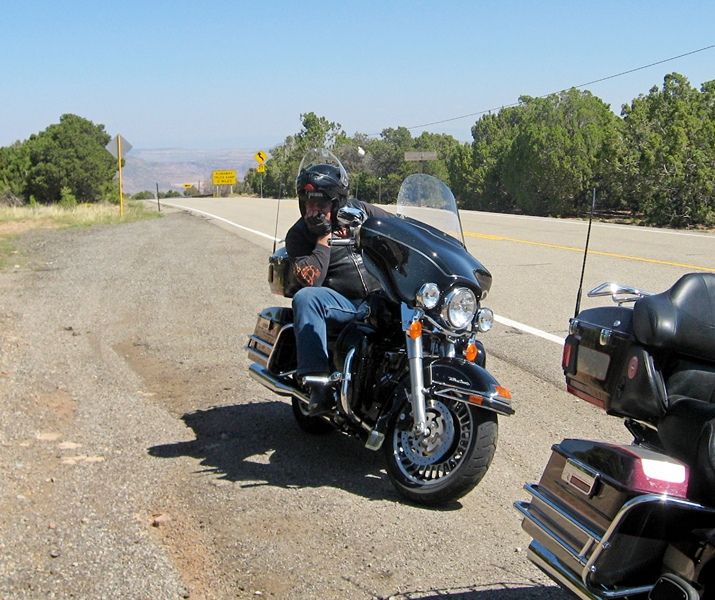 Passing several large sunflower farms on HWY 491.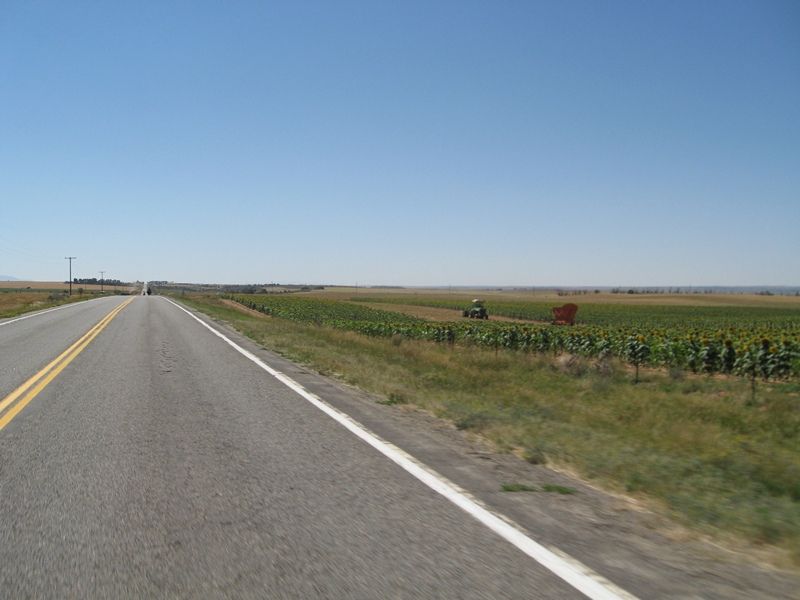 Coming in from the north towards Mexican Hat, UT. Monument Valley off in the distance.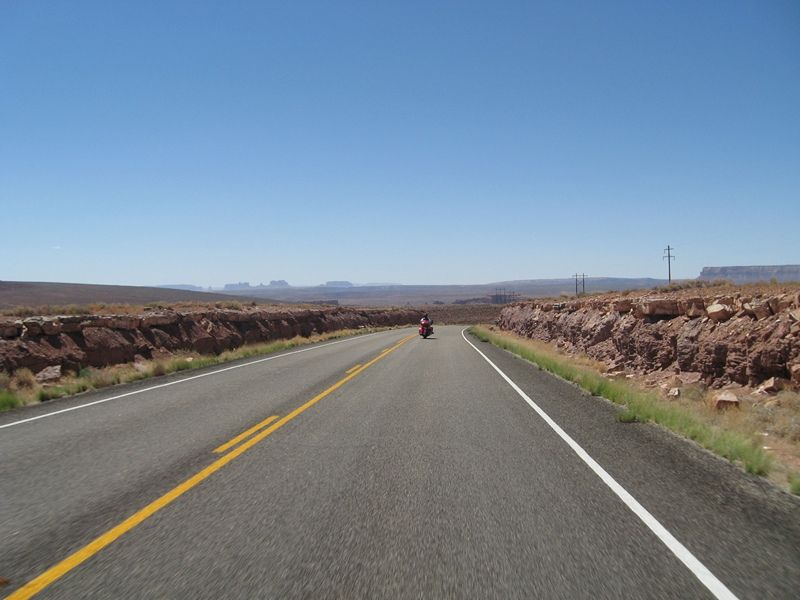 The scene on HWY 163, where Forest Gump "just likes running"!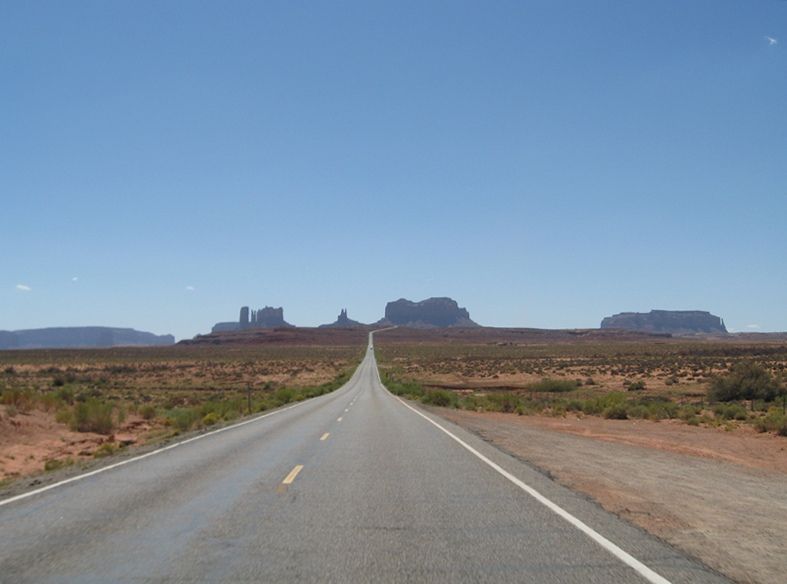 Passing Agathla Peak going south on HWY 163.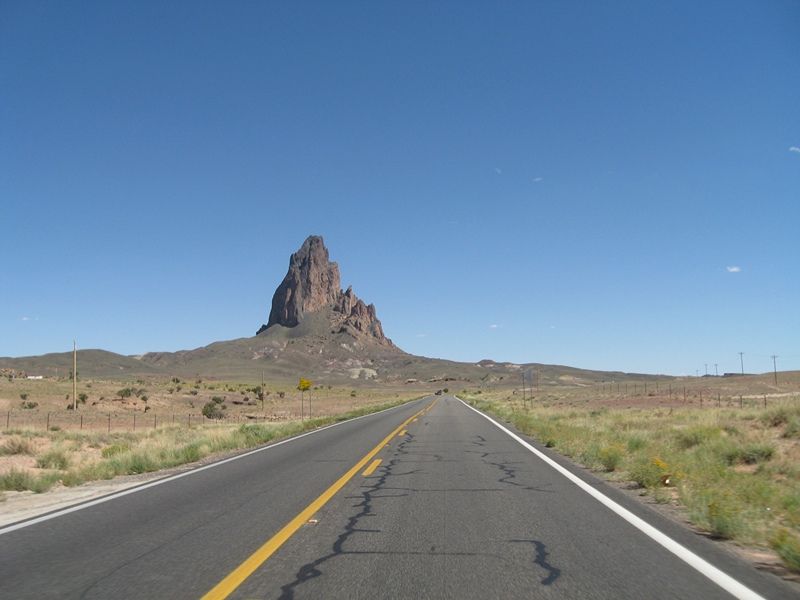 Lake Powell comes into view, HWY 98.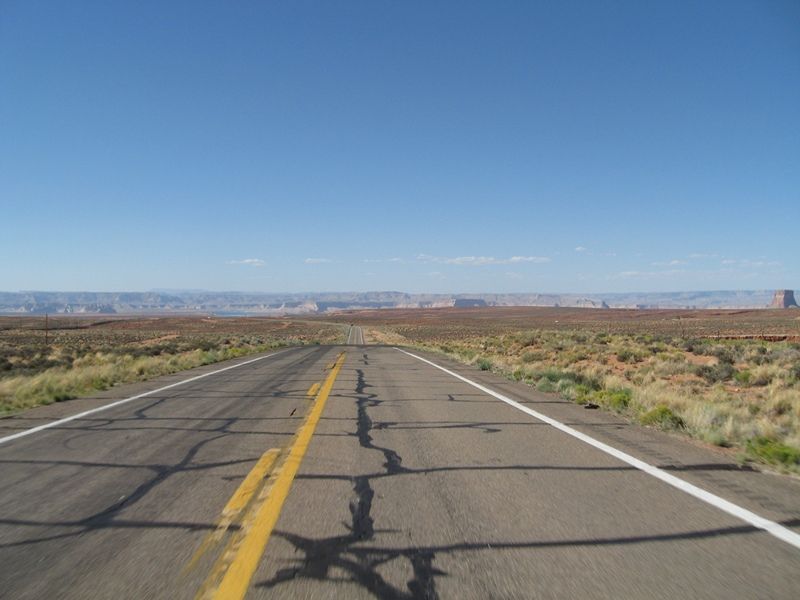 After arriving in Page, AZ., we spent some quality time at the Sunshine laundromat.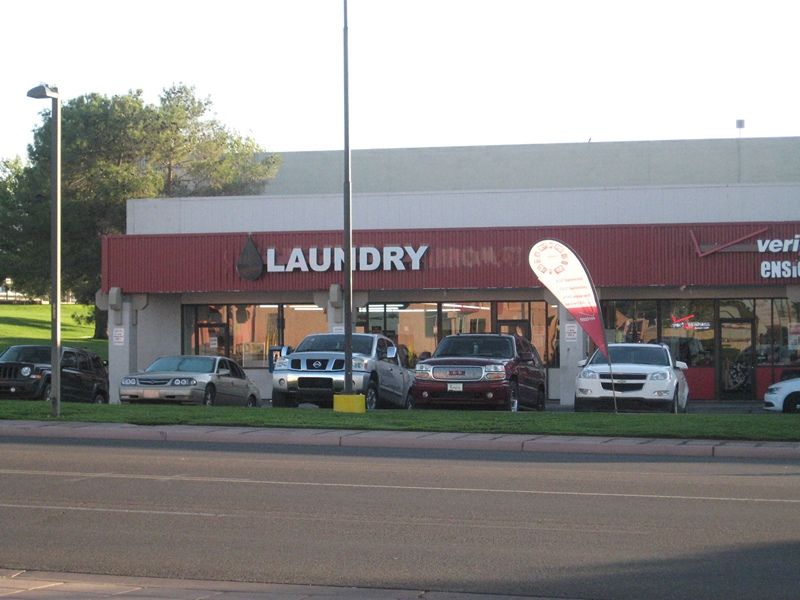 We ate dinner at a Mexican place, then back for more frosty adult beverages & route planning.
Up and riding with the sun, we stopped at a view area and took a group pic (sorry we didn't do this sooner Dave), and enjoyed the view of Lake Powell. Very much like Lake Meade, the lake level was way, way down. Sam had to get back to Phoenix, so he headed south after the picture. Enjoyed the ride Sam, I'm sure I'll be calling him for some day rides after the weather cools off.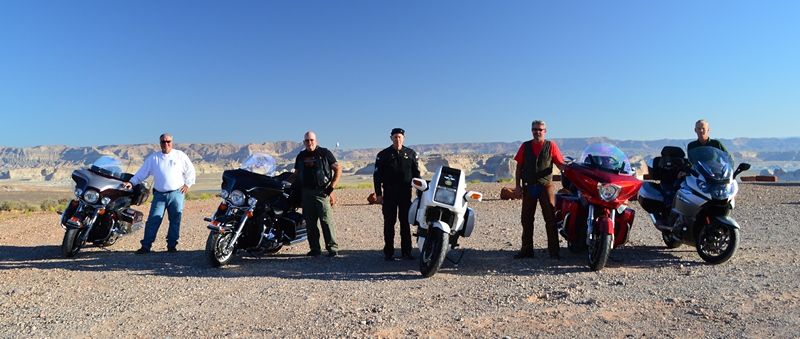 Lake Powell, another perfect morning to ride.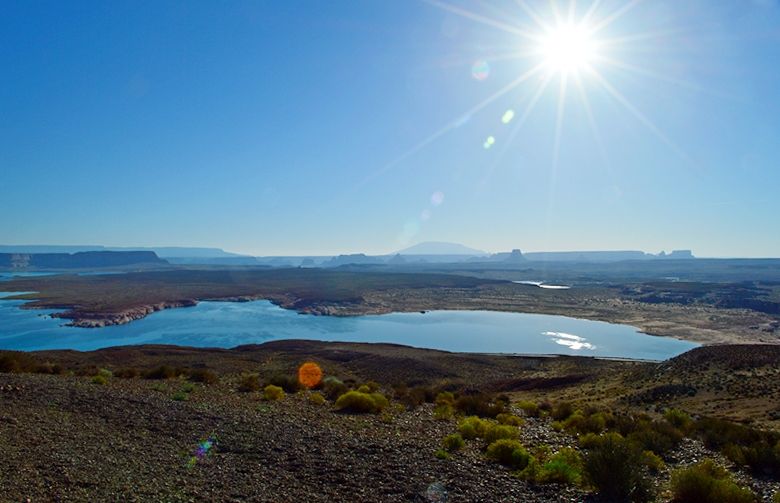 Trying the "behind" pic again on HWY 89, not so good!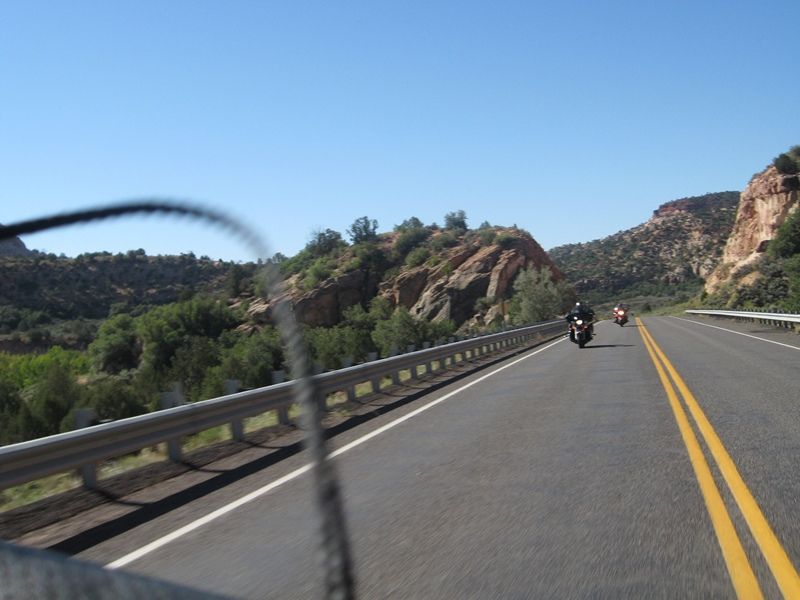 So I tried it this way…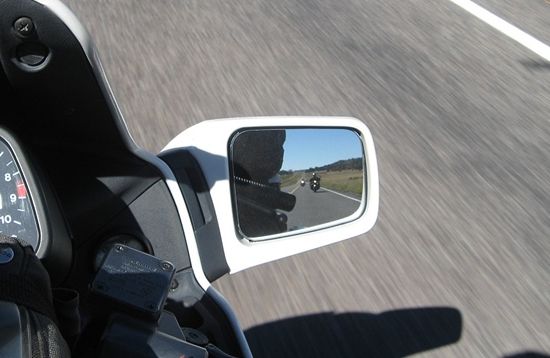 Our next destination was Zion National Park. $12 to get in the park.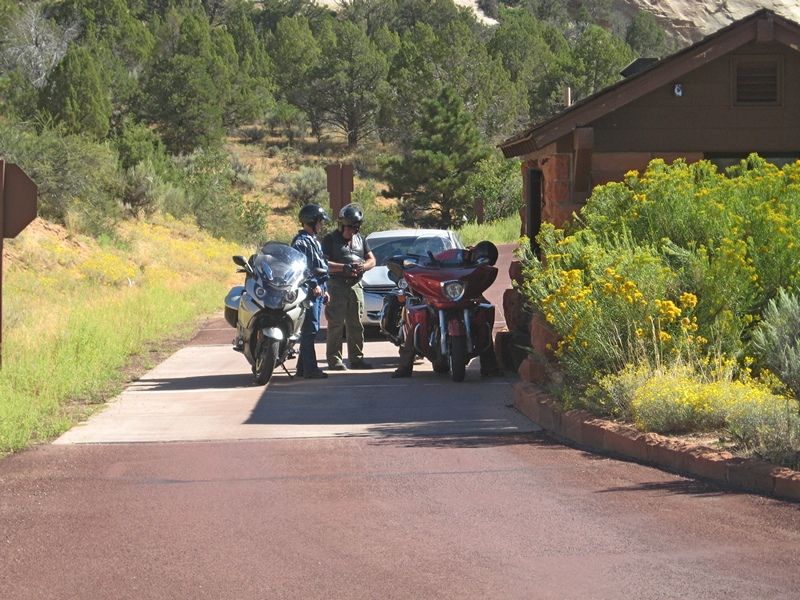 I was not able to get any pictures riding on HWY 9, but Jess did, so I am adding them in. Thanks Jess!
Me, Marty & Tom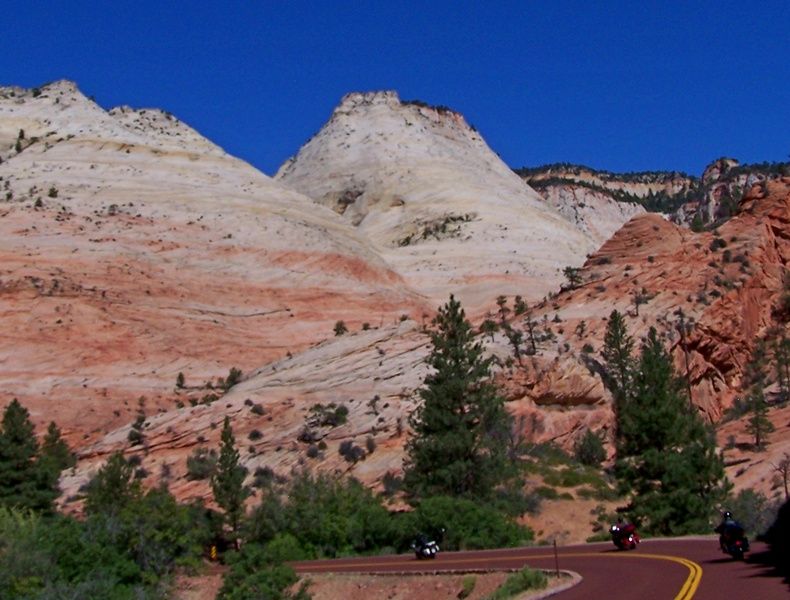 There is a long tunnel on HWY 9, man, was it get dark in there!
More beautiful country to ride in!
We did not get to ride into the main part of Zion, there is a vehicle restriction until October, the only way in is to catch a shuttle at the visitor center, we didn't want to spend the day doing that, so we pressed on to Bryce National Park.
We jumped on I-15 up to Cedar City (our only interstate for the trip), then onto HWY 14 east.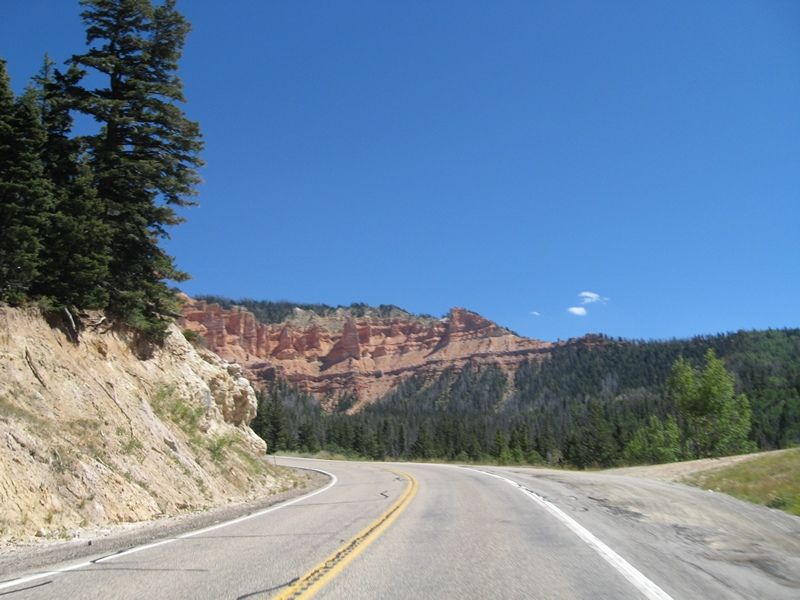 We stopped at Ruby's near the entrance to Bryce Canyon and took a break. This area has really built up in the last couple of years, with several new motels and restaurants. We decided not to go into the Park, and set our sights on Torrey, UT.
HWY 12, through the desert.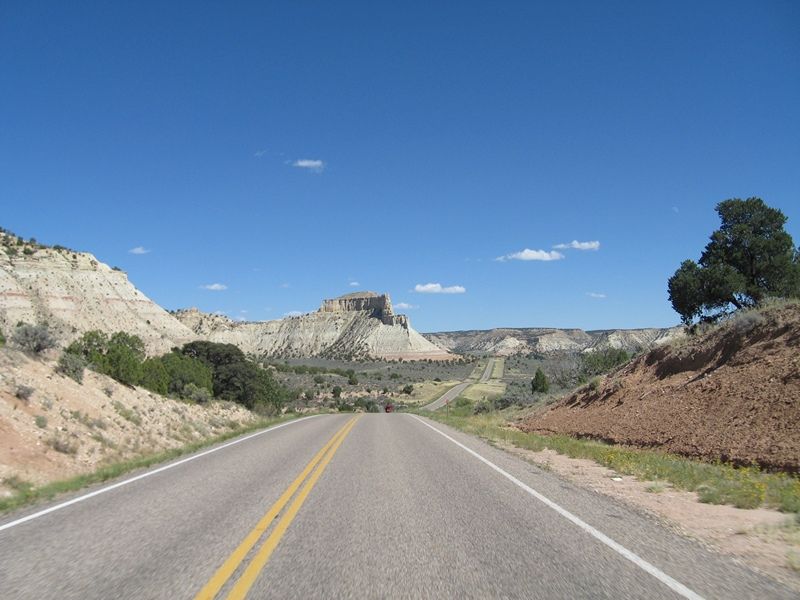 Hwy 12 then goes red!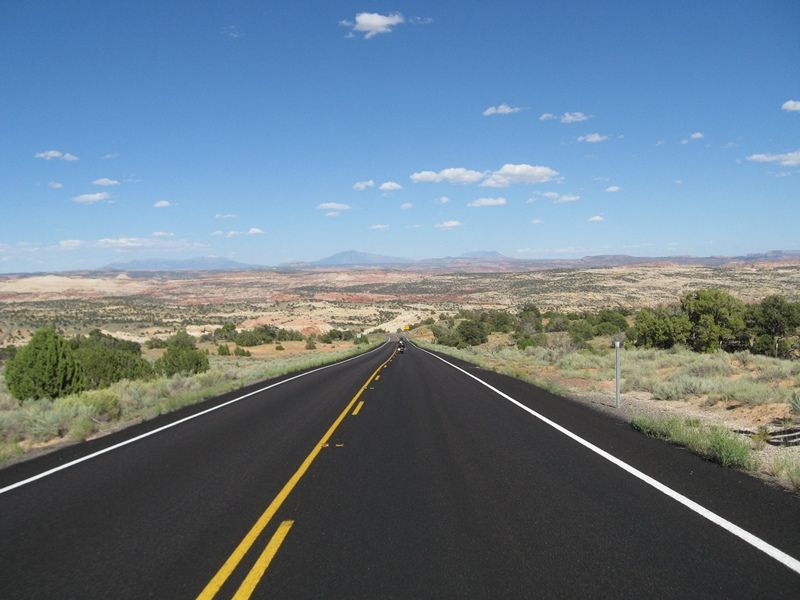 Following Tom, man, oh man – what fun!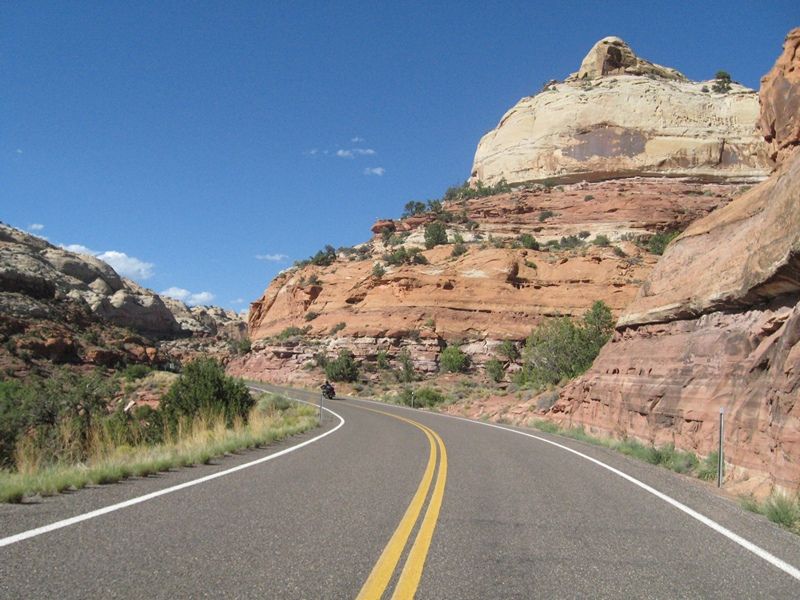 HWY 12 then goes up, a nice view from a pullout.
Even the bikes look better at altitude.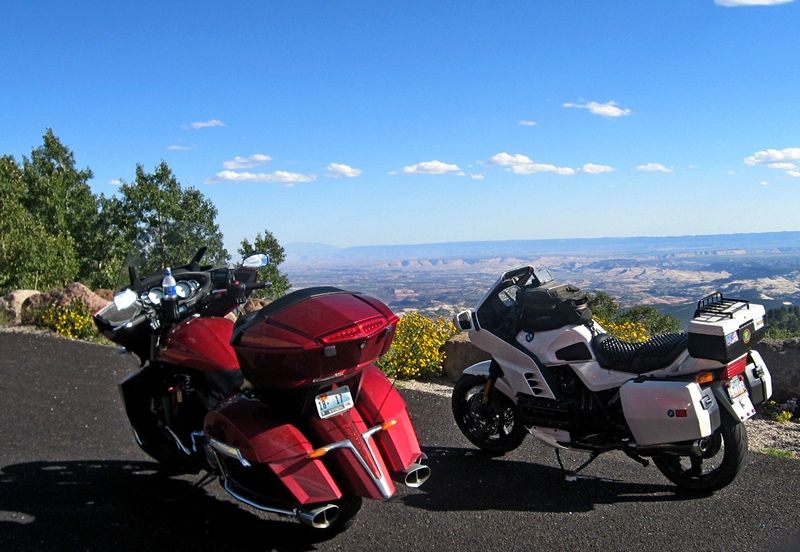 Planning & adult beverages, a great way to spend an evening! I also learned that Donna's flight for that day had been canceled, so she would be flying home on Wednesday.
Morning sun on the desert red, HWY 24.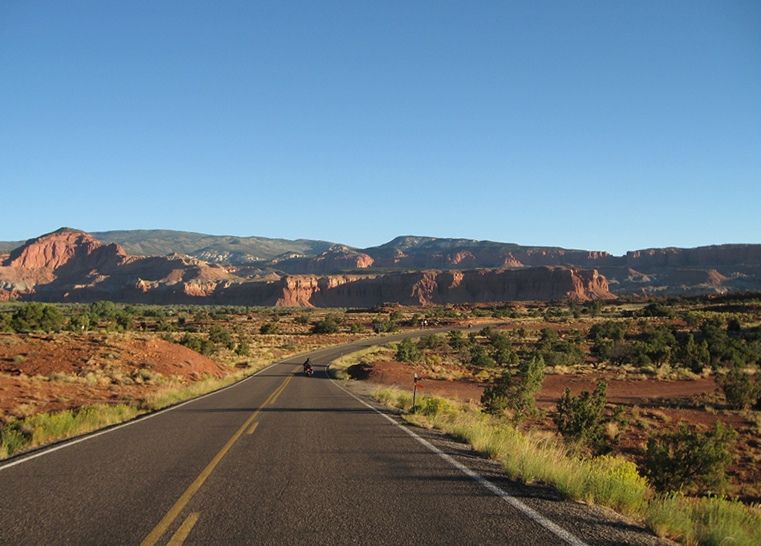 We stopped and checked out the petroglyphs on HWY 24.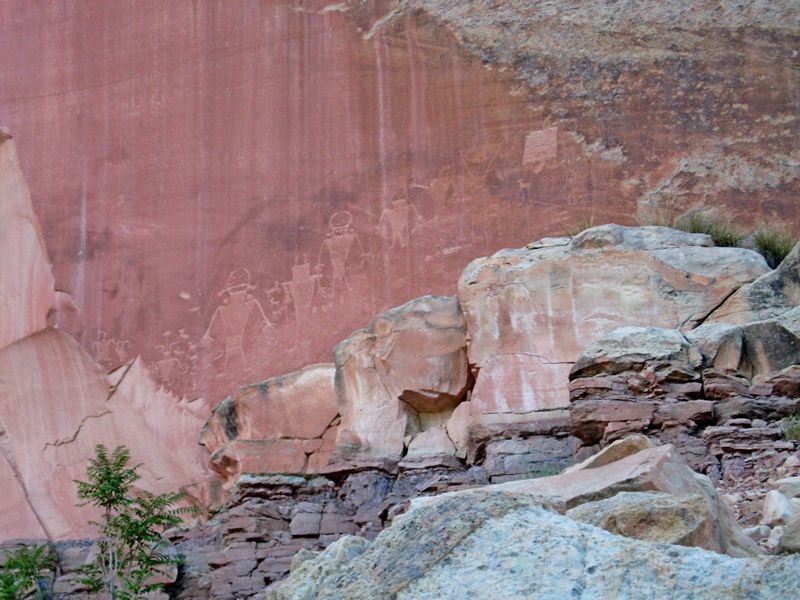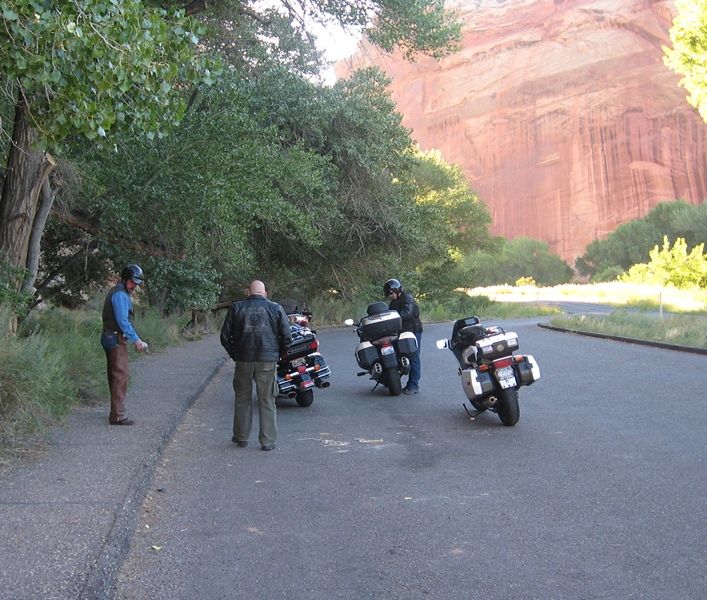 This view caught my eye. I should have taken my Nikon out and got this, but it was time to ride. Another place to bring Donna.
We stopped in Hanksville to take a break, I should have gone into the "Hollow Mountain" store. Cool idea, putting your convenience store in a cave!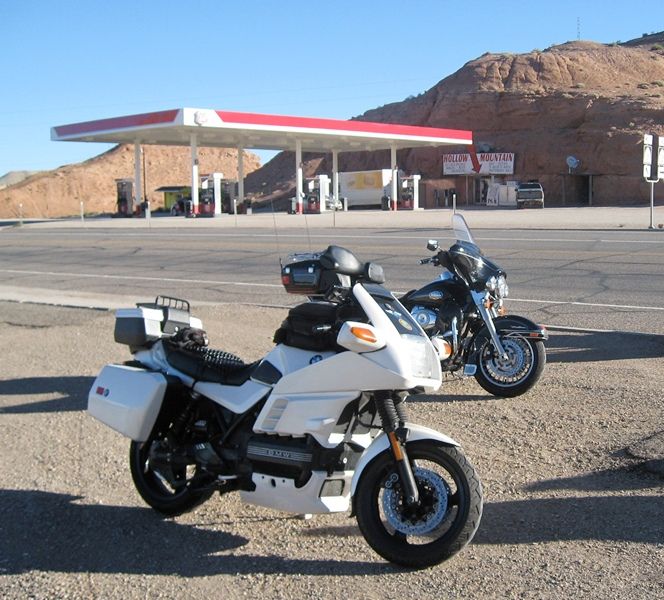 I found this odd, there was a house boat lot and repair place there, 40 miles from Lake Powell.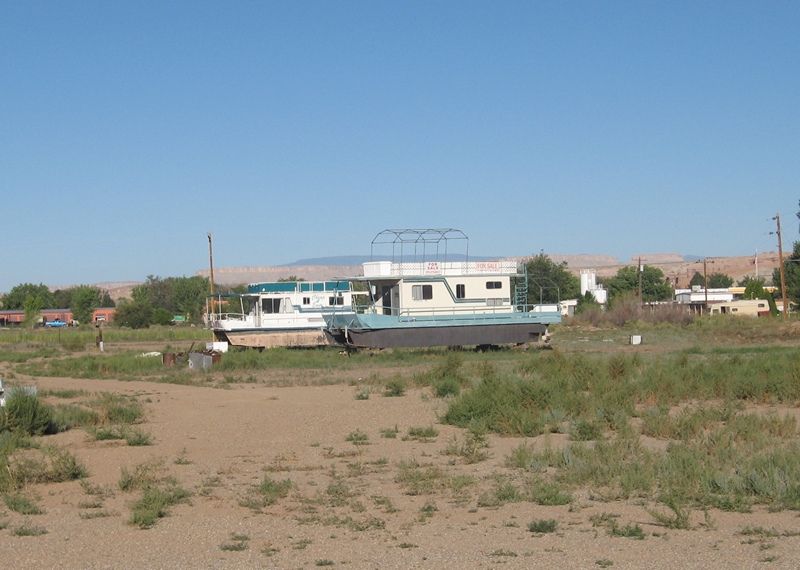 Our plan was to take a ferry across Lake Powell from the Bullfrog Marina on HWY 276 to the south side of the lake and then continue on HWY 276. We passed a Utah DOT sign on HWY 95 that advised that the ferry was open & running. So we took HWY 276 south to Bullfrog. A great motorcycle road with great up & down sweepers and no traffic, and in very good condition.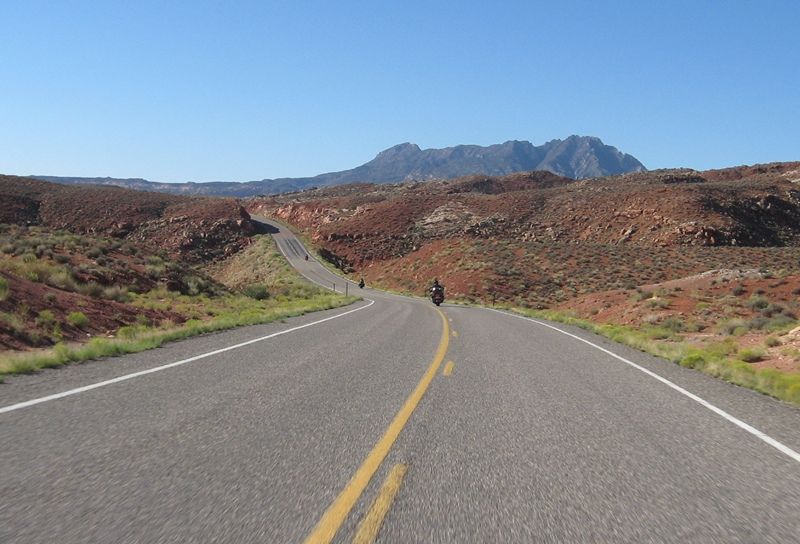 When we arrived at the Park Service booth to get into the Lake Powell recreation area, the Park Ranger told us the ferry was not in operation. The UDOT (Utah DOT) knew the boat was not operating, but left the sign on. The cause was a broken motor, which the owner thought that UDOT should pay for and UDOT thinking the owner should repair. A perfect storm of government/ private enterprise partnership, bureaucracies gone mad! Hey UDOT – turn off the blinking highway sign that says "ferry open"! Freaking Meow! Oh well, at least we had a fun ride back to HWY 95, but still 60 miles out of the way.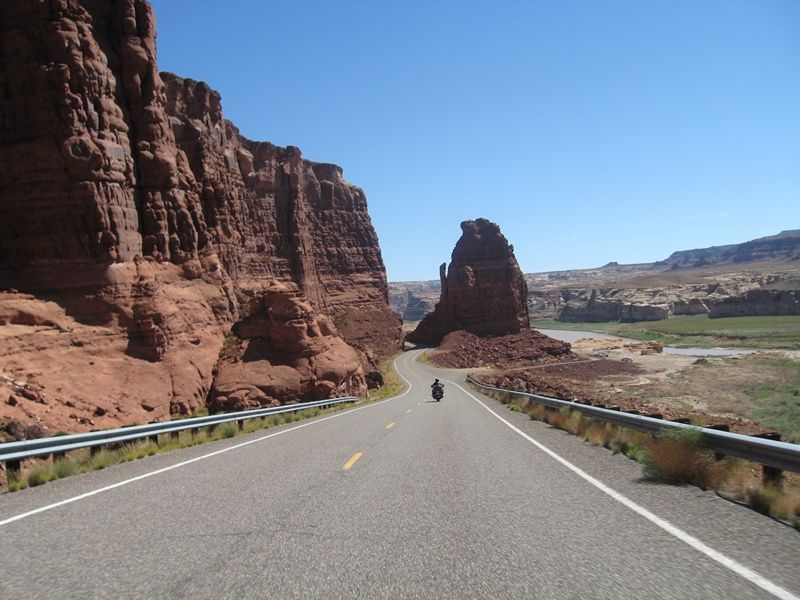 It was time for me to head back home, so I said my good – byes and said we would have to do this again. I turned off on HWY 261 south towards Mexican Hat. The guys continued on HWY 95. I missed being part of this photo later that evening, Jess, Tom, & Marty.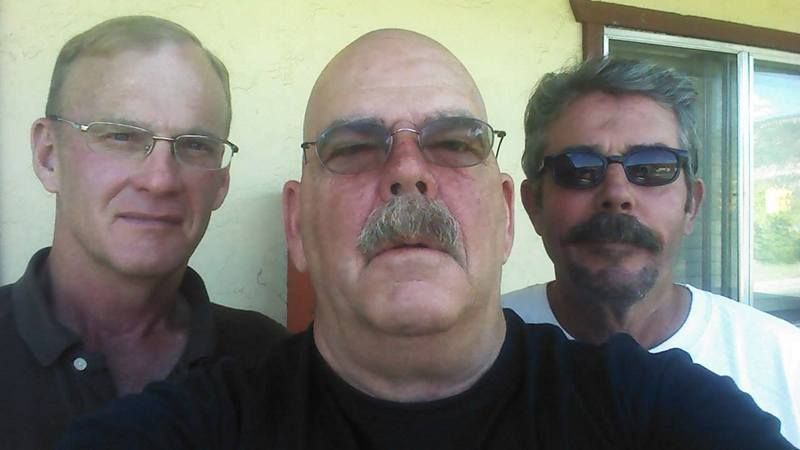 I was enjoying the ride until I came to this!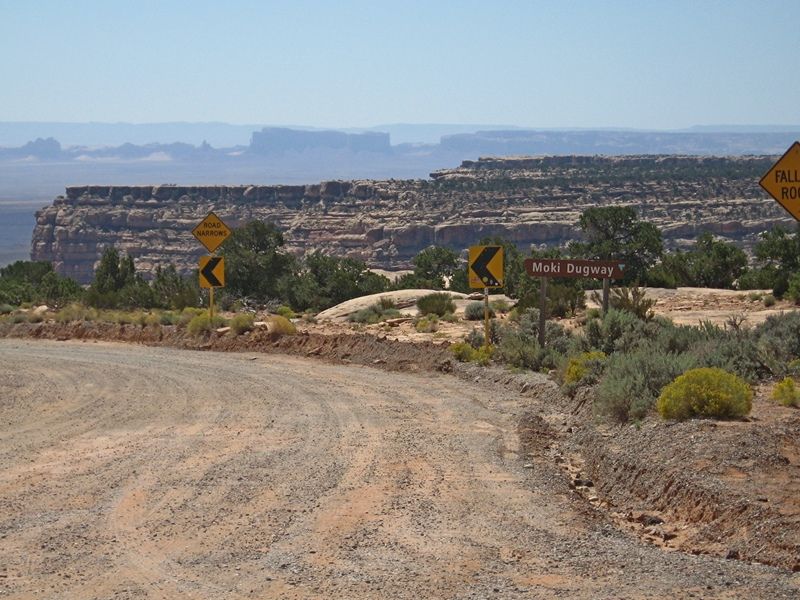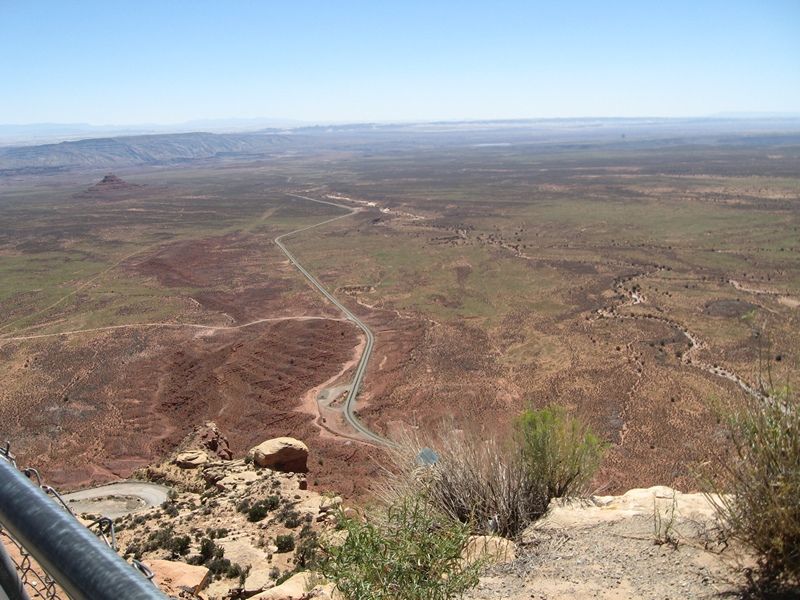 I had completely forgot that the HWY 261 pavements ends and that unless I wanted to go back about 80 miles out of the way, I would again (Donna & I went down this before, not a fun thing on a K bike) have to go down the Moki Dugway! 1100 feet down on gravel, graded switchbacks.
I rode down in neutral and was very happy to put this view in my rear view mirror. Arrow denotes the approximate area where you start down. I have HWY 261 burned into my memory, never take that highway again!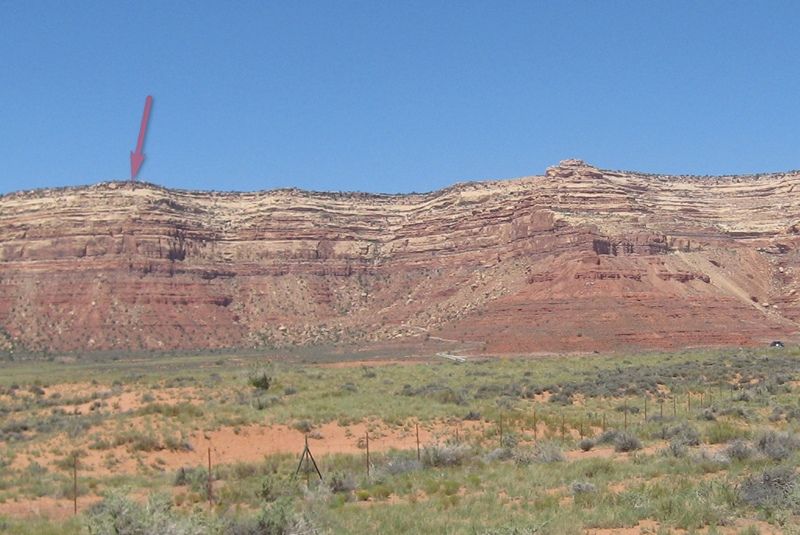 A quick stop in Mexican Hat for gas & a cold drink. I called Donna, who had just arrived at the Phoenix airport. I convinced her to meet me in Flagstaff and enjoy my last evening on this trip.
One more view on Gump's run.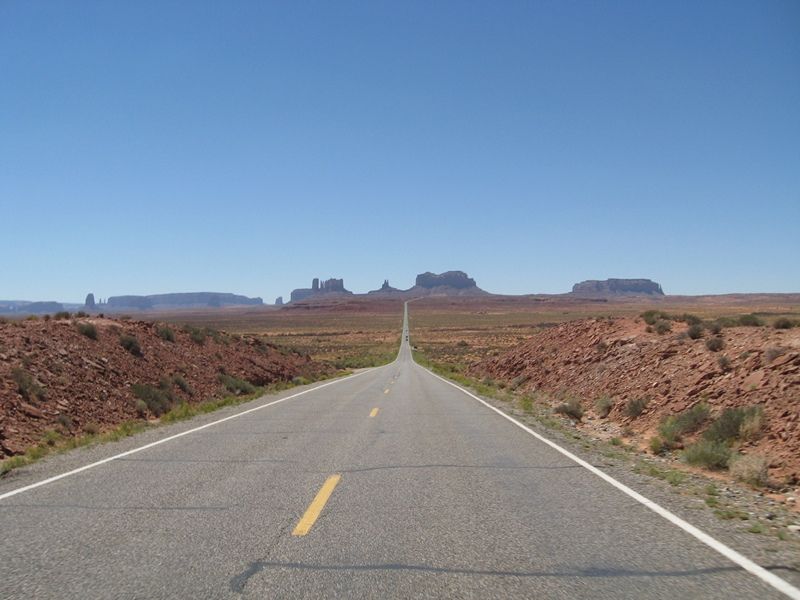 A large cloud on HWY 160, as I got closer to Tuba City, I could see it was from a fire west of HWY 89. Looked like it was coming from near the North Grand Canyon area.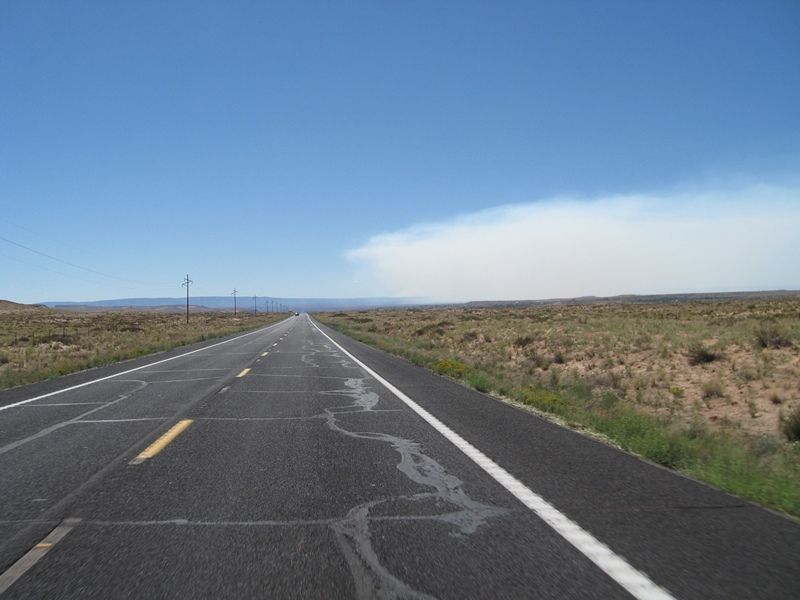 I probably could have made it home, but I just didn't want this trip to end! Donna met me in Flagstaff and we had a good Chinese dinner and shared our vacation experiences.
The next morning, heading home on I-17, a large storm was to the west of me, caught this, no rain on the interstate though.
We stopped at a rest area on I-17, I had to get Donna in one picture.
HWY 74, almost home.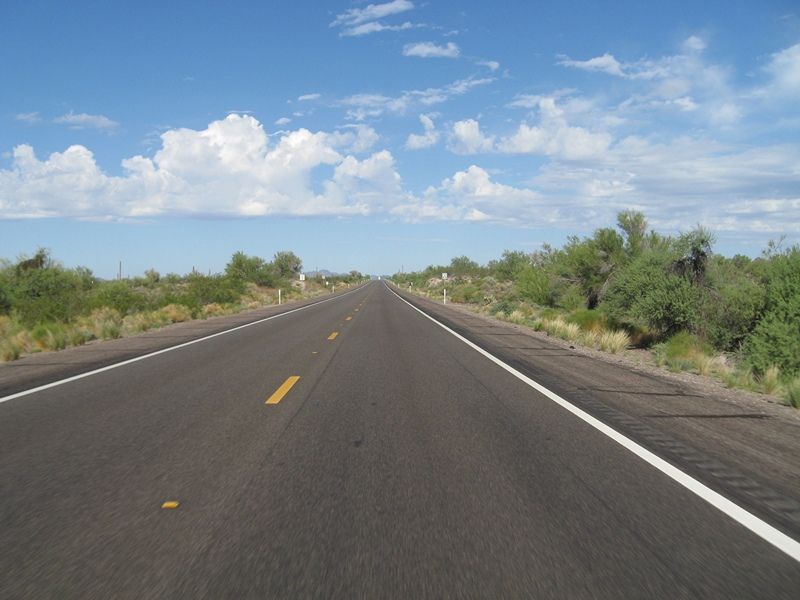 A favorite tradition, a cold "made it home" frosty adult beverage!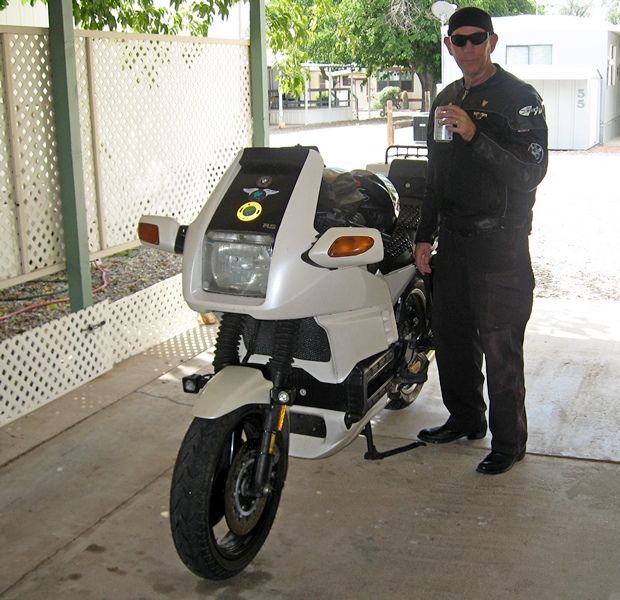 A few thoughts on this trip. I really missed my backseat photographer. Once I got the hang of it, using the cruise control (thanks again Drake) made it much easier to use my right hand to take the pictures.
The weather was absolutely perfect for the entire trip!
I took about 520 pics, I used a about 125 of them.
Usually Donna & I have mapped out the route and made motel reservations before we leave. Making it up as you go was a new & fun way to ride, wherever the road takes us!
Moving to Wickenburg, I had to find a new BMW shop to service the bike before the trip. I found Moto Ghost (an independent BMW shop in Phoenix) and they did an outstanding job getting the old girl ready. Several items had to be replaced after 23 years – fuel & brake lines, and a (it snapped as they were pulling it into the shop) new clutch cable. They had all these parts in stock, so I didn't have to wait long to get the bike back, and it rode smooth the entire trip, no issues!. That always makes for a better ride.
Catching up with old friends was great, doing it on two wheels was fantastic! I hope we can all do it again. Thanks again Tom, Jess, Marty, & Dave for inviting me along.
I will definitely revisit some of these roads with Donna.
Total miles – 3045
Total gas used – 55.03 gallons
Total spent on gas – $219.50
MPG average – 55.33 (what a difference traveling solo)