BMW Shop Ride to Oatman, AZ. & Southern CA. ride with Drake. April 2013
I am combining two ride reports again, a BMW shop ride and our visit to southern California with our friend Drake.
First up, our BMW of Las Vegas shop ride to Oatman, AZ.
The route
A perfect spring day in southern Nevada, on our way to the BMW dealer on I-215, some hot air balloons were going up.
Once again, our friend Kurt from the BMW dealership, led the ride. We follow him near Lake Mead on our way to Kingman, AZ.
Hard to believe, but only 6 bikes made the ride, following us down HWY 93.
First stop was at Mr. D'z Route 66 diner in Kingman.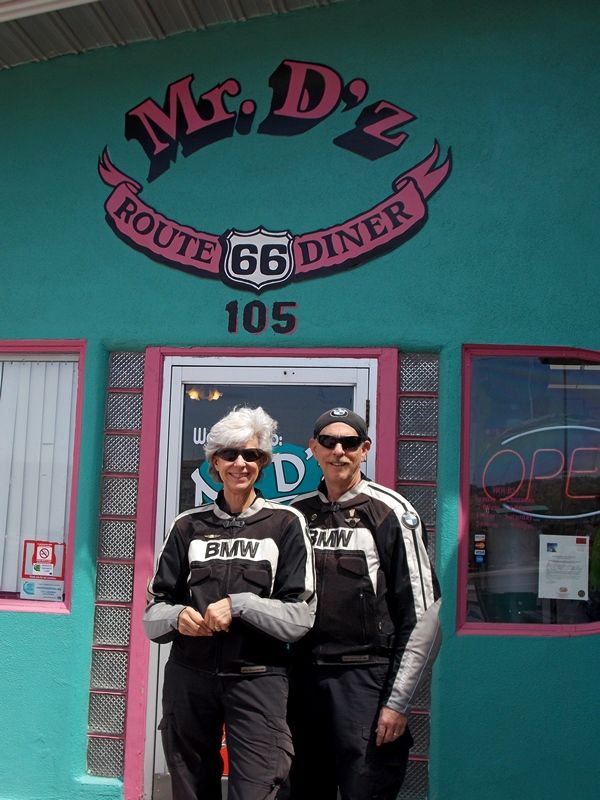 Then a stop at Cool Springs on Rt. 66, for a group photo. Kurt took a few others – these are all from Kurt.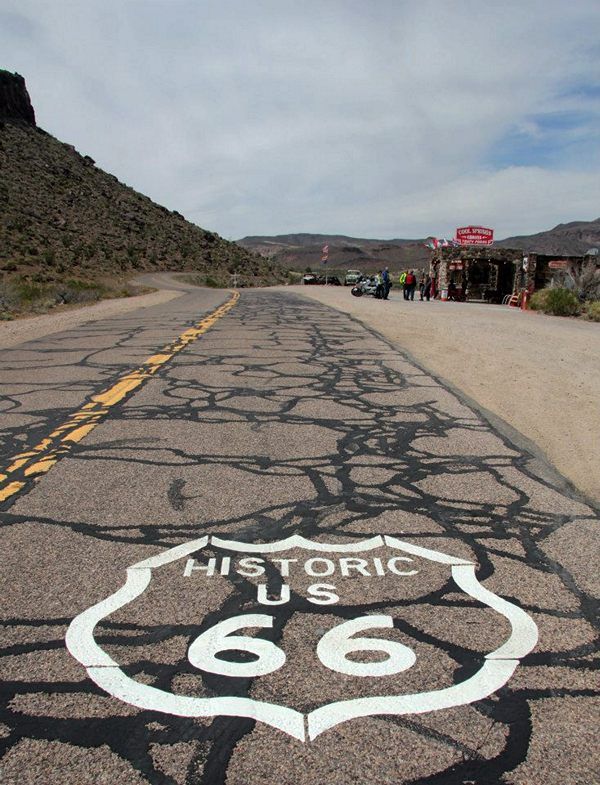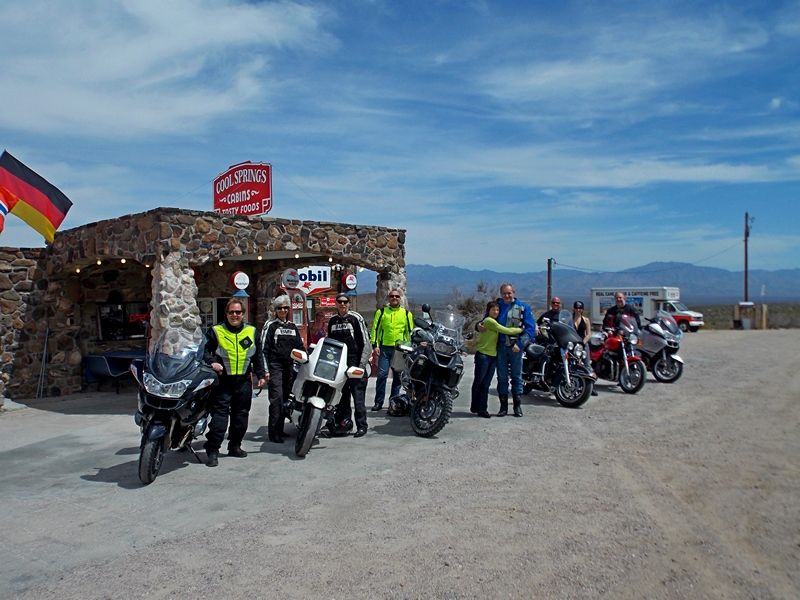 A few more from Kurt.
Here we come!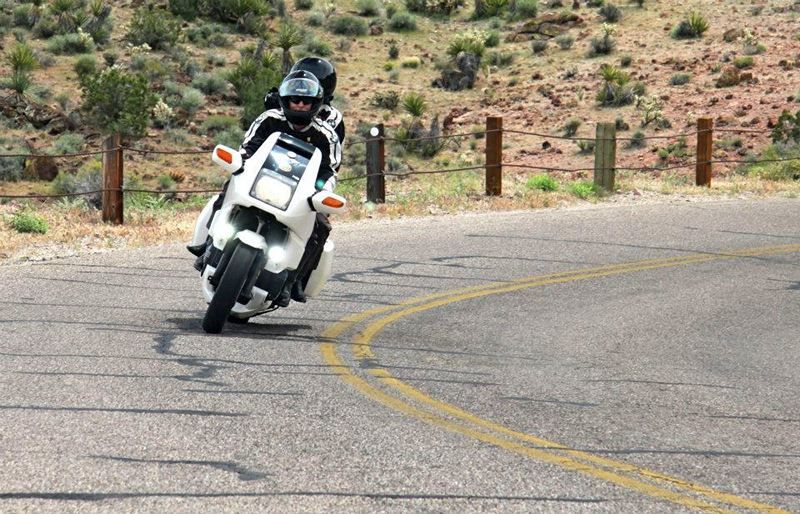 This part of Rt. 66 is in very bad condition.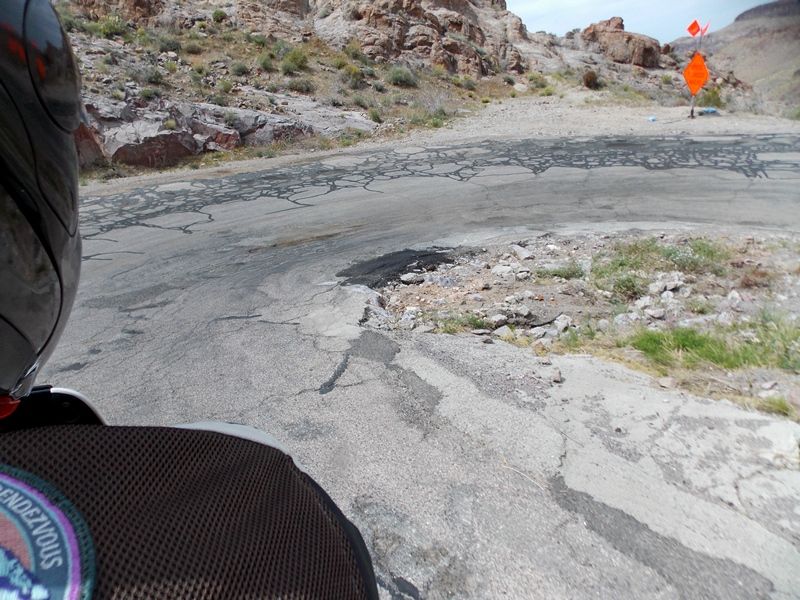 Road damage and curves made for a slow ride.
We arrived into Oatman first and decided to park at the end of town behind some buildings and avoid the burros. I wanted no part of the burros!
Donna & I had visited Oatman before back in May, 2010. We had some difficulty with the "wild" burros. An excerpt from a ride report that I emailed in June of 2010 –
The next day we hopped on the Beemer and rode to a little old Route 66 town called Oatman. It is about 30 miles due east of Laughlin. Their main claim to fame is selling Route 66 stuff and wild burros. By wild I mean they have the run of the town while tourists buy and feed them carrots. So as soon as we started walking the burros come right up to us to see if we have "any" food. The town put on a "real" western shootout, and mentioned the carrots and burros. We visited the hotel where Clark Gable & Carol Lombard spent their honeymoon, and were frequent visitors. We bought a few Route 66 pins. After being assaulted by the "wild" burros again we walked down to the end of town and had a frosty Diet Pepsi. As I was taking a few photo's of the town, Donna directed my attention to where we had parked the Beemer. A 'wild' burro was trying to get, how shall I say, "frisky" with the Beemer. I told Donna – no it's next to a car and was rubbing it's throat on the corner of the windshield, then I saw the Beemer begin to rock back & forth – sideways!!! The frosty Diet Pepsi was discarded and I ran to protect my Beemer from being knocked over. Without any regard to my own personal safety the burro and I became locked in a struggle over the virtue of my still upright Beemer. I think the show we were putting on was attracting more tourists than the Wild West Shootout, only this was for real. After several tense minutes, the frisky burro retreated to the middle of the street and glared at me. The only good thing (or bad depending on your taste) was that the burro only had eyes for my Beemer and not the other 20 or so Harleys that were also parked about the town. After catching my breath we packed up the Beemer and said goodbye to Oatman. When we got home and after downloading the pics from our little trip, we noticed I had taken a picture of the burro assaulting the Beemer, take a look inside the red circle, at the Beemer assaulting burro!!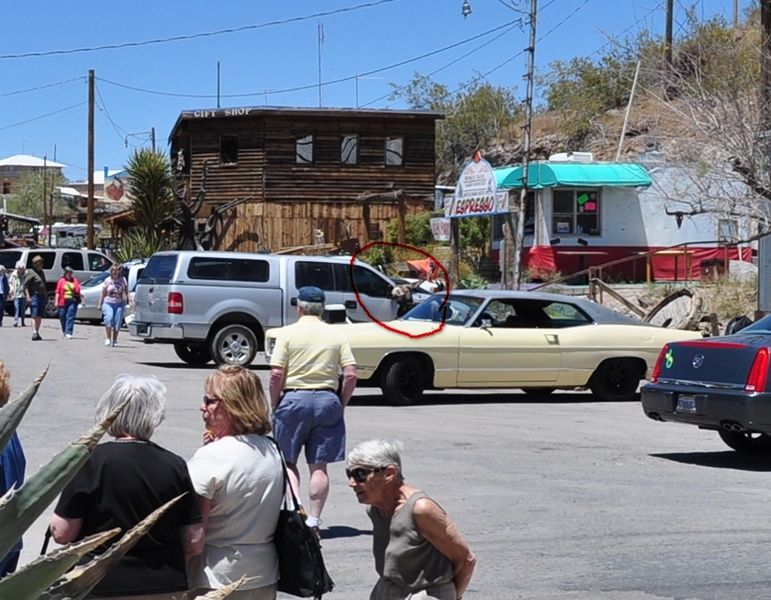 We did manage to find Paul & Lauren and Rafael. We had a quick lunch in some restaurant, we didn't get a name.
The ride back was through the desert, so, not much to look at. A fun day! Thanks again Kurt & the BMW dealership!
Total miles – 290
No gas stats for the day trip.
We finally were able to get together again with our good friend Drake, while he was in southern CA.
The route
As is our habit, we were up and riding with the sunrise to avoid the morning rush hour traffic. It was somewhat cool, temps in the low 50's.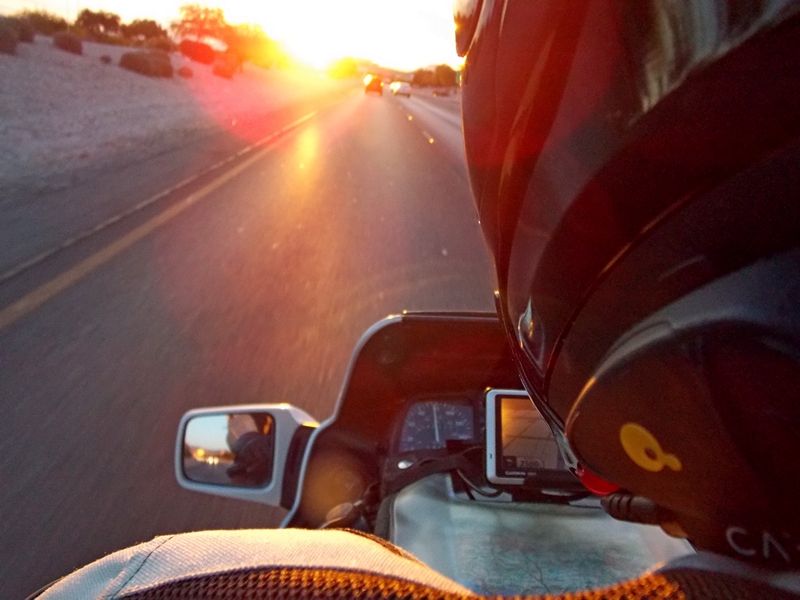 South of Primm, NV., in CA., work continues on the big solar project.
It was a perfect day, a little cold going over some passes on I-15, and no, I wasn't going that fast – my speedometer needles get weird when the sun shines on them directly, my speed according to the Garmin was 72 mph.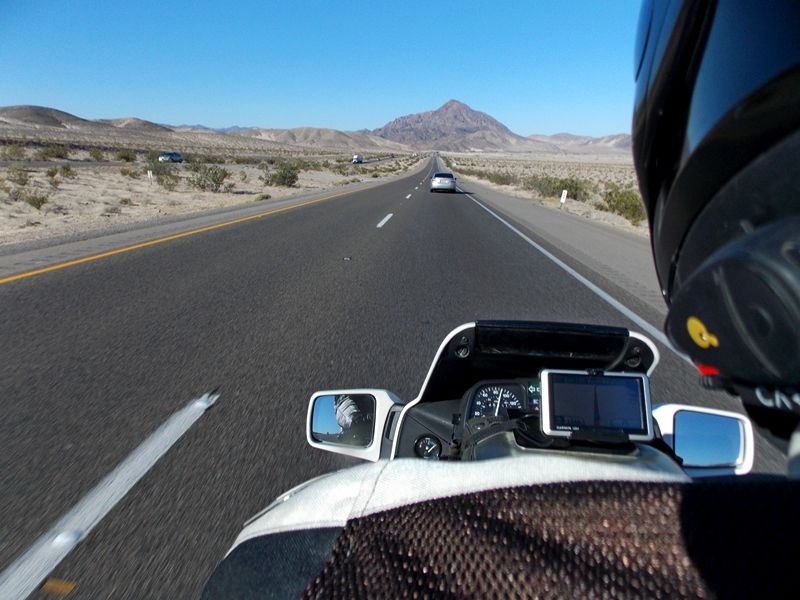 South on HWY 247, more desert!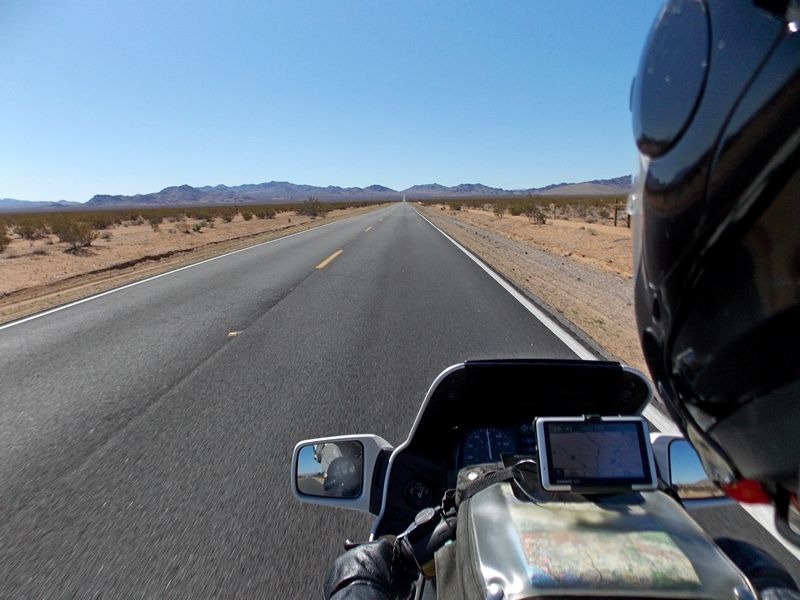 We had planned on meeting Drake in Big Bear, but the temps were still in the 30's, so we had to settle for Yucca Valley. Nice view of the snow capped mountains though.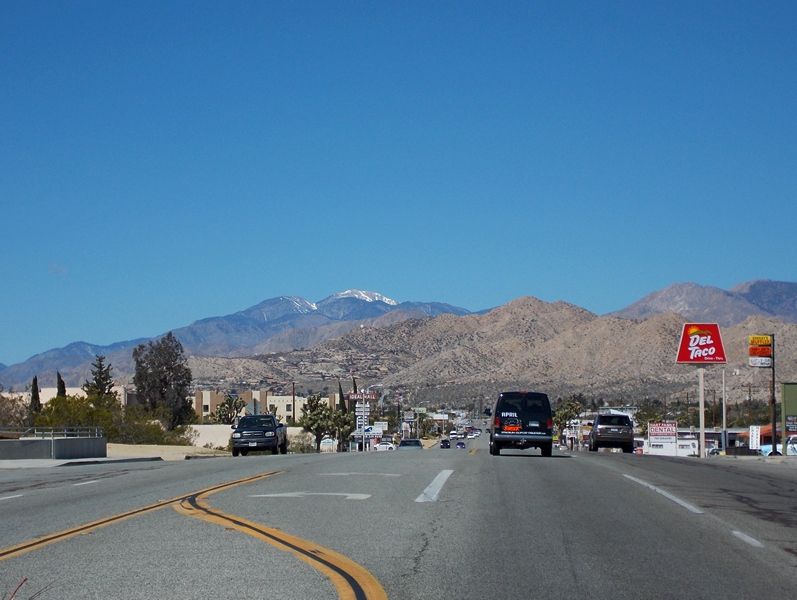 Drake sent us some gps coordinates – a good place to meet.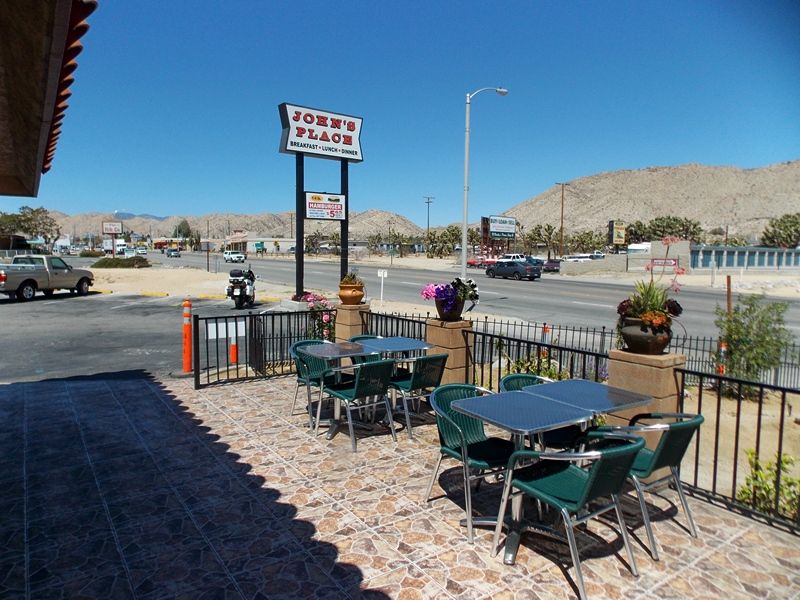 After lunch (very good onion rings) we get ready to ride. Drake took us around through the Joshua Tree National Park due to heavy traffic on I-10, plus it was just a great day to ride!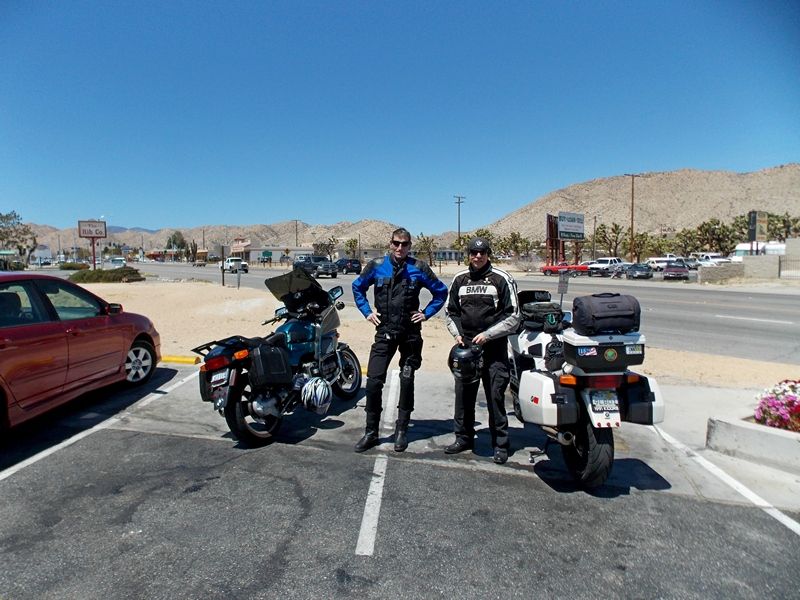 Donna & Drake taking a break.
We did have some road construction through the Park, about a half hour wait, then through some loose gravel and torn up asphalt.
In Rancho Mirage, a poodle has his own sun roof!
Lots of palm trees, making Rancho Mirage look like an oasis after the very dry desert ride.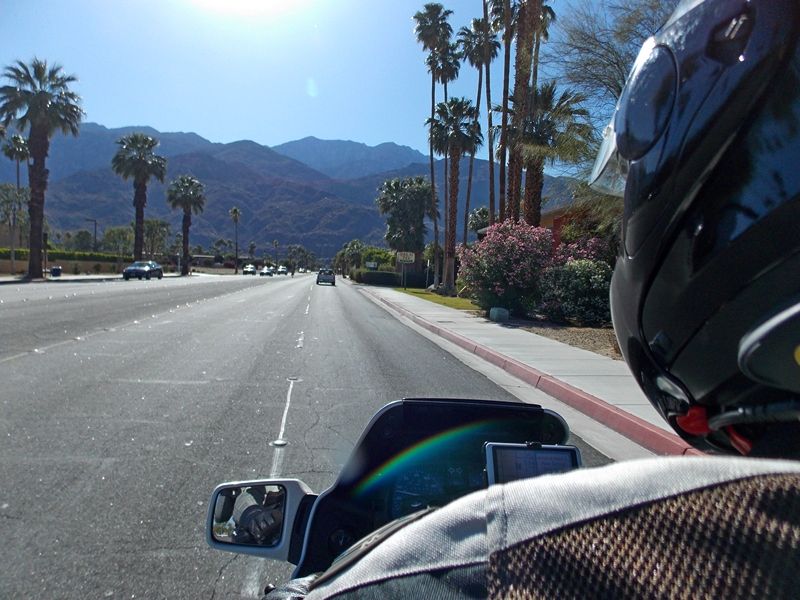 Dinner at the "Yard House".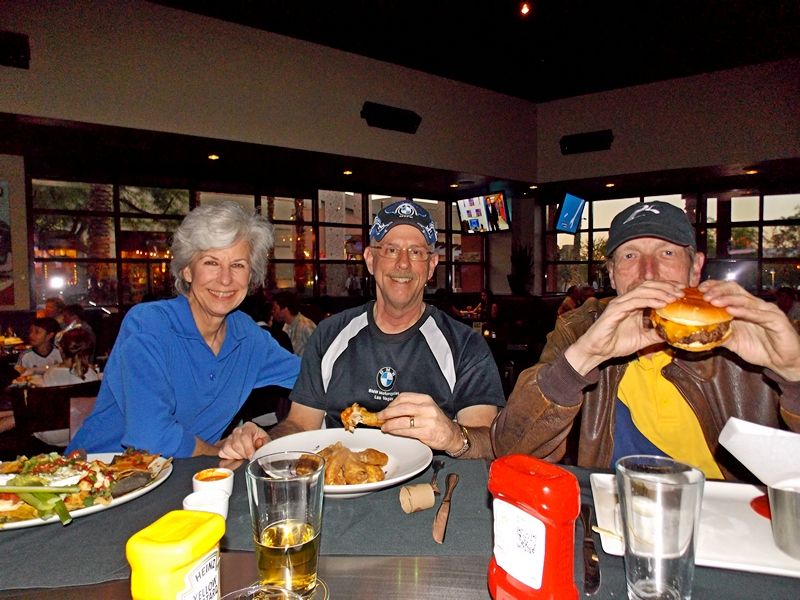 After dinner, Drake takes my brake light assembly out to install a nice upgrade. Two little LED's and a flasher unit to be installed. Drake took it home and had it ready to install the next morning.
Drake did the install, then it was follow the leader, Drake being the leader! The route:
A picture view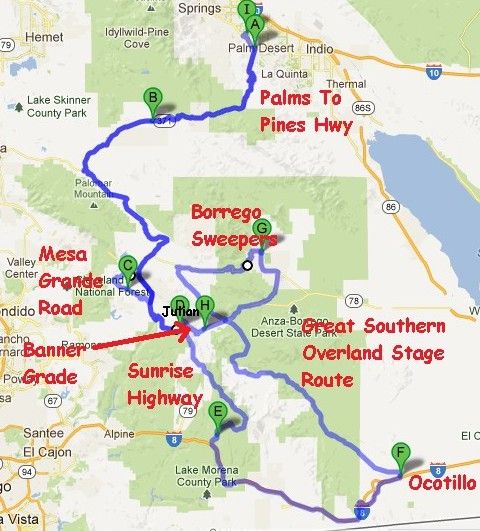 Going up…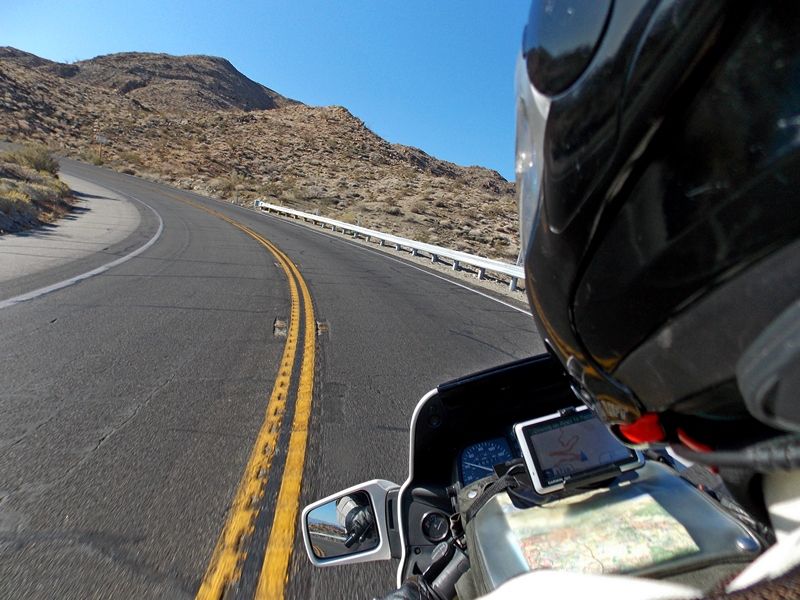 Santa Ysabel, Ca., they were not open, only on weekends or holidays.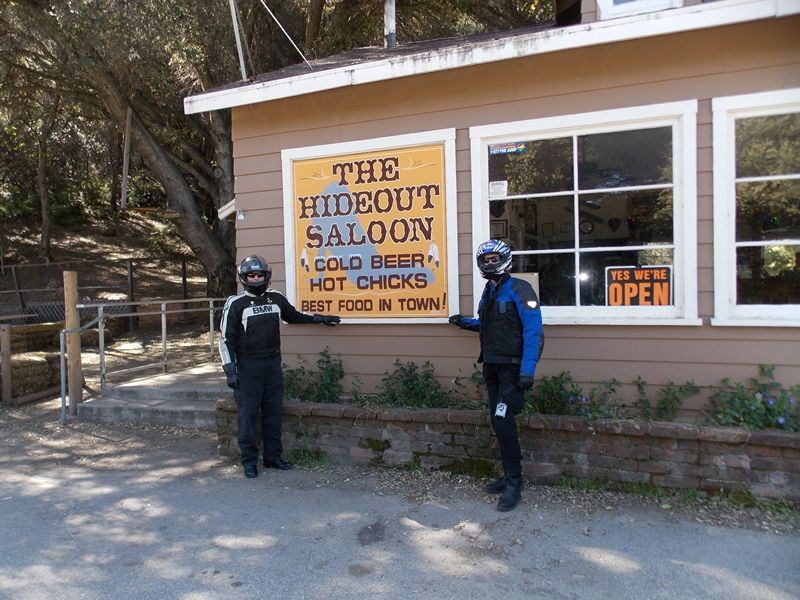 Still going up.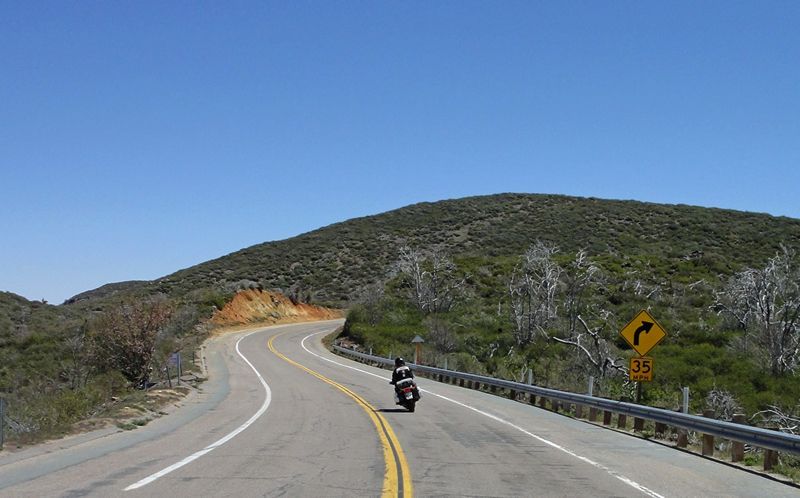 Follow the leader!
Lunch in Julian, according to Drake, this little town fills up on the weekends. A nice locals place with very good food.
Thanks to a slow vehicle with a camper, we caught up with Drake for awhile.
Nice green high country to ride through. I-8, off in the distance. Coming down into Pine Valley, CA. Donna & her family lived there when she was a child.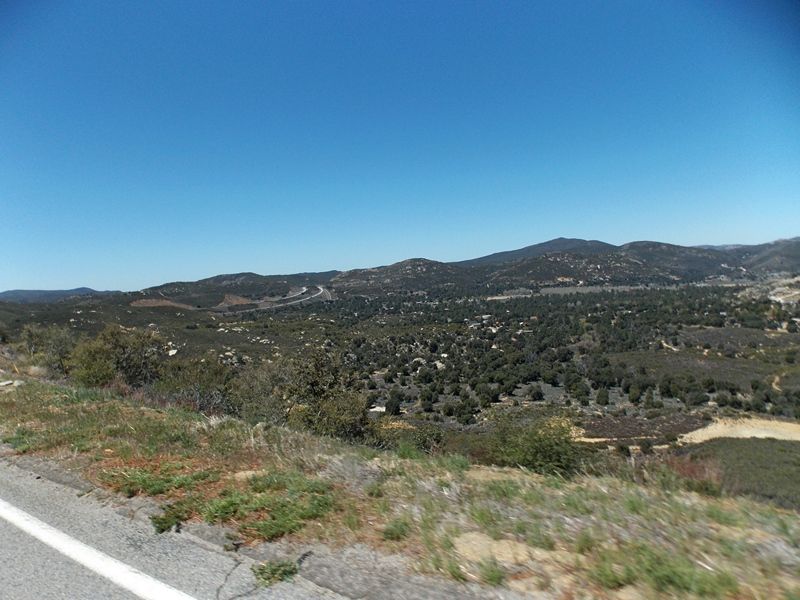 Drake snapped a few of us.
We rode on I-8 for a few miles, very windy! Fun curves and sweepers though.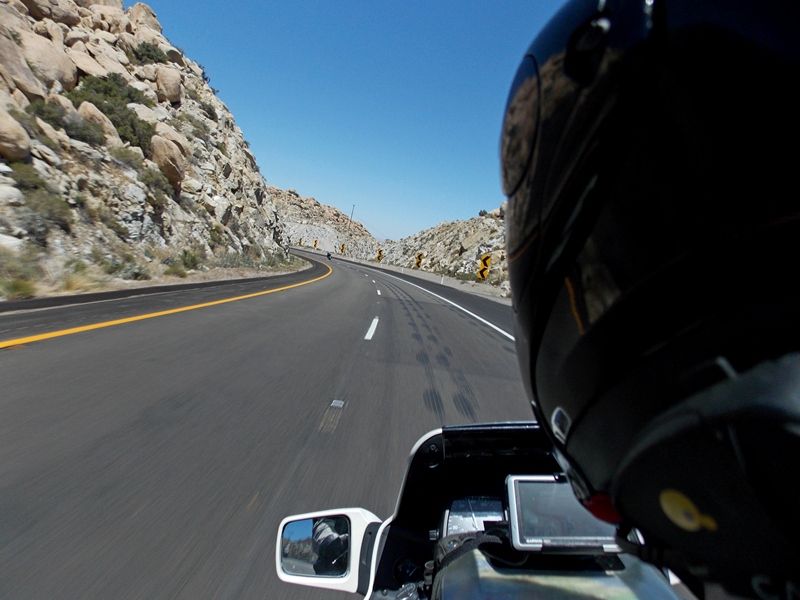 Back down to the desert. Part of this ride was following the great southern overland route of 1849.
A check point out in the desert, courtesy of the Border Patrol. Waved us right through.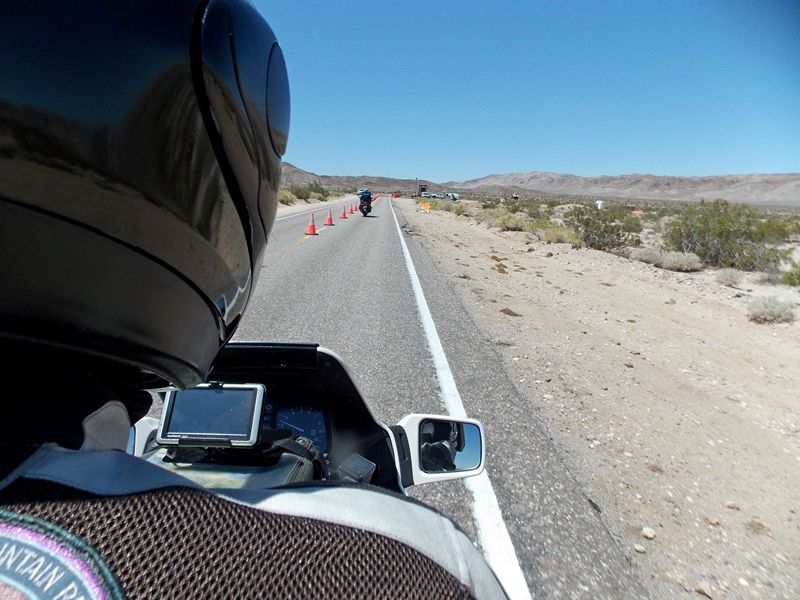 Not much traffic to worry about. Fun sweepers!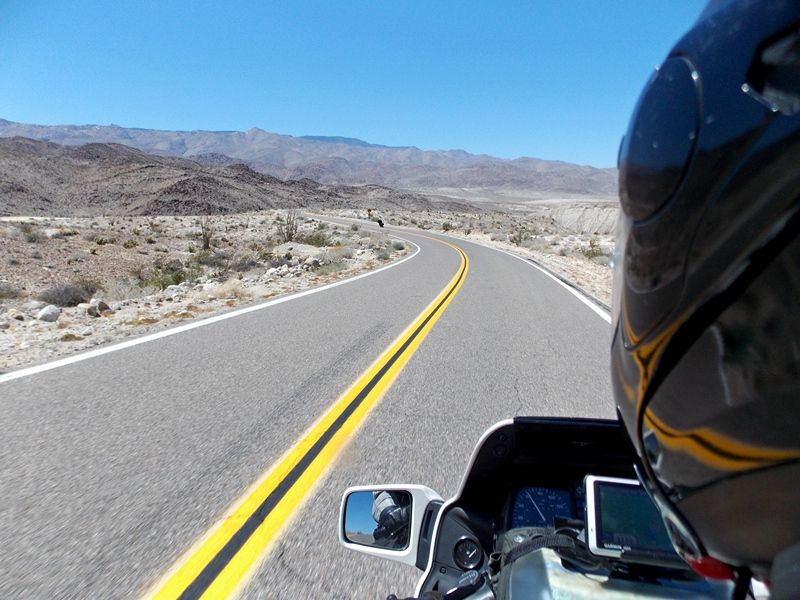 A few switchbacks.
Drake snapped another good one.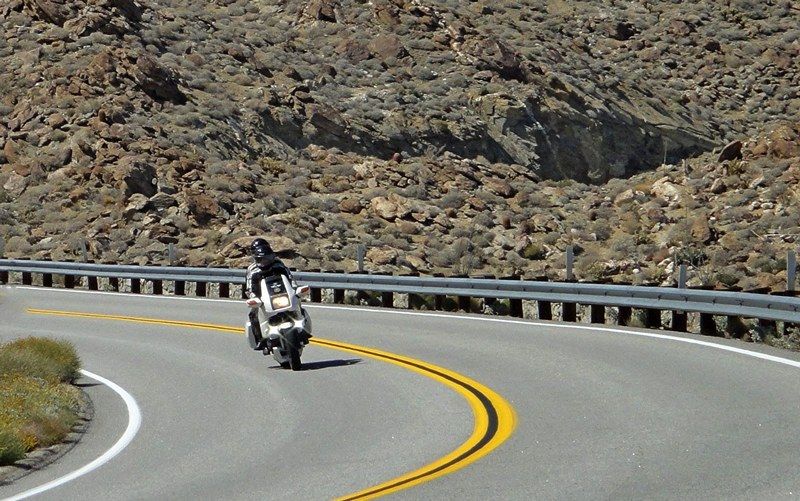 Time for a break.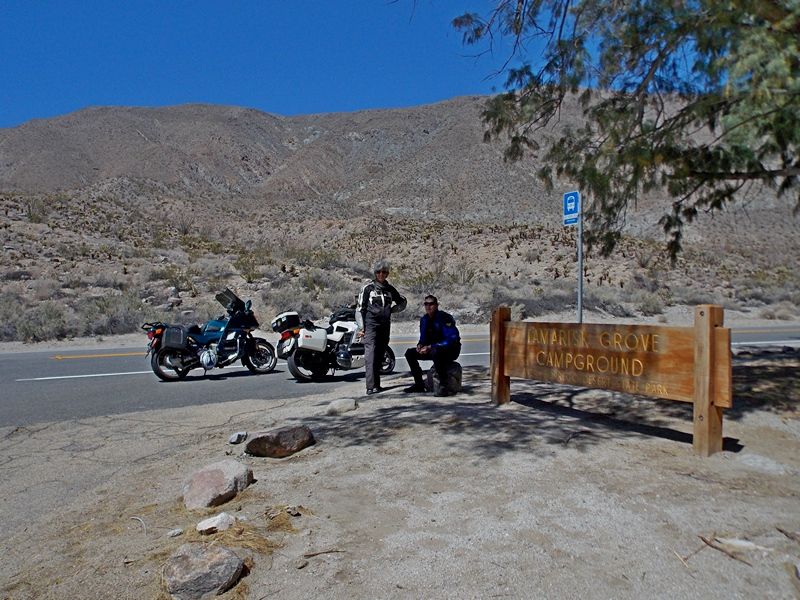 Drake's brake light upgrade, two vertical LED's, and the main brake light flashes when the brakes are applied.
A different kind of CA. landmark, in Ranchita.
Drake on his 1993 K1100 LT.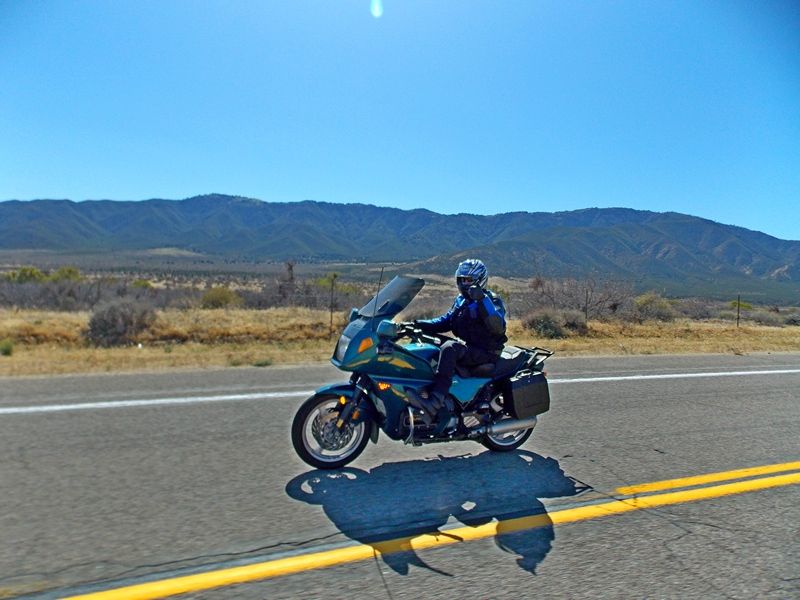 Back through Julian on our way back.
Stopped at the overlook for Palm Desert, looking down at the "granny knot".
There was a herd of mountain desert sheep at the overlook. First time Donna & I had seen these guys up close.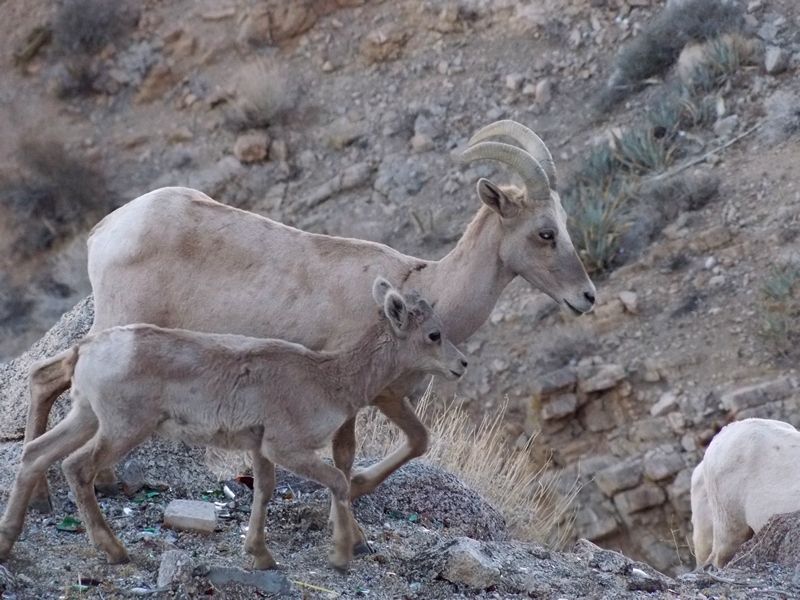 Back in Rancho Mirage. About 375 miles, curves, sweepers, high country and desert for the day. Thanks again, Drake!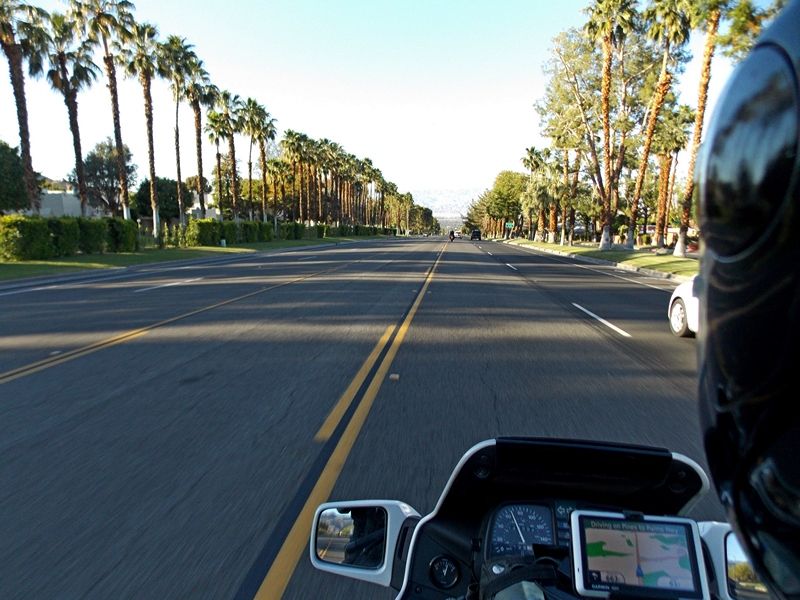 Drake joined us for breakfast the next morning, then it was off through the desert for home. North on HWY 177.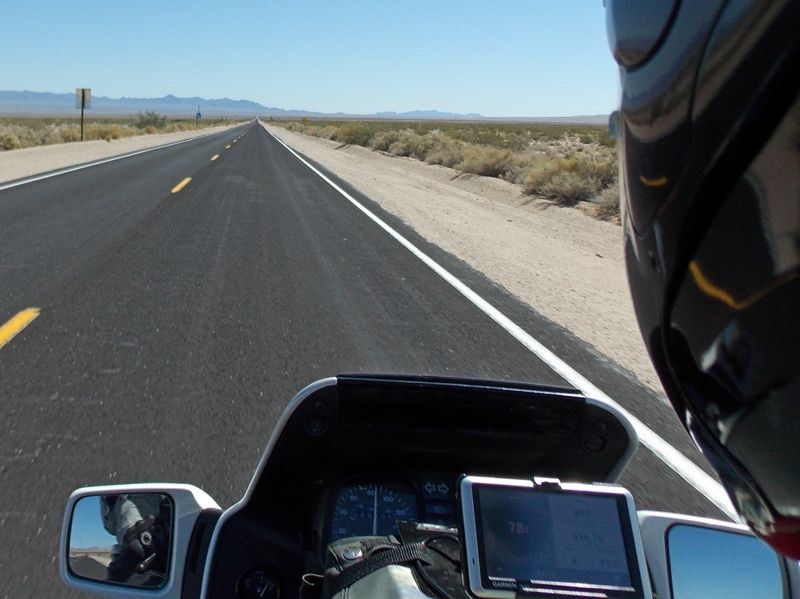 More dips and a "shoe" fence on HWY 62.
Another nice day to ride, almost home.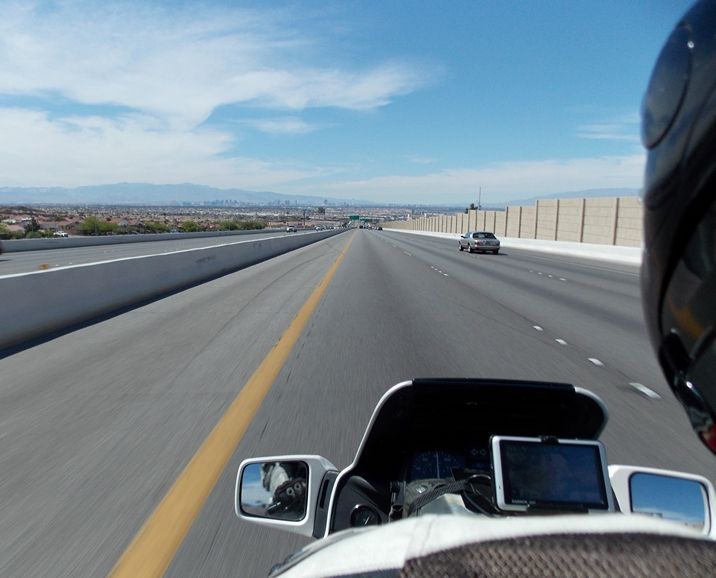 Total miles – 1080
Total gas used – 22.85 gals
Total spent on gas – 99.14
MPG average – 47.26