Chloride, AZ. Day Trip Feb. 14, 2013
Another perfect early spring day for a day trip. We had been trying to get the old historic/ ghost town of Chloride, AZ. for some time, and today was the day.
The route
A perfect day to ride, temperature was in the high 50's when we passed Lake Mead on HWY 93.
Riding over the Mike O'Callaghan–Pat Tillman Memorial Bridge. It is hard to see going south on HWY 93, I have circled the bridge in this photo. If you don't know it is there, you don't realize you are going over it.
Coming into Chloride. It is just 4 miles east off HWY 93, north of Kingman, AZ.
The town had several old buildings, but this one caught my eye immediately. Vivid colors.
While photographing this building, I noticed a small sign near the front door asking people not to look in as the owner might be home. We were told at breakfast that a woman from Belgium actually owns the house and lives in it a couple of months out of the year.
Loved the color on this old gas pump!
Donna waits while I walk around and take some photos. She really liked this old swing!
Breakfast at Digger Dave's cafe.
Another fantastic place off the beaten track!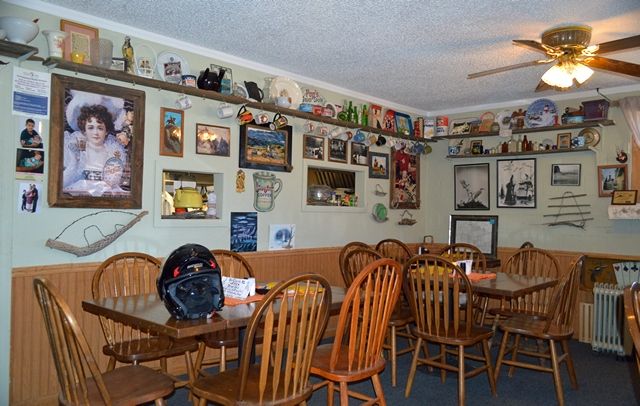 First time that I can remember taking pictures in the men's room, but there were several old (looked original) small movie posters, all the movies were made before I was born.
After breakfast we rode around the little town, found another neat cafe (next trip), along with several other old buildings, but the roads all looked like loose dirt and sand, so we didn't get to see them up close. There was an old train station I wanted to visit – next time…
We took HWY 68 towards Laughlin, it goes across a wide valley up to Union Pass. You can see the pass of in the distance.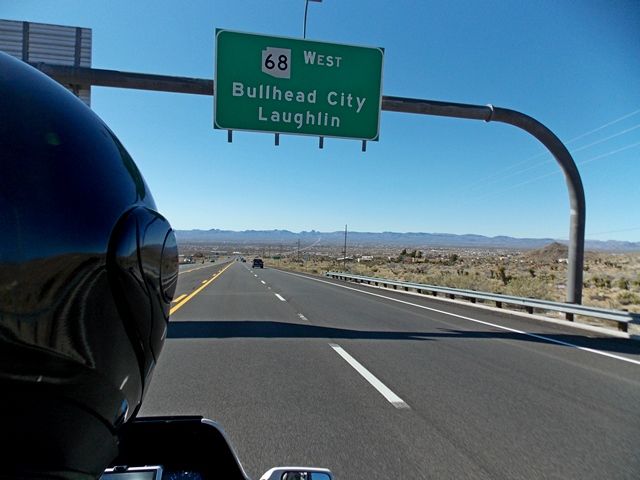 Coming down from the pass, almost to Bullhead City, AZ.
I always enjoy this rock formation, leaving or coming into Arizona on HWY 68, looks like "flipping the bird" to me. Either it's a crude welcome or a see you later landmark!
The Laughlin casinos from the Arizona side, just before crossing the Colorado river back into Nevada.
On our way to Searchlight we stopped at a new rest area on HWY 95. This rest area had been completed for almost a year, but had not been open due to a problem with the water. It was open so we stopped to stretch our legs. There was a local news crew from channel 13 (Las Vegas) doing a story on the rest area and the cost & delays to get the area open. We found out that this was the first day the rest area was open. I was asked to do an interview about the delays. Here is a link to the news report with me. Right at the beginning of the video, Donna can be seen in the background.
http://www.ktnv.com/multimedia/videos/?bctid=2170111541001 (copy & paste in your browser)
Not sure how long this link will be good.
Donna grabbed a pic of me being interviewed.
We then took the Joshua Tree Highway (HWY 164) west. We stopped and took a few pictures.
I think Donna took more pictures of me shooting pictures than I took of the scenery!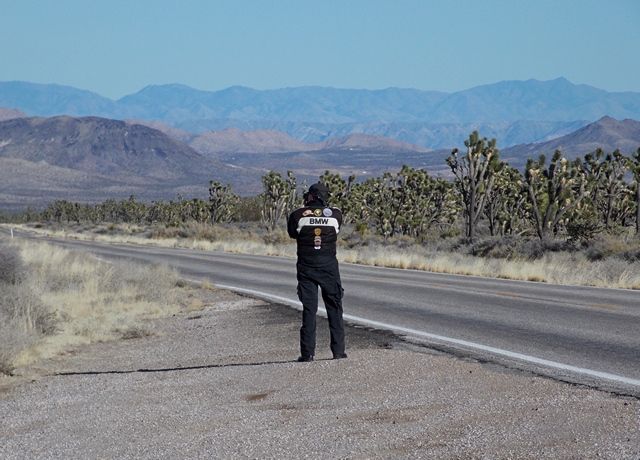 A long straight stretch of desert! Looking back to the east.
Looking west.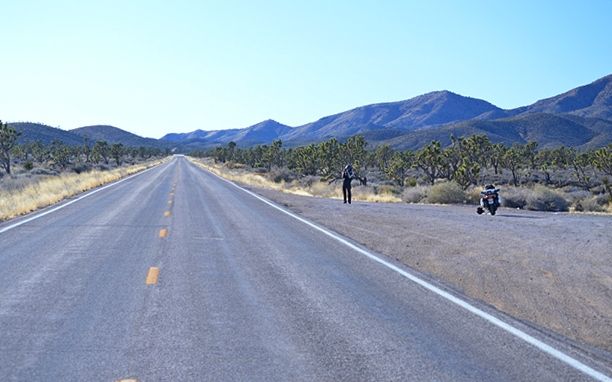 I'm always under Donna's watchful eye & camera!
Jumping back onto I 15 in California.
Doesn't look like much progress on the giant solar plant near the state line.
Almost to the state line, the Primm casinos coming up.
Coming into Vegas in the new "bypass" lane. A couple of new lanes have been added to bypass all the exits onto the "strip". Saves slowing down for all the exits.
Couldn't bypass the afternoon rush hour traffic though!
Like any big city, you really have to pay attention for other drivers on the freeway!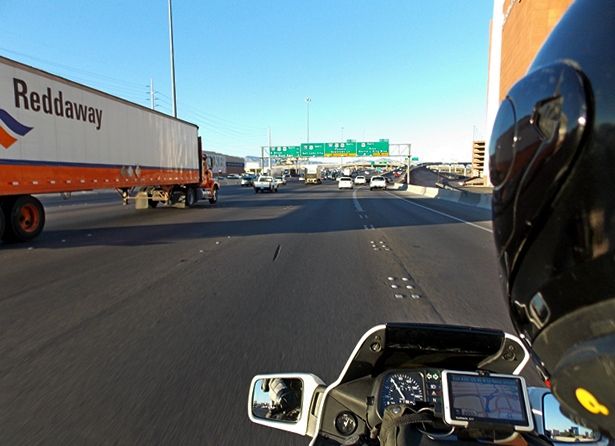 Going through the "spaghetti bowl" where US 95, I 15 intersect. Traffic for south bound I 15 from US 95 was at a standstill.
Almost home, really enjoy the "hov" lane flyover to avoid the traffic snarls near Summerlin Parkway and the Rainbow St. exit.
Another nice day ride to start getting us in shape for some longer trips.
Total miles 275
I didn't keep track of the gas again on these one day trips.
A big "thank you" to Kurt, from the BMW shop. He solved my problem with the Garmin mount, my little Nuvi works perfectly now on the tank bag. One of the screws was putting pressure on the unit causing it to skip around, a couple of washers fixed the problem.
A trip to Phoenix is coming up and, a planned ride with our friend Drake to southern California.