Dual Ride Report – Death Valley National Park (Nov) Phoenix, AZ. (Oct)
I'm putting two ride reports together since the Phoenix route has been up before and the Death Valley ride was one day trip.
First, we had another picture published in the BMWMOA magazine – (#3) fall colors was the topic.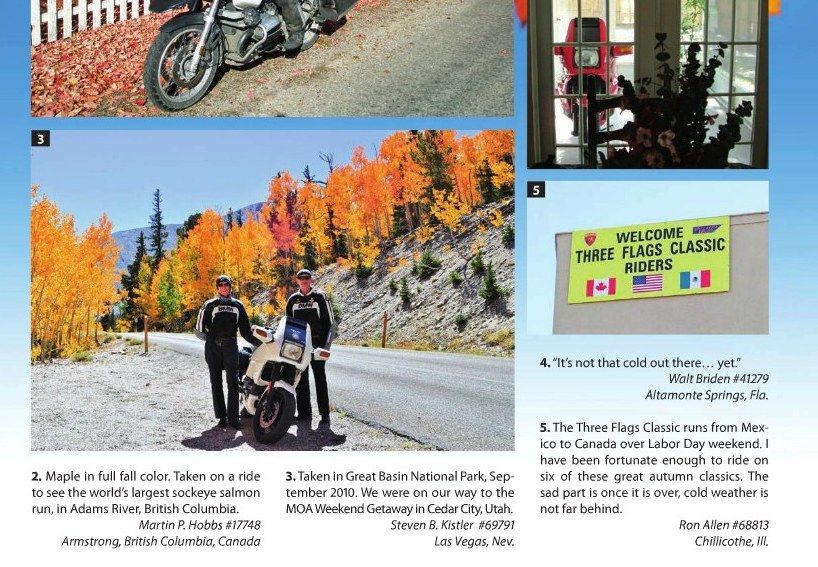 Death Valley National Park day trip.
The route
Perfect November morning to ride, our first pleasant surprise of the day – HWY 95 heading north out of Las Vegas is finally open from the construction! The highway has been under construction in one section or another since we moved here in 2002. I especially like the "HOV" lanes. Nice to be able to go north and have a clear and wide highway out of Las Vegas.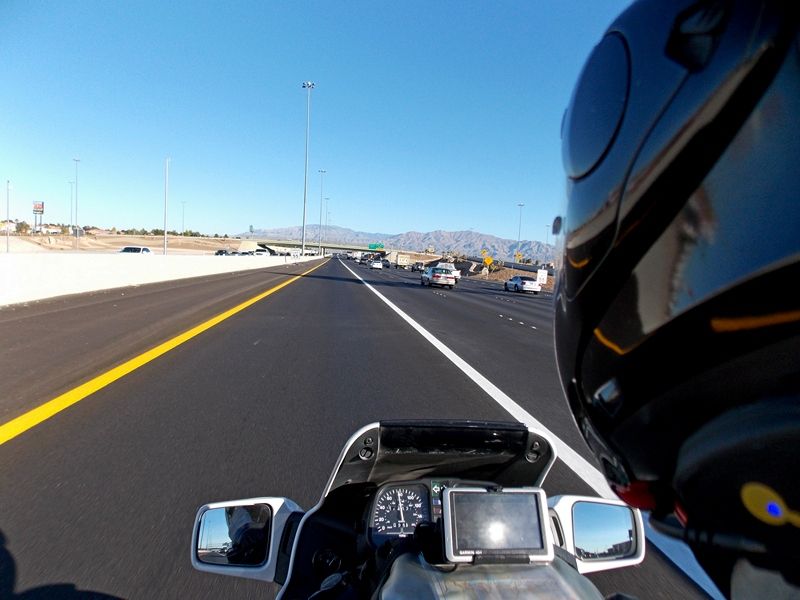 Our first stop at Indian Springs for breakfast.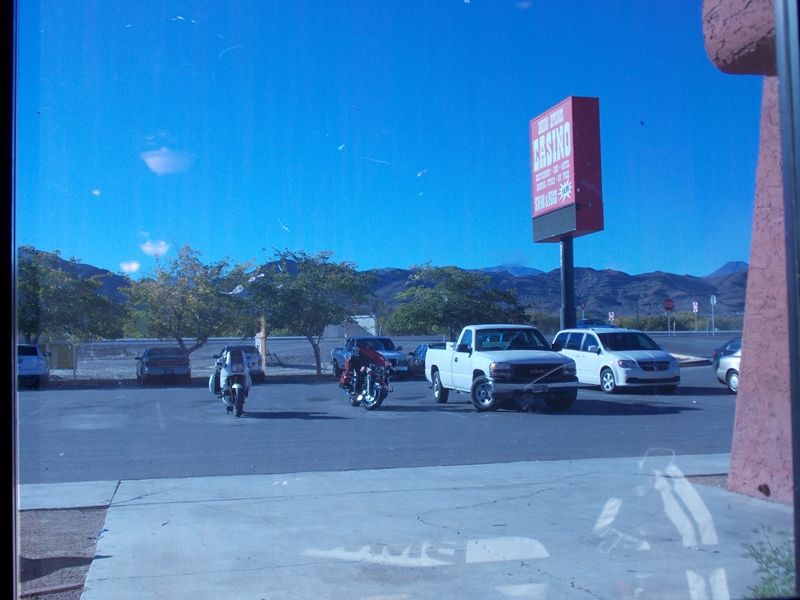 Steak & eggs for $6.99. Donna had an "English" style breakfast.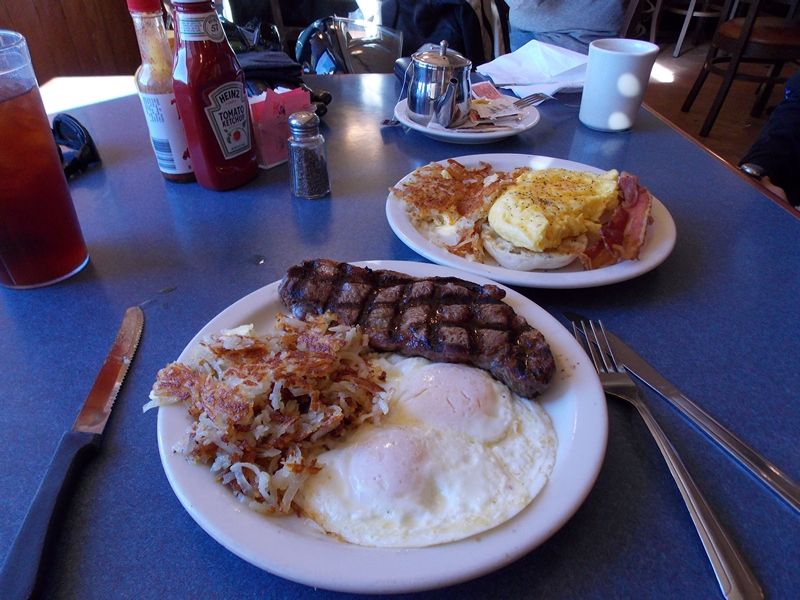 Beautiful day for a ride, north on HWY 95, lots of wide open desert.
South on HWY 160, all to ourselves.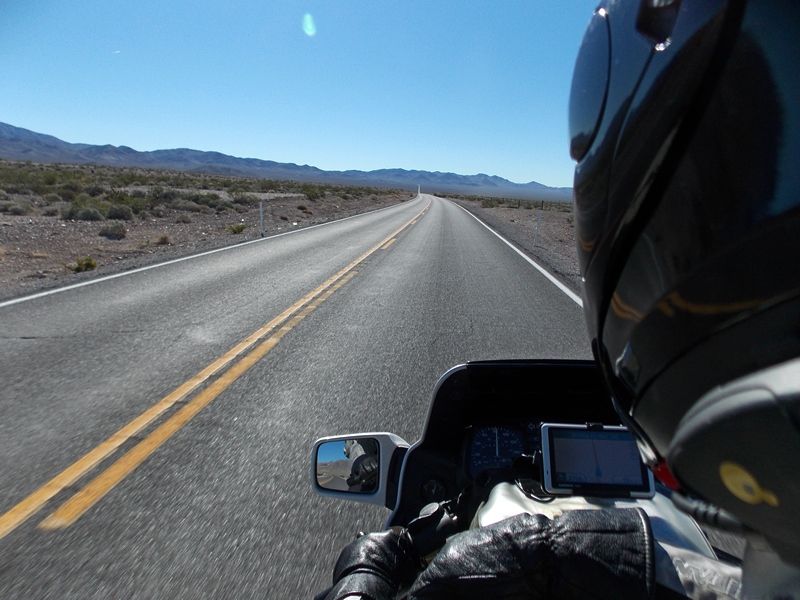 Heading west for California, this road has several different names, in Nevada it is called the Bob Rudd Memorial Highway, once in California it is State Line Road.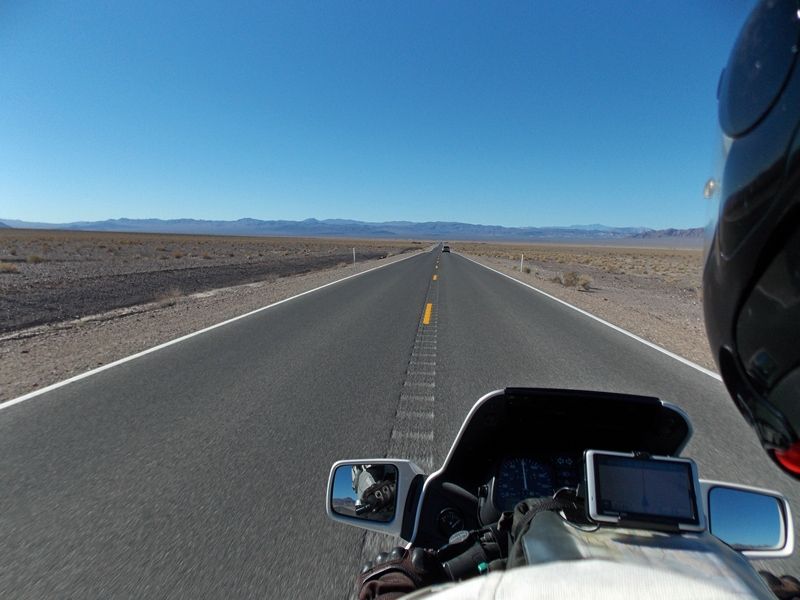 It intersects with HWY 127 at the Amargosa Opera House.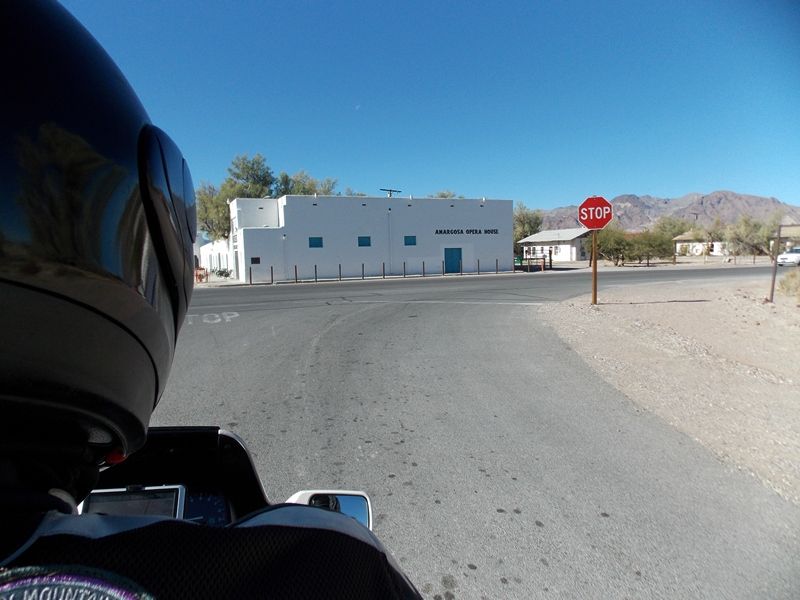 On HWY 190 nearing Zabriskie Point.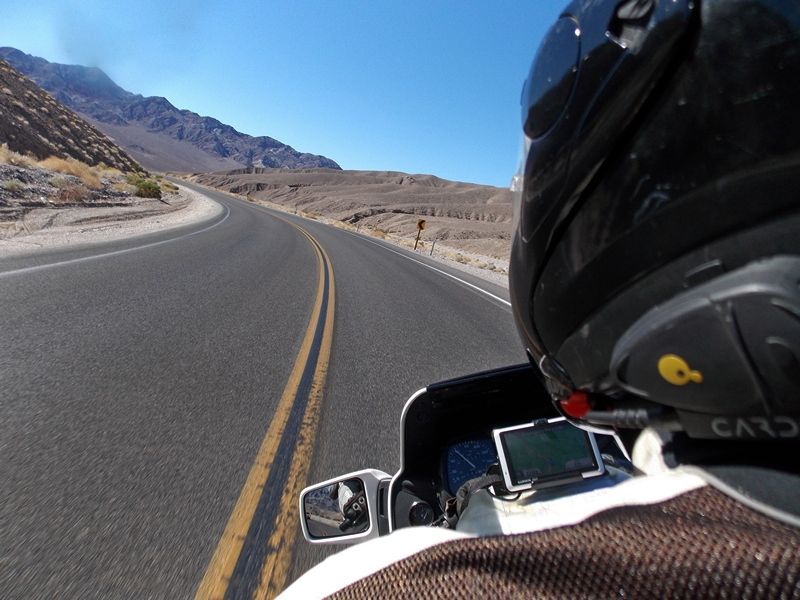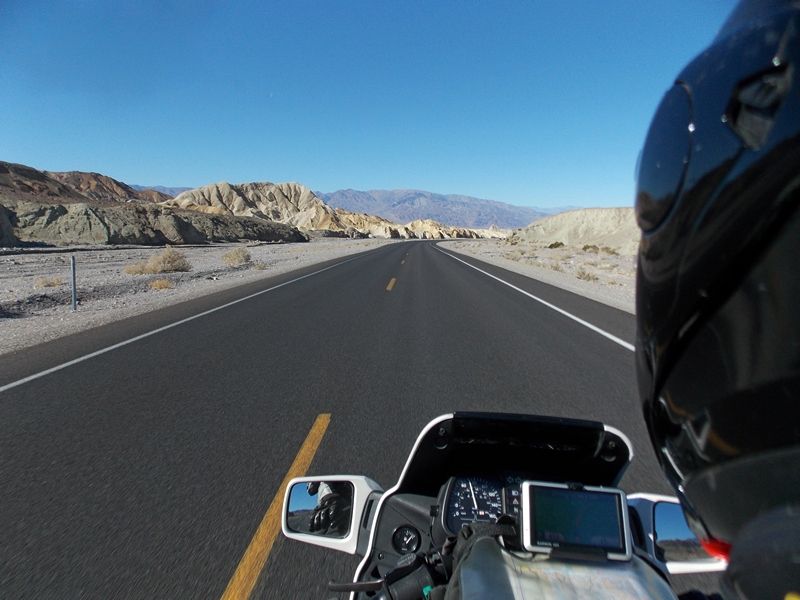 Passing the Furnace Creek Inn. We were planning on staying there in the future when we make another trip, but the prices are ridiculous, so we will try the little units at the Furnace Creek Ranch.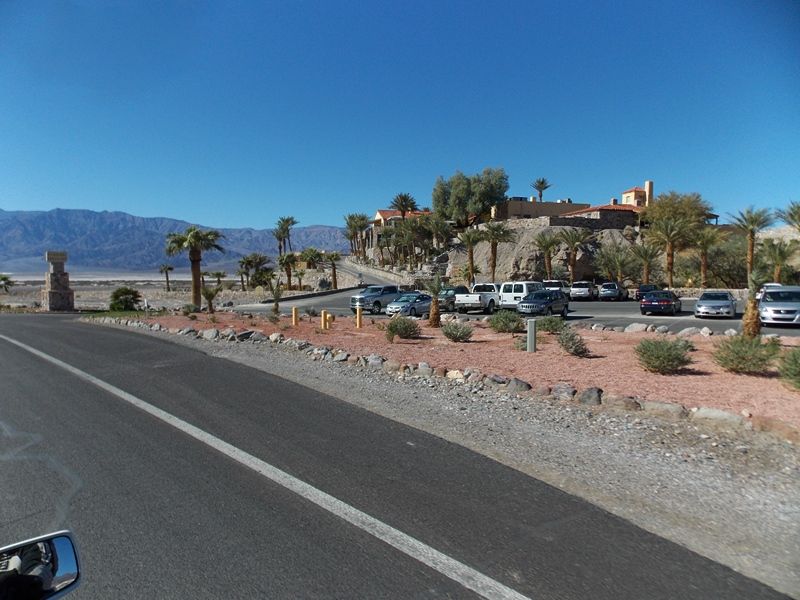 We stopped at the visitor center to get our pass into the Park, then a quick stop at the Furnace Creek Ranch for a drink and to plan our route for the morning.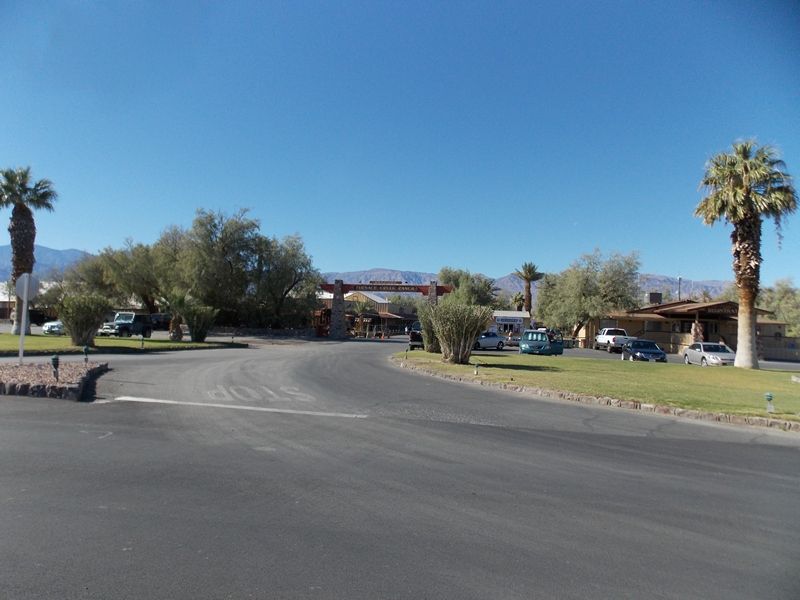 On our way to the Badwater Basin pull-off. It was starting to get warm.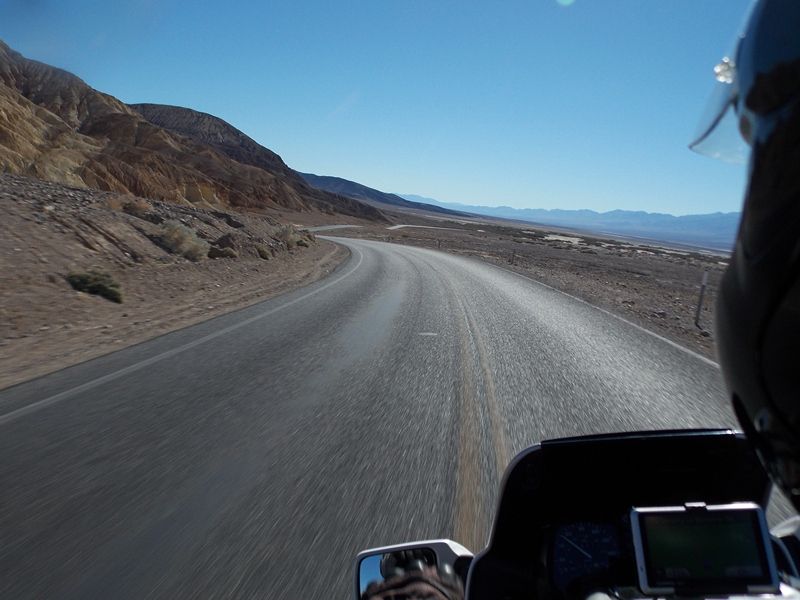 At the pull-off and view area for Badwater.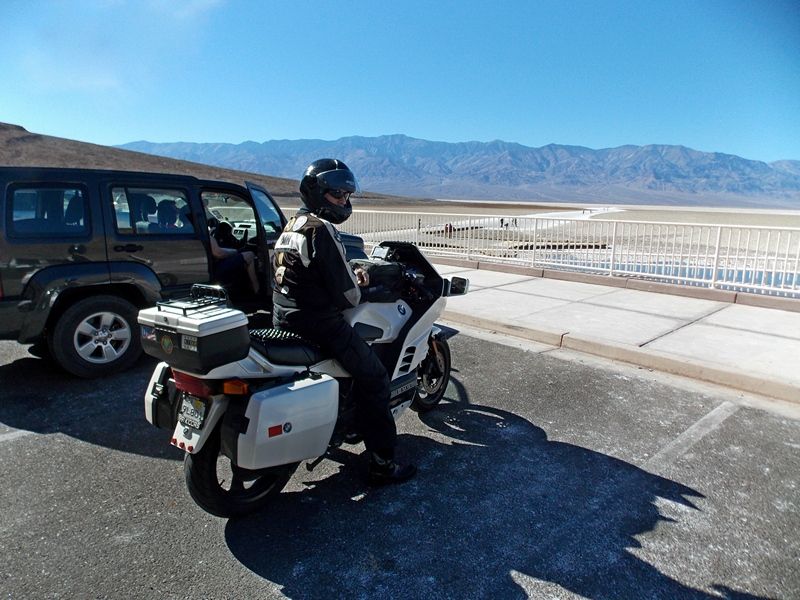 Lowest area in the United States, the Park guide says 282 feet below sea level, my Garmin had it at 291 feet.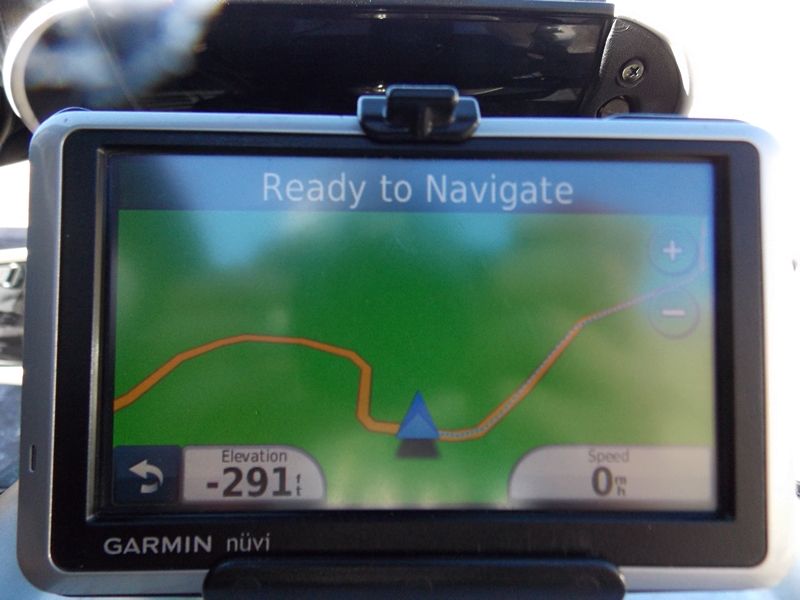 We removed our cool weather items and enjoyed the warmth, several folks were walking out into the basin.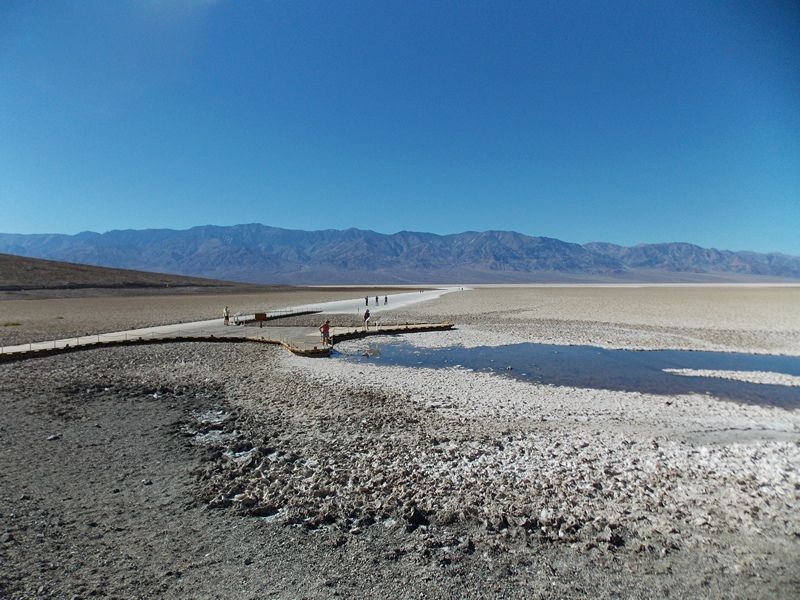 Donna stands in front of the sea level sign – red highlighted area.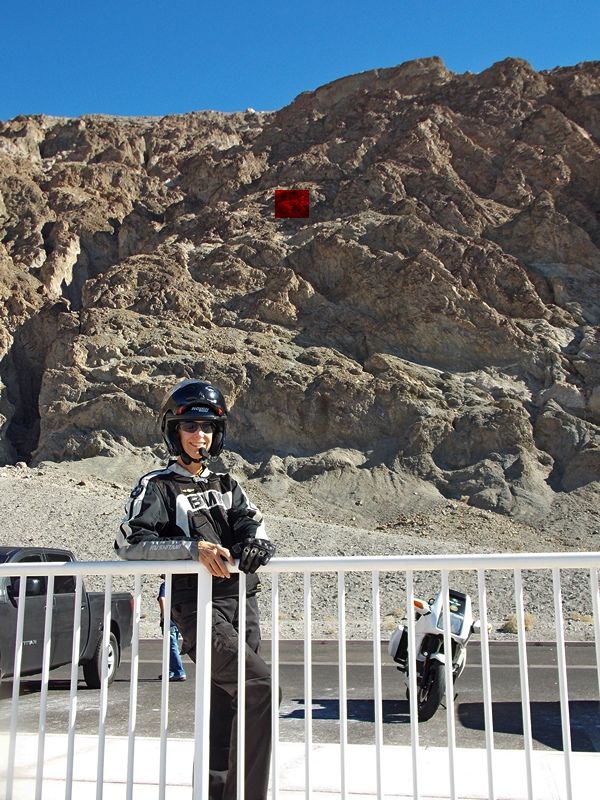 Hard to see in the red highlighted area, a close up.
Going back north on the Badwater Road. What a desolate area!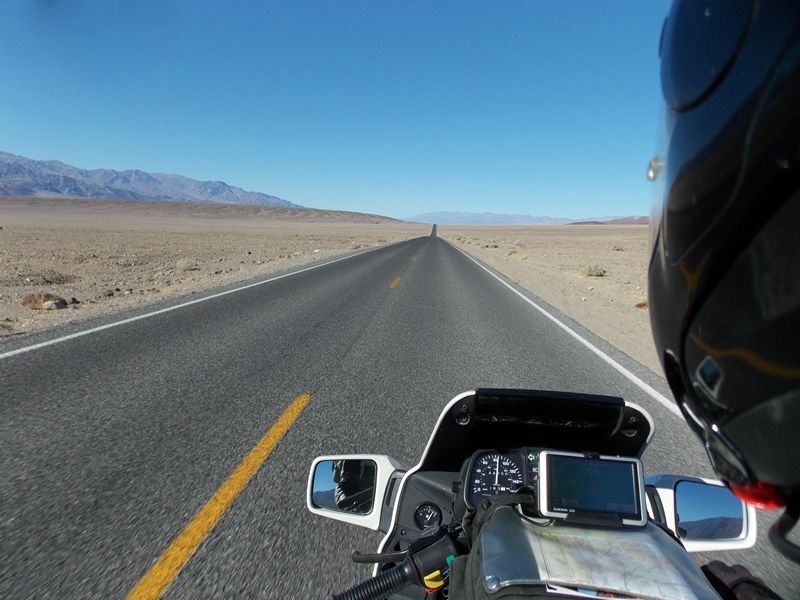 Our next stop was the Artists Palette view area. It is a one way road to get there.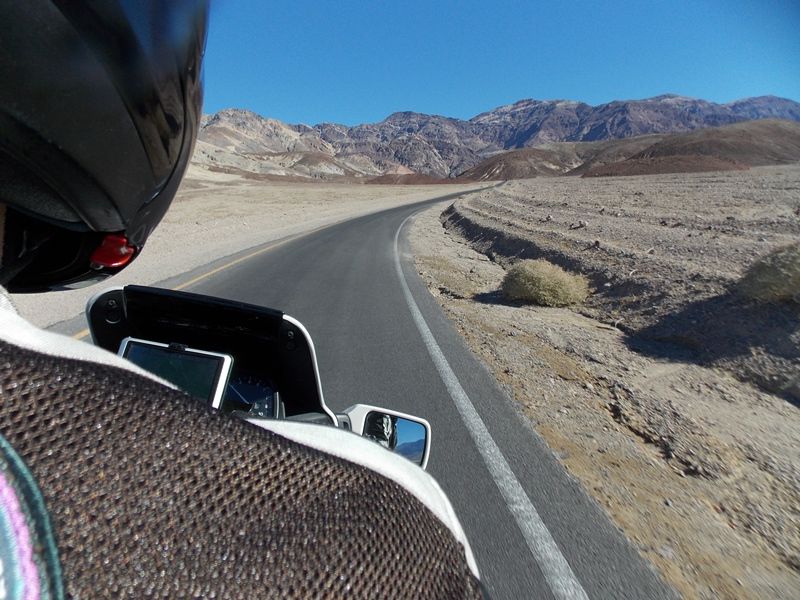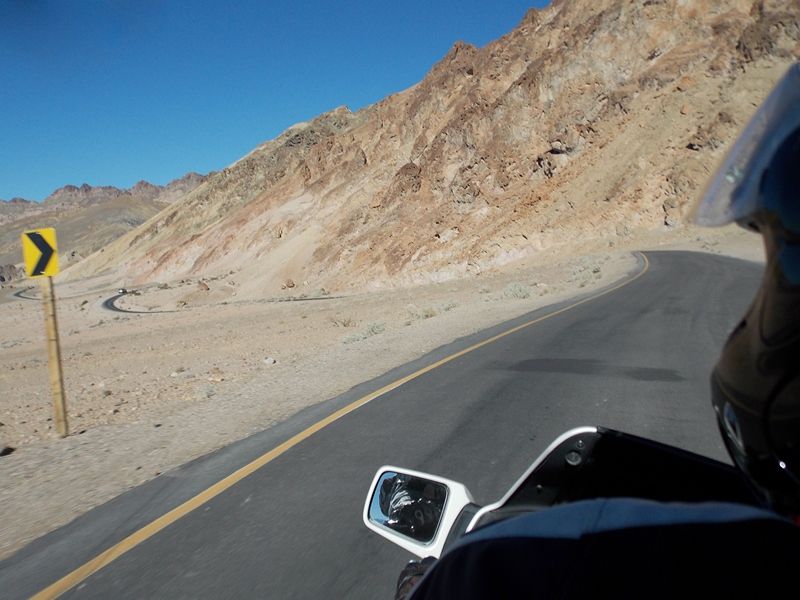 Taking a few pictures.
Plenty of color in the rocks.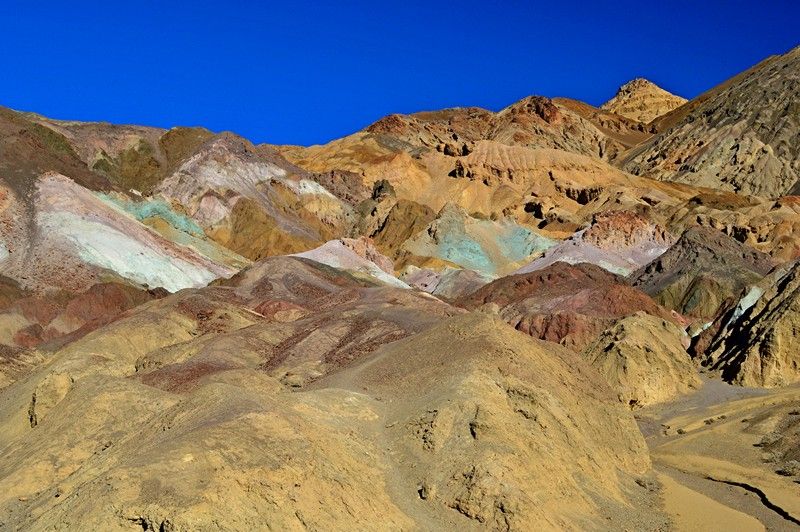 Going out on the one way road, several tight hairpin curves – no trailers or vehicles longer than 25 feet allowed.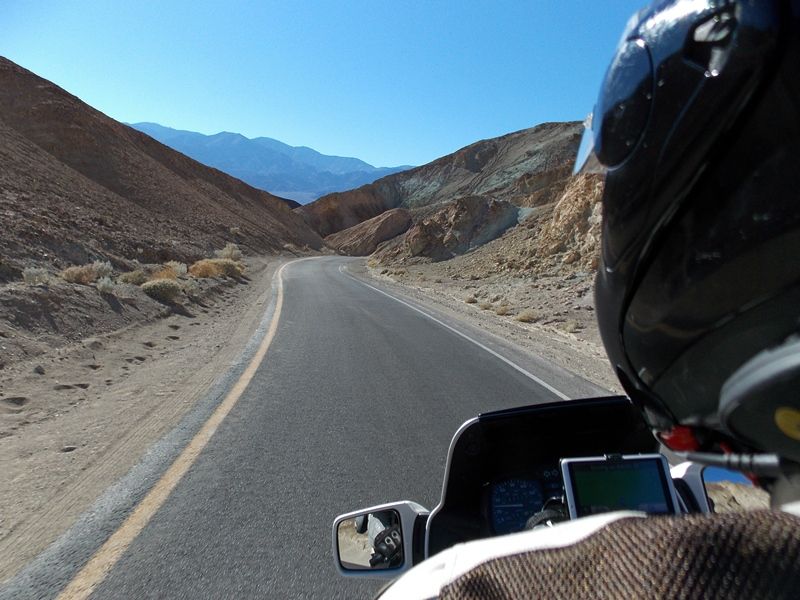 Back down to the valley floor.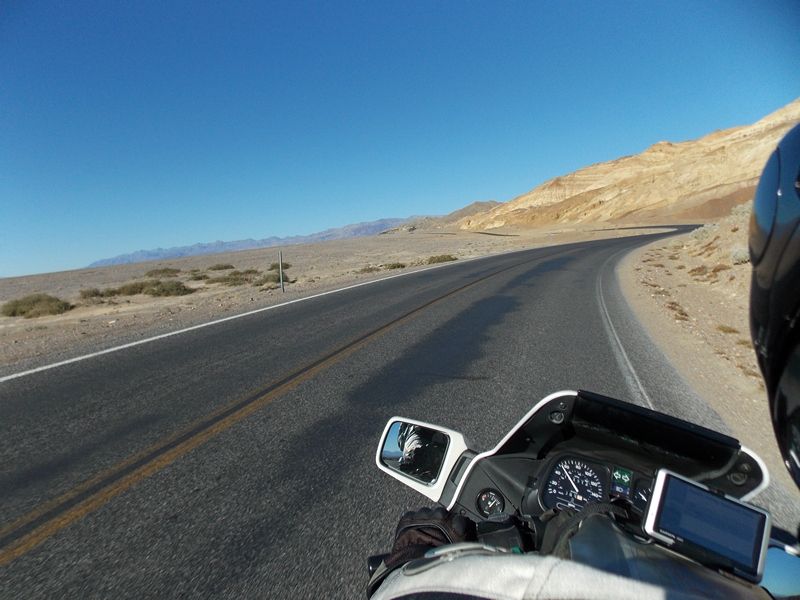 We stopped at the Furnace Creek Ranch store for another cool drink, Donna stands in front of one of the big wagons that were used to haul the borax.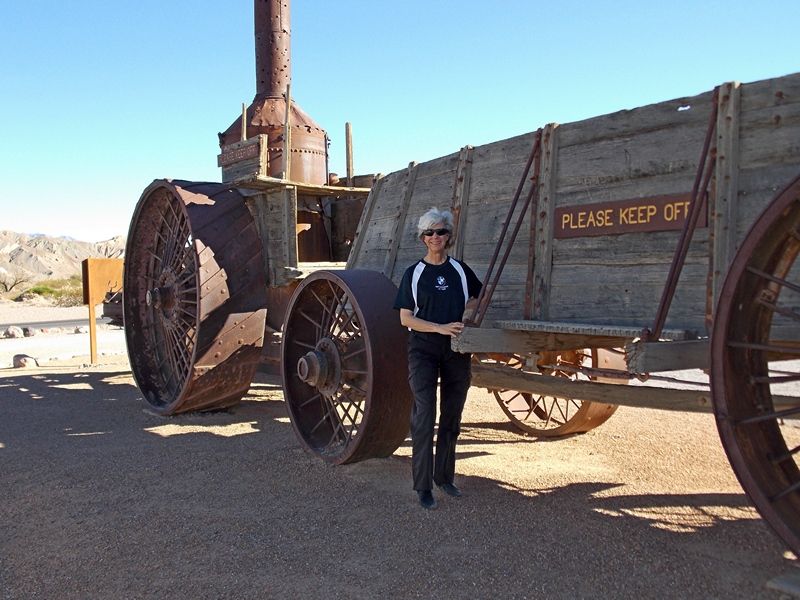 This steam engine replaced the mule teams – can you imagine riding a "steam" engine tractor in the heat of Death Valley? That's one job i wouldn't want…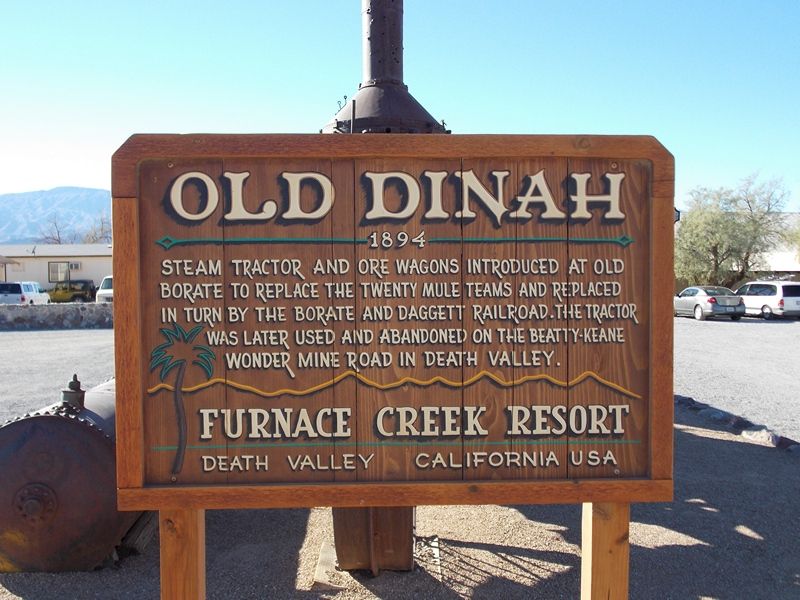 Donna gets "artistic" on our way to Dante's View. I love these shots when she gets it just right!
The road up to Dante's View, good road, not much traffic, taken from the top looking back down.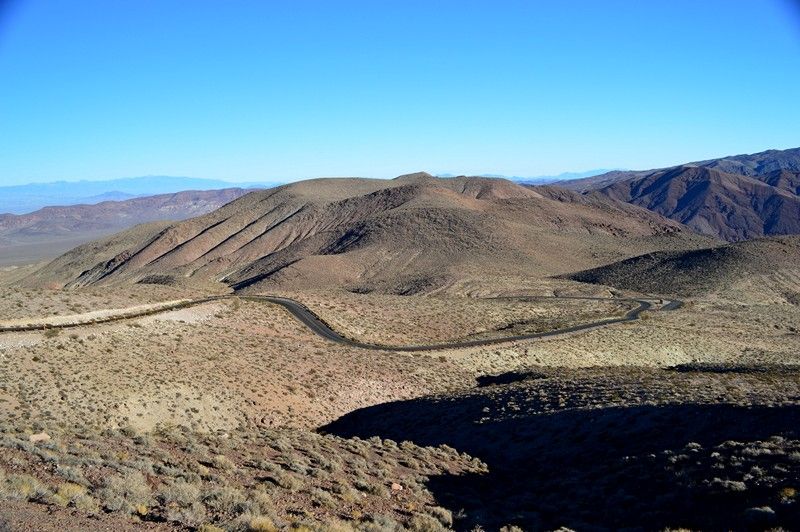 Donna enjoys the view.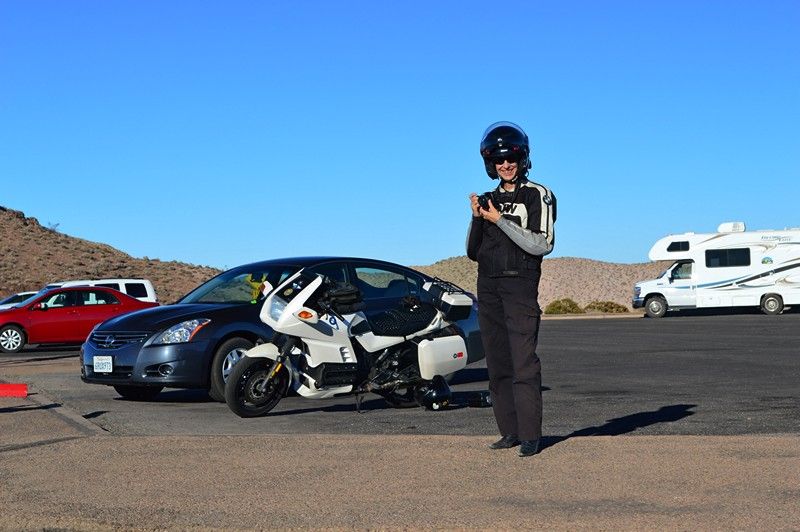 And what a view it is – looking north at Death Valley. Definitely worth to trip up for the view.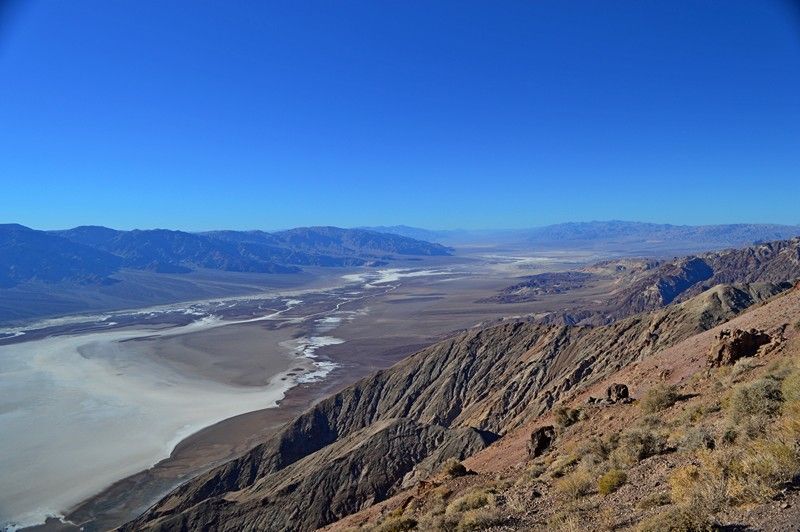 We took the same route back home even though it was a little longer, wanted to avoid the evening traffic. It was dark before we got home, had to put back on our cool weather riding clothes in Indian Springs before we made it back.
A nice one day trip.
Total miles 368
Total gas used 7.3 gallons
Total $ on gas $30 (approx)
MPG average 50
In October we took another ride to Phoenix to visit with family. We did take a different route back, just to see some fresh desert.
The route
On the road before sunrise to avoid the morning rush hour traffic. South on HWY 93 past Boulder City, Lake Mead in the distance. Glad all the construction through and around Boulder City is completed.
We stopped at a view area about 12 miles into Arizona and enjoyed the sunrise.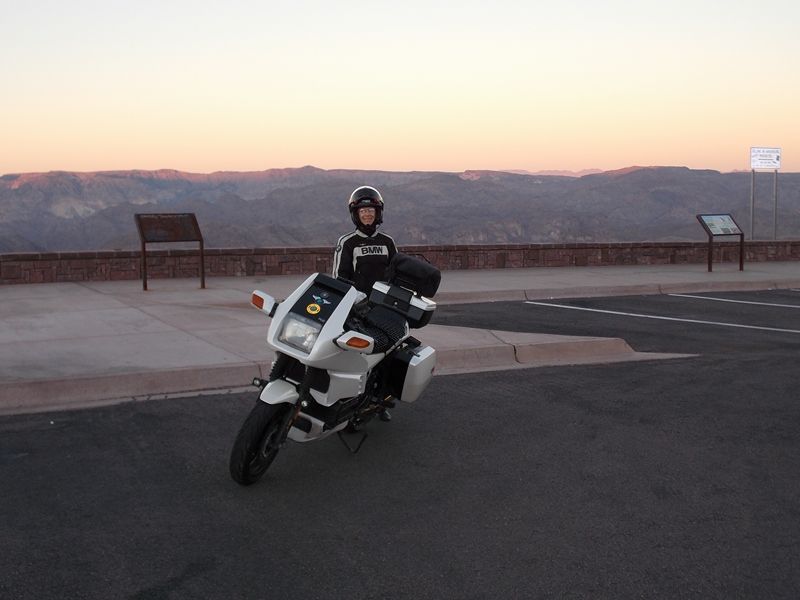 A nice view of the Colorado river.
Another perfect day for riding, it just doesn't get any better!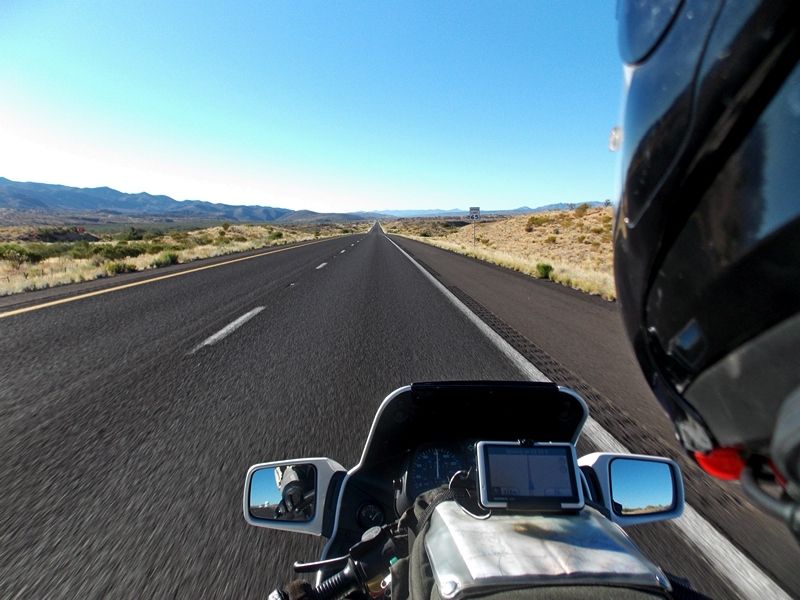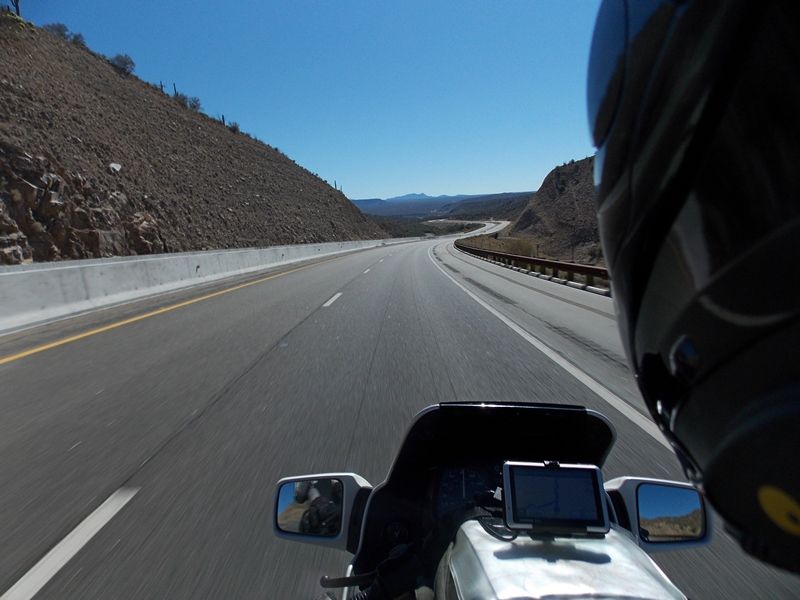 We stopped in Wikieup, AZ. for breakfast. I finally remembered to stop and get the "Snoopy" rocket as we came into Wikieup.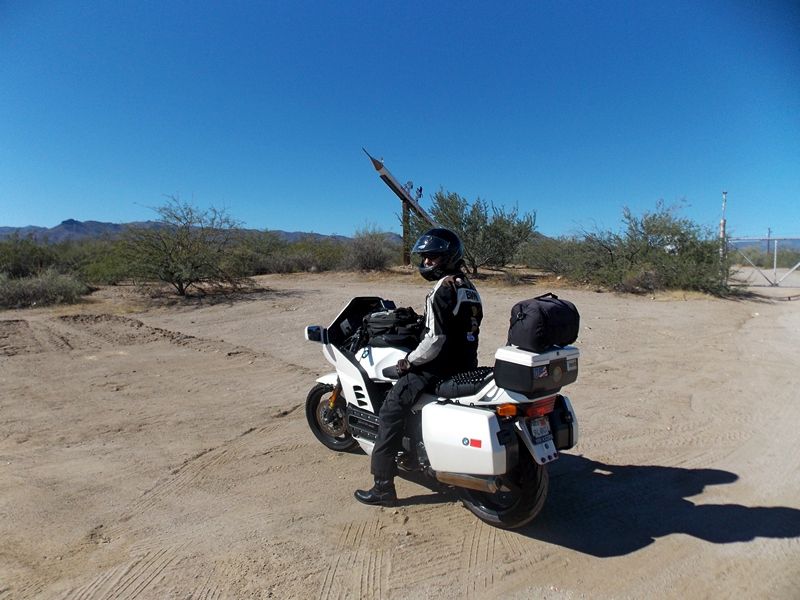 Someone needs to trim the bushes though, if you don't know it is there – you'll miss it. "Spike" is also along for the ride.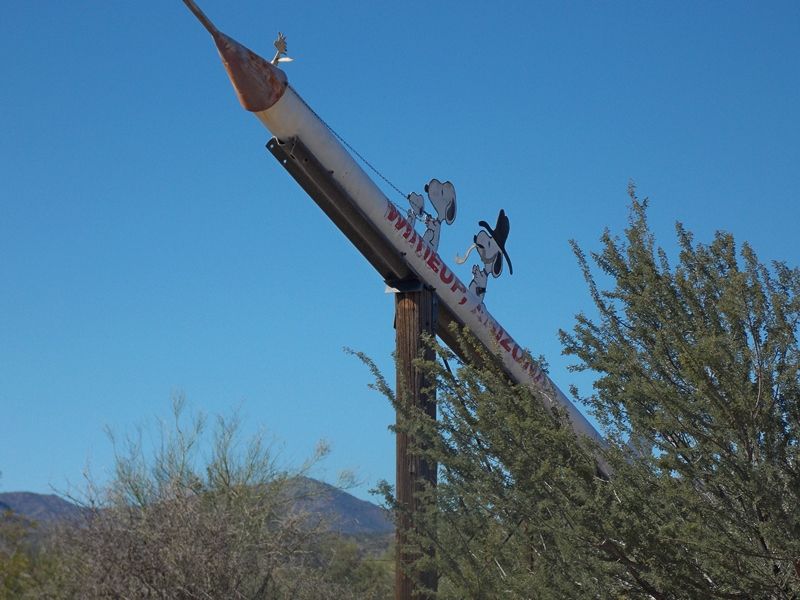 Dinner time, Donna, Ashley, Madison along with Grandma "Lita" (Robin), her friend Kathy and her folks, Robert & Mary. Matt didn't get there in time for the photo.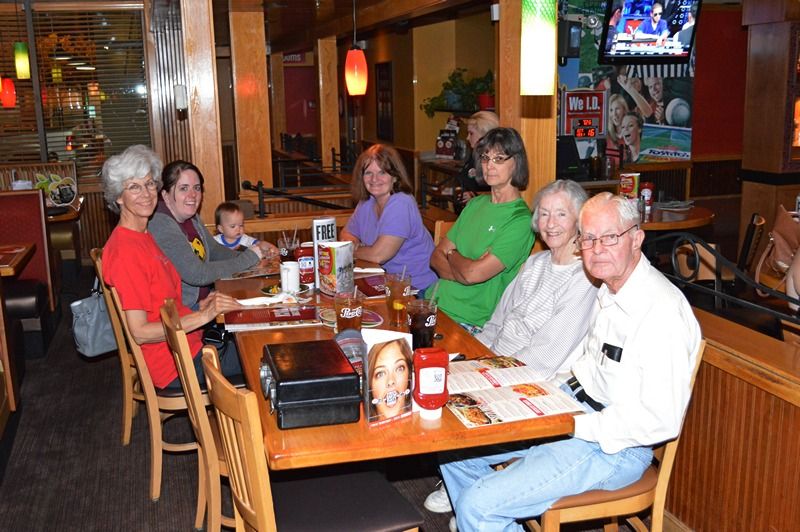 Granddaughter Madison enjoys a slide.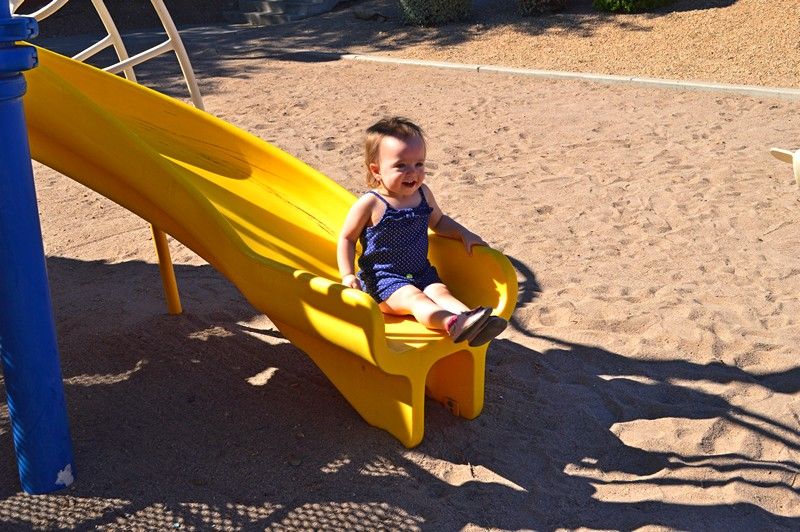 She also seems to like the rocking chair she got for Christmas last year from Grandpa Steve!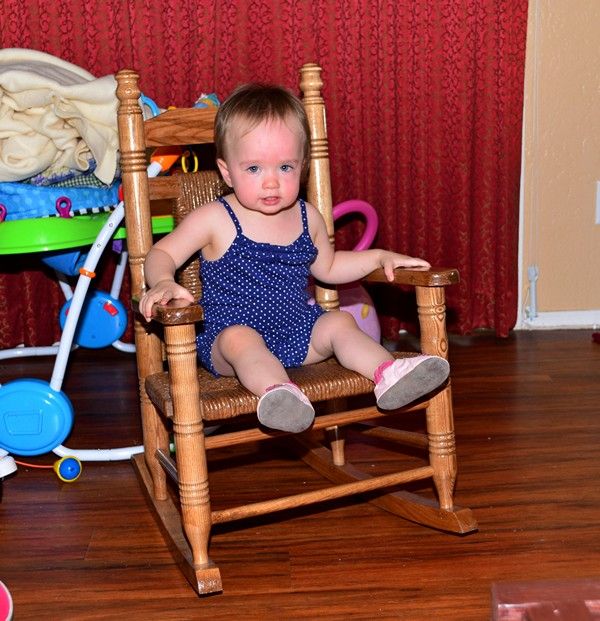 She didn't like this…her Dad wanted this pose. I guess she didn't care for the helmets!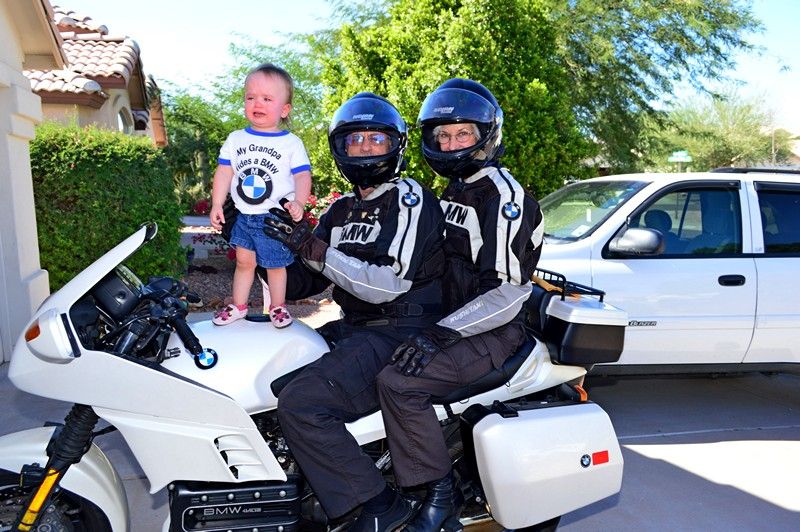 Ashley's birthday gift. She picked this picture from the "photo gallery" (a shameless plug for my pics for sale). EZ Photo Design did another great job with the canvas print.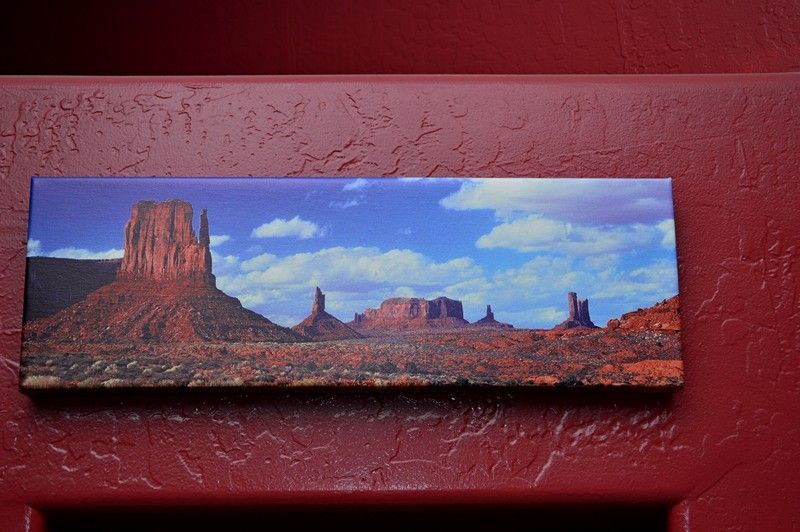 We were up and on the road early to leave Phoenix, love their "HOV" lanes!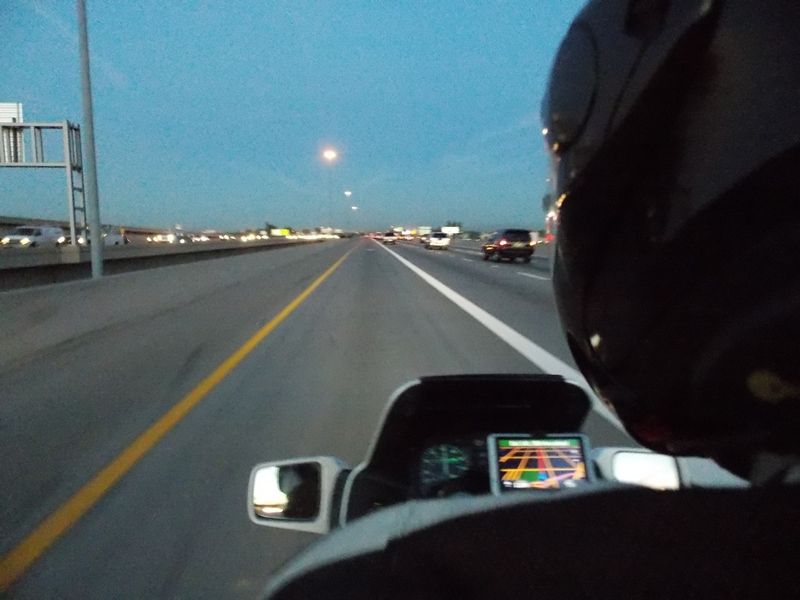 We were well into the desert on I 40 before the sunrise, a little cool though – had on our cold weather gear.
Nice to ride with the sun at our backs.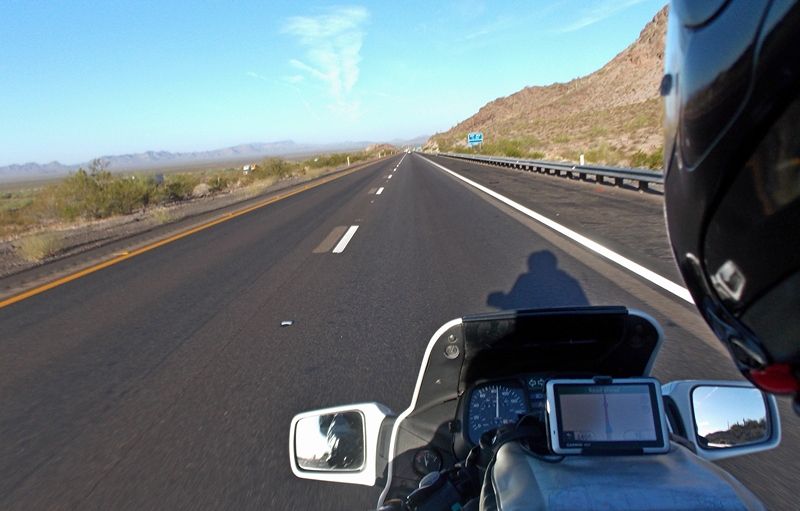 Into California – they still have the "fruit fly" entrance stations running.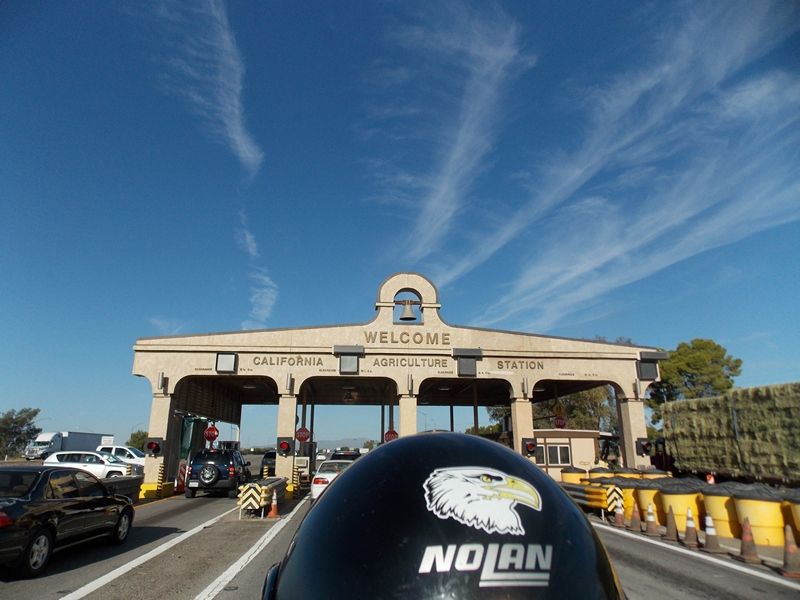 We stopped and had breakfast near Blythe. Nice little diner, very good steak & eggs, right off the exit to HWY 95.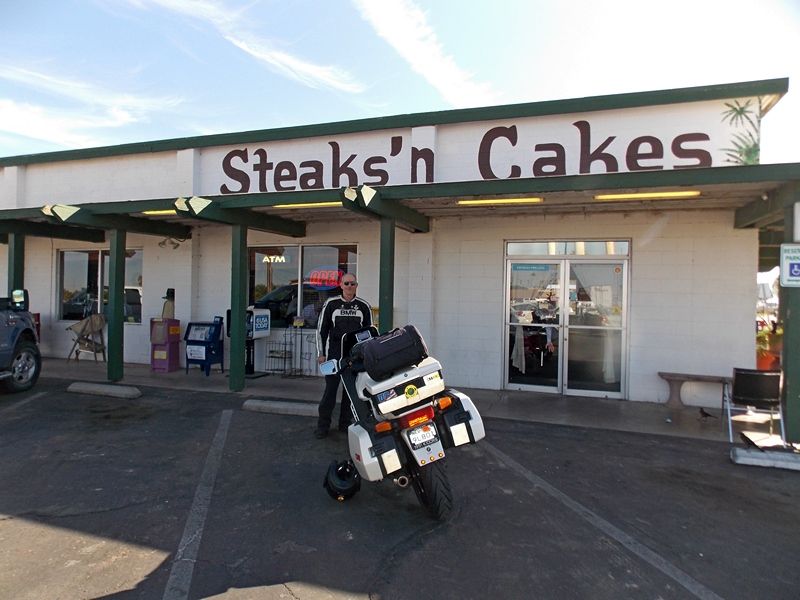 North on HWY 95, the highway follows along the Colorado river, several nice sweeper curves. One thing we didn't expect to see was cotton fields in California.
Not much to look at, but many "dips" along the way.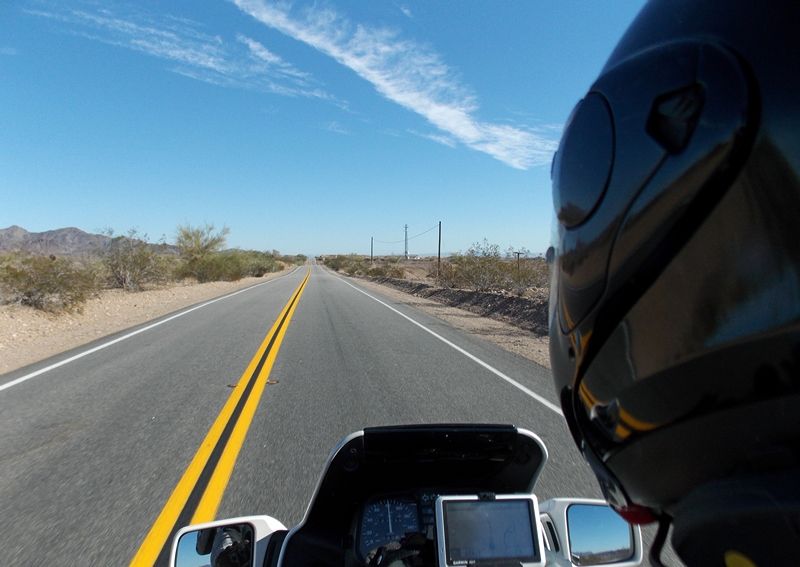 We stopped in Needles, CA. and took a break.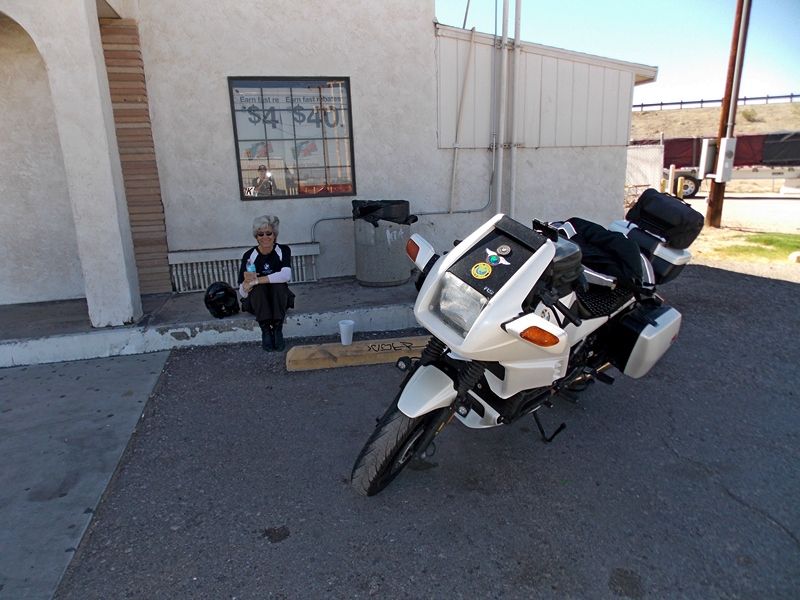 Didn't need gas though, thank goodness!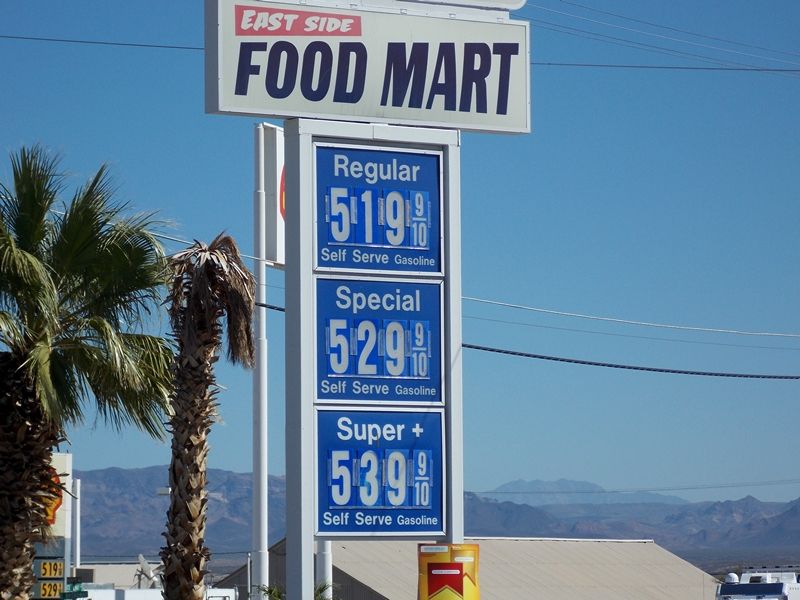 Back in Nevada, pretty much the view for the rest of our ride home.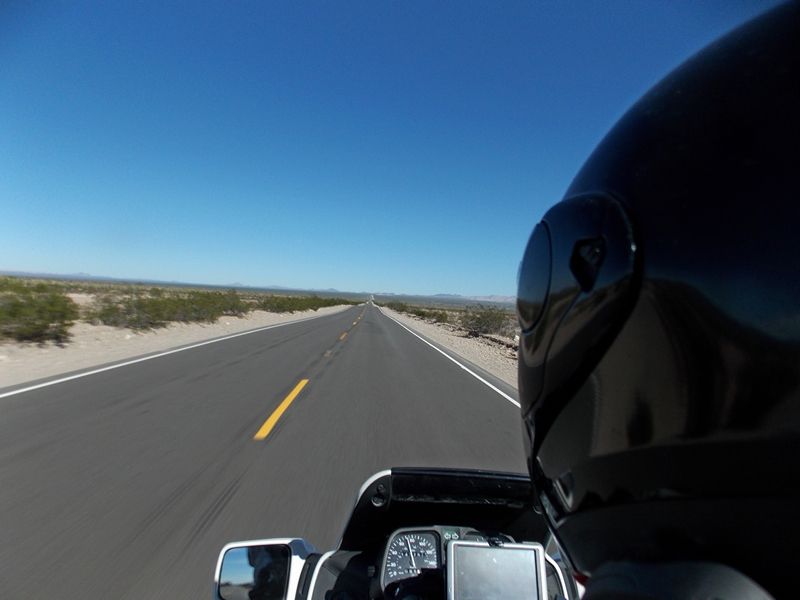 Total miles 680
Total gas used 14.6
Total $ on gas $48.00
MPG average 46.5