Phoenix, Tonto National Monument Sept. 2012
Finally cooled off enough (the temps in August were consistently over 105) to get out and ride down to Phoenix to visit two of my kids & granddaughter Madison. The weather had been just way too hot, but we finally got back on the BMW after a month long hiatus.
The route
We hit the road around 7 am, got through the morning rush hour on US 95 without too much delay. The road construction through Boulder City and down to Hoover Dam was finally finished. It is now a nice 5 lane highway with a speed limit of 45. Nice view of Lake Mead.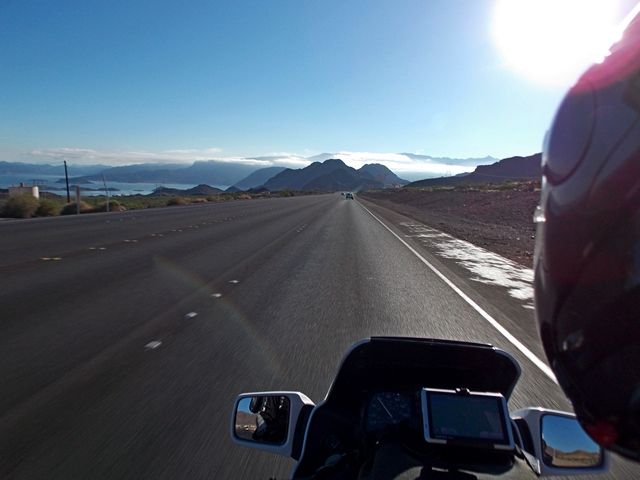 The speed limit drops to 35 as we pass by the Hacienda Hotel & Casino.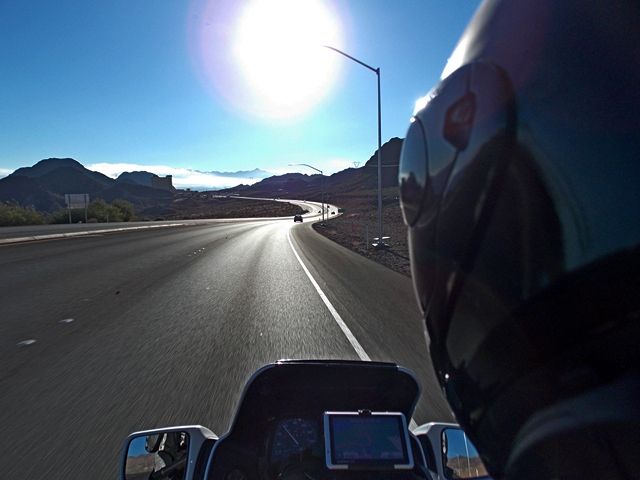 Heading south on HWY 93, we rode through some very low cloud cover, but it was nice and cool, and didn't last very long.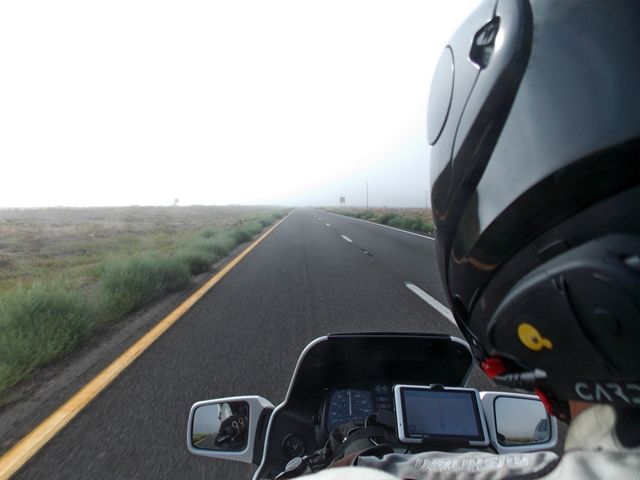 Just a picture perfect morning to ride south on HWY 93.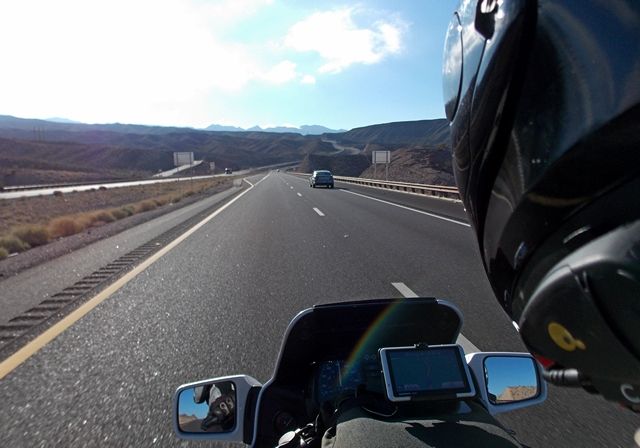 Breakfast at the Wikieup Trading Post. When we pulled in, there wasn't another car in the parking lot, but it filled up while we had our breakfast. Donna is convinced we always draw a crowd.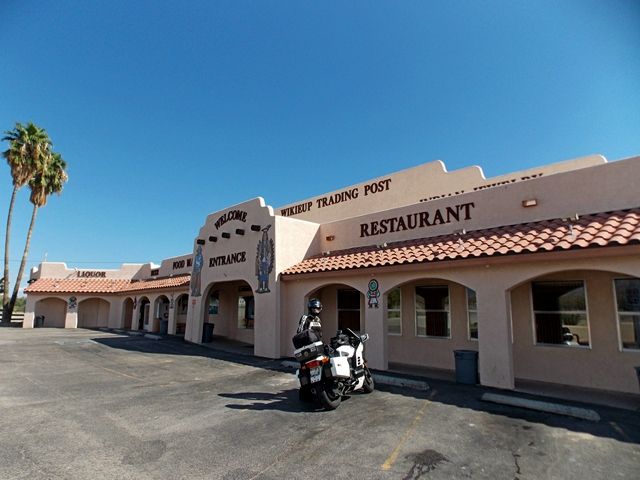 Since our last visit, all the construction on HWY 93 has been completed, now it is really just a nice scenic ride.
The rest of the ride was uneventful, made it to Matt's house before the rush hour traffic. We met Ashley & Madison at a pizza place.
Madison waits for her pizza. I know I'm biased, but what a cutie she is!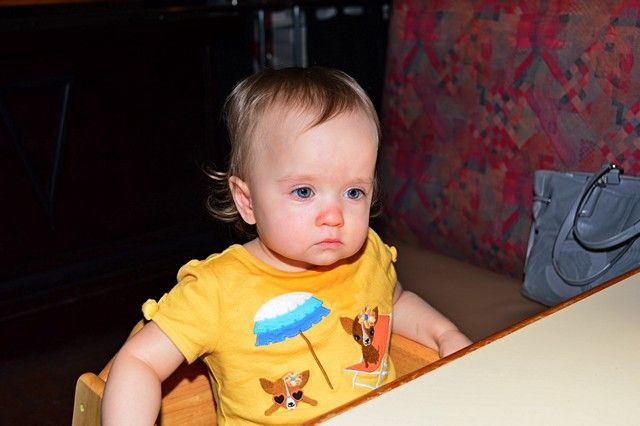 We were joined by one of Matt's good friends from his high school days, Cameron & his mother Christine. Ashley's husband Steve missed another fun dinner, he had to work.
We were able to stay two nights on this trip, so with Matt & Ashley both working, we took a nice scenic loop out to the Tonto National Monument. Up and on the road early to beat the rush hour traffic.
We had another stop in Scottsdale first, our friend Tom Adams was in town attending a convention, so we had breakfast with him before we left. We walked next door to his hotel to a Mexican place that was open for breakfast. After we finished eating our waitress informed us that their computer was down, so they gave us the breakfast for free (neither of us had enough cash). What cash we did have went to the waitress, so a good start for the day!
Not much traffic on HWY 60 riding east out of Phoenix. One good thing about the freeways in Phoenix, they all have the "HOV" lanes, which I really like, only have to watch out for traffic merging from one direction, and we can usually get by the busy rush hour traffic without much of a delay.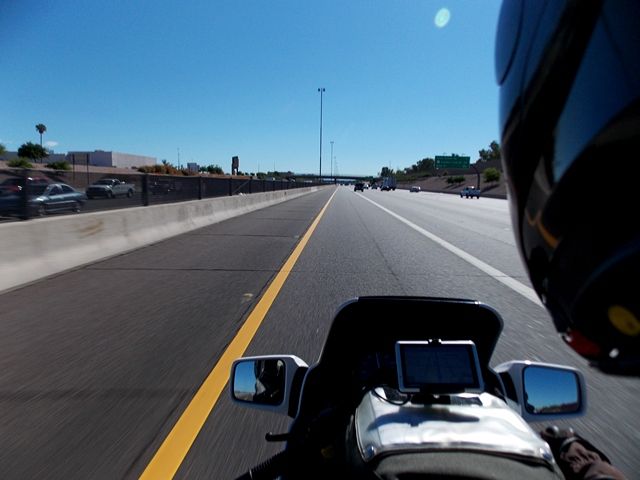 We stopped in Superior at a rest area for a short break. Had a good view of a long closed mill up on a hill. This area still has some working copper mines.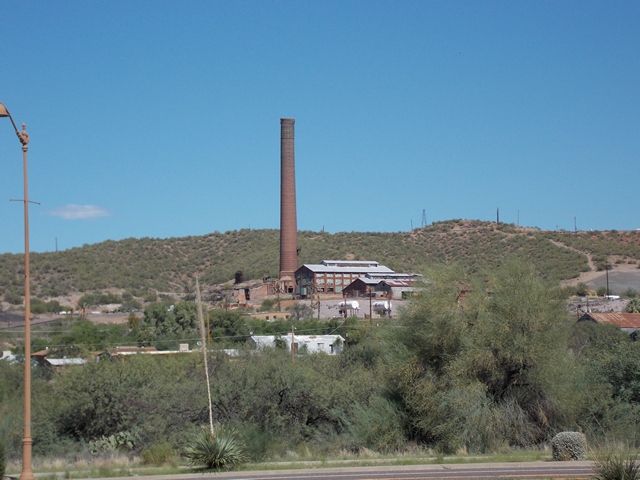 Another perfect morning to enjoy.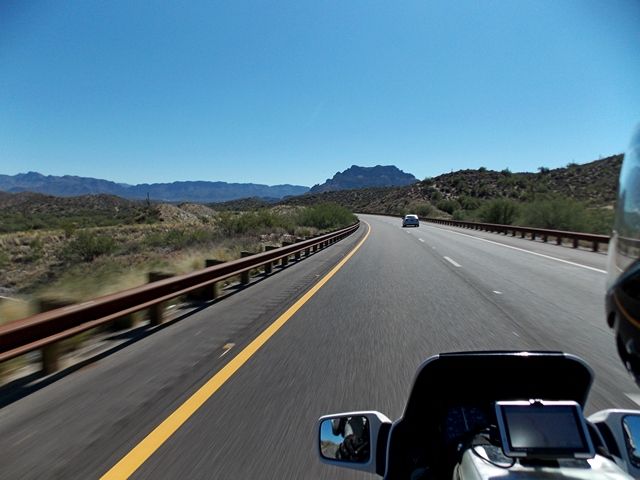 Heading east HWY 60.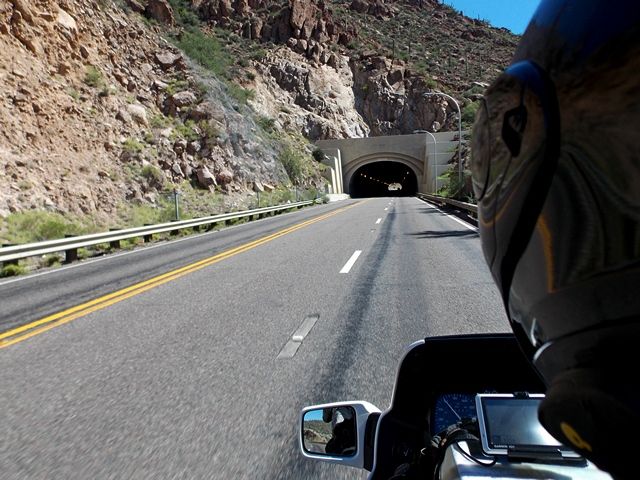 We rode over several bridges on this highway.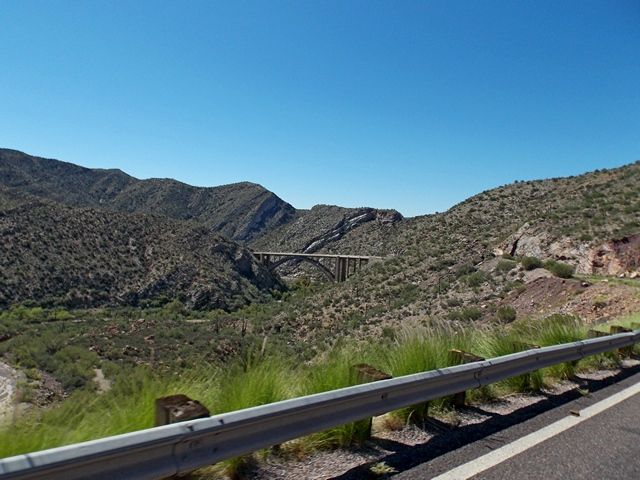 We stopped at a pullout and took a few pictures, nice red rock formations.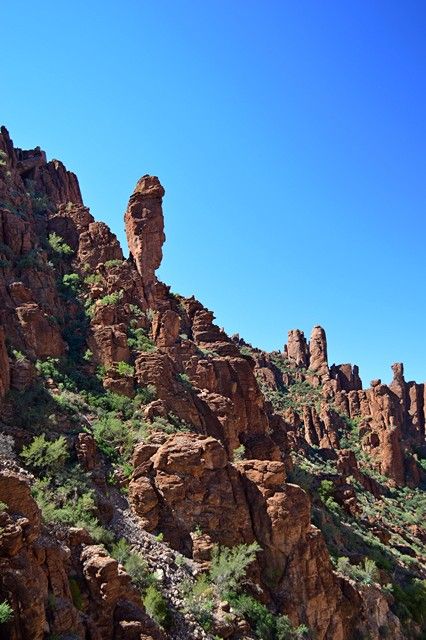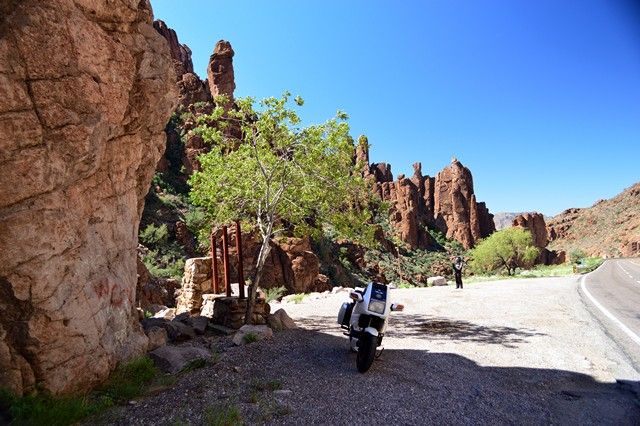 There were several of these red rock formations on the way.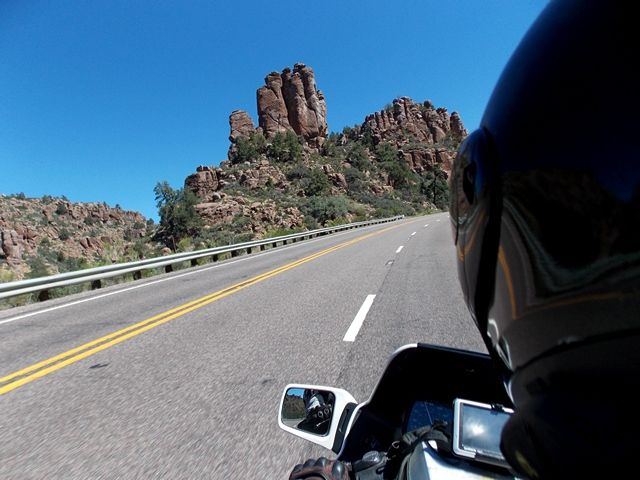 Saguaro Cactus, seemed like hundreds of these big cactus along the way.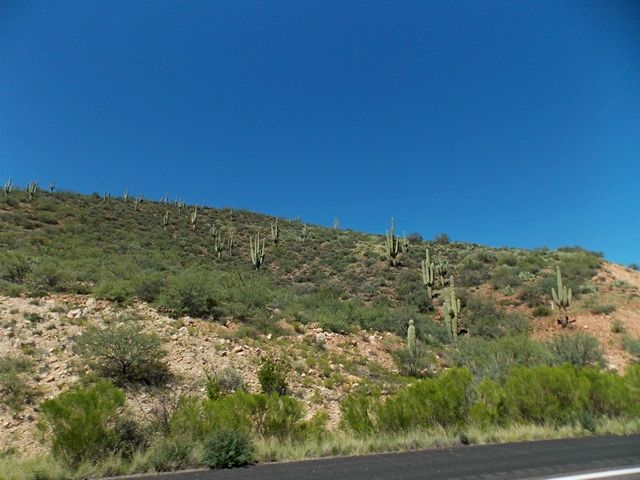 In the little town of Miami, a working copper & gold mining plant.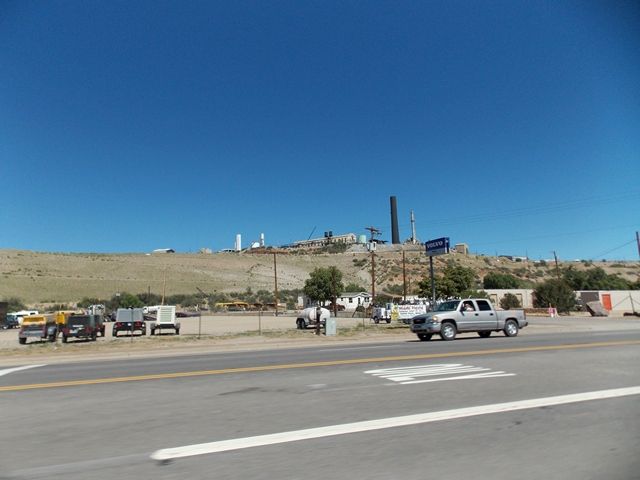 We turned and went north on HWY 188.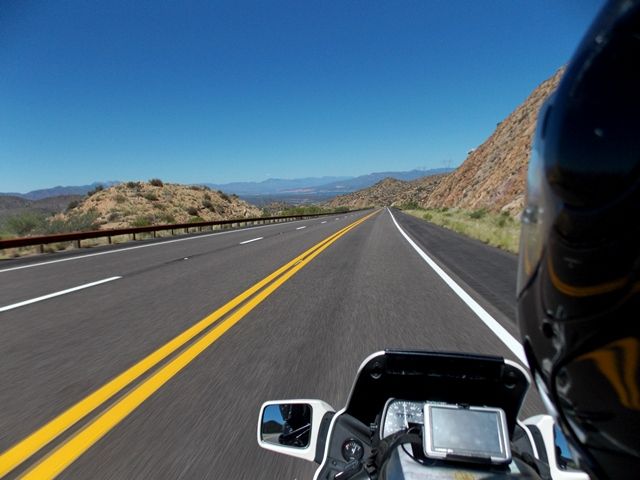 Fun highway in good shape, had the road all to ourselves.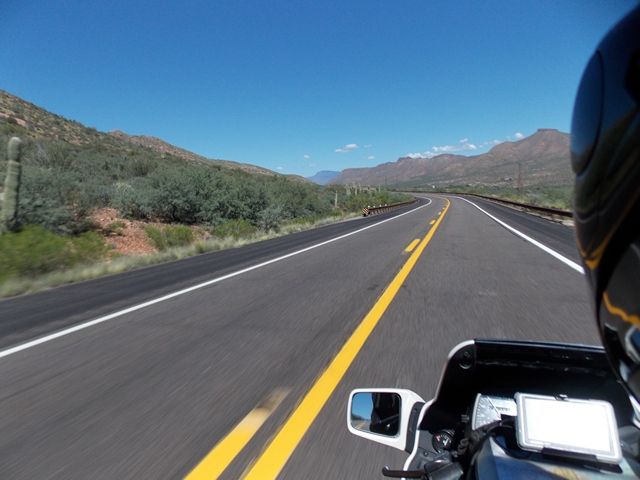 We stopped at a rest area and enjoyed the view of Roosevelt Lake.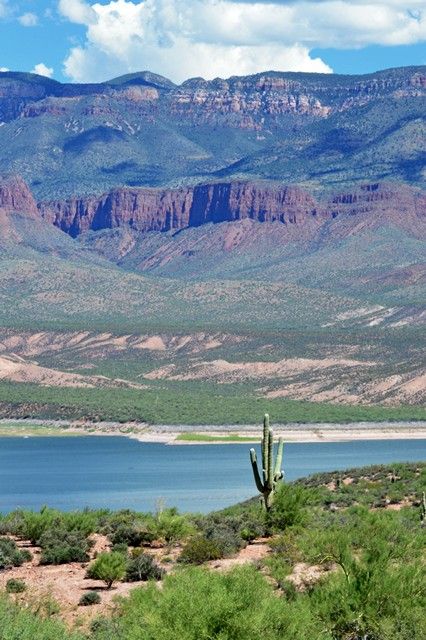 We could also see Tonto's upper cliff dwellings from this spot.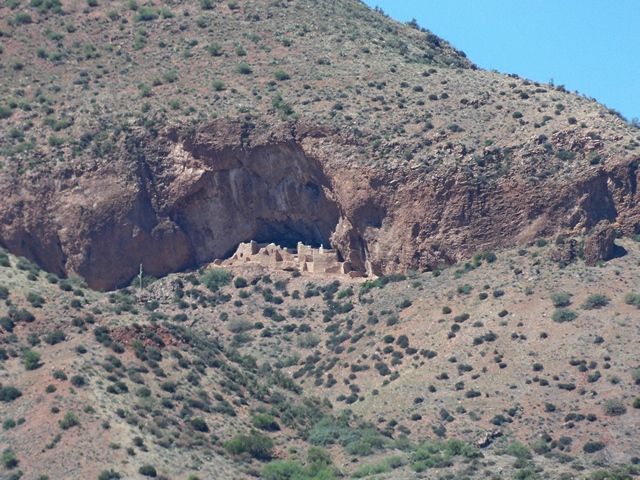 This was all the shade I could find.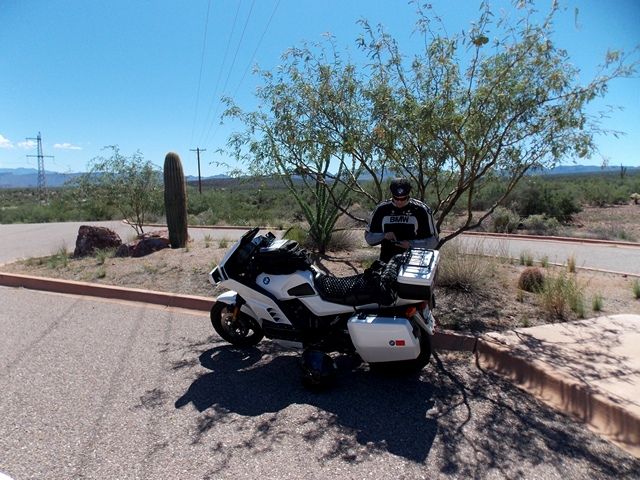 We stopped at the Tonto National Monument and cooled off with a cold drink. We didn't take the trail up to the lower cliff dwellings, we didn't bring our walking shoes.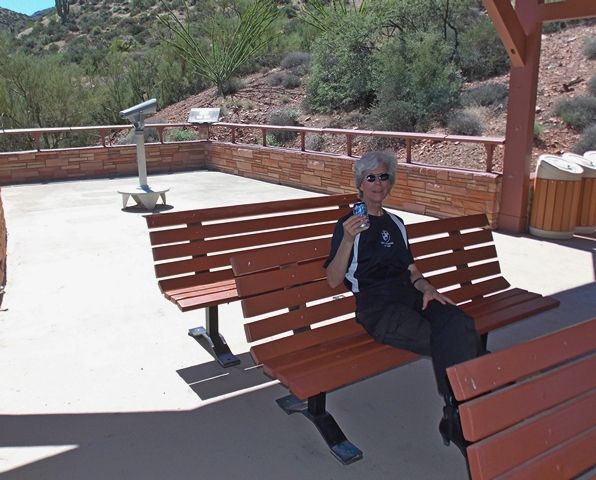 The first "high rise" condos. I wouldn't want to be the guy that had to take the water jugs up there!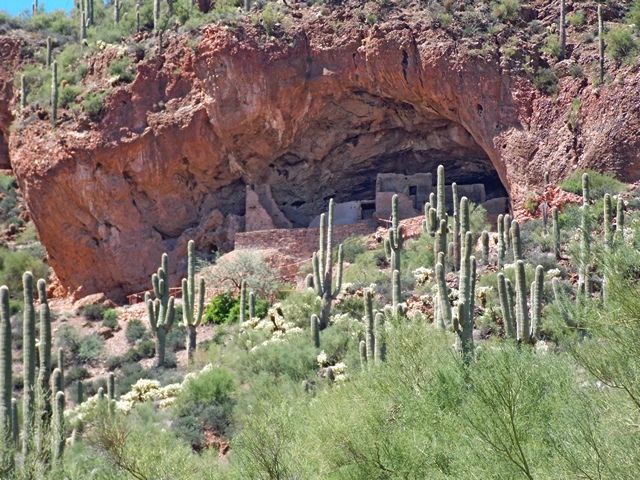 You can see how far it is up to the lower cliff dwellings, they are up the hill in the background.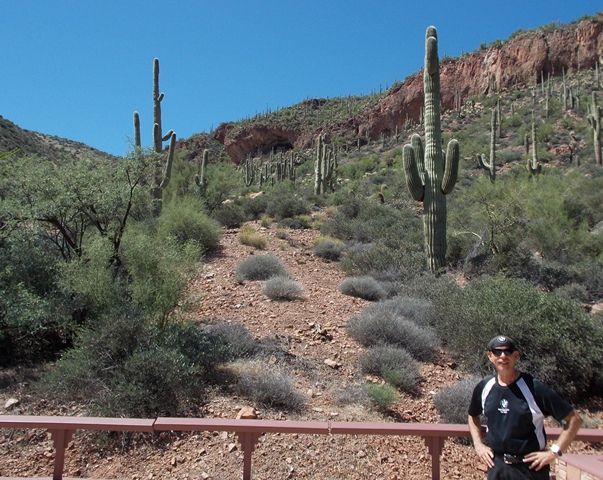 Nice riding along the lake.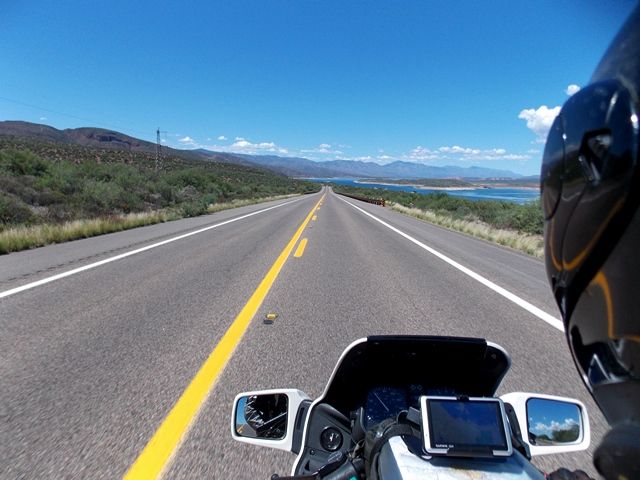 Another cool bridge.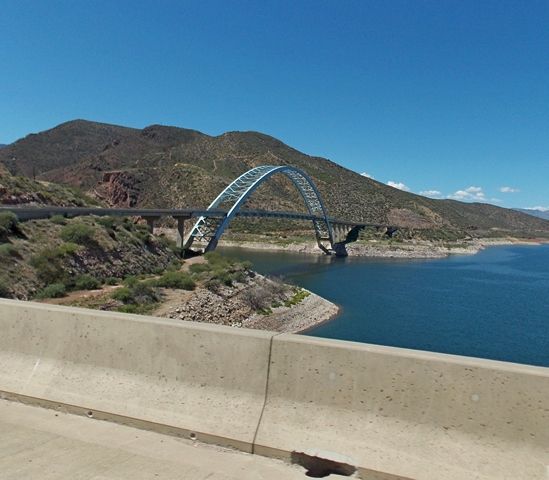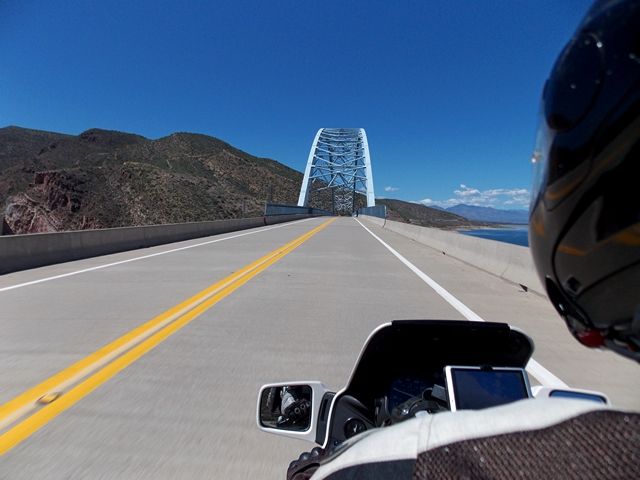 I wanted to take HWY 88 and ride it to Tortilla Flat, but found out from one of the Park Rangers at the Monument that this was a hard packed dirt road for 22 miles before it went back to a paved highway. He said he had seen big Harley dressers take that way, but I wanted to stay on pavement, so we continued north to HWY 87.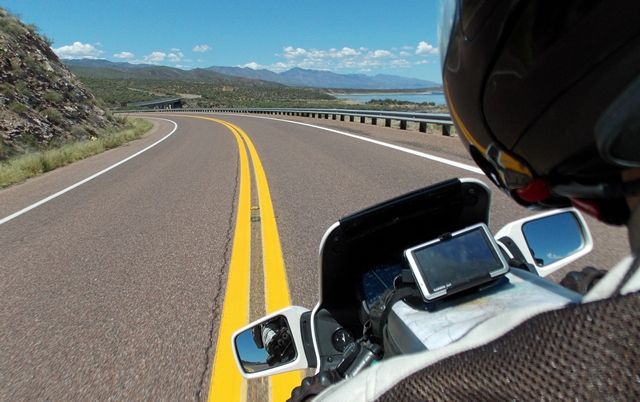 Back on HWY 87 going south.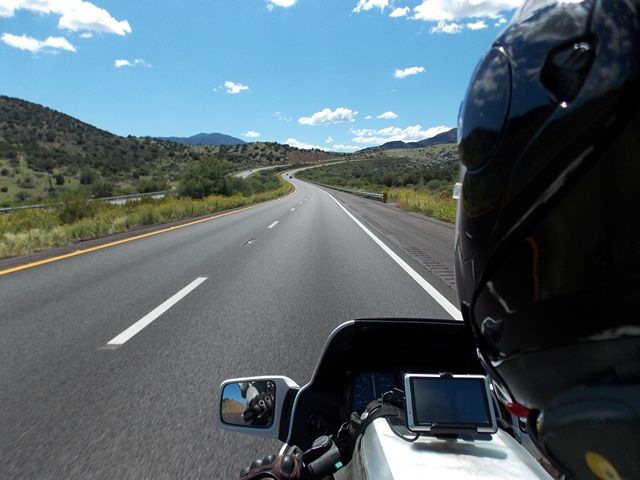 One thing we hadn't noticed when we took HWY 87 north bound, the road south is actually to the left of the north bound lanes in a couple of spots, which was a little strange. Still just as much fun riding south bound though.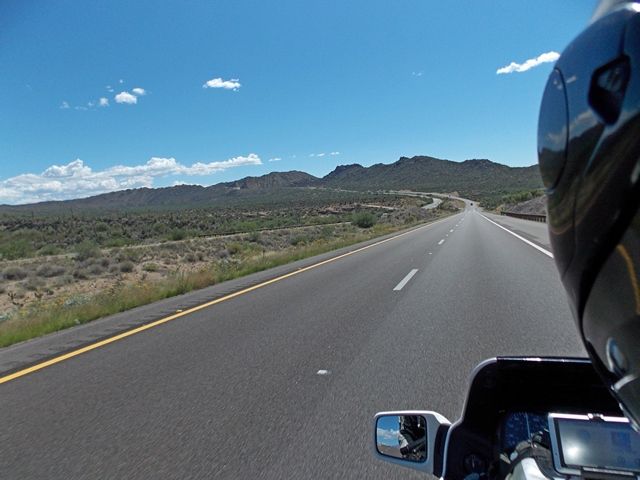 We went out for Mexican food that night with Matt, Ashley & Steven couldn't make it.
We were up and on the road before sunrise, getting out of these big cities before rush hour is a must for us. We always stop and get some coffee at a Chevron north of Phoenix, right as the sun comes up.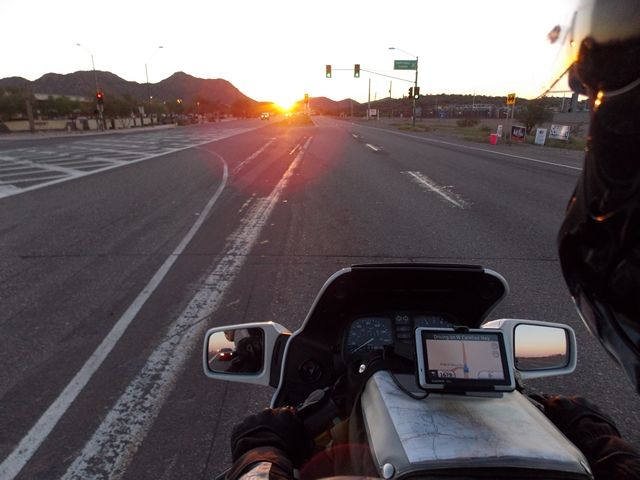 West bound on HWY 74, with the sun at our back, another perfect morning to be on the BMW.
Donna took a short nap, but woke up as we came into Wikieup.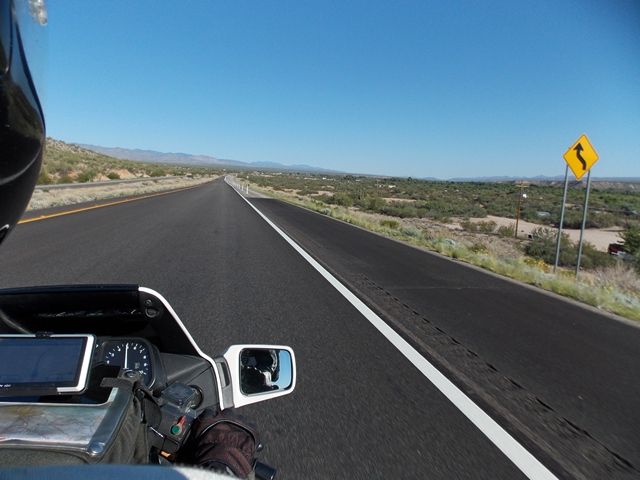 There was a new cafe open in Wikieup, so we decided to stop there for breakfast. It is a very small cafe, and will be an RV park when the owners get everything done. After we finished eating, their computer was not booting up, but this time I went back to the Trading Post and got some cash from the ATM to pay for our breakfast. Of course when I got back, the computer was working. There were several neat metal sculptures in the parking area.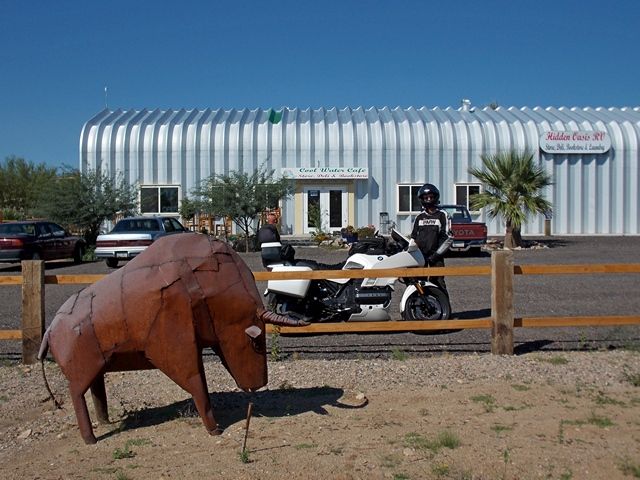 The rest of the ride back was nice. I used the cruise control for almost the entire trip down and back. What a difference it makes, I can set the speed and just enjoy the ride. Thanks again Drake!
Getting near the O'Callaghan – Tillman bridge on HWY 93.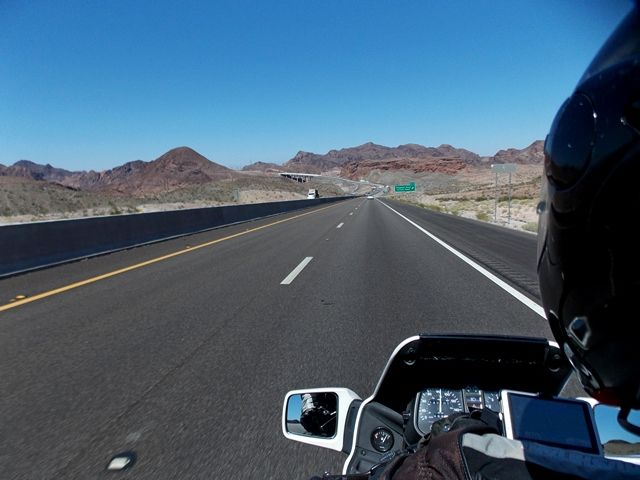 Other bikers were out south of Boulder enjoying the day.
Almost home.
This was our first trip since coming back from our ride down the coast, it felt good to get back on the BMW! Of course seeing the kids & Madison was the reason.
Total miles for this trip – 935
Total cost for gas – $85.13
Total gallons used – 20.73
Averaged 45.01 mpg