2012 Vacation Trip Part 2, Olympic & Redwoods National Parks, CA. Hwy 1
The route.
After arriving back at the Seatac airport, we took a cab to pick up the BMW. Drake had installed the cruise control, and had invited us to come and stay at his cabin near Port Townsend and have dinner. We loaded up the bike and rode down to the Bainbridge Ferry. Waiting for the ferry, and something we really liked, motorcycles board first.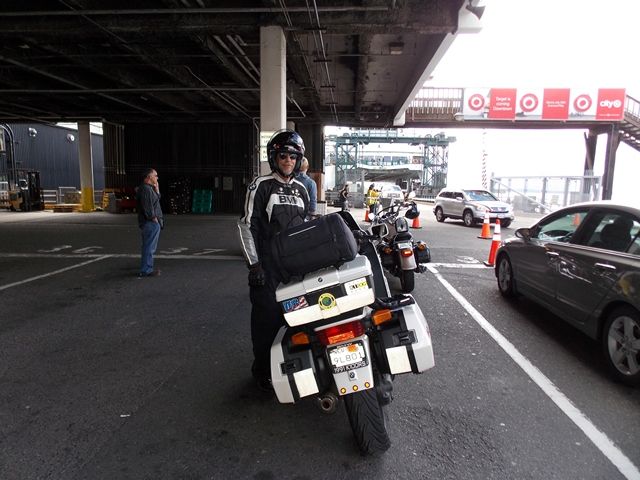 Donna enjoys the boat ride, and took a few pics on the way across.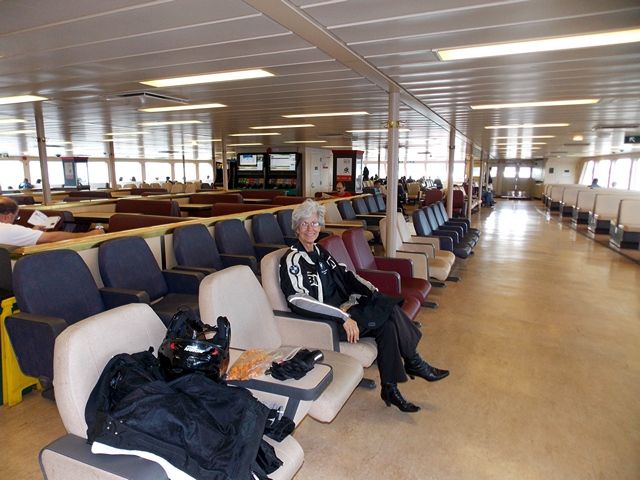 The Space Needle.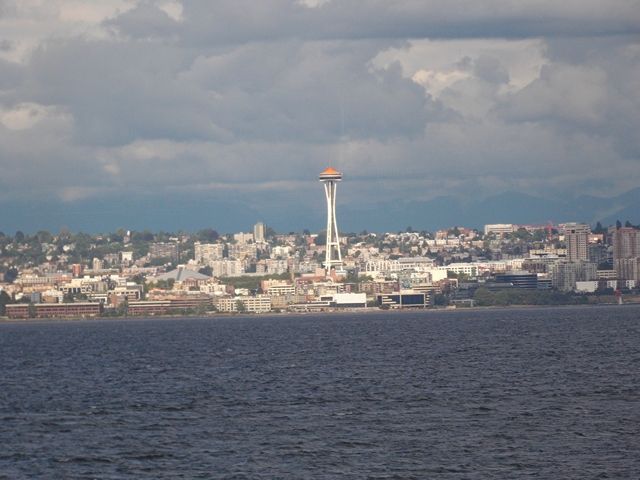 Seattle.
First on, first off!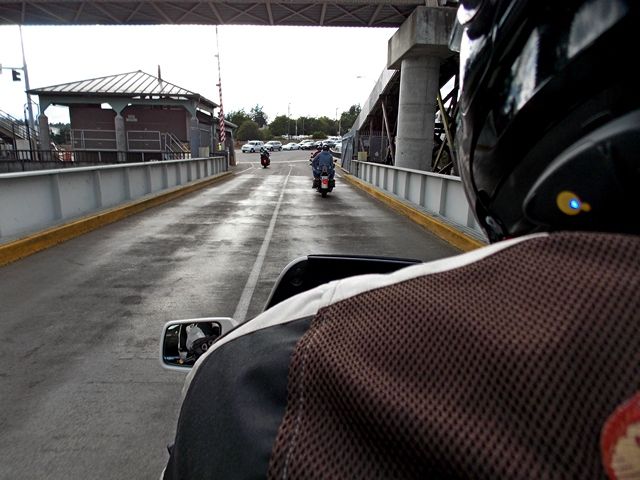 It started to rain on the way up to Drake's cabin so Donna didn't get any pictures of the ride up. We made it to Drake's cabin, cold & wet. Drake had a fire going, we met his father, Roy, and he had these to help us warm up.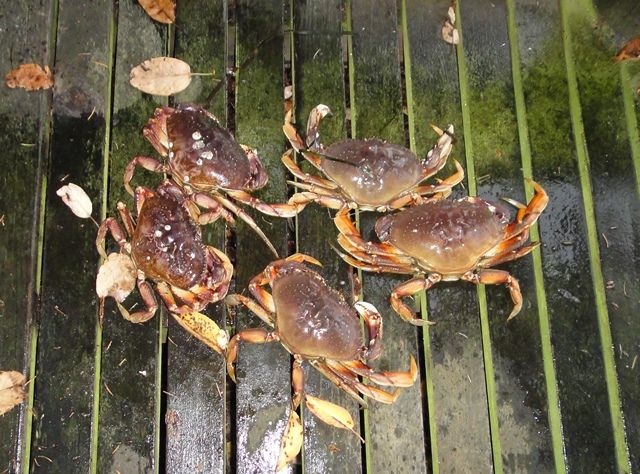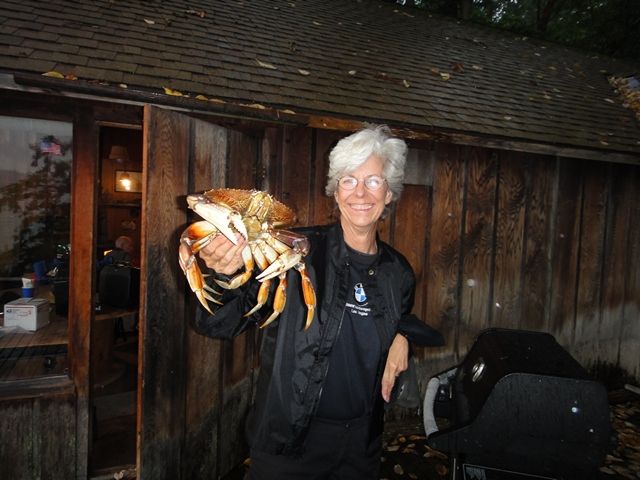 These were fresh Dungeness crab, he caught them the day we arrived. Drake cooks them up.
Eating fresh crab in front of a warm fire, Drake sure knows how to make us feel welcome!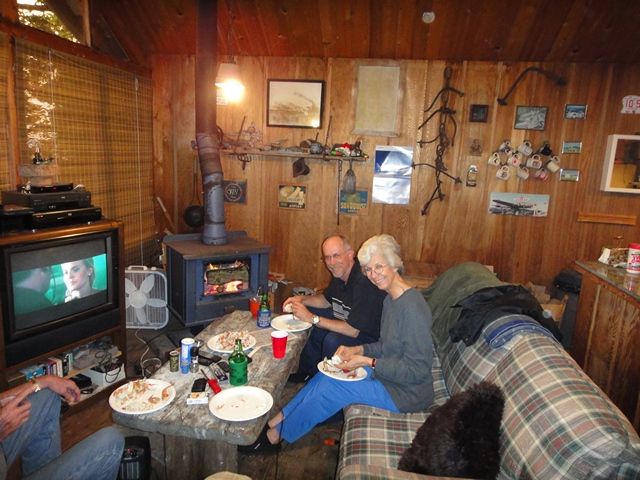 Up and ready to ride the next morning. Drake was riding with us on his custom made BMW K75 up to Hurricane Point in the Olympic National Park.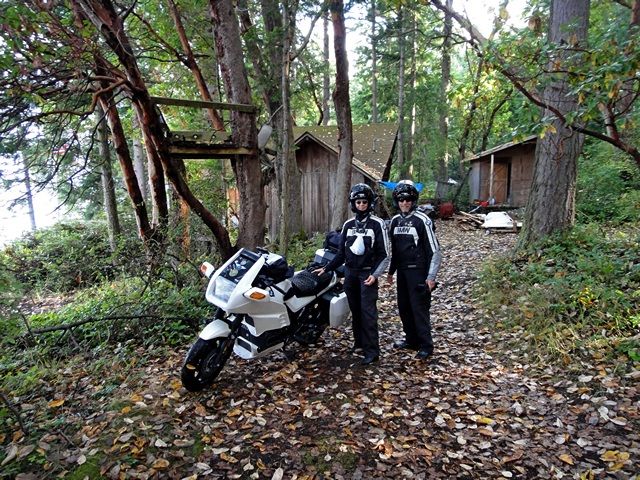 Our first stop, breakfast with Roy, at one of their local cafes.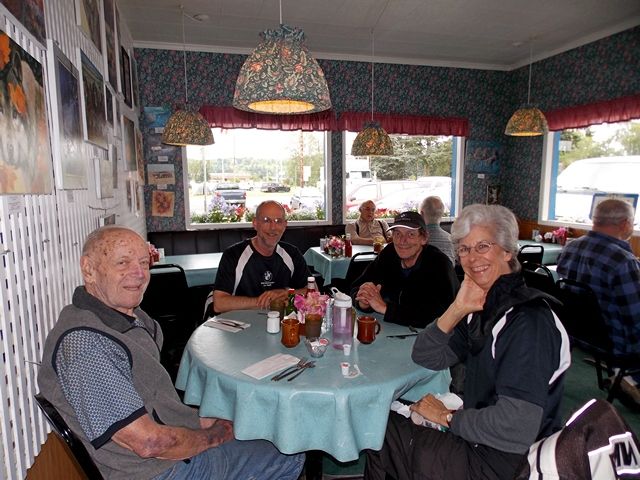 After breakfast, time to ride.
Following Drake through the Park.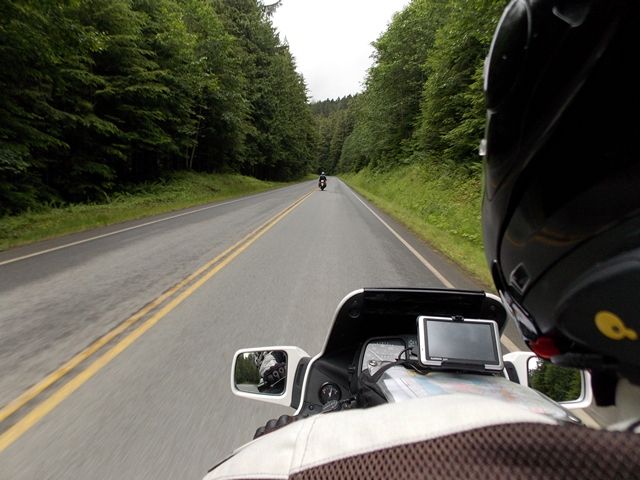 It was a little cloudy up at the Point.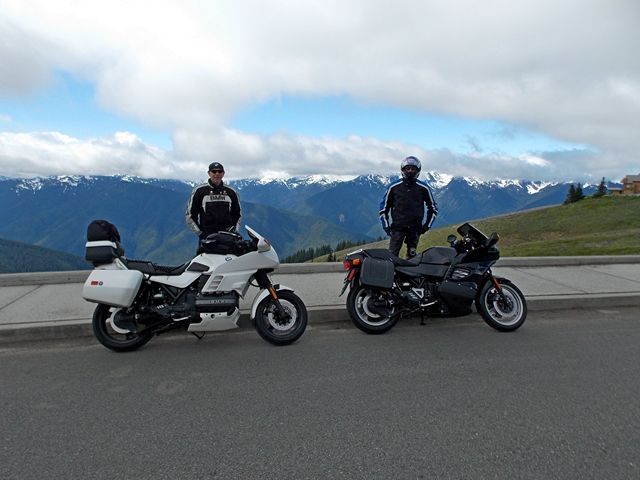 Donna & I enjoy the view.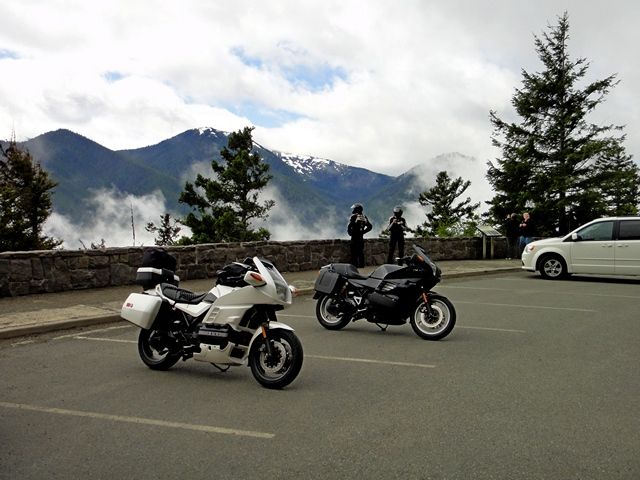 I did get a few good photos.
Mt. Olympus. The clouds cleared just enough to see the peak.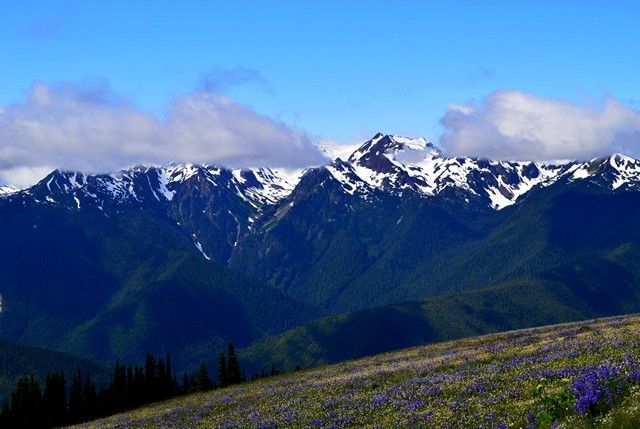 Donna got this shot of some deer.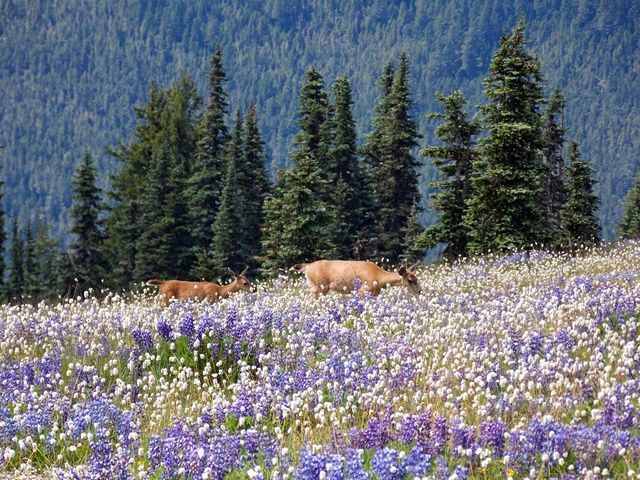 There wasn't a regular Olympic National Park sign at the entrance, so we had to settle for this one on the visitor center.
Drake led us back down, heading for lunch. Another National Park refrigerator magnet to add to our collection.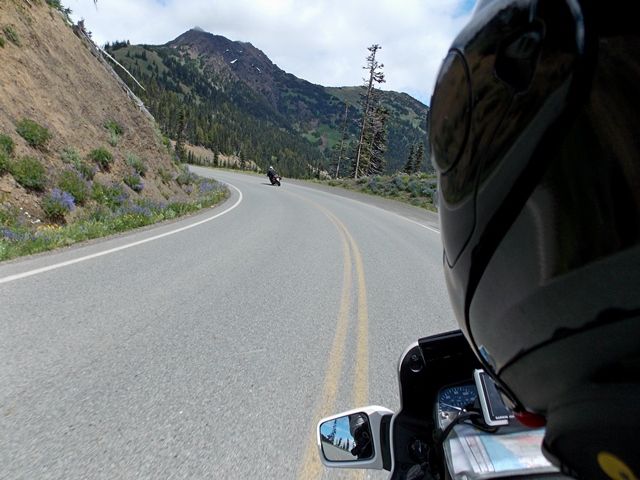 Lunch at "Fat Smitty's"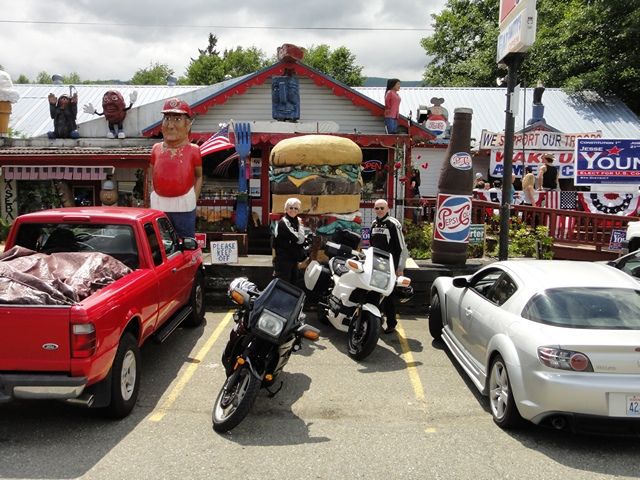 This was another cool place to eat, there was about $10,000 in one dollar bills people had tacked to the walls. We put our name on one side, "Frankenduck" on the other side and tacked ours up. Oh, and the burgers were great!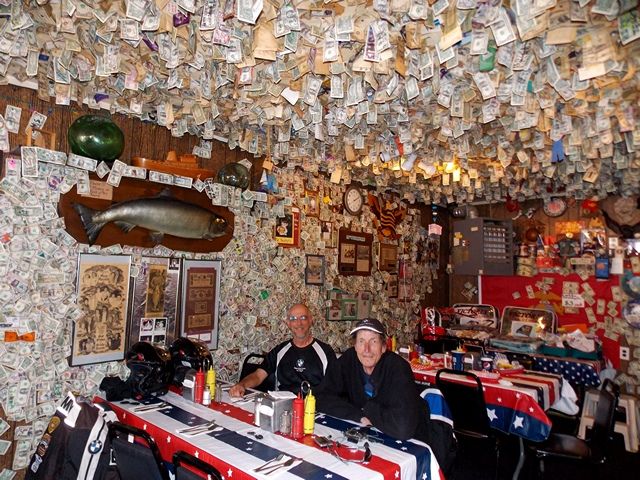 After lunch, Drake let me take the K75 he made from parts out for a spin. He is waiting for me to come back. Good thing Donna was also waiting, I might have just kept going.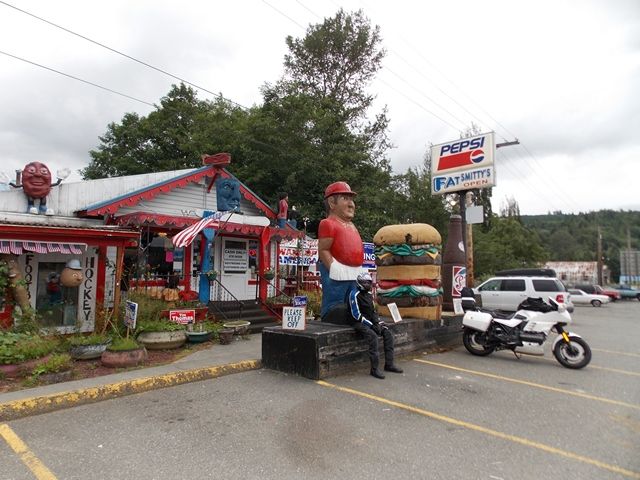 A big "Thank You" to Drake for all that he did for us, cruise control on my bike, and the great hospitality during our visit! We will definitely get back up that way in the future.
We spent the night in Montesano, WA.
The next morning we headed south on HWY. 101, our first view of the Pacific, low tide.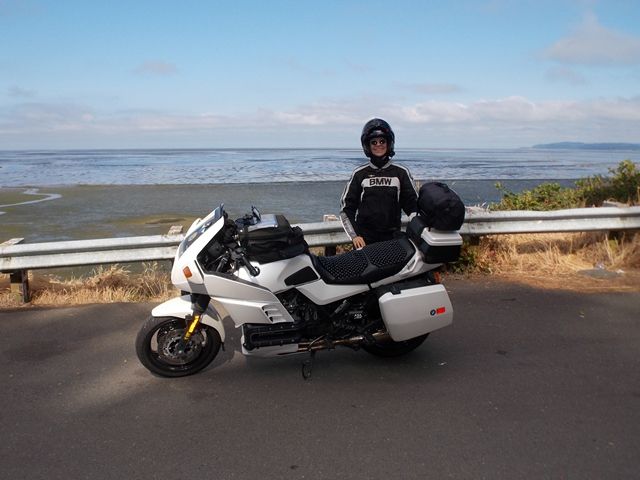 We stopped in Seaview and had breakfast at Laurie's Homestead Breakfast House, another neat little place.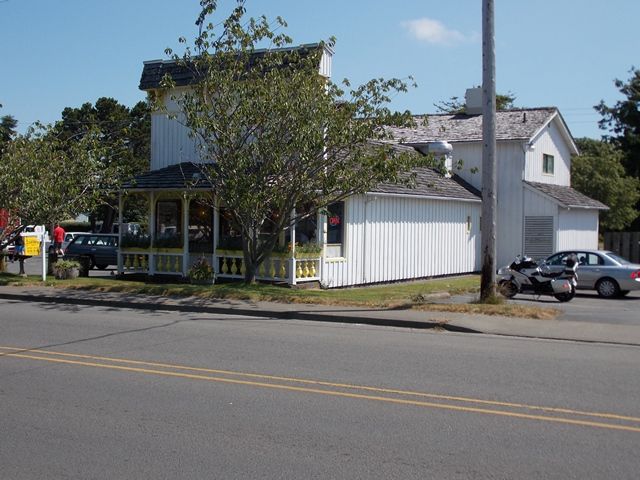 Riding over the Astoria bridge.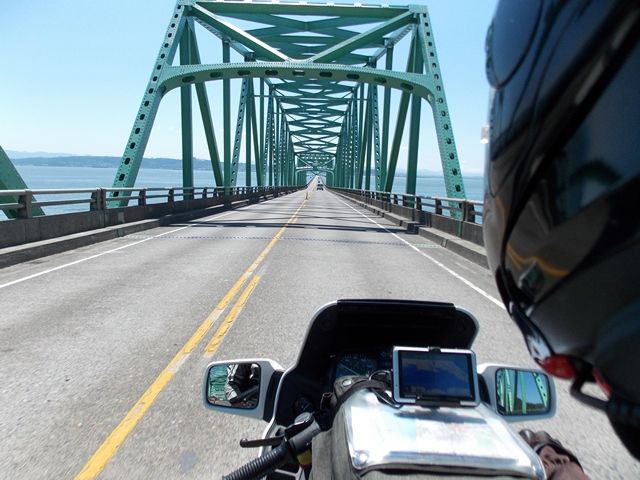 OK, guess we will go south.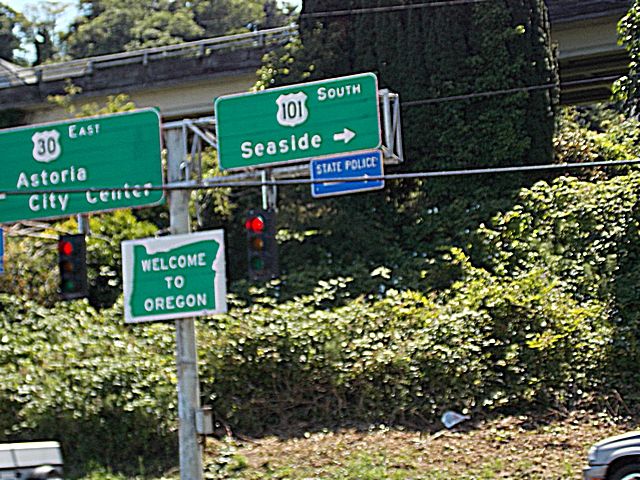 We stopped at an overlook for a great look at Haystack Rock and the beaches there.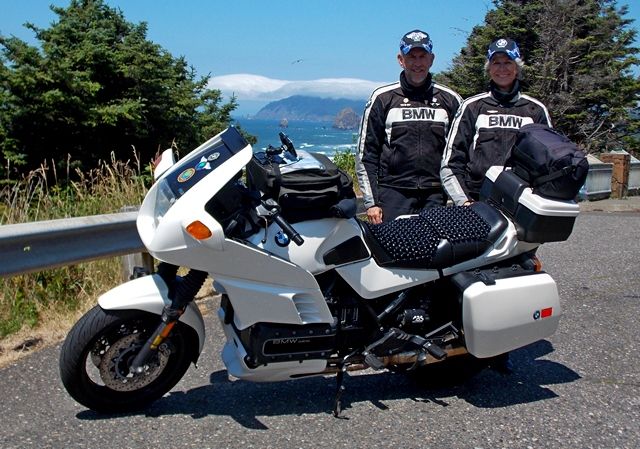 I got a couple of good pics.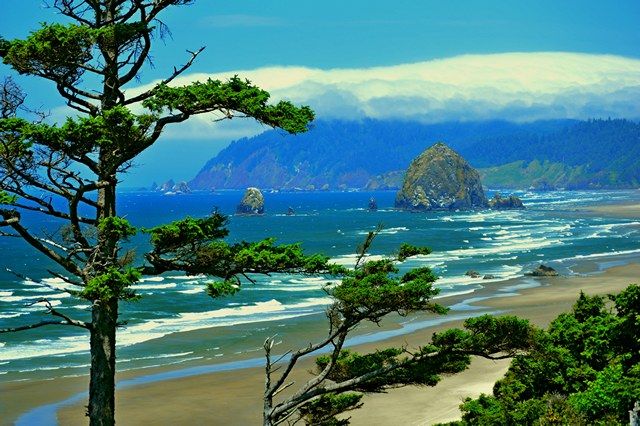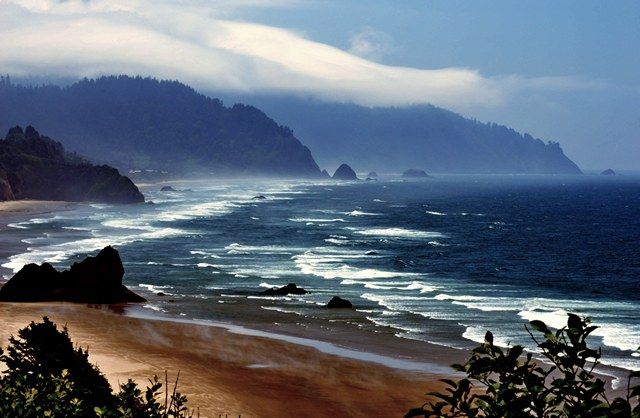 Donna got a good shot also, must be nice living right on the beach.
Further south, we had to stop again, so I could take a few more shots.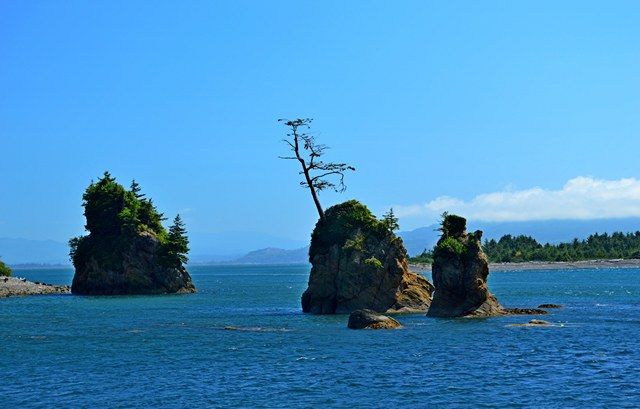 Great road to ride, south on HWY 101, in Oregon.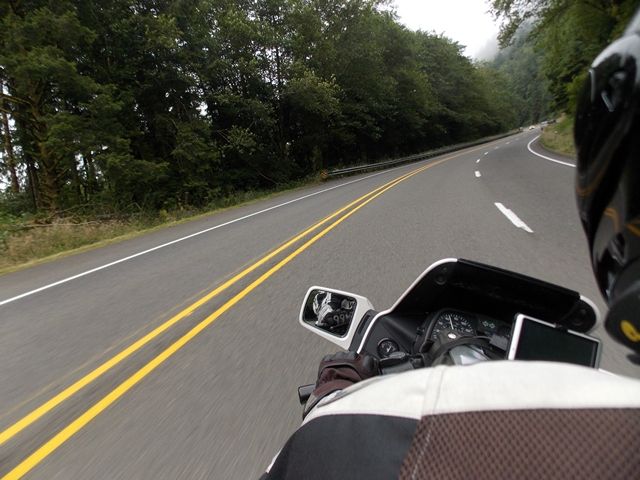 We made it to Depoe Bay. It was getting cloudy and cool again, so we called it a day.
Having my morning coffee and enjoying the ocean view, not a bad way to start the day.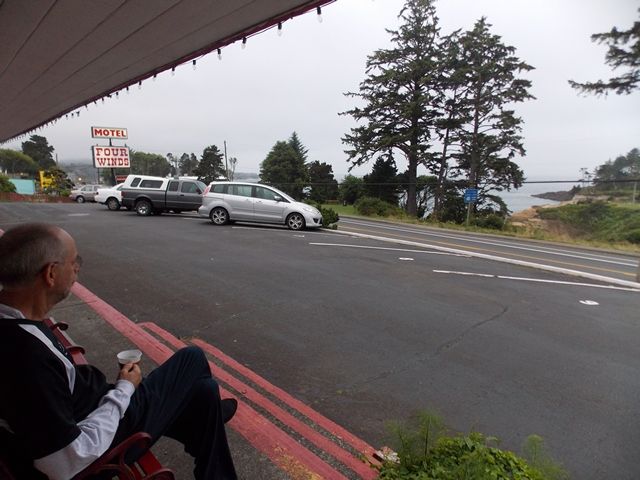 We traveled over several bridges, most had these concrete pillars on them, have no idea what they are, but they looked nice.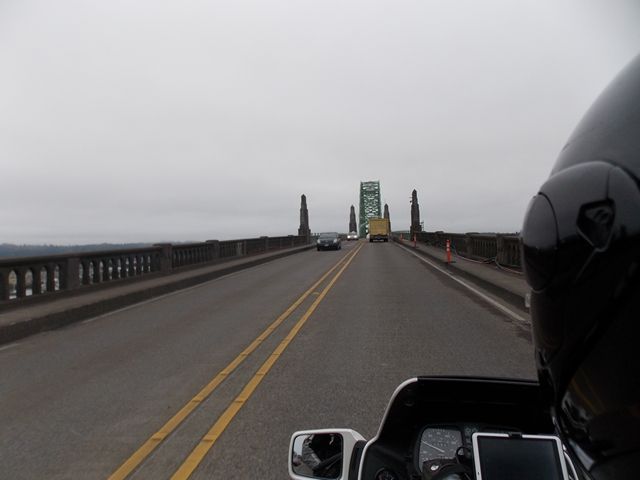 It was still cloudy/foggy, but the scenery was nice. We stopped at several pull-offs to enjoy the view.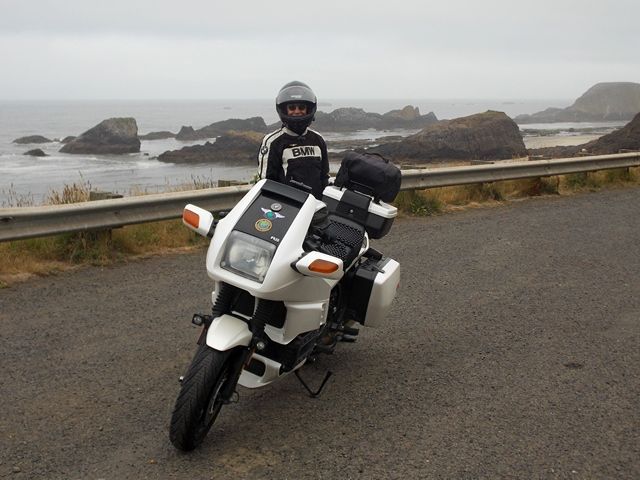 The sun finally started to burn off the fog.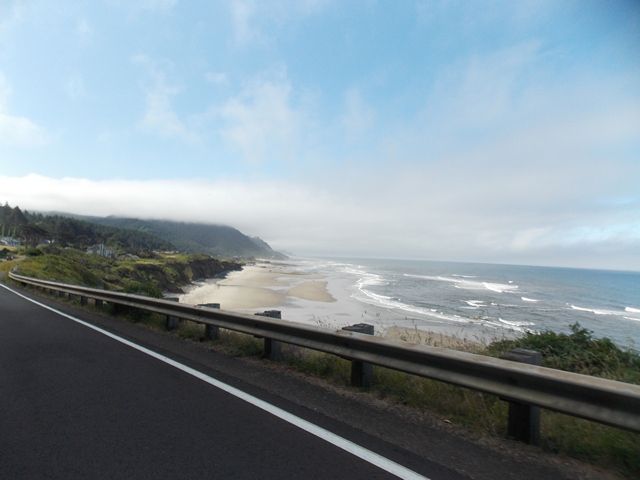 Then it would fog up again.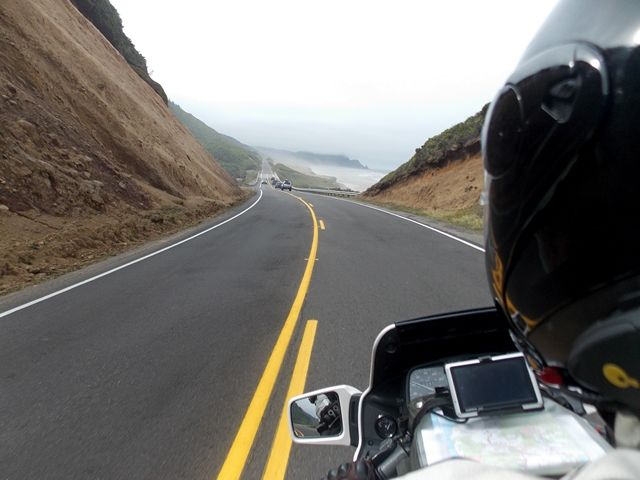 Still, it was a good road to ride.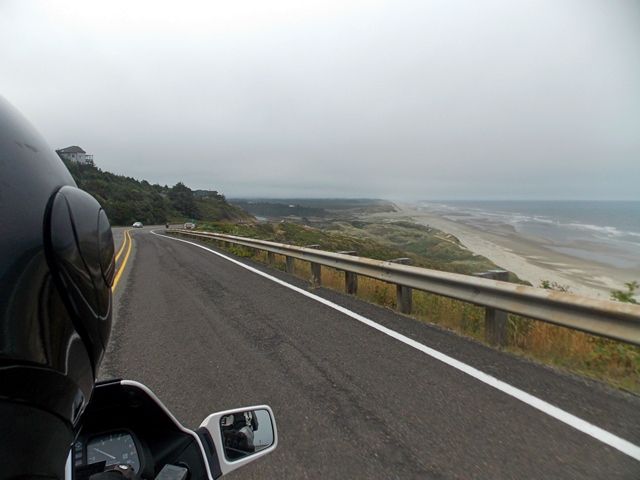 We stopped in Florence and had breakfast at the Hot Rod Roadhouse, fun place with old hot rod cars.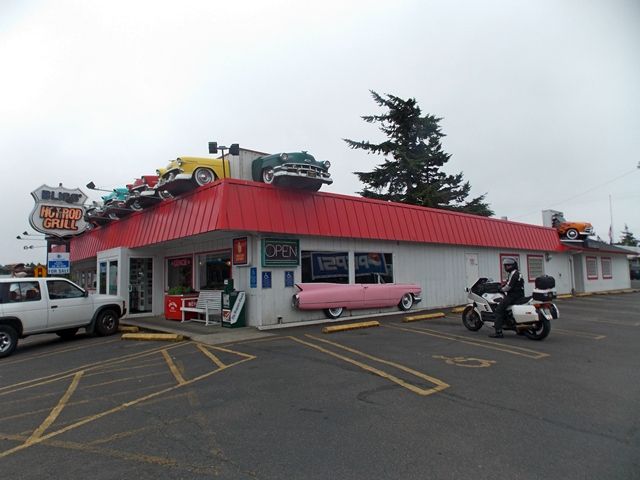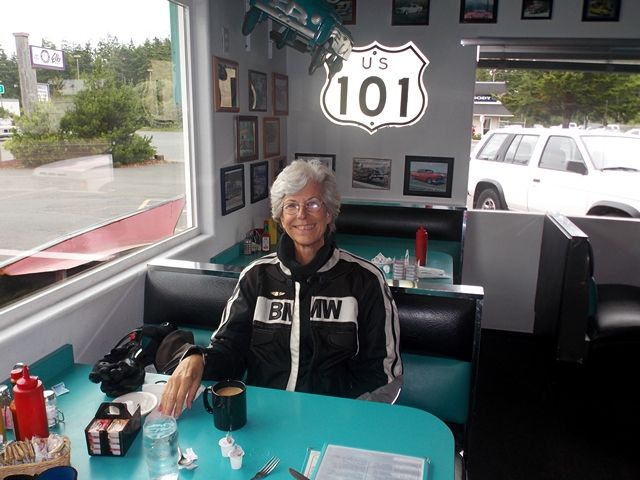 More odd pillars on the bridges.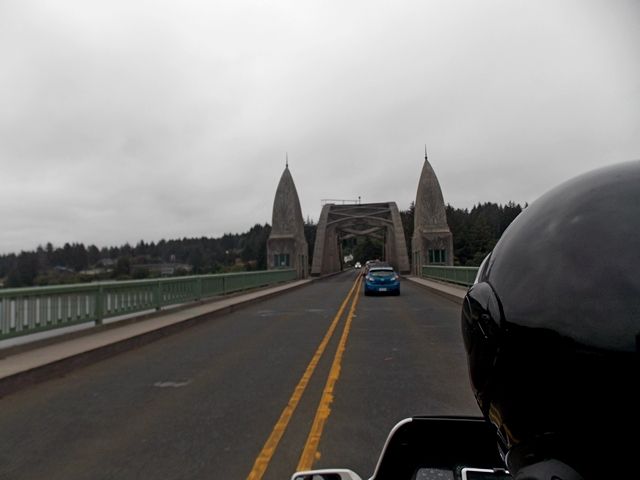 A sign that caught our eye, in Oregon ??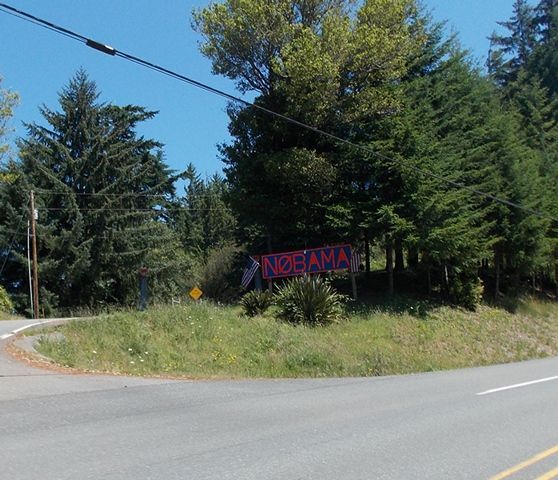 We hit another milestone on the BMW riding in Oregon.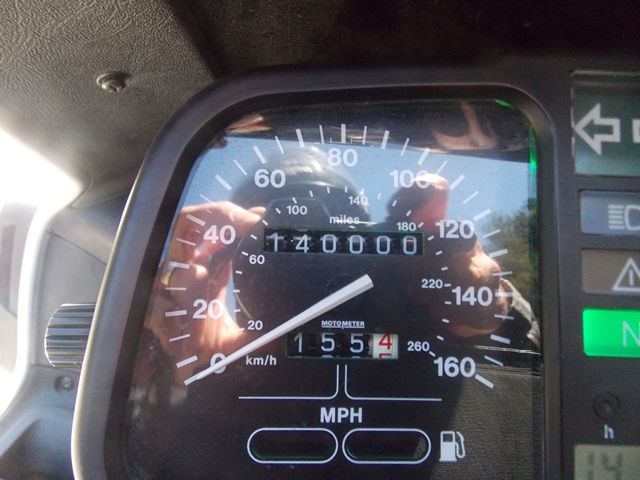 We had to pull over and capture that moment!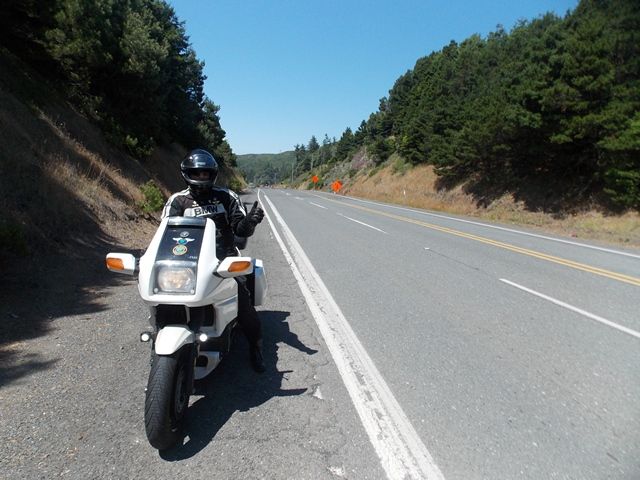 Seems like we were stopping at every pull-off to take pictures. I had a little walk to get this one.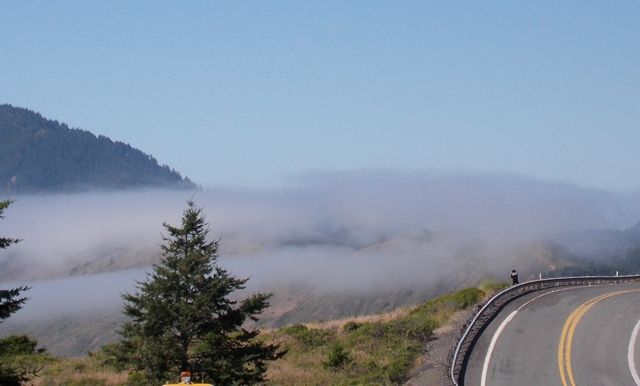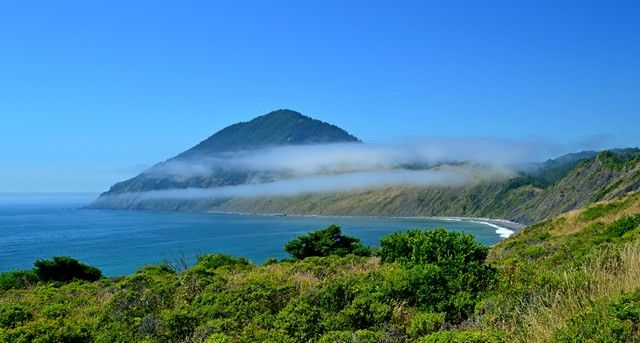 We waited about a half hour waiting for the clouds to clear on this scene, but finally gave up.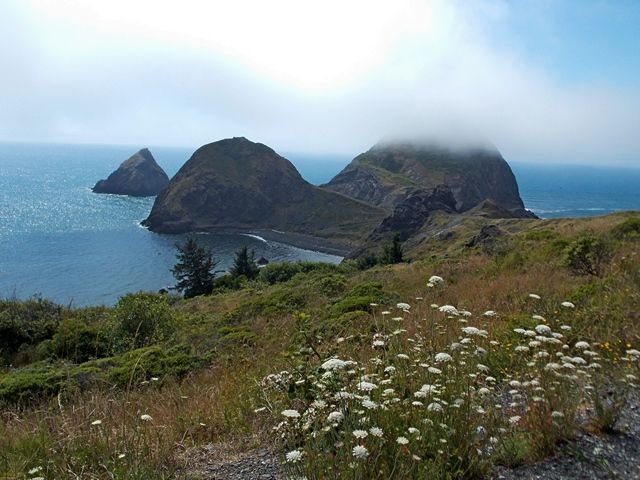 And of course, at the next pull-off, it had cleared up.

More fog, almost to California.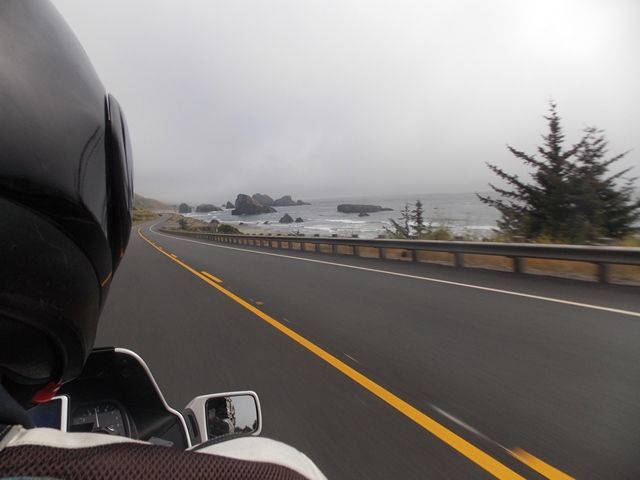 Made it!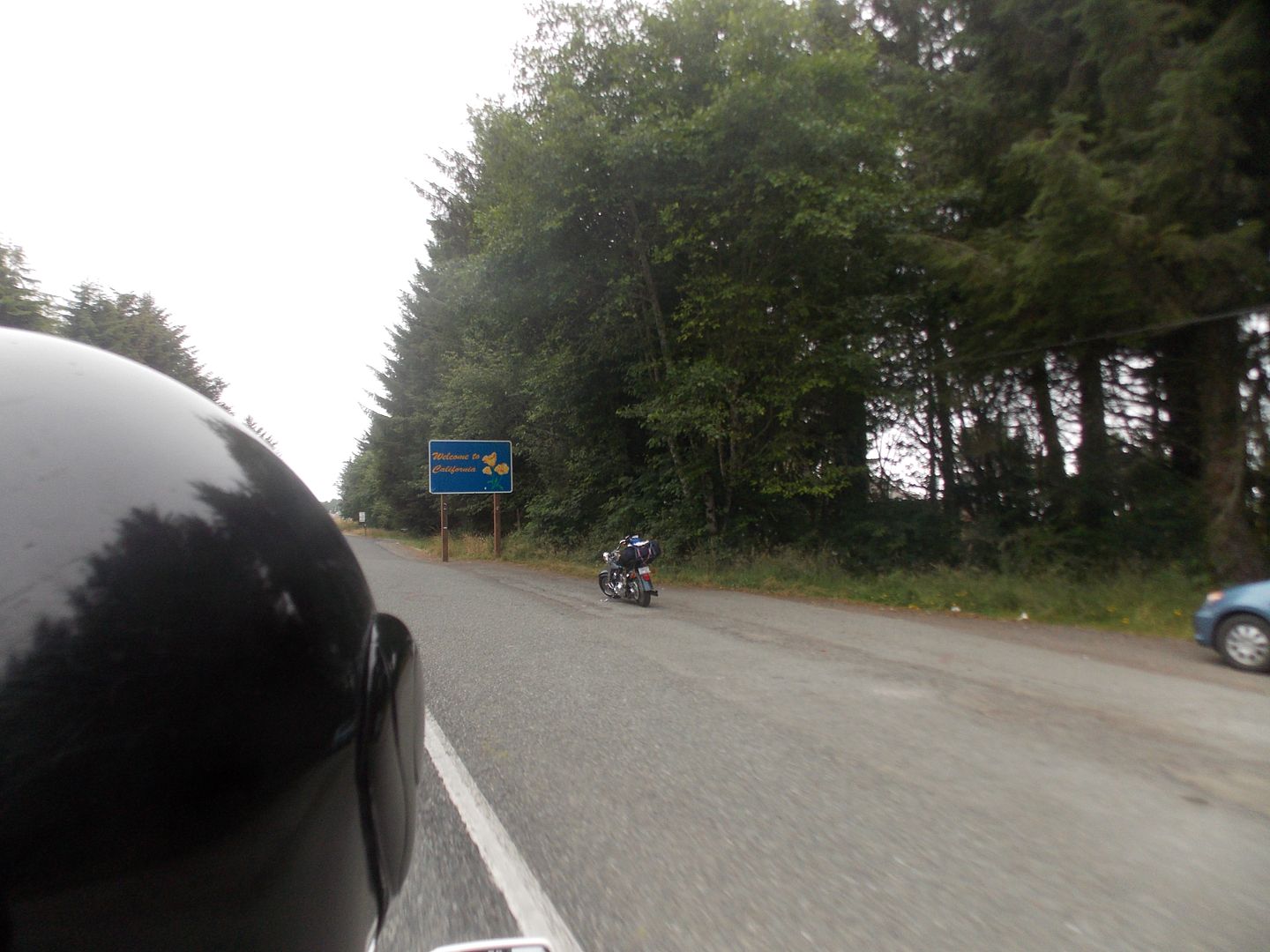 We stopped in Crescent City, CA. for the night. It was raining lightly after dinner, we hoped it would clear by morning, the Redwoods beckoned.
Still foggy when we made it to the Redwoods National Park.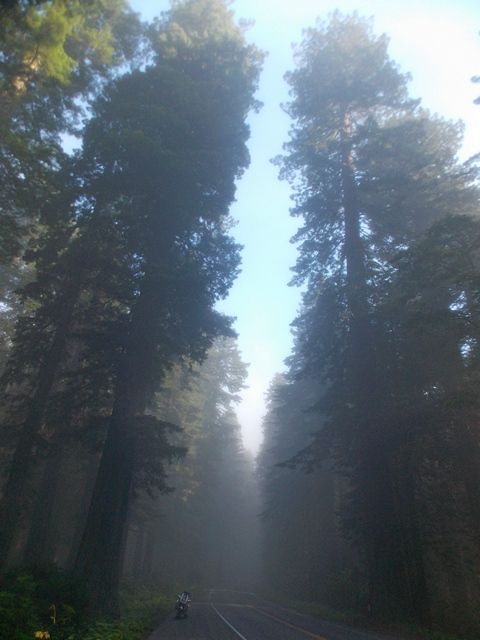 I really wanted to get some good pictures in the Park, but the fog wouldn't lift, so when you get lemons, make lemonade.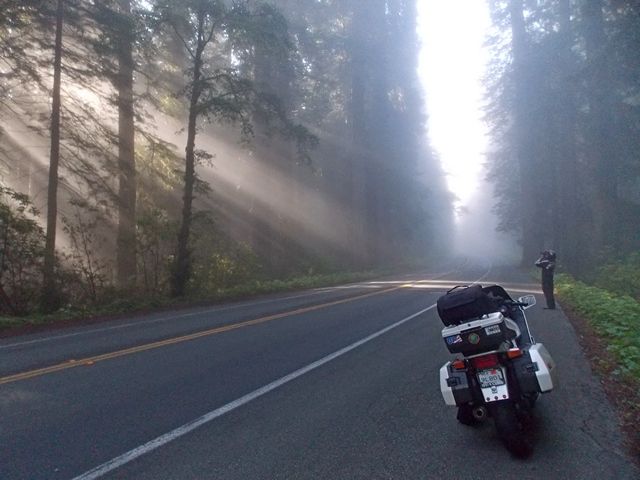 I could have spent hours capturing the fog in the trees, every view had a different angle, but I did get some good ones.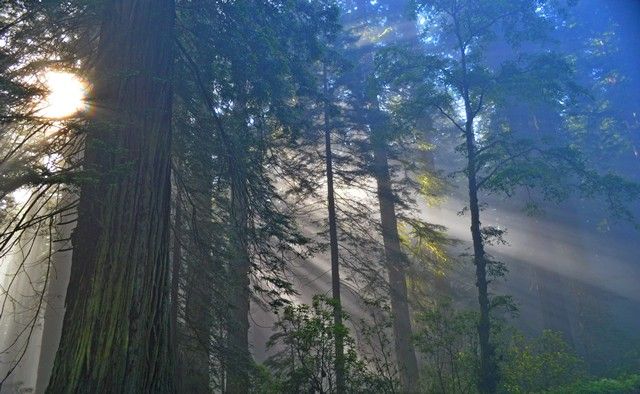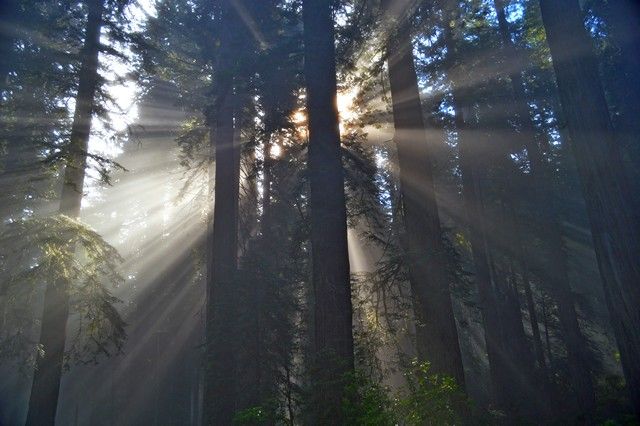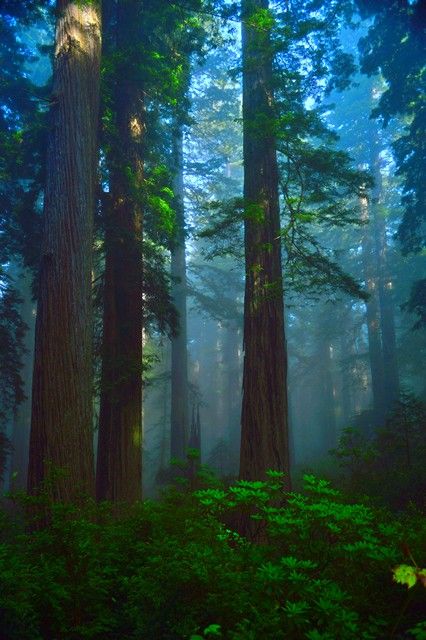 We stopped and had coffee at the cafe near "The Trees of Mystery".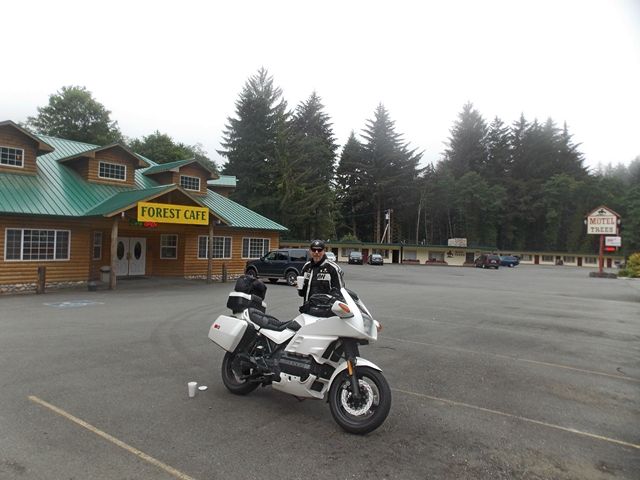 We didn't take their tour, but they were busy.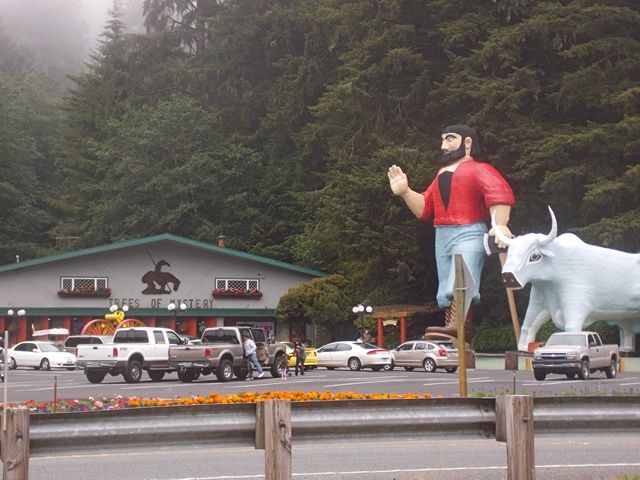 Had to stop and get these shots though. Big trees!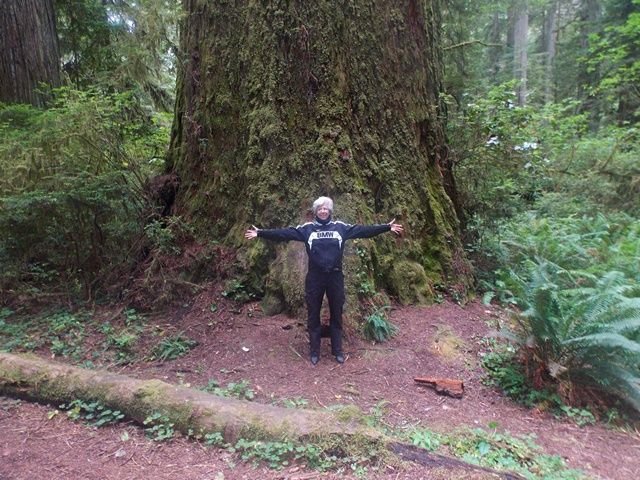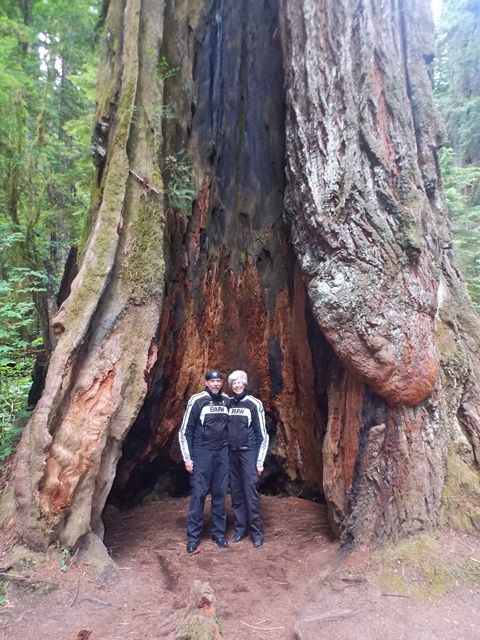 This tree caught my eye when I looked up.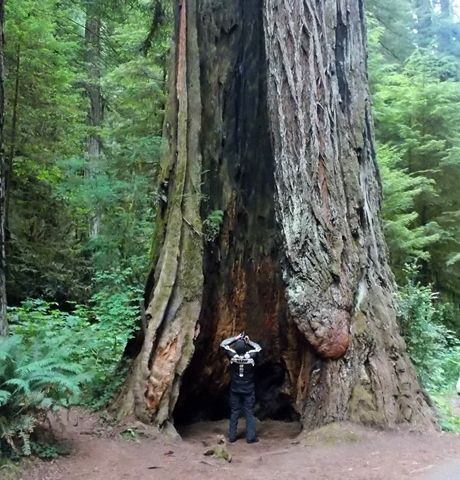 Result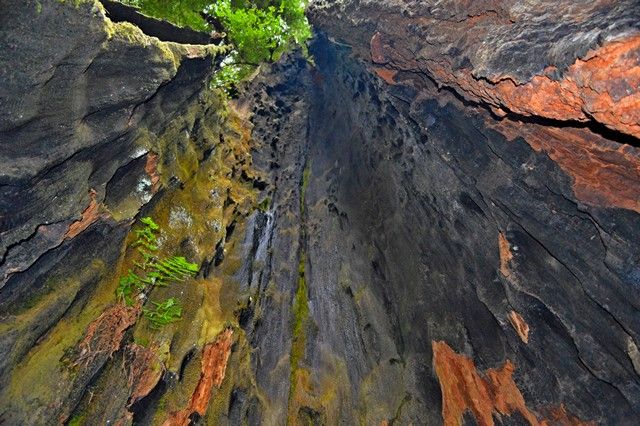 There were several large elk right off the road, so we stopped and Donna got this.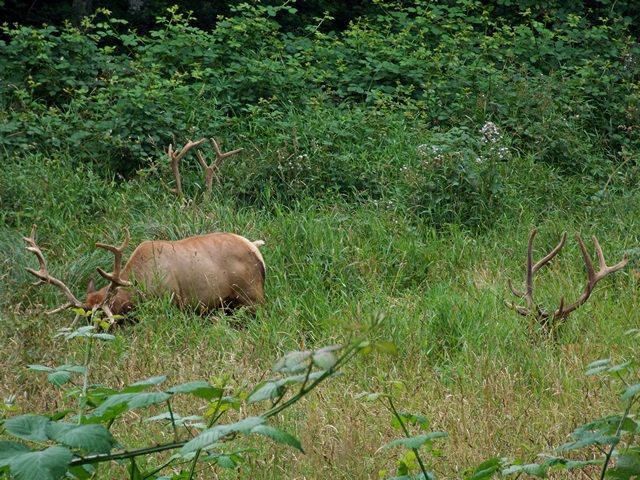 Then just a little further along on the beach was a bigger herd. I didn't realize elk would come down that close to the beaches.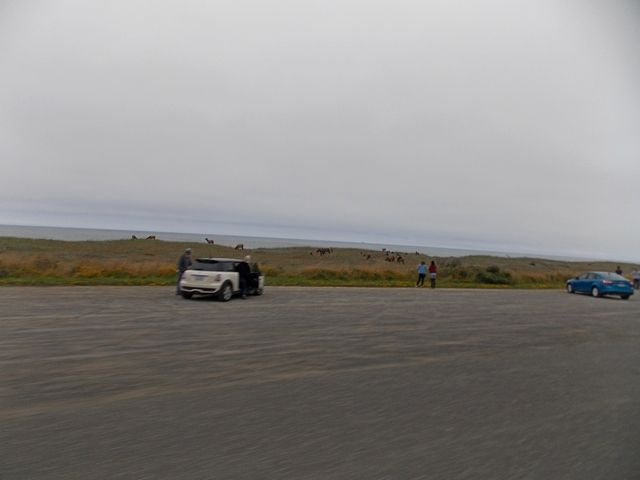 Leaving the coast, the sun finally came out.
HWY 101, great riding.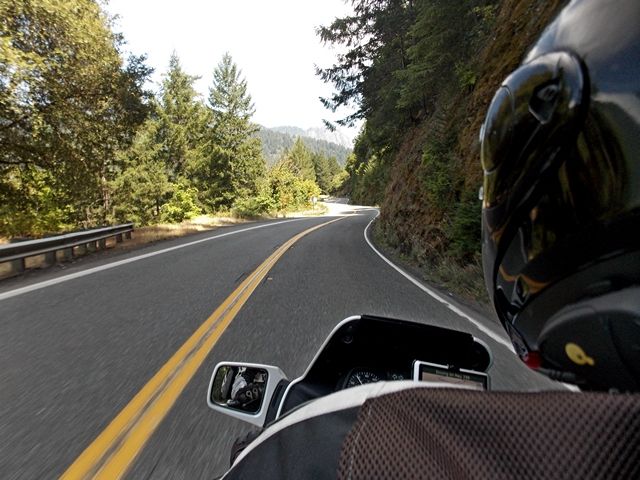 After leaving the Redwoods, I really just wanted to do some riding on good motorcycle roads, so we took HWY 299 and just rode this road for the fun of it. No stops, no photography!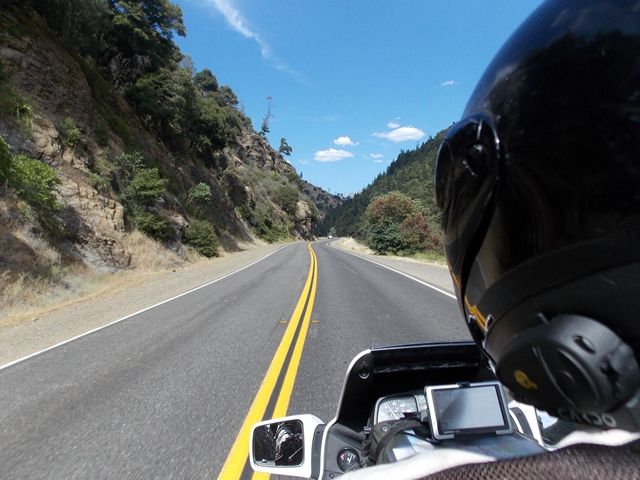 At Weaverville we turned south on HWY 3, another fun road, lots of twisties!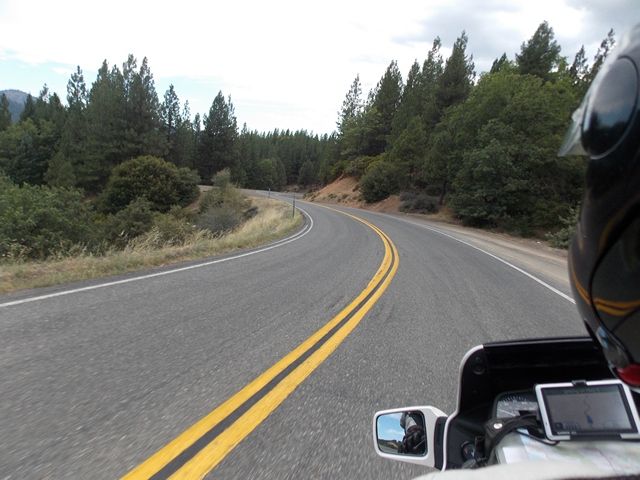 Stopped in Hayfork, for a break.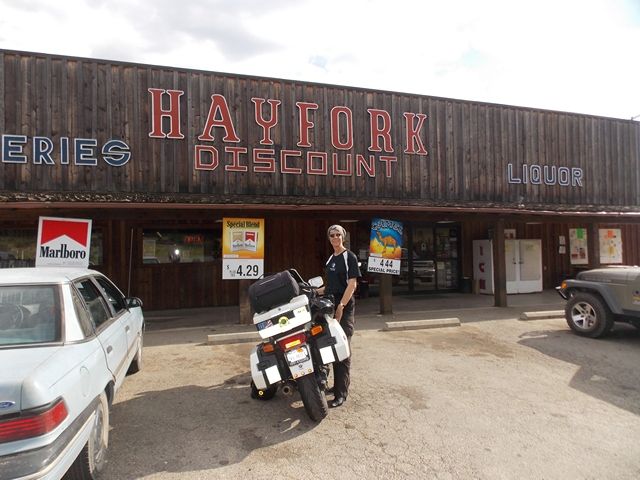 Then onto HWY 36, heading back to the coast. Just great riding!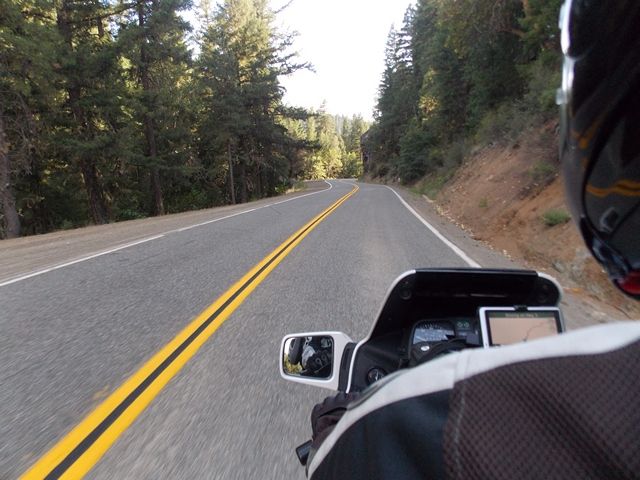 Had to watch out for these guys, though.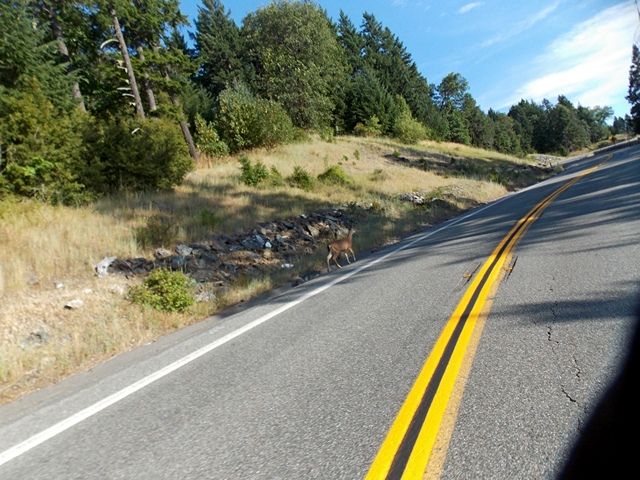 There was one stretch on HWY 36 that was a little spooky, no lane marking, or signage to let you know what was ahead, plus it was really dark in this stretch.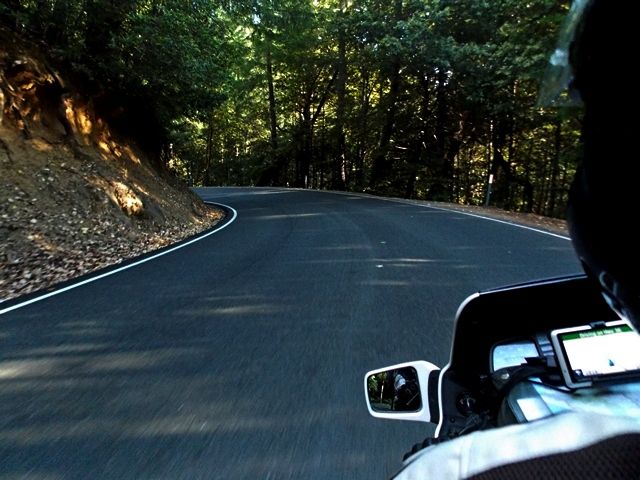 Getting back to the coast, the clouds/fog came rolling back in.
We stopped in Rio Dell for the night. It was still foggy the next morning, I had the bike covered to keep the seats from getting wet. We decided to get some laundry done while we waited for the fog to lift.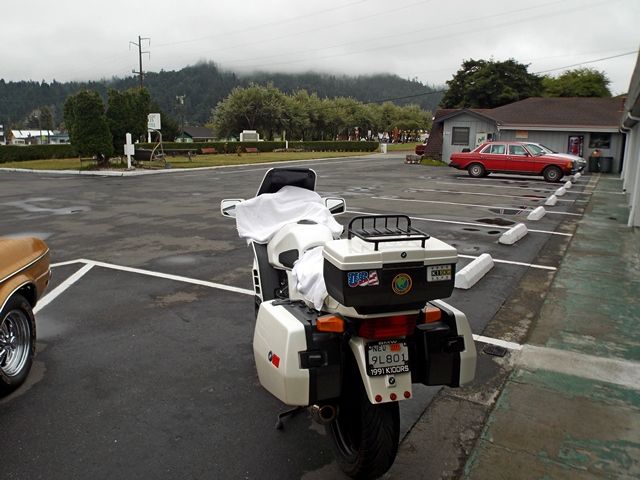 Finally, more sun on HWY 101.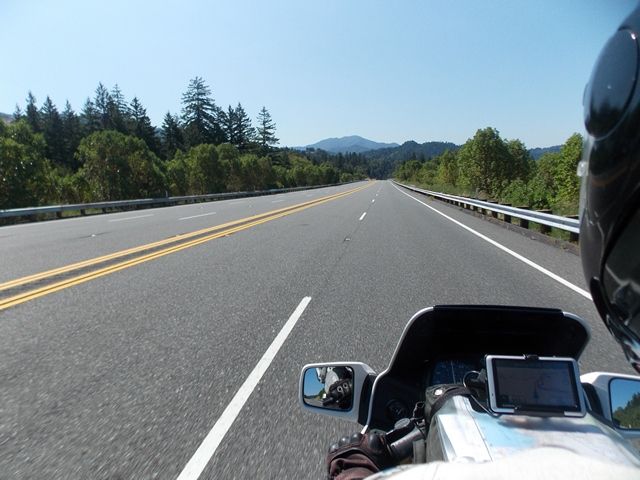 Then back down to two lanes through some more Redwoods. Those big trees totally block out the sun.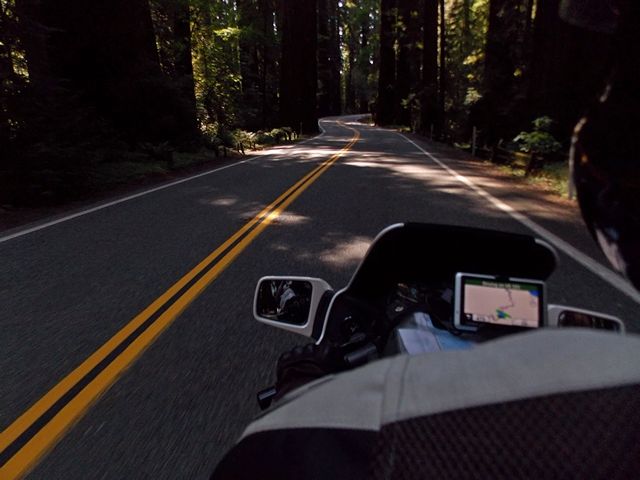 We did stop in Leggett, to do some tourist stuff. They charge $5 a car or $3 a bike for the drive in. A small gift shop & restroom, but no snack bar for food.
HWY 101 in California was a four lane freeway, then it would go down to two lanes, and back to freeway. It did this several times. We had our first traffic jam while on a freeway stretch north of San Francisco. Suddenly (for no reason) traffic just stopped. It then would creep along, then stop again. Several smaller bikes went by, by lane splitting. I didn't really want to try that, never tried it before and with my saddlebags, didn't feel confident I could. But after sitting in the road not moving for about 15 minutes or so, I went to the left and drove slowly down the area near the medium, it was wide enough for me to get by other traffic. I did this for over a mile until we came to a bridge overpass. I moved back in to the left driving lane, and just like that I was moving again at highway speeds. Since there was no accident or construction, I never did figure out what the problem was, just that we got through without any further delay.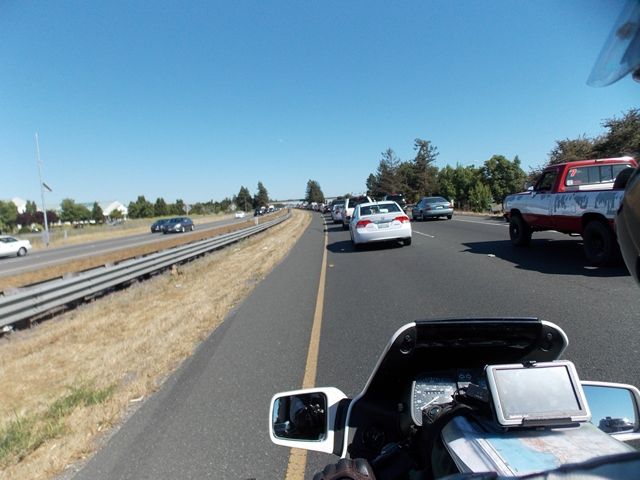 We got to the San Francisco area at about 5pm. In retrospect, we should have stopped earlier and spent the night, then gone through San Fran on Saturday. But we didn't do that. We got stuck in this!
Then getting closer to the bridge, we had to go up a steep incline that was almost two miles long. This was torture on a motorcycle, throttling up, moving 4 or 5 feet, then stopping. More bikes went by, lane splitting, and I could see why motorcycles do this in California.
By the time we started going down, my left hand and arm was really tired. Thank goodness I could coast for awhile while we got close to the bridge.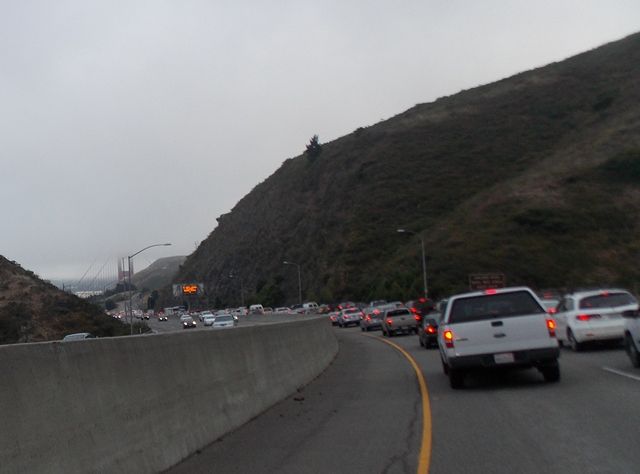 The fog covered the top, but at last we could see some of the bridge! There was construction, 4 lanes down to 2, that is what caused the long delay.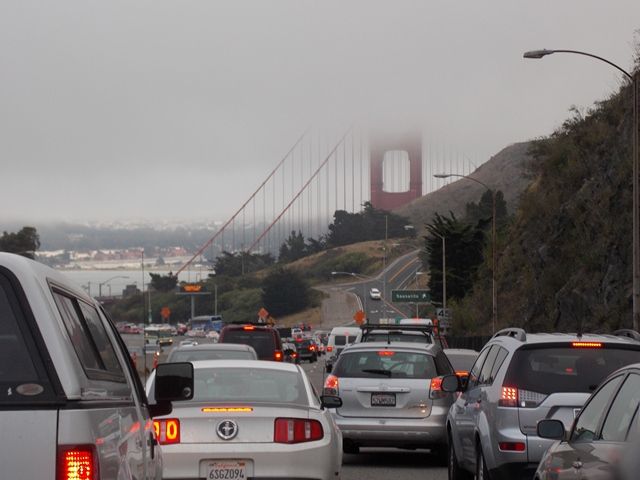 Finally we are crossing the bridge, one more item I can scratch off my "bucket list"!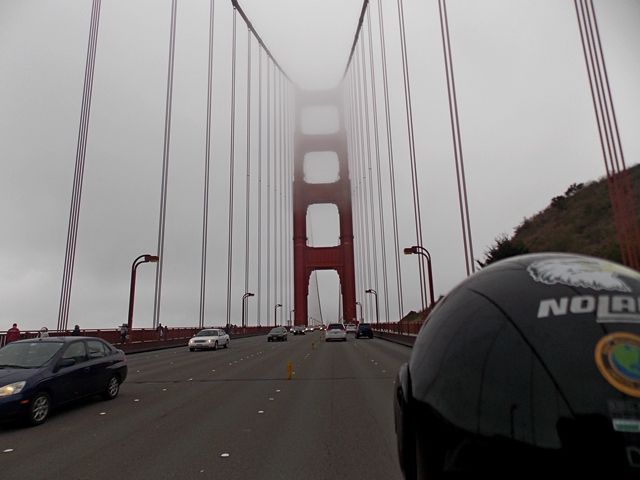 HWY 101 ended, and we had to ride through San Fran to reach Hwy 1. Traffic wasn't too bad, and we made it through the city and back to highway style roads in about 40 minutes.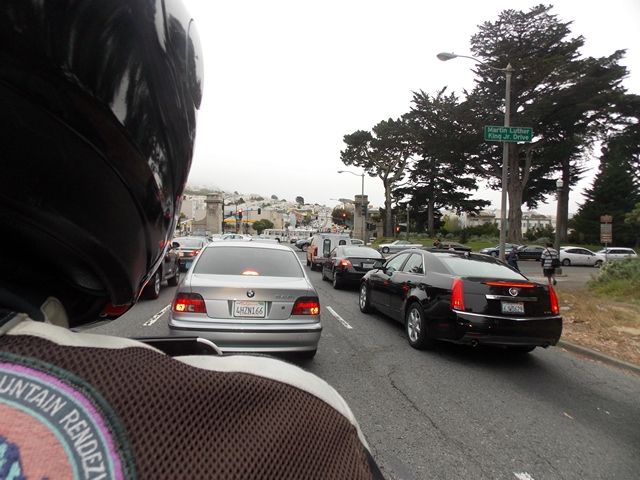 We called it a day and spent the night in Half Moon Bay. While having dinner, several people asked us if we were going to the races? The big race at Laguna Seca Raceway was the next day. We thought about going, but decided to keep enjoying the coast.
The next morning was still foggy, but we were excited to be on HWY !.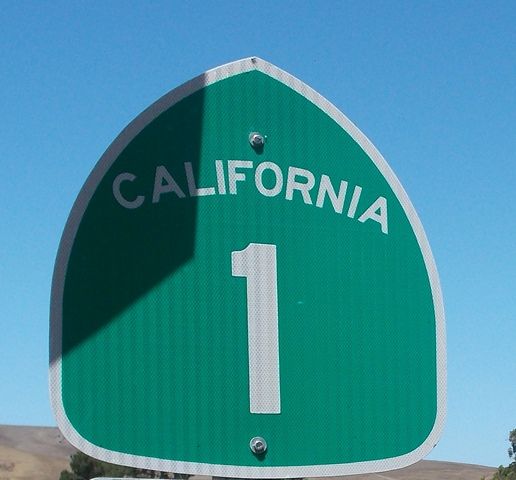 Riding past the Pigeon Point Lighthouse. Still foggy.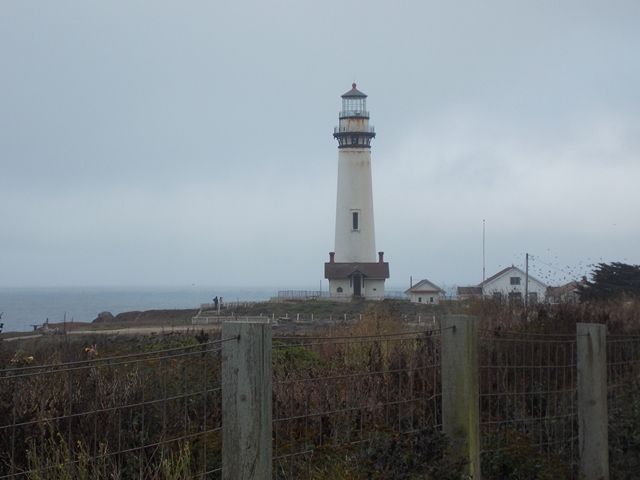 We stopped in Davenport and had breakfast at the Davenport Roadhouse. The sun finally started to burn off the fog.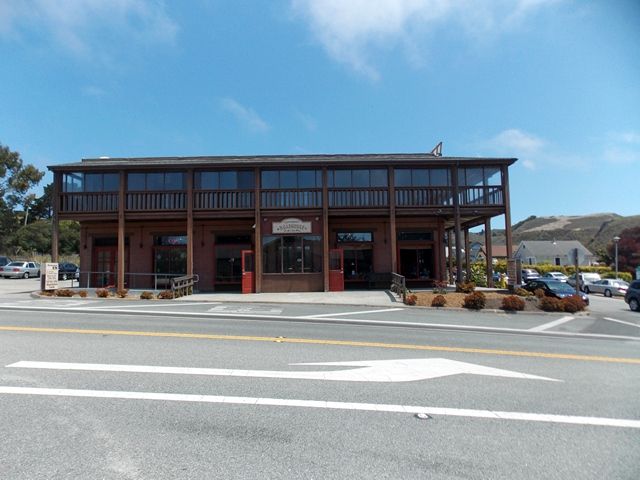 I had noticed some very nice looking trees near the coast before we stopped for breakfast, but it was still foggy. After breakfast we went back about 10 miles to this spot near the beach.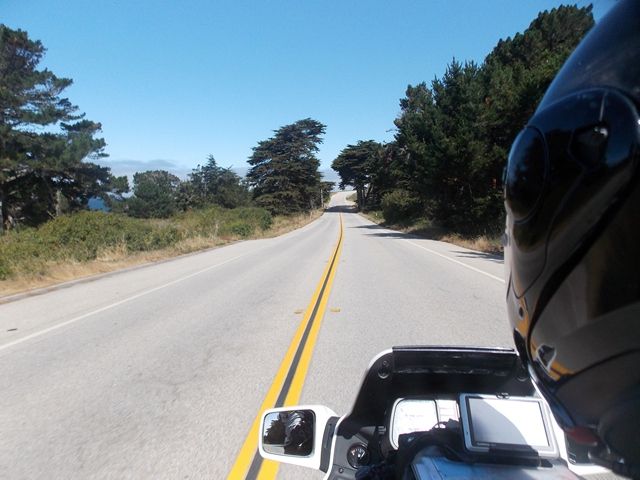 The sky wasn't completely clear, but I managed to get one good one.
The sun finally came out for good, and we stopped several places along the coast for photography opportunities. I did some hiking to get some of these.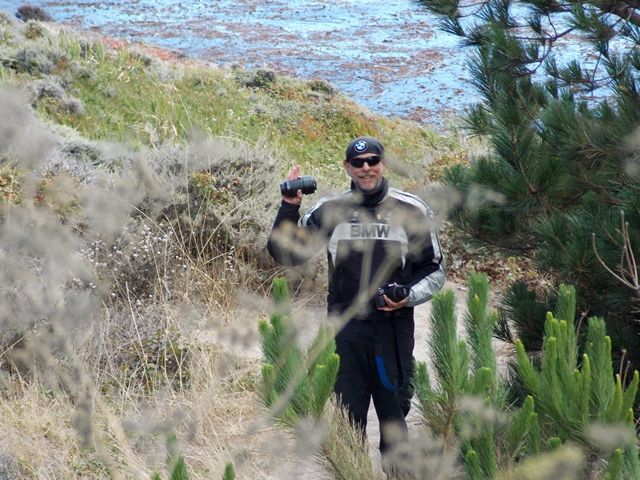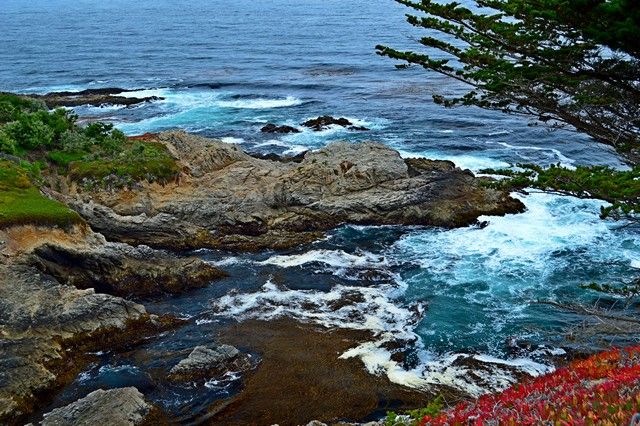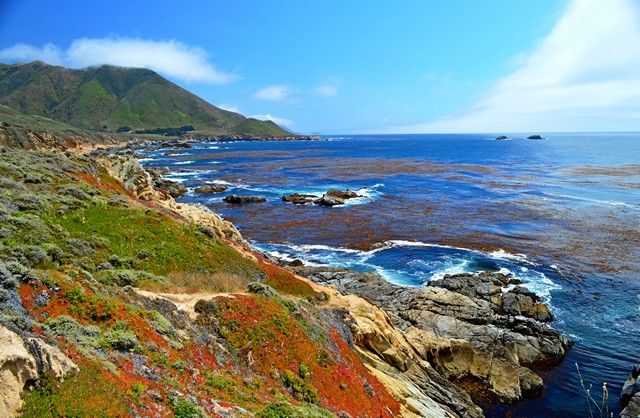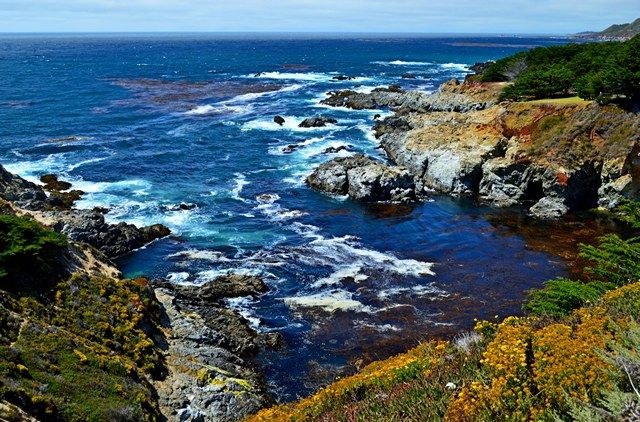 Fun riding!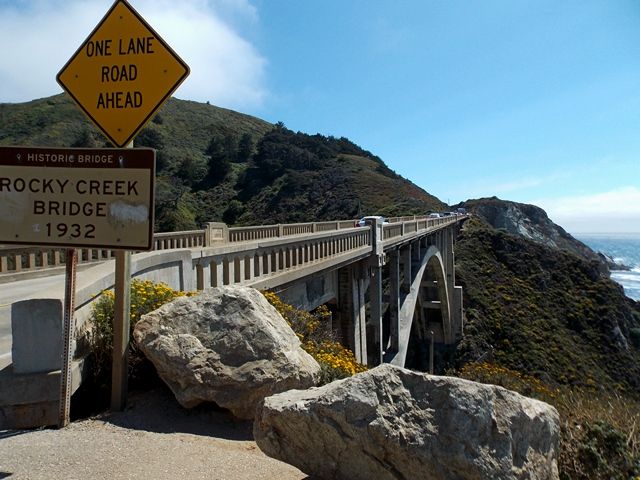 Looking back north on HWY 1. Our arms were wearing out waving at all the bikers going north for the races at Laguna Seca!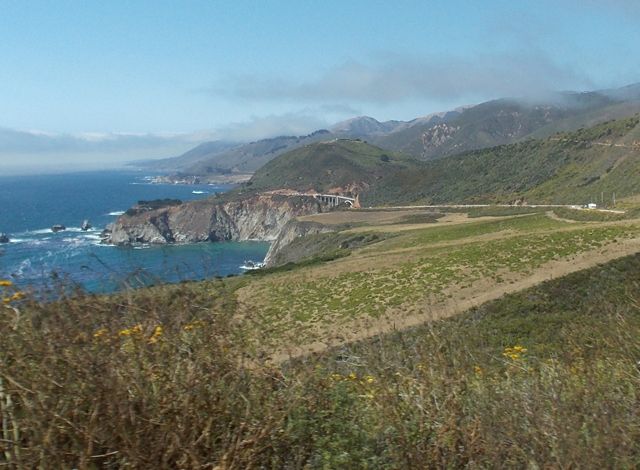 Donna was really getting into the photography aspect!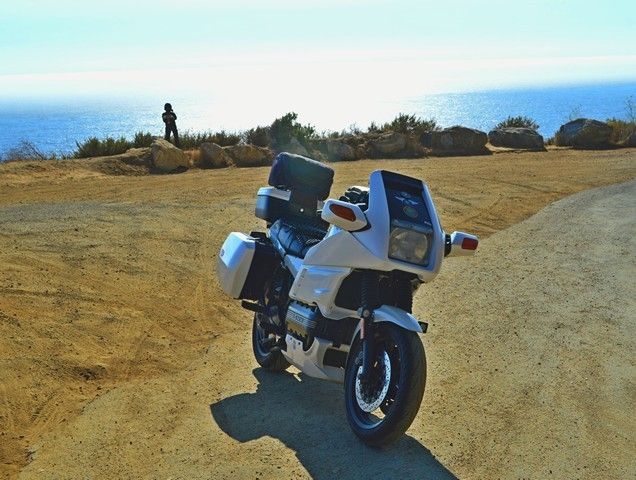 We stopped and cooled off at the Ripplewood resort. Groups of bikers were still heading north for the races.
Great riding down along the coast.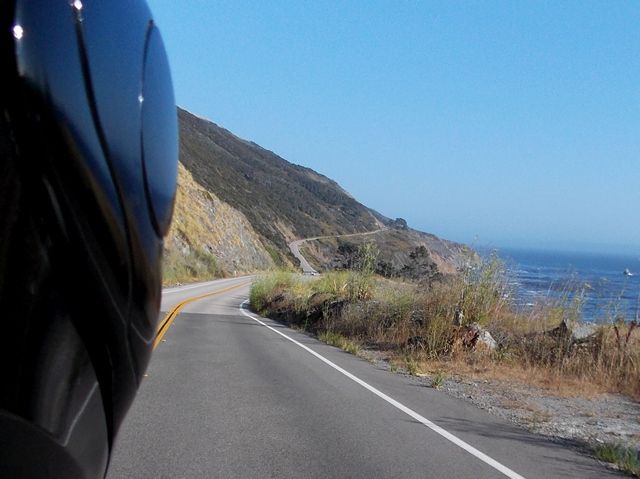 There was some construction, but this new doubledecker bridge didn't delay us much.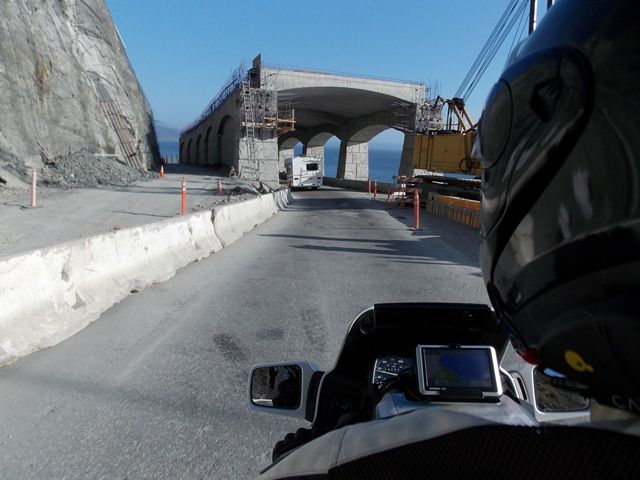 We started getting a little worried about finding a room for the night, with all the bikers going to the races. This place had a vacancy sign out, so we stopped. It was called Gorda Springs. We got the last little cabin they had, we grabbed it right before another gentlemen was checking for a room. It was a neat little place, with a restaurant and little general store.
We sat outside and had dinner, and watched the sun set over the Pacific (no fog here).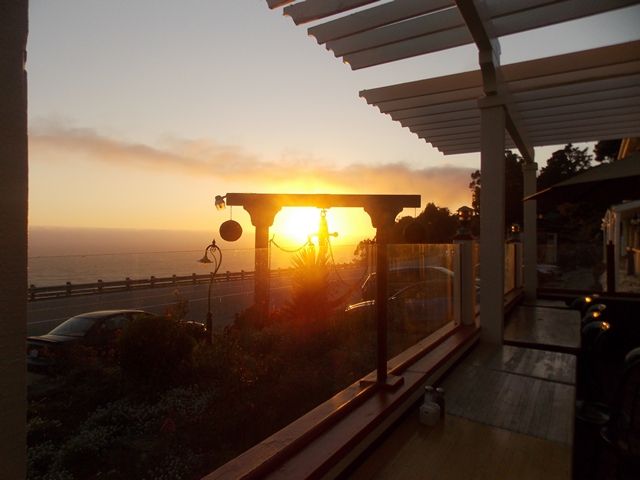 We had the "Garden House" cabin. The driveway was really at an angle, good thing there was a good flat rock to use for the kickstand!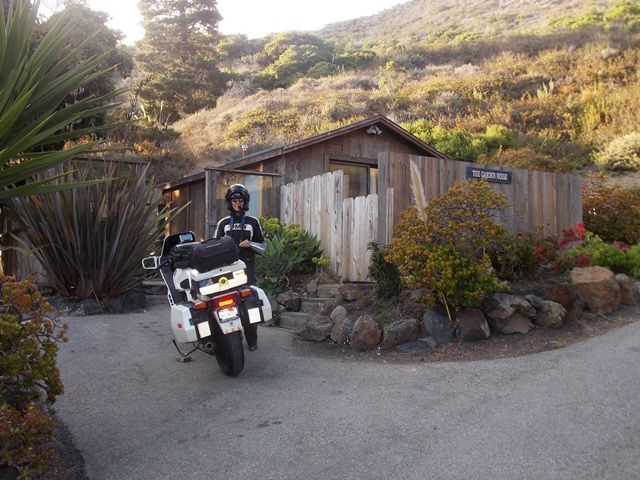 The next morning with my coffee, I sat outside and enjoyed the sound of the waves, and waited for the sunrise. What a great way to get the day started!
The road started to flatten out, we were leaving the scenic part of HWY 1.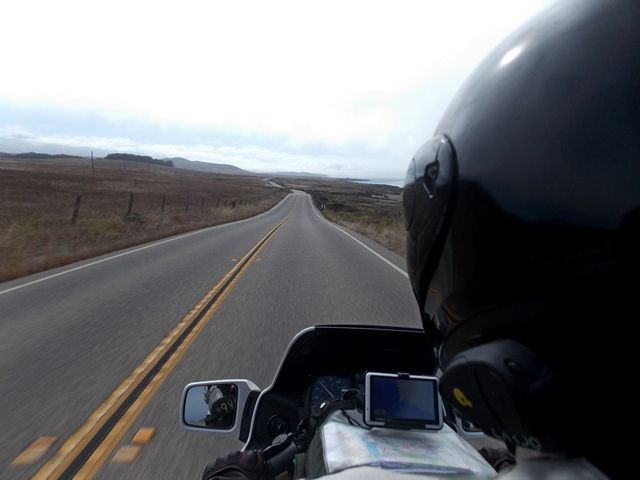 We stopped at the Hearst San Simeon State Park pull-off and watched some elephant seals. Several were just lying on the beach, while several others were in the surf practicing their fighting skills.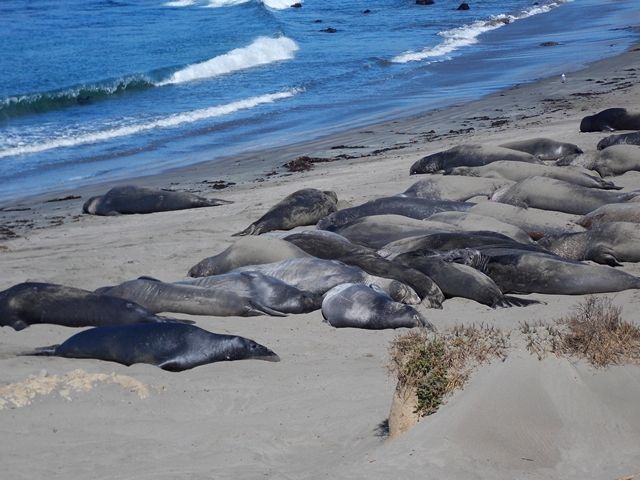 Fun to watch.
The Hearst Castle from HWY 1. Donna really had to zoom in to see it.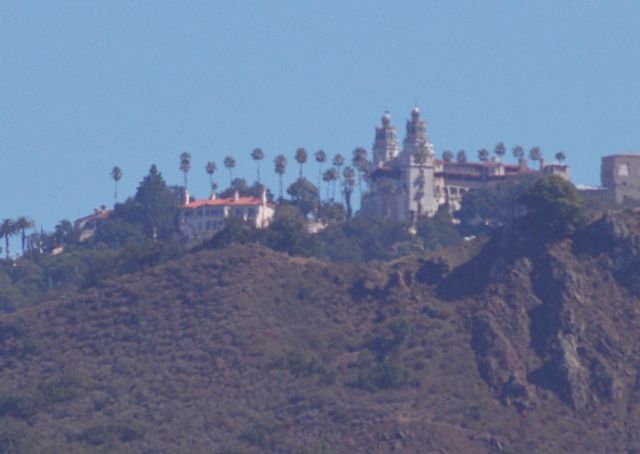 Our original plan had been to ride all the way to San Diego, but I really did not want to ride through Los Angeles, so we took HWY 46 and headed east. HWY 46 was a fun road through some wine country.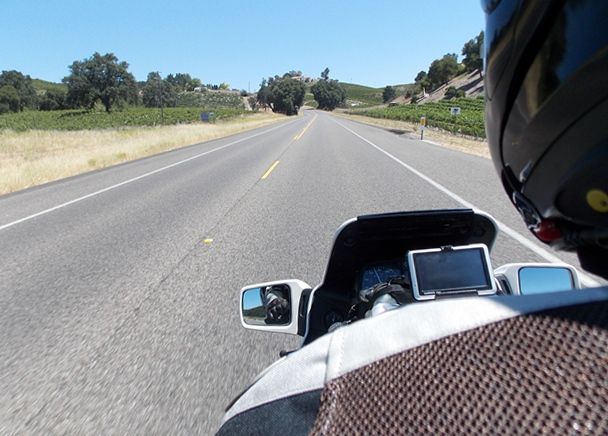 After getting back on and off the 101, we took HWY 58 east. This road started out with some good twisties.
Then it turned into a long ride across the flat desert.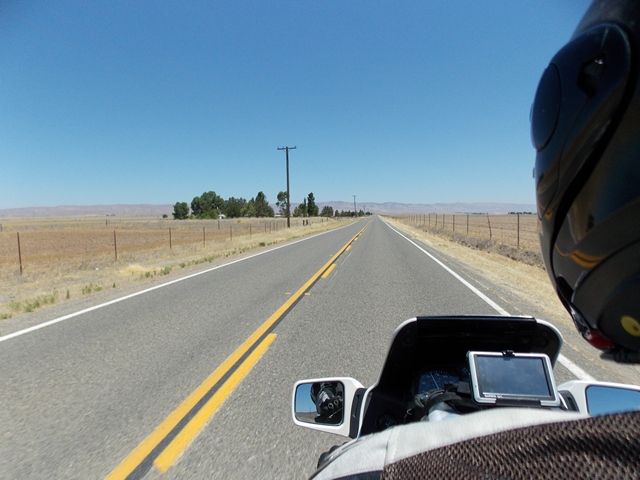 We came to this fun looking stretch, looked like some fun "dips". The second dip was more like a bike launch, I'm sure we caught some serious air, (Ala Evil Knievel) I left the seat for a second! The next dip we were going considerably slower!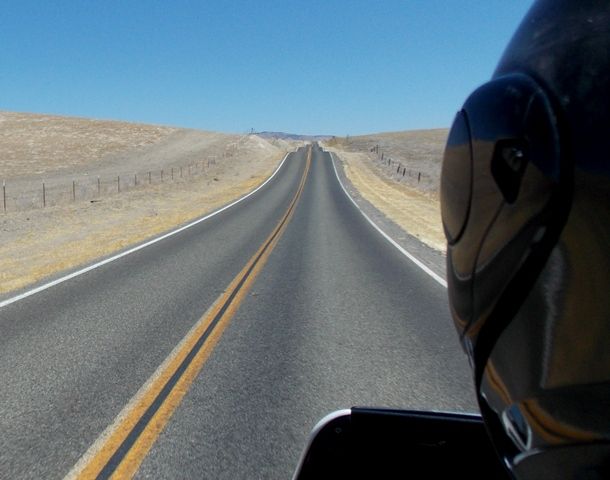 Back to some fun curves & switchbacks.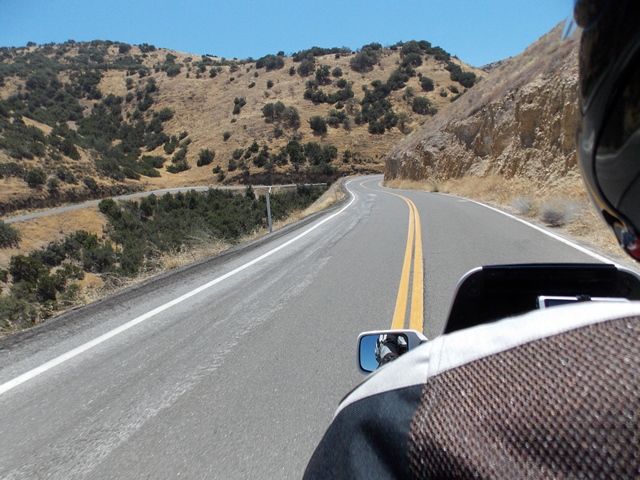 We had a clear day to see far across the desert floor, looking northeast.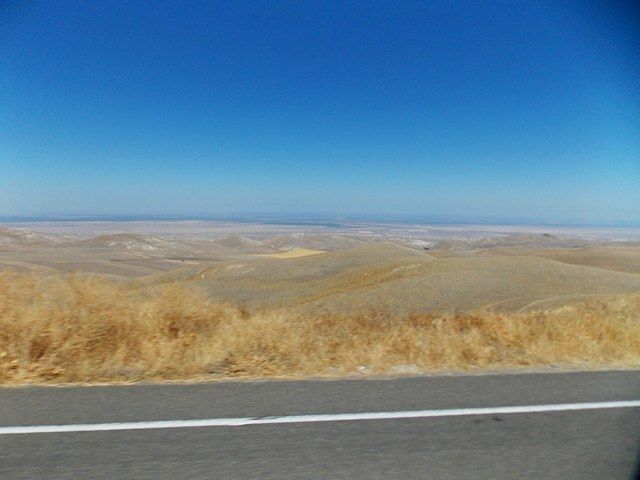 We finally made it to the small oil field town of McKittrick, and took a break at the Oakwood BBQ cafe & bar. We were both ready for a cold drink, that had been a long 80 miles across the desert.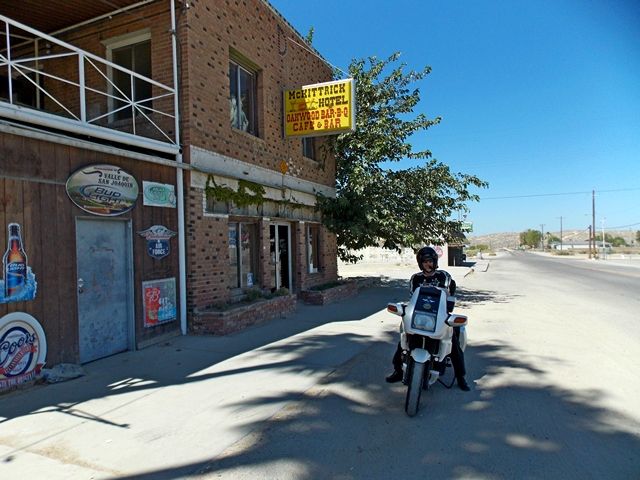 The bar was totally covered with pennies, the floor, the walls, and the bar!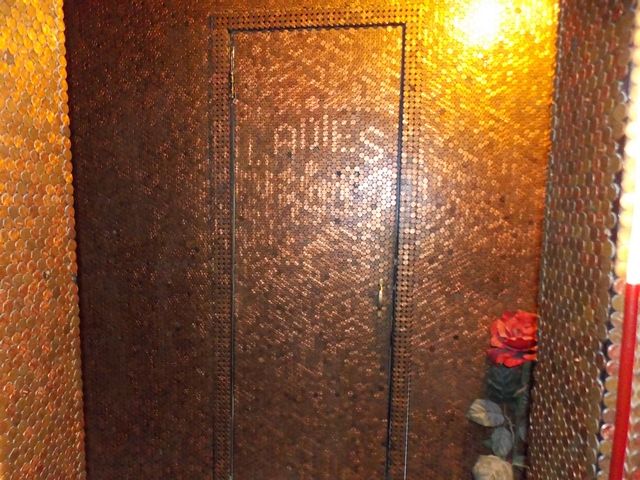 California will protect you from everything…signs posted at the cafe! Since I'm pretty much not Politically Correct, I found these very humorous. Donna mentioned she also saw the bottom sign at a convenience store selling cords of firewood!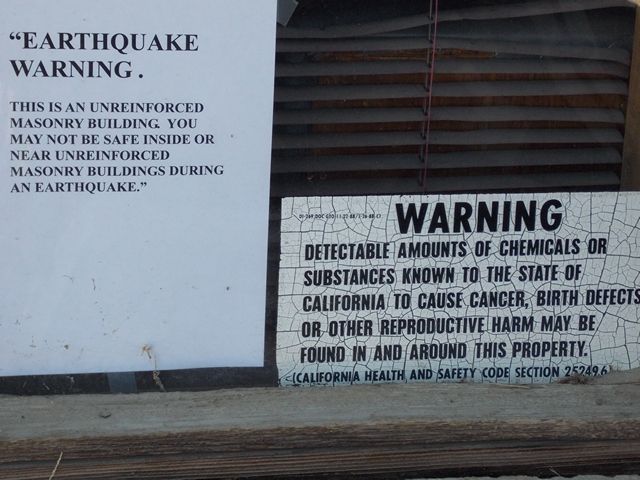 We had to go from HWY 58 to I-5 for about 2 miles before we exited for Bakersfield. There had been one wreck in our lanes, one of the cars had caught fire. This slowed us down for about 10 minutes getting by that, then it started to back up again right at our exit. We had already noticed that the north bound traffic was at a standstill prior to the wreck, we took this from the overpass after we took the exit. A gigantic parking lot going both directions!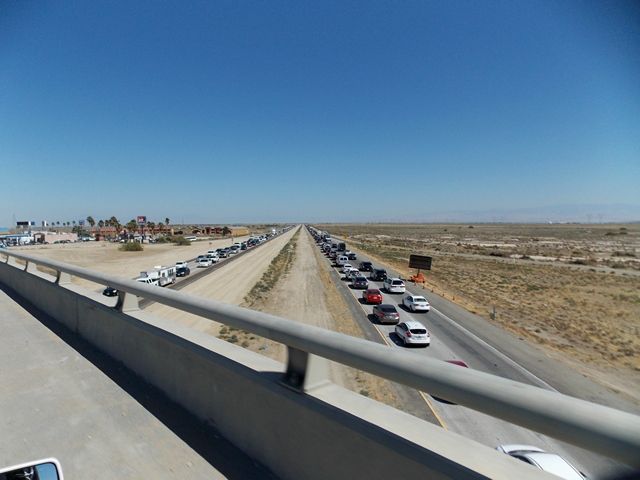 We spent the night in Bakersfield and were up & on HWY 58 before the sunrise. We wanted to try and get back to Las Vegas before it got really hot.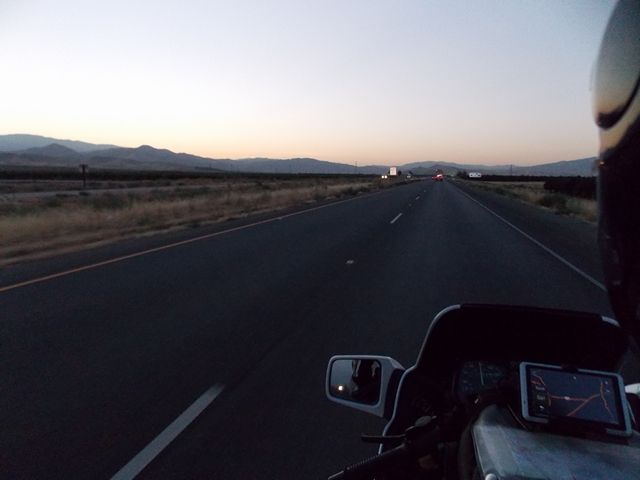 Another long stretch on HWY 58 before reaching Barstow. I finally got to really use the cruise control on the ride back to Las Vegas, what a wrist saver!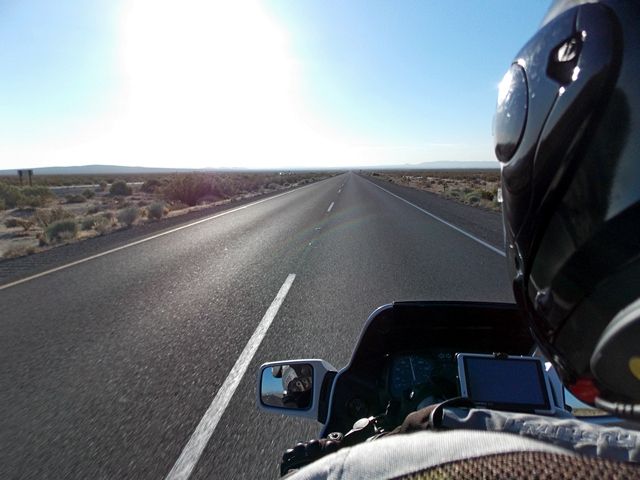 One last stop at Yermo, at one of our favorites for breakfast.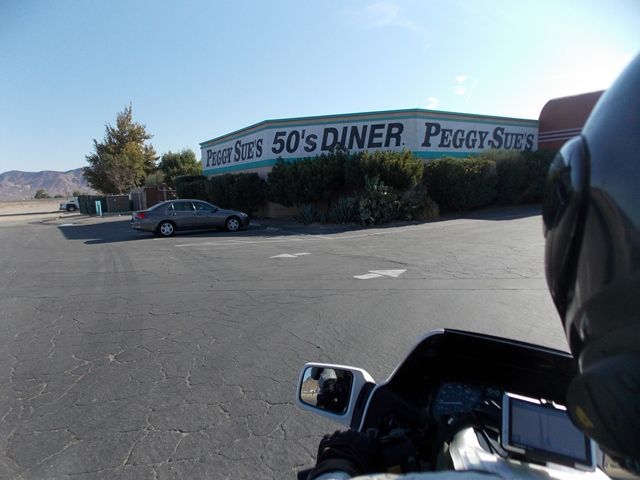 It was time for a "boots off" break in Baker after getting gas. I parked the bike in the shade, and had to move it forward again to stay in the shade before we left.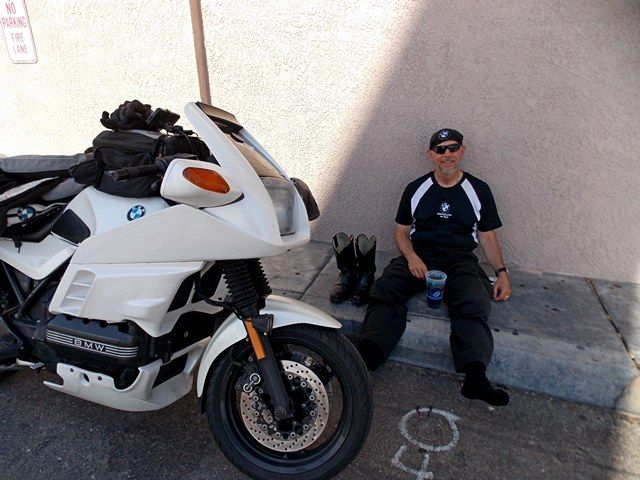 It looked like we were going to get wet one more time, but the I-15 turned northwest right before we would have hit this desert thunderstorm.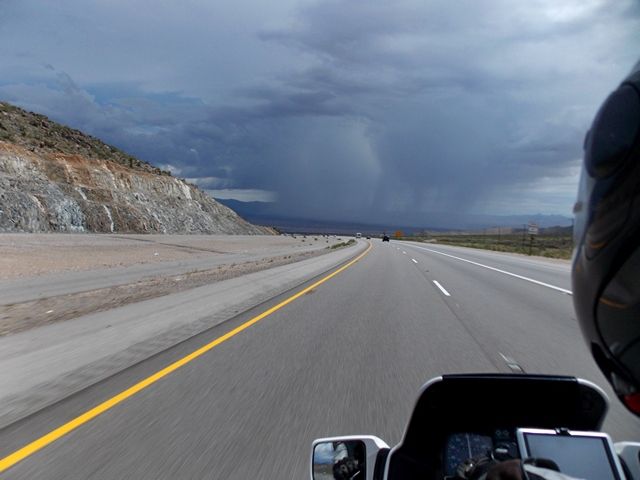 Must be getting close to home, the Las Vegas Strip.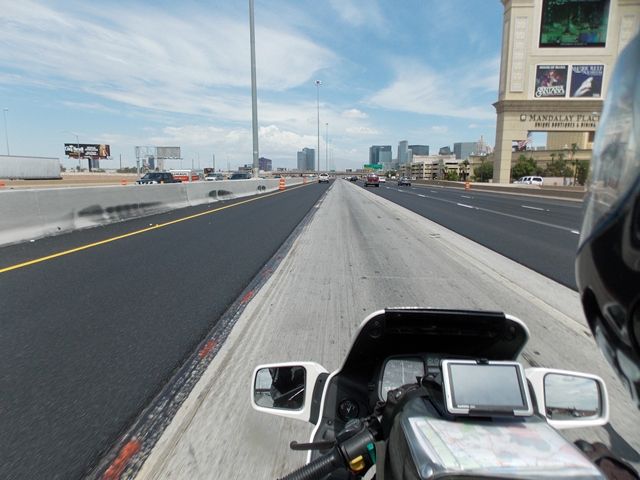 Made it home, first order of business – a cold one!
Ending mileage.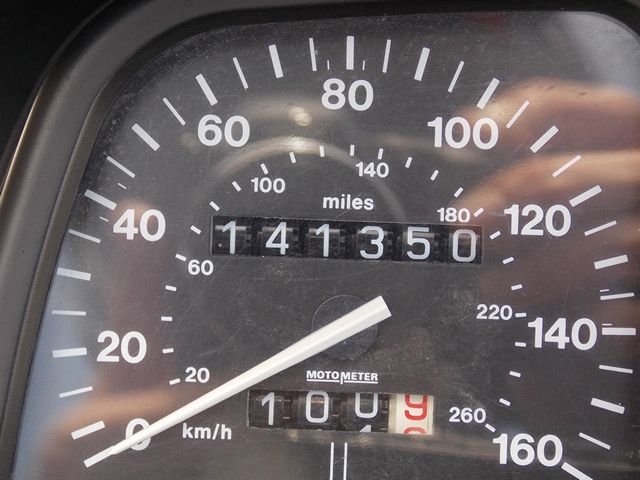 Total miles for this trip – 4,567
Total cost for gas – $362.58
Total gallons used – 91.70
Averaged 49.8 mpg
A couple of observations:
To my sister Karen – It took us awhile, but we loved the Metlakatla visit!
A "big" thank you to Casey (service manager) & his service staff at BMW of Las Vegas – the BMW ran the entire trip without incident. This really makes the ride enjoyable!
A "big" thank you to our friend from the motorbrick.com forum – Drake, for all his work on the cruise control and his hospitality!
A "big" thank you to Tom & Jo – for sharing part of their vacation with us.
It was very unusual to ride through all the National Parks and have the roads almost to ourselves. I guess people this year are staying closer to home, so if you can get out and ride, now is a good time to visit these Parks, especially Yellowstone.
Avoid any interstate or freeways in California, the two lane roads were much better. Maybe it was just the construction, but the freeways were just packed. I have a greater understanding of why riders lane split, although I didn't try it.
Visiting the out of the way places (for us anyway) is what makes these trips special. And this trip was very memorable for us.
Riding HWY 1 should be on everyone's bucket list!
We did four National Parks on this trip, these are some of our favorite places to see. Added 5 more magnets to our collection, we are going to need a bigger refrigerator!
Donna took over 2,100 pictures for this trip.
I took over 600, maybe 30 of them will make my Photography page.
The photography page/ site is almost ready – I'll post a write up when it is a reality.