2012 Vacation Trip Part 1 Yellowstone, North Cascades National Parks, and Metlakatla, Alaska.
Our 2012 vacation trip.
The route covers the first part of our trip to Seattle, WA.
Click on the larger view to see the complete route.
I left work early, but it was 115 degrees, so we waited a few hours before leaving.
Beginning mileage.
Away we go…into the HOT desert air!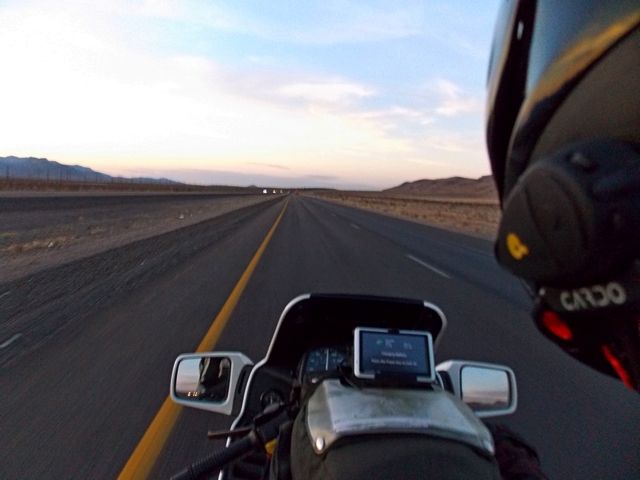 Our first stop for the night was in Mesquite, NV. When we left at 7:30 pm, it was 112 degrees, and when we arrived in Mesquite it was still 114 degrees there, and we arrived around 10pm !!
Up and on the road with the sunrise, we wanted to get through the Virgin River canyon before it really warmed up!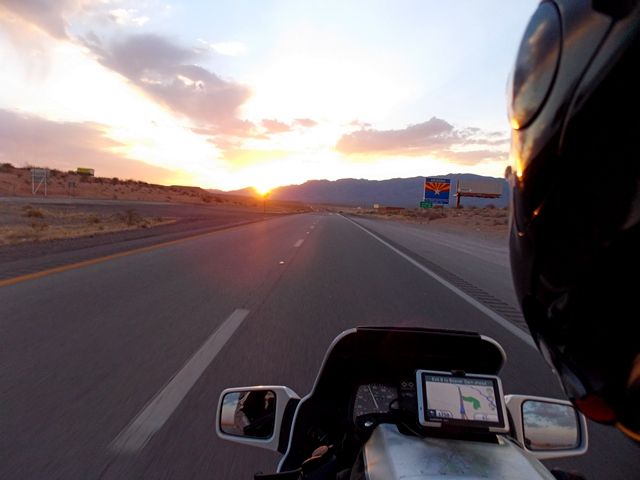 Good morning to ride, not too hot yet.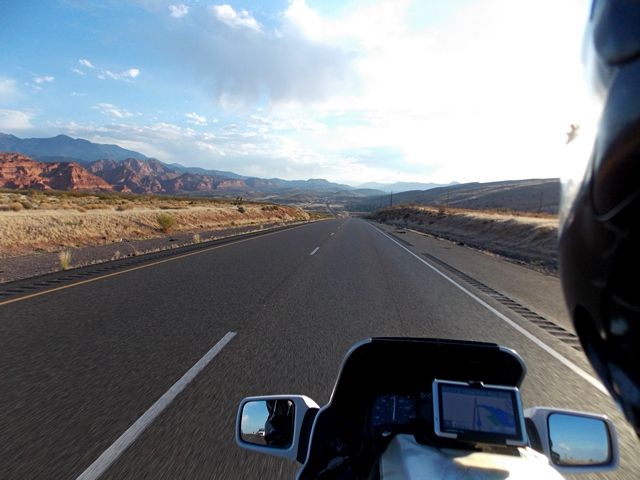 We stopped in Parowan, UT. for breakfast. This a good breakfast cafe, we stop here whenever we are riding through.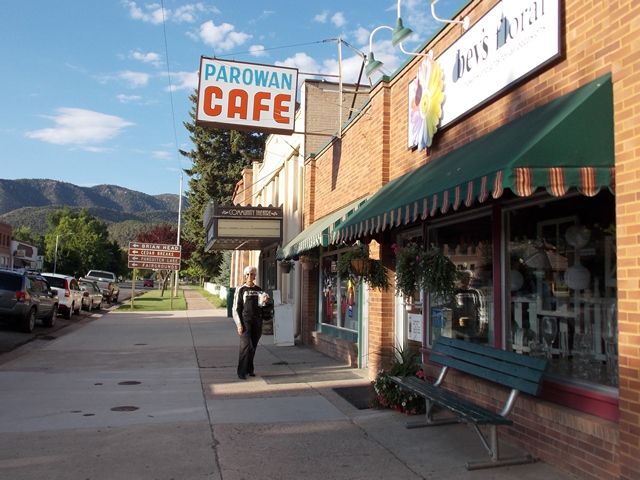 North bound on I-15, just south of Nephi, UT. Starting to get a little warm.
We were ready for a break in Orem, before riding through Provo canyon. Always have a hard time finding shade out west, but this Chevron had a covered Harward Farms canopy, great spot to take a break, glad the Harward people were taking the day off!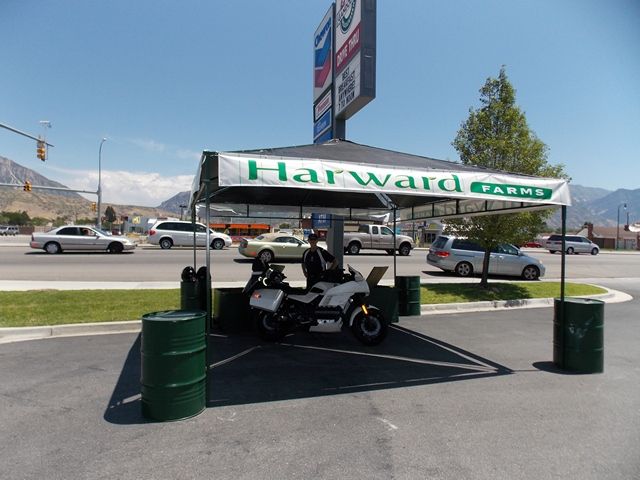 Riding through Provo canyon, (we always avoid Salt Lake City, UT.) nice ride, but it almost always seems to have construction…maybe the road will be done one of these years.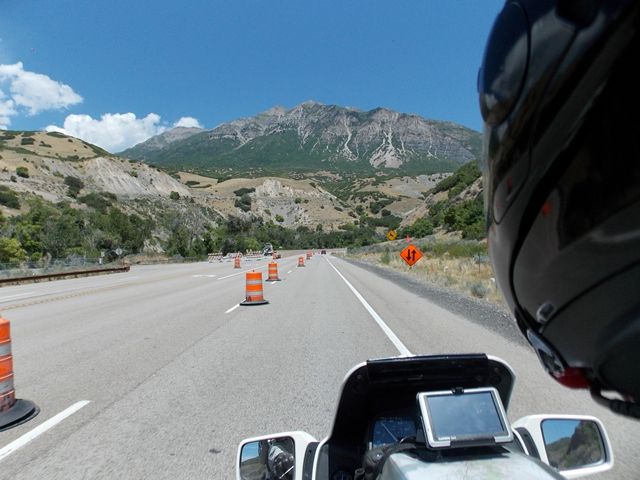 Our first construction delay, down to one lane, only took about ten minutes to get through.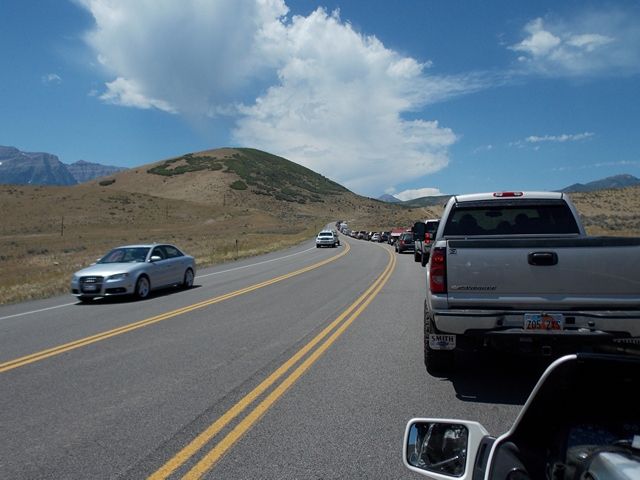 Riding on HWY 150 from Kamas, UT. It's a great ride on a bike, never too much traffic. It is always about 10 to 15 degrees cooler than going up and getting back on I-80, plus the scenery is much better. Donna & I really enjoy riding the high country!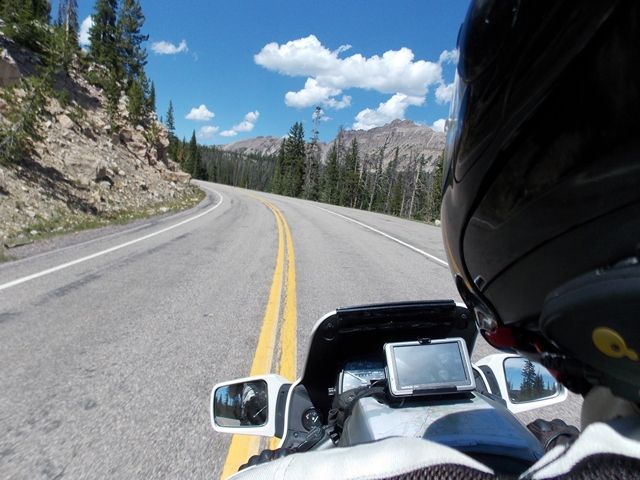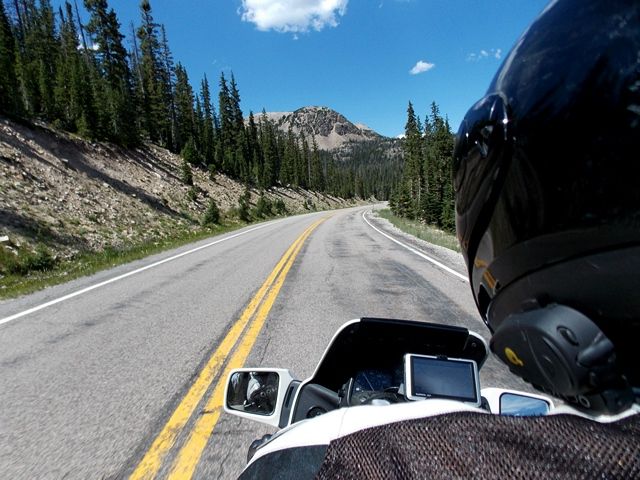 Must be across the state line into Wyoming, didn't take long to run into a herd of sheep on the road.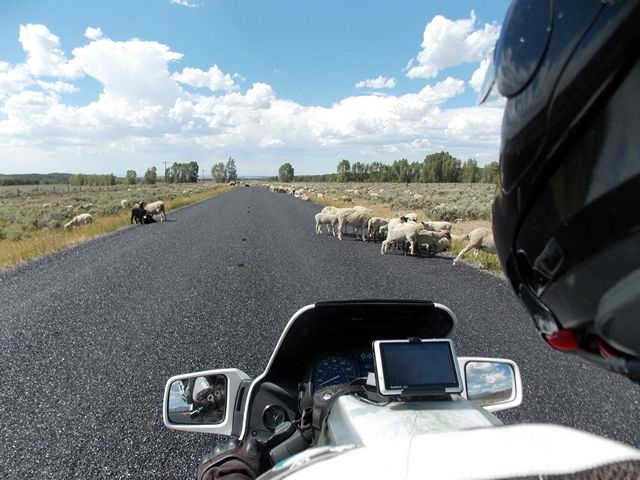 Our destination for today was Evanston, WY. Donna & I both lived here before moving to Las Vegas, we still have many good friends here. We had dinner with a couple of my old Law Enforcement friends, Dick Burchell & his wife Barbara, and Chet Alexander.
We stayed with Paul Nebeker, one of my oldest Wyoming friends. Paul couldn't join us for dinner, but we did go to his restaurant, The Jackalope Flats, for dessert. One of his employees, Charlene, served up some delicious cheese cake that she makes from scratch.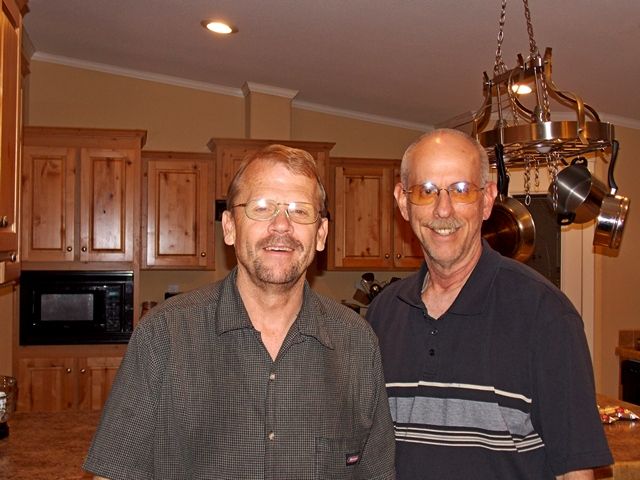 The following morning we gathered at Paul's place again for morning coffee and were joined by another good friend, Susan Griffin & her husband Alan. Paul's place is a local's favorite for coffee and we were joined by some of his regulars.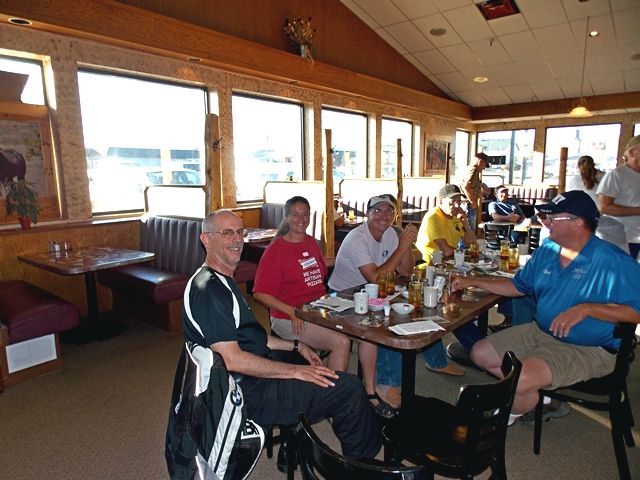 We could have stayed most of the morning visiting, but we had to get on the road. Riding east bound across I-80, not much to look at.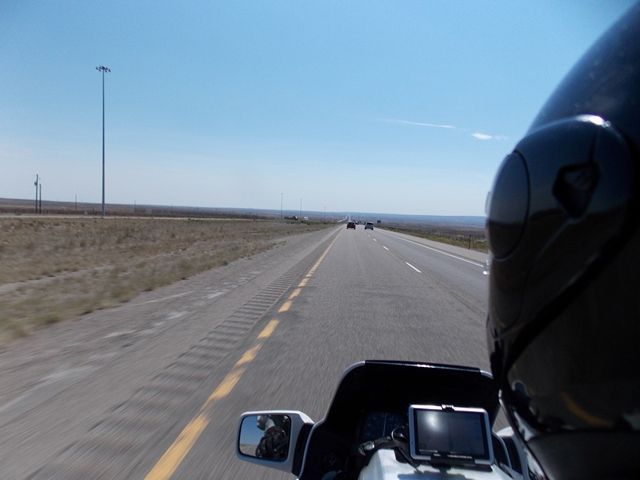 We had planned on riding to Lander, WY. to stay with Tom & Jo Adams for two nights, but Tom called and let us know he would be out of town the first night, so we altered our route to let Donna spend a bonus night with her grand daughters in Casper. Donna's son Gary is the Manager, Wind Operations (senior peon & chief bottle washer, his term) for Pacificorp Energy. He wanted us to ride through two of the wind farms he works on, so we rode to Medicine Bow, WY., then up HWY 487, to see some of the wind turbines. Mental note for future trips – if someone wants you to ride through a wind farm, be ready for strong cross winds !!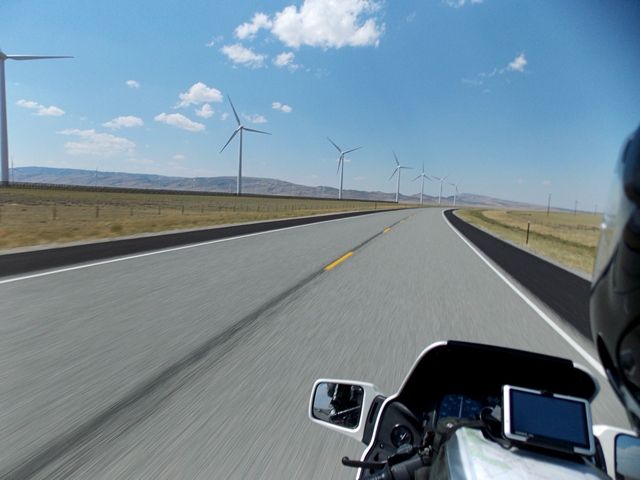 After passing through the turbine area, HWY 487 didn't have anything else to view…a long and lonely stretch of highway.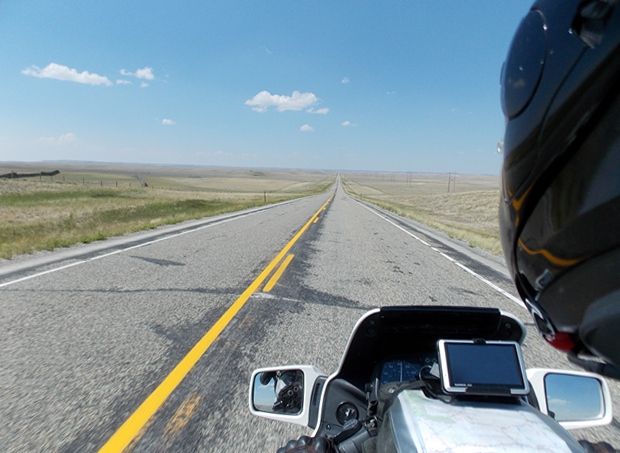 Made it to Casper, WY. Donna enjoys her grand daughters.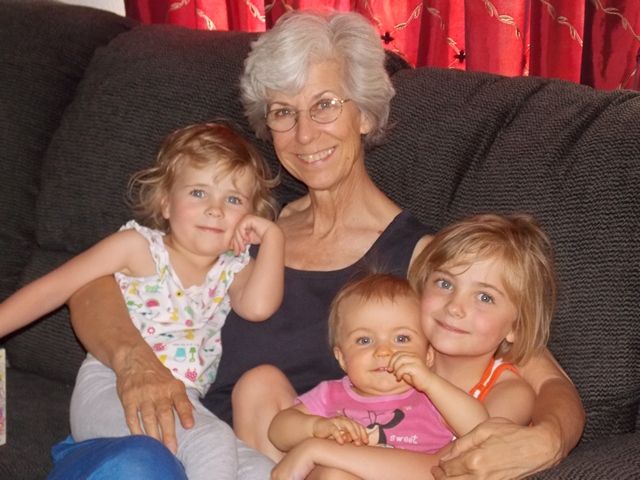 The two oldest also wanted a ride.. maybe when their feet can reach the pegs.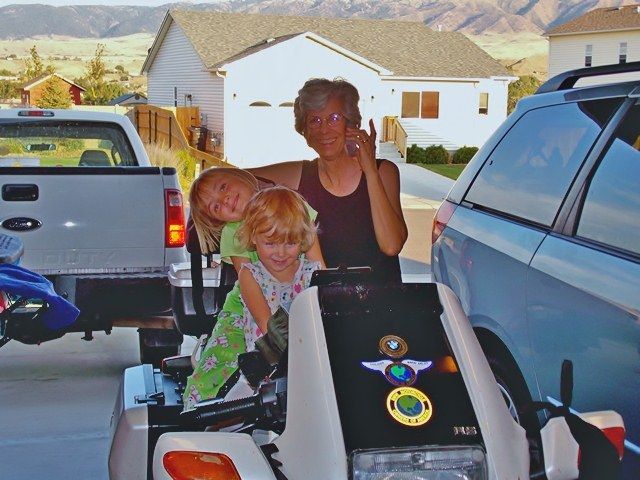 We took off the next morning heading for Lander. We decided to stop in Shoshoni for breakfast, at the Desert Cafe.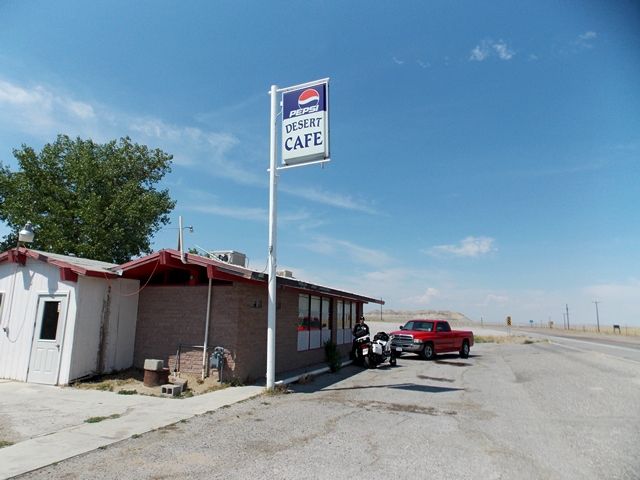 When we walked in, there were ashtrays on the tables! WARNING – political un- correctness coming. I couldn't believe it, I could smoke in a restaurant! Coffee & a cigarette indoors! I hope we can visit there again, before the PC police find out…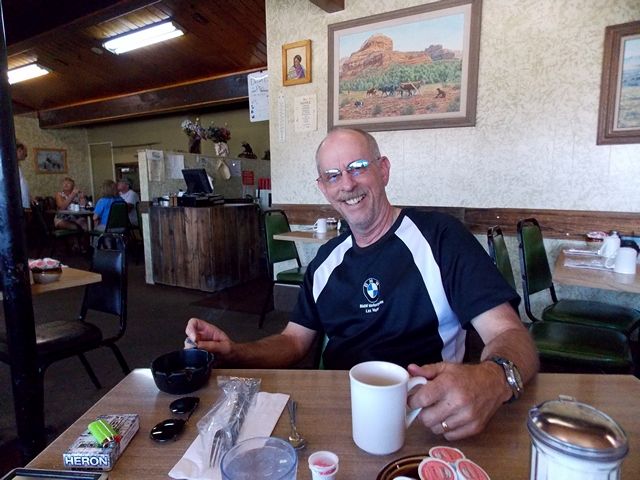 Across more open desert on Hwy 20/26, west bound.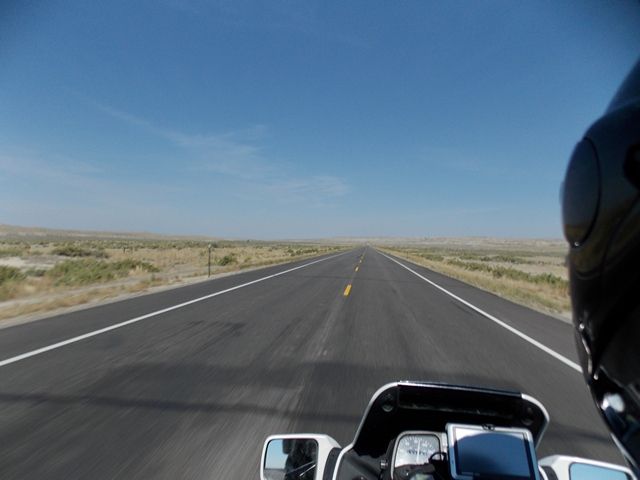 Too bad this place was long closed, I think we would have stopped at "Bad Bob's" on the way to Lander.
We arrived in Lander, late afternoon. Tom wasn't due back yet, so we took Jo & her grandson, Asher, to a Mexican place for dinner.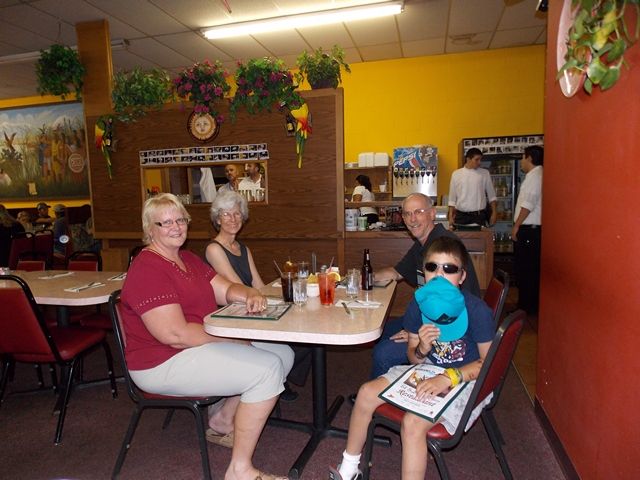 Tom made it home, and the next morning we were ready to go. This would be our third trip with Tom & Jo on bikes, the first one back in 2008, and again in 2010. Tom & I joined the Wyoming Highway Patrol back in 1984 and attended the academy together in Guernsey, WY., good friends ever since!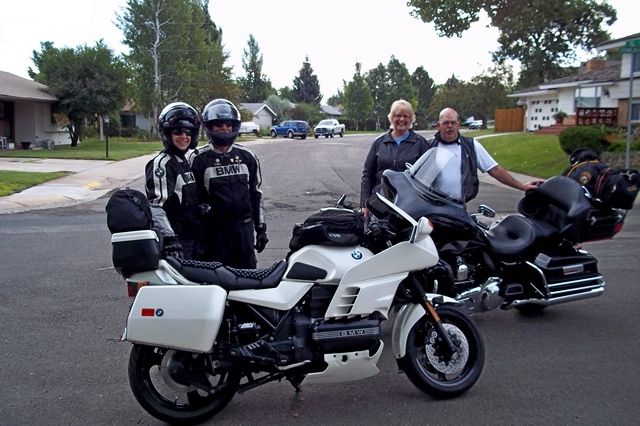 Tom & Jo on their Harley " Ultra Classic"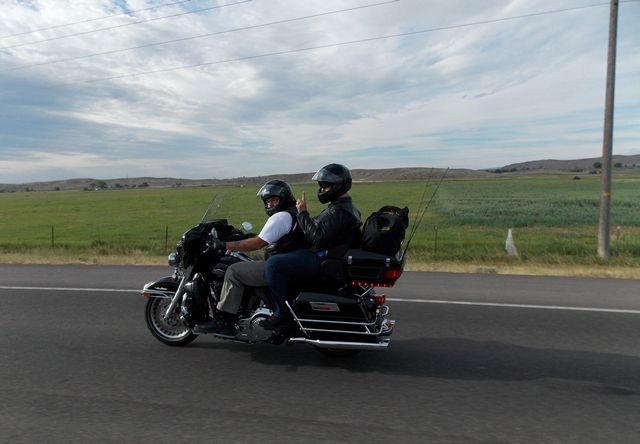 We wanted to take the east entrance into Yellowstone, Donna & I had never been into the park using this route. Going through the Wind River canyon, a fun ride.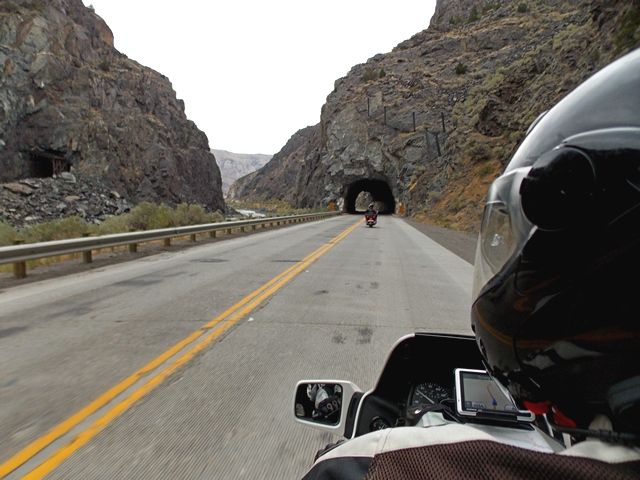 Following the Big Horn river through the canyon.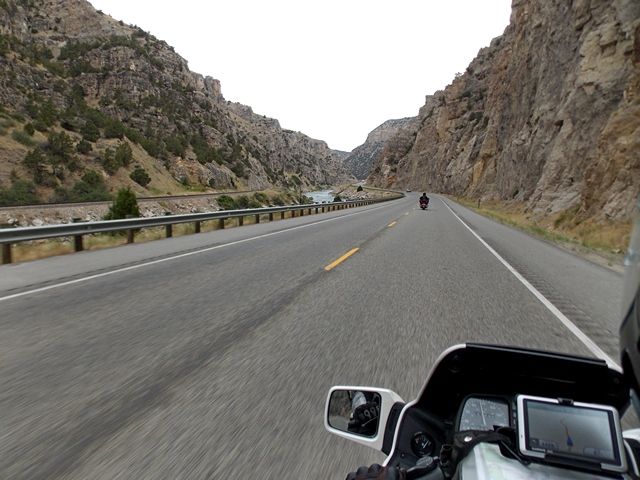 We stopped in Meeteetse for breakfast at the Outlaw Parlor Cafe.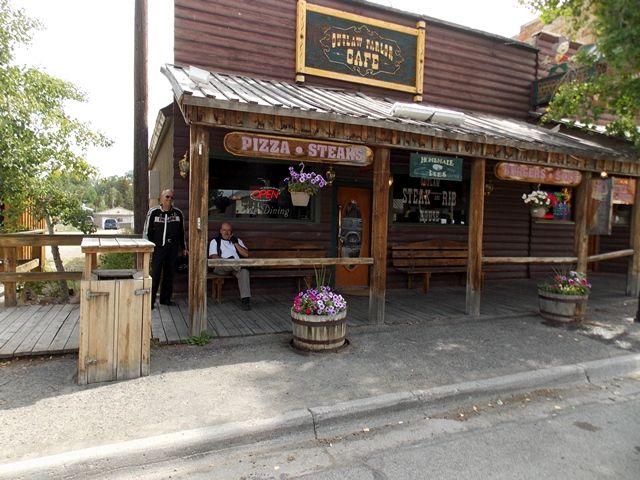 What a very Wyoming like place, the bar had been in operation since the late 1800's. This is the original Cowboy Bar, where Butch Cassidy was arrested for "borrowing" a horse. The only time he spent in prison was from his arrest in Meeteetse.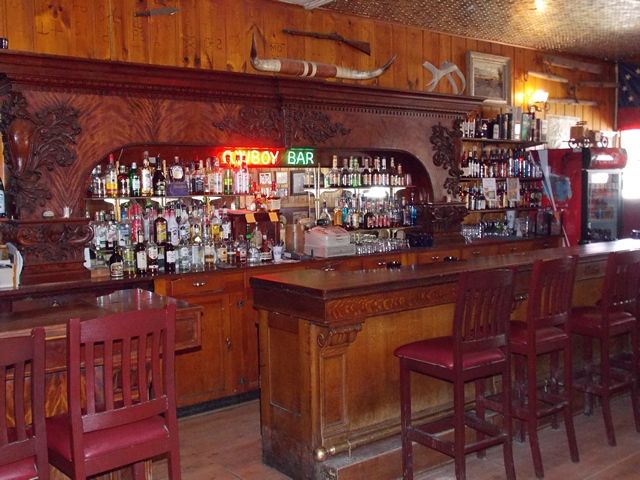 Had some great old signs posted.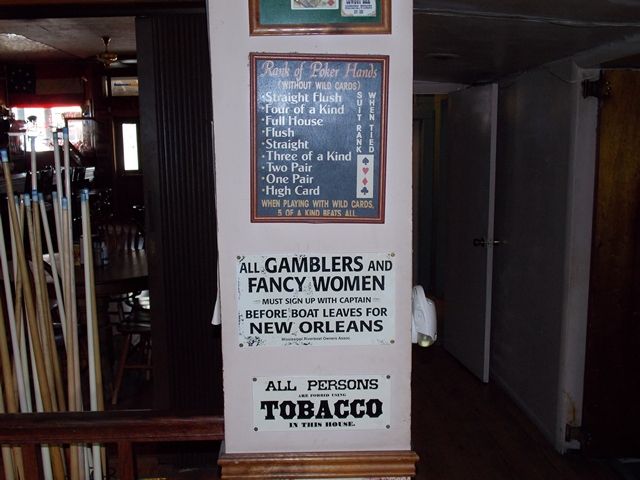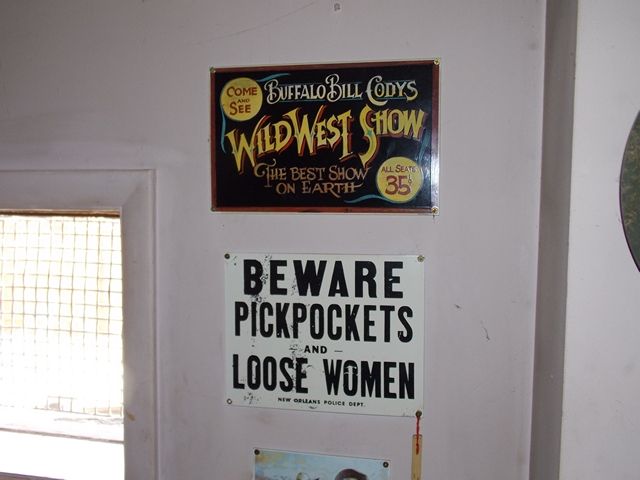 Donna & Jo enjoying the swinging doors…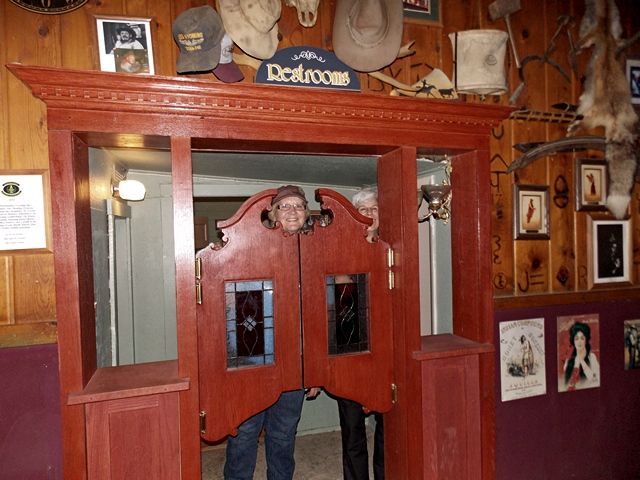 The food wasn't bad either, this place and ones like it are one of the reasons Donna & I love traveling the roads less traveled on the BMW.
Our next stop was in Cody, WY. Another of my WHP friends, Lenny Declercq, is stationed there. Lenny also came on the Patrol in 1984 and went to the academy with Tom & I. We also got to say hello to two of Lenny's kids, Bo & Marissa, Len's wife, Anne, was out of town, so we missed her. He joined us on the ride to the east entrance to Yellowstone.
Riding on the N. Fork HWY.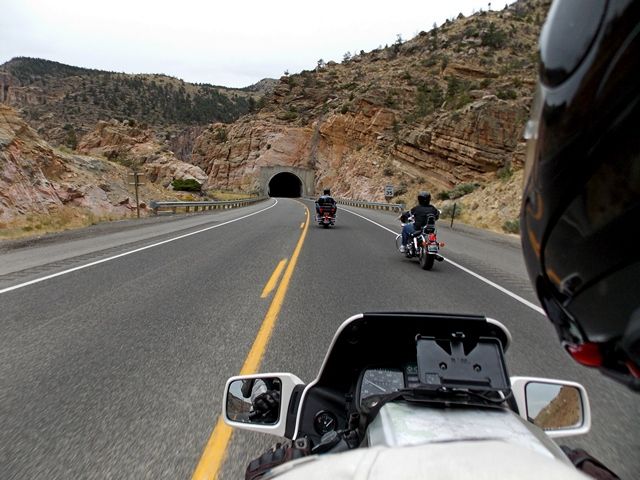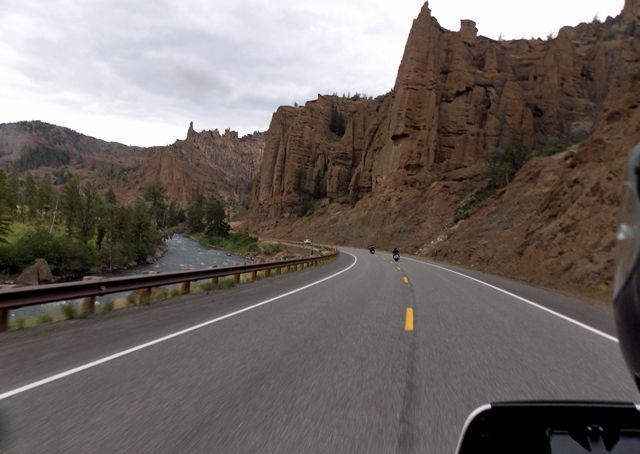 Lenny & his Honda.
Group photo op at the sign.
And of course, Donna & I with another Kodak moment.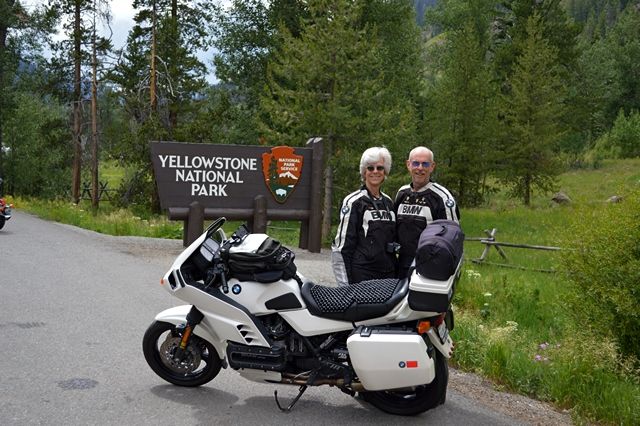 We had reservations at the Old Faithful Inn for our two night stay in the park. I made these reservations over a year ago, usually that is how far in advance you must make reservations. But the park was not at all crowded as in past years. Traffic on the road in the park was minimal, we had only one traffic jam due to animals being sighted.
The Old Faithful Inn – has to be one of our favorite places to stay in all of the country. The lodge is wonderful, no TV or phones – we each stayed in one of the original rooms, just a sink in the room, bathrooms & showers were down the hall.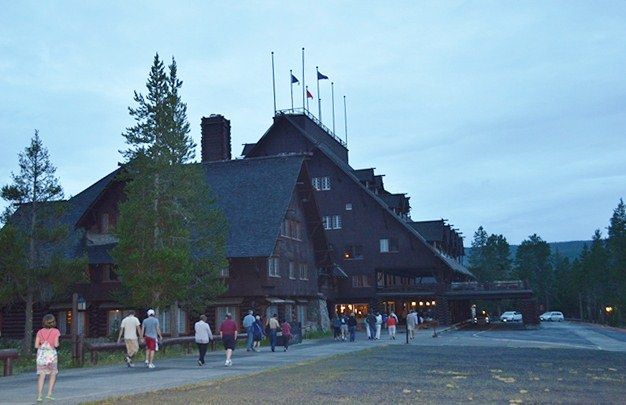 The lobby inside the Inn, three stories of rooms and balconies to see from. Jo took this one from the third floor.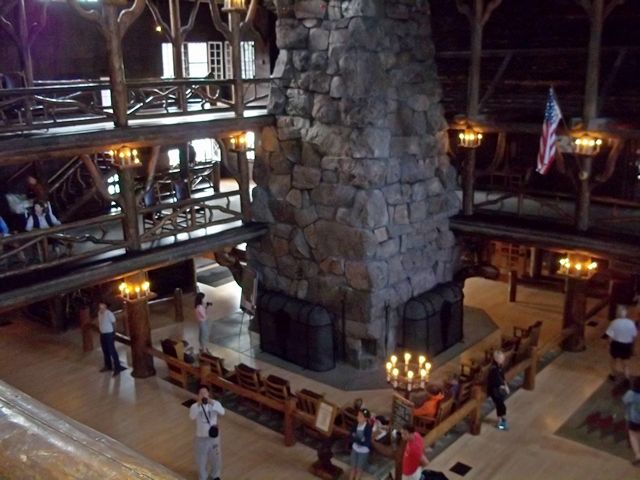 I took this one from the ground level.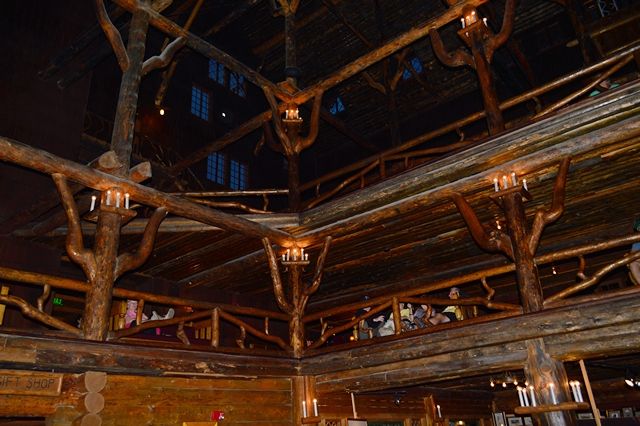 And of course, a rocker in the lobby.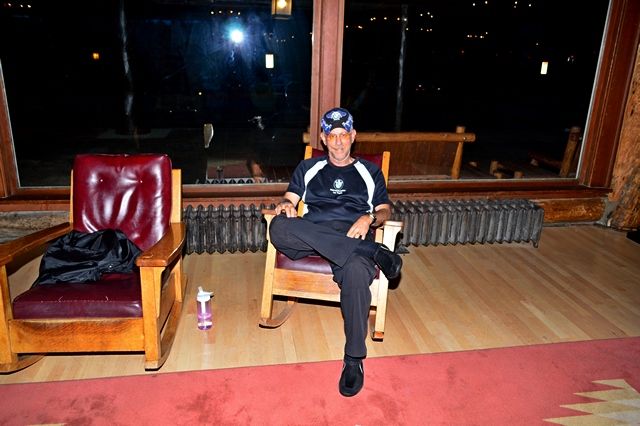 The second floor outdoor balcony has a direct view of Old Faithful.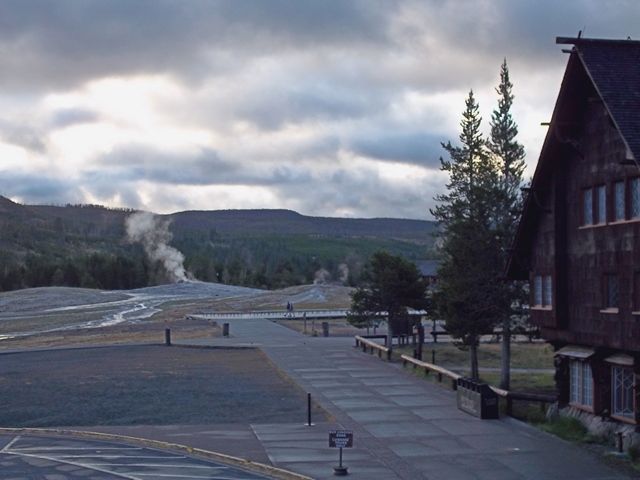 Donna tries her hand at video taping Old Faithful…turned out OK. I just watch, I'll stick to photography!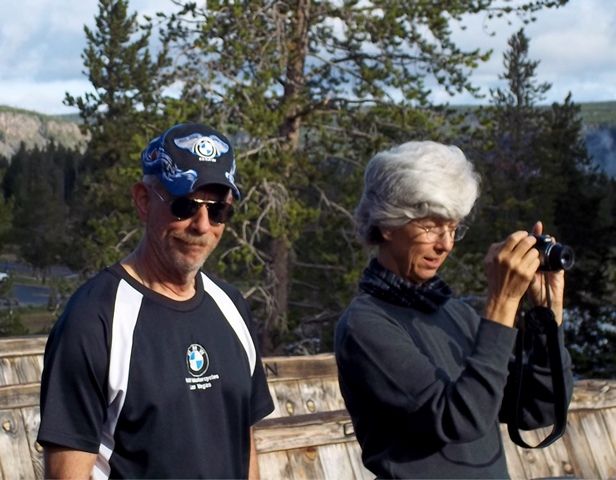 The weather wasn't the best for shooting pics at Old Faithful, but this one turned out OK.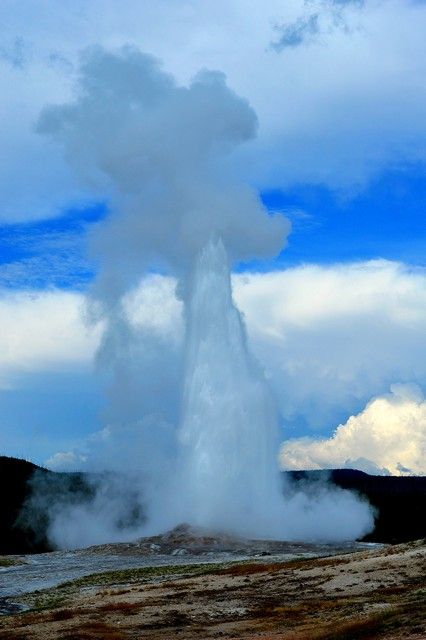 The next morning Donna & I headed for the Grand Canyon of Yellowstone, Tom & Jo took the morning off and enjoyed the lodge. Our first stop was at "Artist Paintpots". It had some hot springs and boiling mud areas. We had to hike up the trail 3/4 of a mile to get a good look.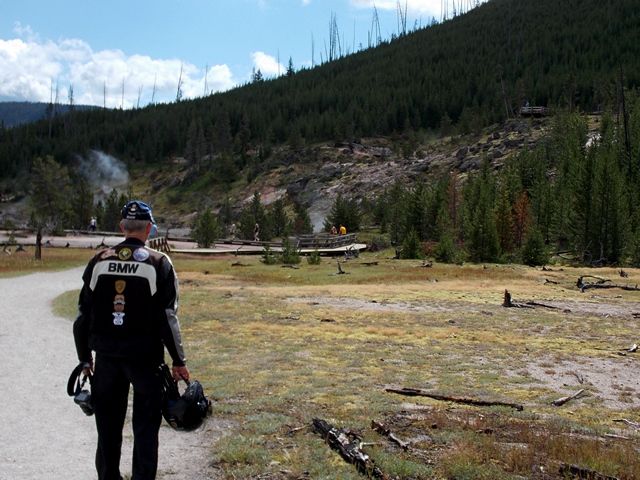 From the top of the trail looking down…there were some malodorous smells coming from these hot pots.
Then on to what we really wanted to see. The Grand Canyon of the Yellowstone. This has to be one of the most scenic views in all of America, at least to me.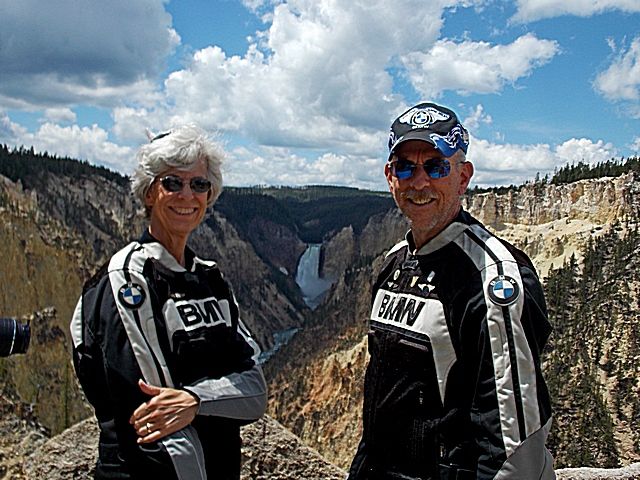 Trying to get a few good pics of the lower falls, the clouds helped, the canyon seemed to change as the clouds went over. I took about 35 photo's, from a couple different vantage points. These are just a couple that turned out pretty well. These were taken from "Artist Point" on the south side of the Yellowstone river.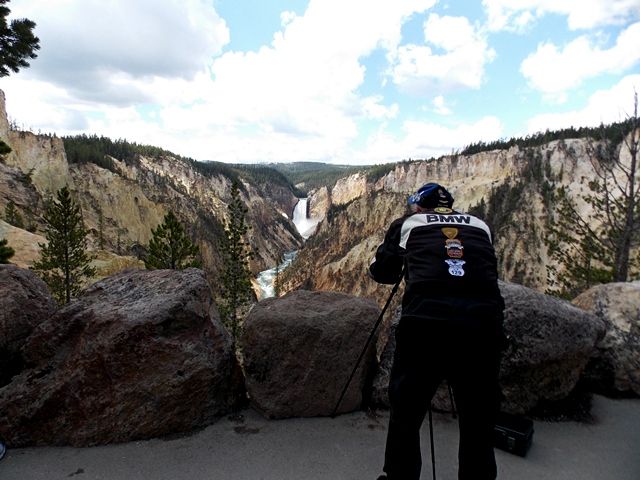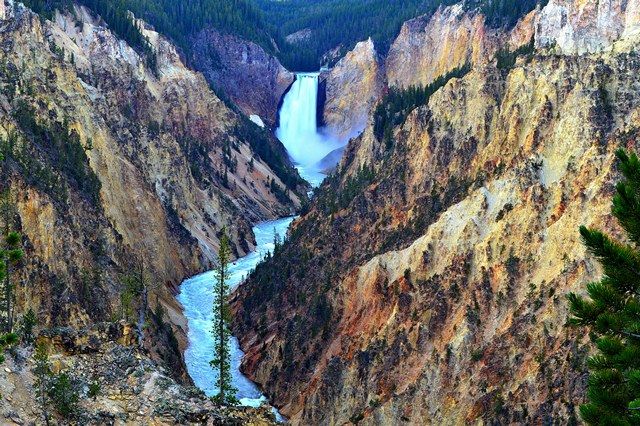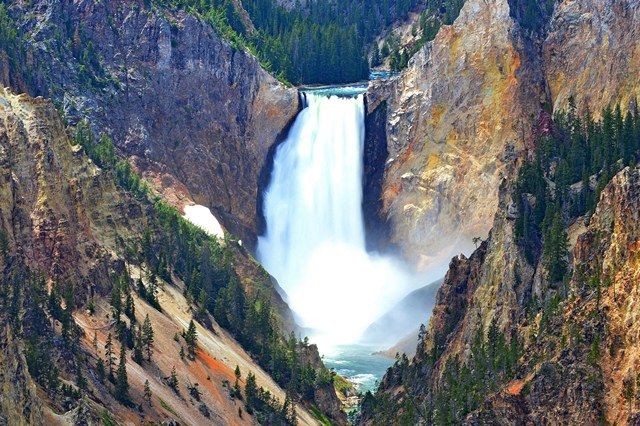 We had a picnic lunch there, just enjoyed the entire experience, we spent a couple of hours there. On our way back to the Lodge, we passed Tom & Jo going the other direction near Gibbon Falls. We stopped there and I took a few pics.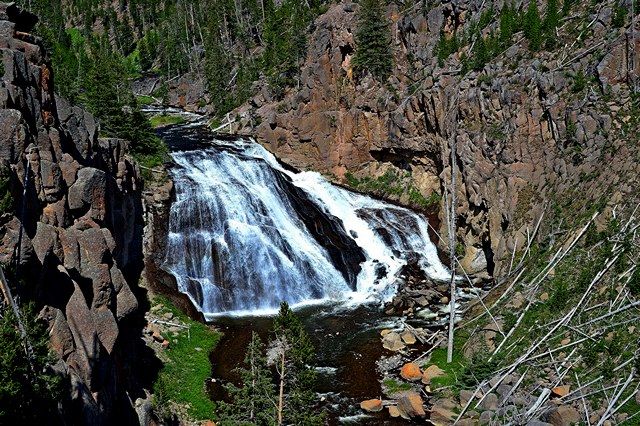 We hadn't seen too much wildlife up to this point, only one buffalo and a couple of cow elk, which was just a little disappointing, as the park normally has abundant wildlife roaming near the roadways.
Back to the Lodge.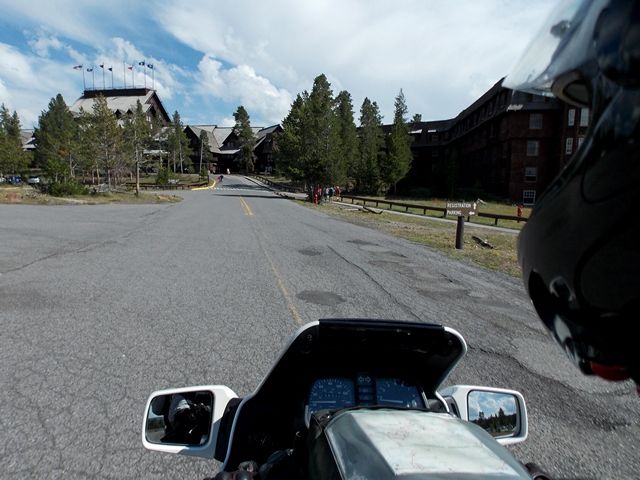 Our room at the lodge on the 2nd floor back side, it has the open window.
The Lodge does not even have WiFi, I had to go over to the nearby Snow Lodge to get internet and post a few pics on Facebook.
The next morning we were off, leaving the Park by the northeast entrance.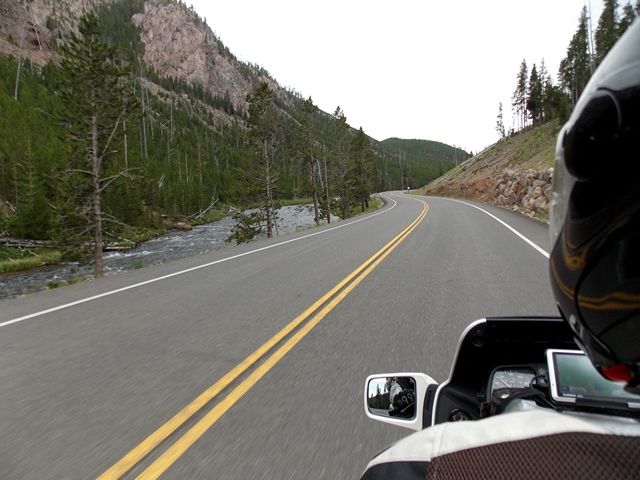 We stopped at the "Tower Falls" observation point and took a few pics.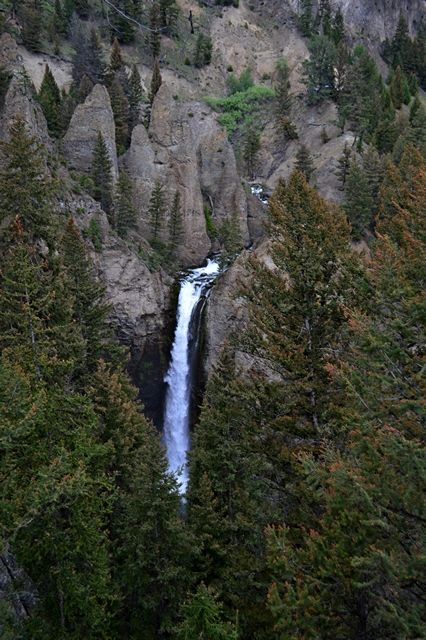 Tom & Jo enjoying the view.
Riding right at the edge of these crumbling rock cliffs on our way out.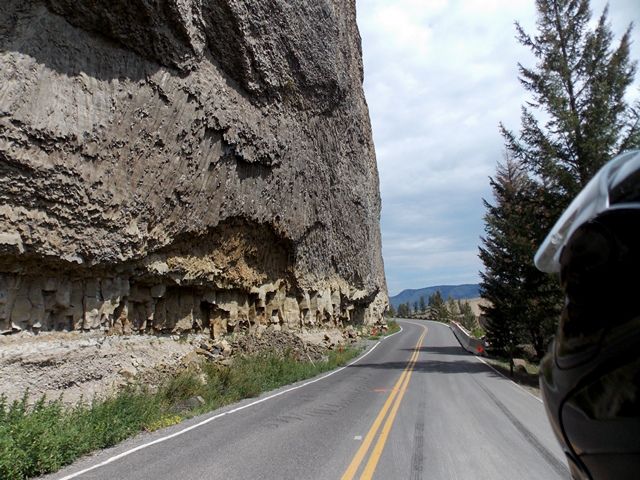 We did get caught in one other traffic jam, a young cub black bear was down off the road to the right, people just park their cars and leave to go look. It is always amazing to me that people & their young children will get that close to a young animal (especially bear cubs) with the mother somewhere near by. Tom & I didn't enjoy this, we were on a downgrade, slowly going down past the other traffic. We didn't see the cub, but Tom & Jo did as they went by it.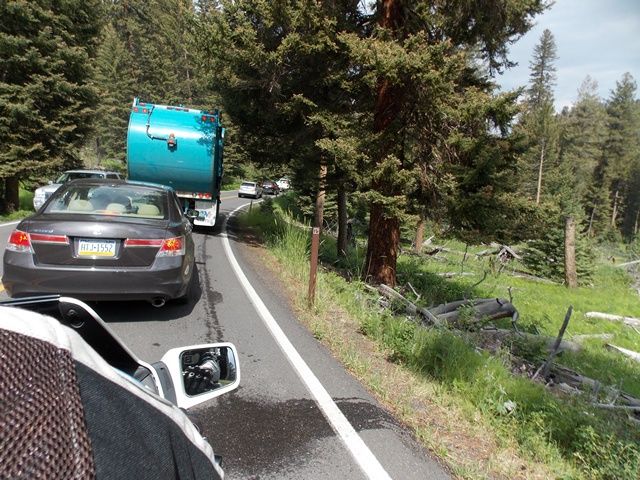 On our way out of the park, heading east.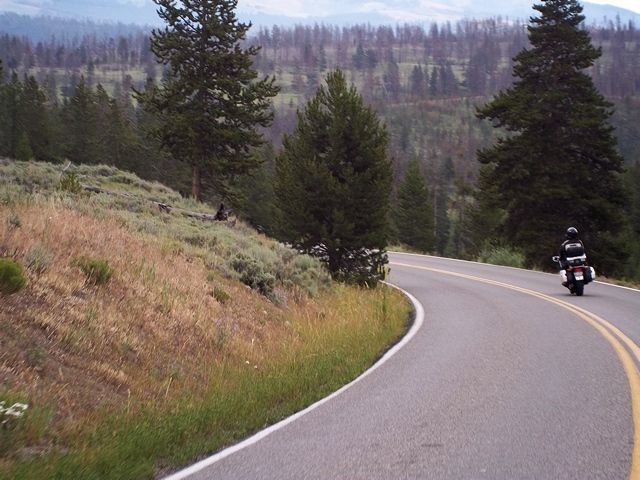 As we hit a big open field, a herd of buffalo came into view, however the traffic wasn't too bad and we had a good look as we went by.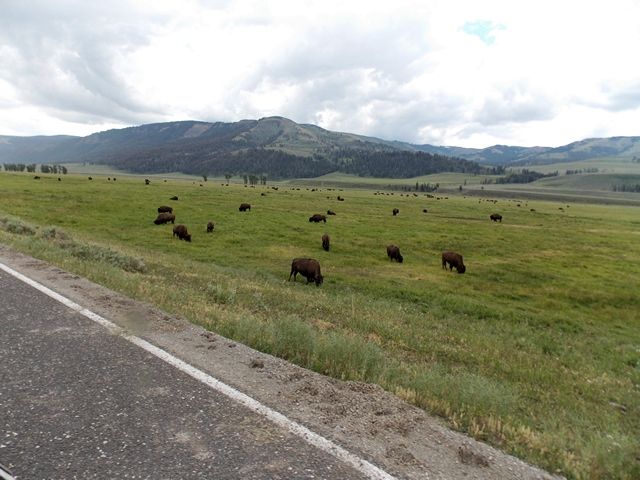 Donna wasn't able to get a pic, but one buffalo was walking right at the roads edge, it made me a little nervous riding by the big animal, but he didn't even look up as we went by, thank goodness!
Following Tom & Jo, nearing the exit of the park.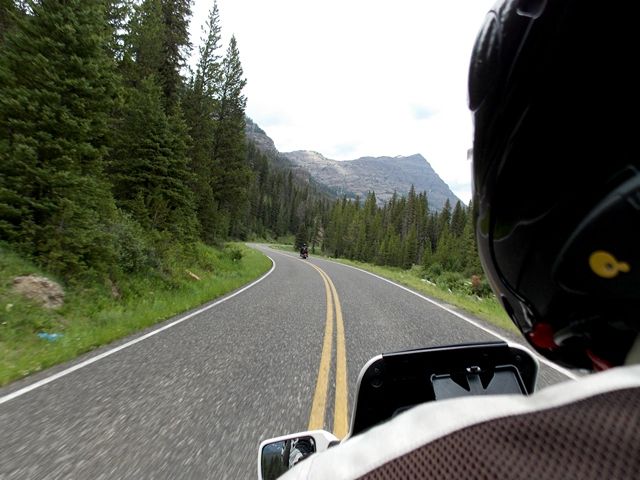 Just before the park boundary, a young black bear was out walking in a field just off the right side of the road. It was just nosing around, when we noticed a big buffalo also lying near the edge of the field in a line of trees. I think the young bear saw it about the same time and gave it a wide berth. The buffalo didn't seem to be concerned at all at the presence of the bear.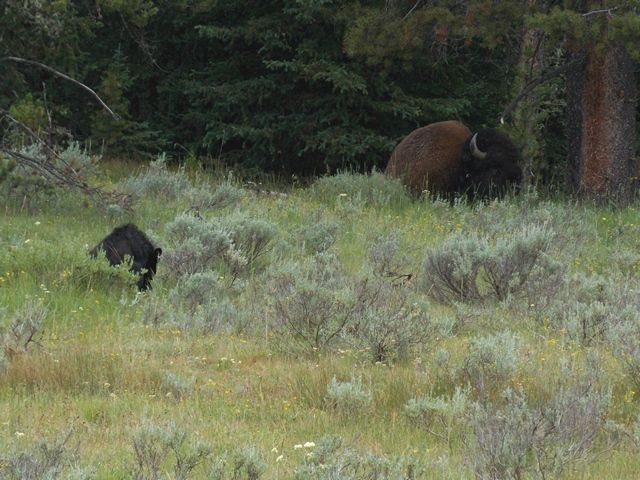 We finally got to see some wildlife as we were on our way out of the park, and it was very memorable!
Coming into Cooke City, MT. We decided to stop there and get a bite to eat.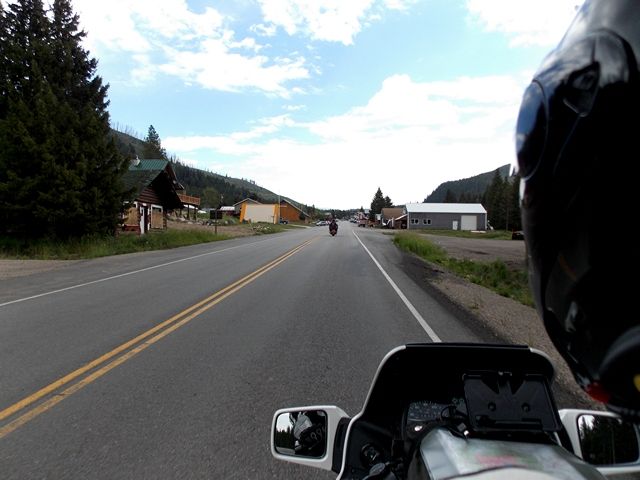 Eating at the "Miners Saloon" another cool out of the way place to see.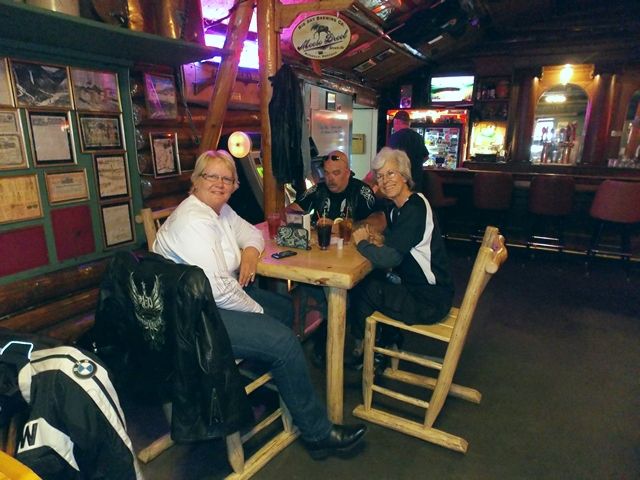 Donna & Jo try (without much success) to cover up their "helmet" hair. Notice the "casino" sign? They had some slot/video poker machines in the bar area.
During lunch, we got an unpleasant surprise, it began to rain, a real downpour! We had to wait about 30 minutes for it to let up before we got back on the road. I did not have the tankbag covered, so I lost my gas log (started another one later), thankfully my camera travels in a water tight surveyor case!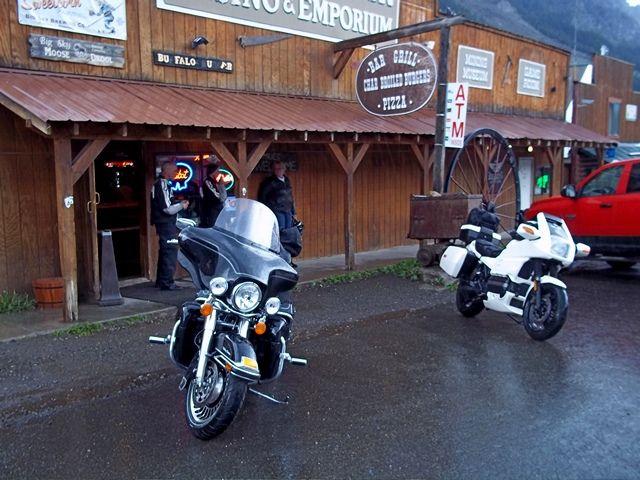 Riding up the Beartooth Highway, another great motorcycle ride.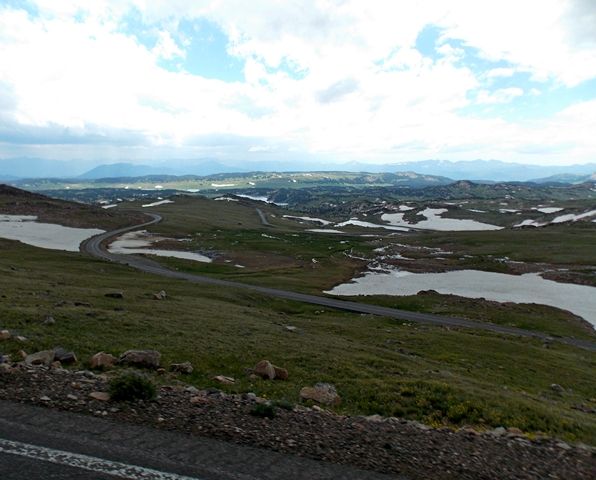 Tom & Jo following us up. (red arrow)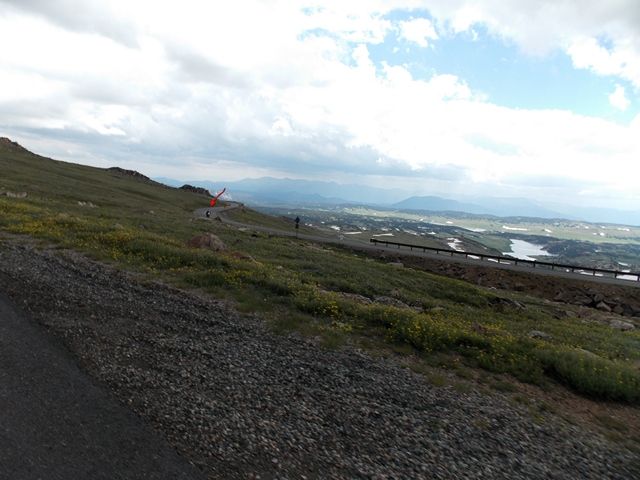 Nearing the top of the pass, almost 11,000 feet. That big black cloud doesn't bode well!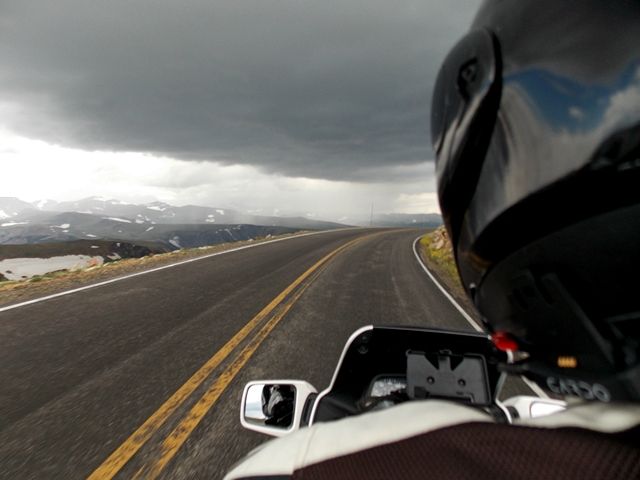 Just as we started down the other side, it began to hail (very small) and then downpour on us. It was a long, wet & cool ride down to the bottom, it stopped raining as we neared the bottom. We were just happy it didn't rain on the way up, we would have been frozen pop-cycles…it was cold at the top! Donna got her camera wrapped up and it didn't fair badly riding in the downpour.
We stopped in Red Cloud, MT., had a hot coffee and somewhat dried off. We took HWY 78 to Columbus, MT. and called it a day. One good thing about riding, when you do get wet, it doesn't take too long to dry off at 70 mph plus! HWY 78 was a fun ride, lots of wide sweepers and no traffic.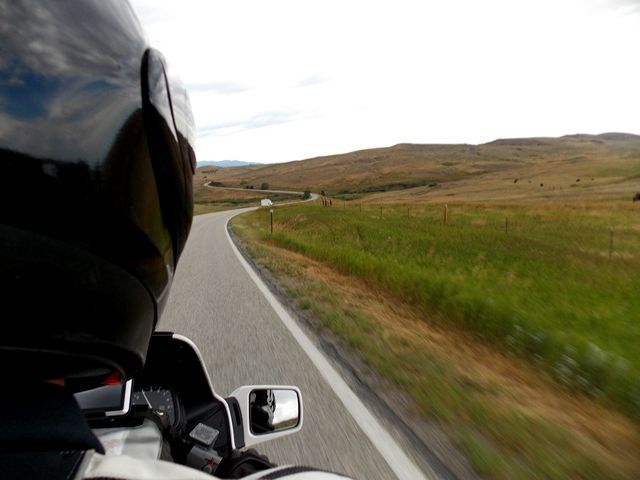 Next day we are off, heading west on I-90 across Montana for the Cascades National Park in Washington.
We made it to Coeur D'Alene, ID. and spent the night. Off the next morning on I-90. Another good day to ride.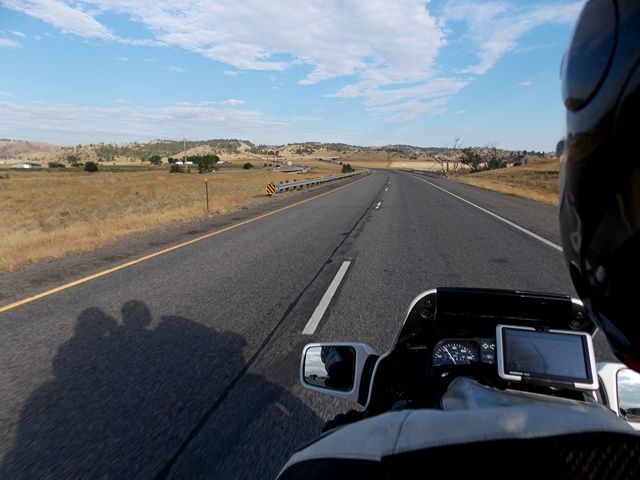 We stopped in Davenport, WA. for breakfast at the Cowboy Cafe. Another great little out of the way eatery, good food.
With a sign like this inside the place, we had to try it! They had "sweet cream" pancakes, very good!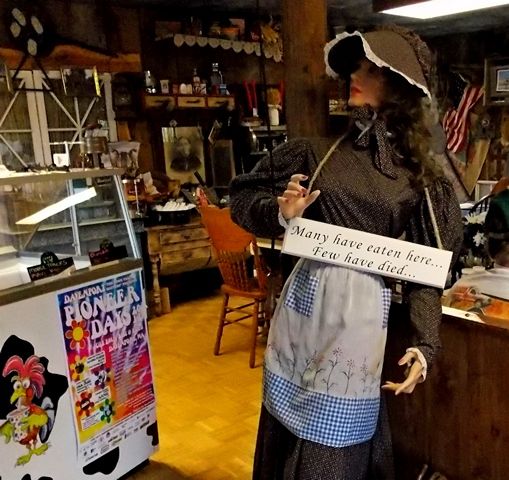 On HWY. 174 on the way to Coulee Dam.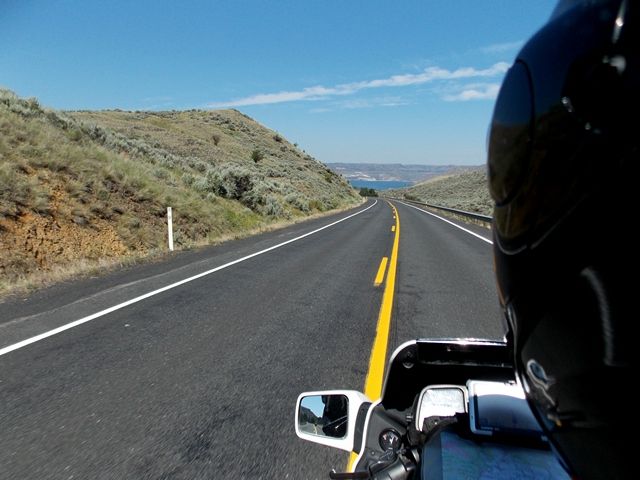 The dam was letting some water down river, Donna takes a pic as we ride across the bridge over the spillway. Jo took this one for us.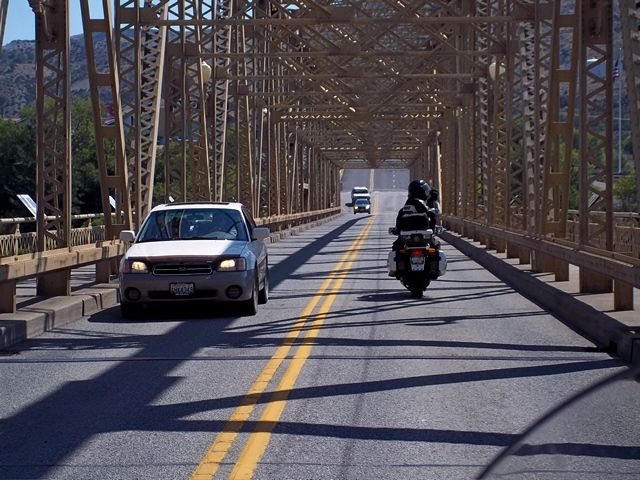 Donna got the water coming down.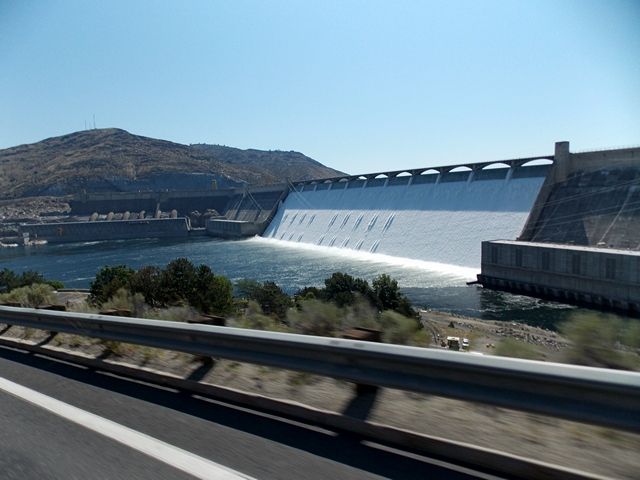 Riding HWY. 20 through the North Cascades National Park. I was disappointed that there was no National Park sign, only a sign to the visitor center.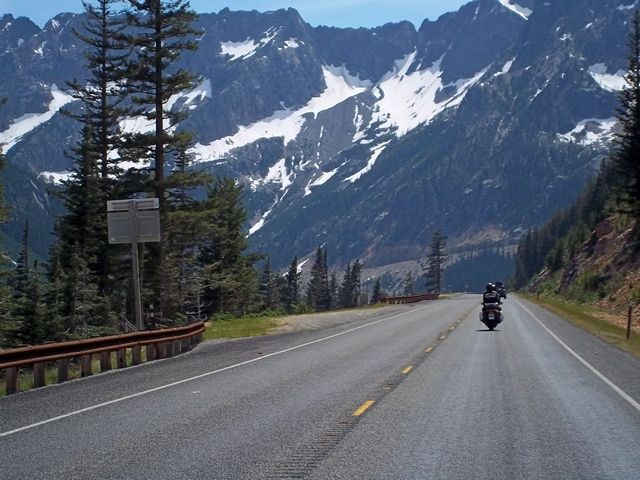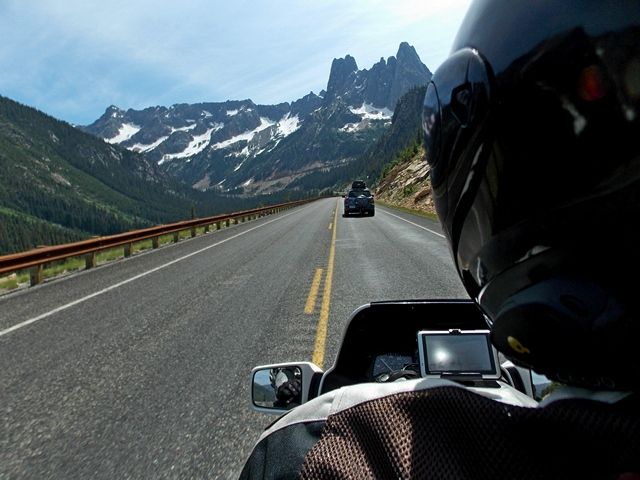 We stopped at an overlook and I took this. More beautiful country!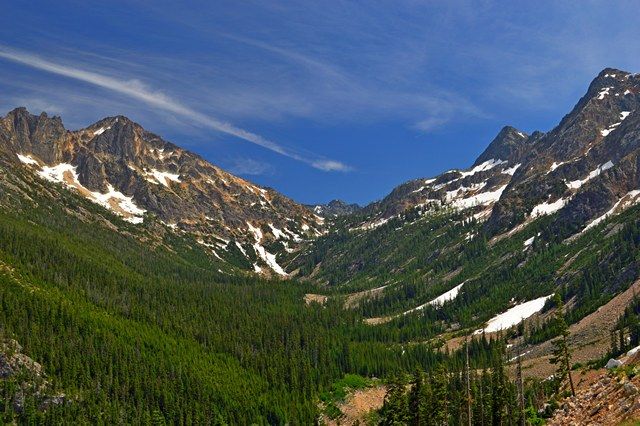 Following Tom & Jo through some great riding roads and views.
We stopped at another overlook and just enjoyed.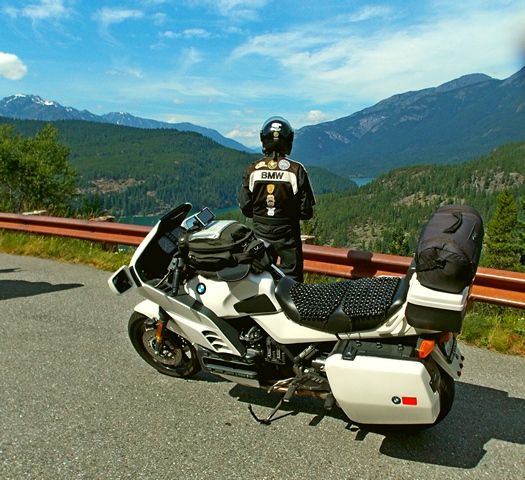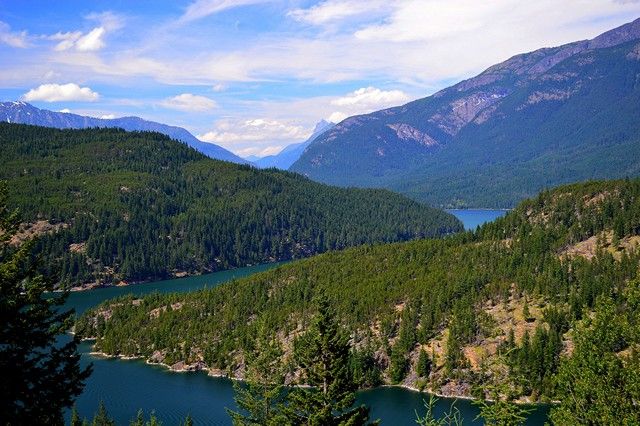 We stayed in MT. Vernon, WA. for the night.
The next morning, riding down I-5.
We stopped before reaching Seattle and had breakfast. Tom & Jo continued on without us.
Coming into Seattle.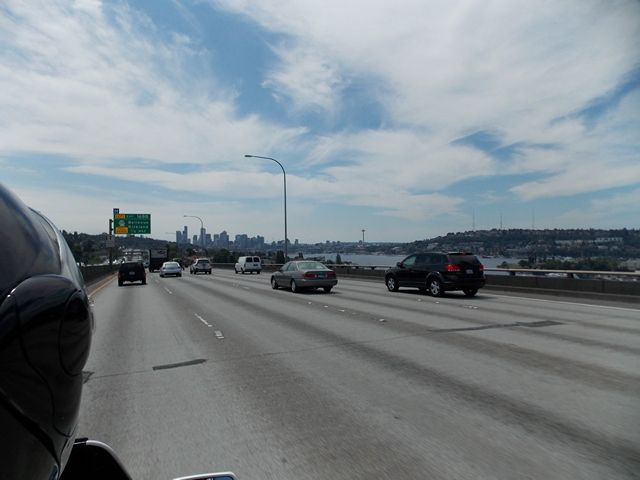 We had to drop off the BMW at a friend's and then take an early flight out the next morning for Ketchikan, AK. My friend Drake, from the motorbrick.com forum, had agreed to install a cruise control unit on my bike while we were in Alaska visiting my sister Karen. We dropped off the bike and he gave us a ride to a motel near the Seatac airport.
The next morning we were up and at the Seatac airport at 5 am. Our flight was for 7 am to Ketchikan, AK. Everything was going fine until there was a lighting strike at the airport. This caused about an hour and a half delay waiting for the plane to be fueled, we finally took off about the time we should have been landing in Alaska. Finally, we are in the air.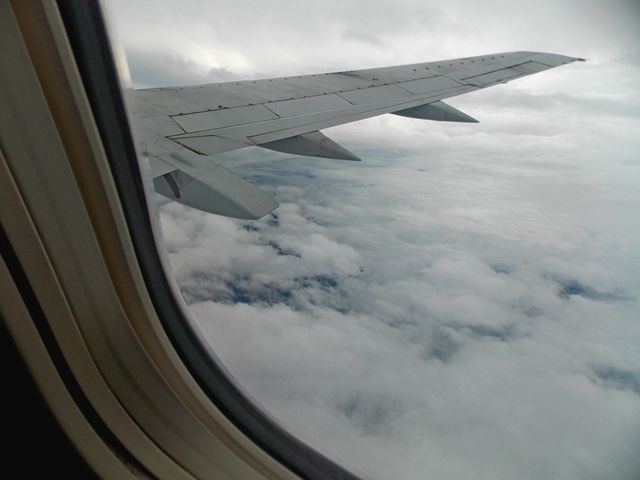 Enjoying(?) the flight. One lady on the flight asked us if we "raced" BMW's. I got a real kick out of that, since my racing days are long behind me.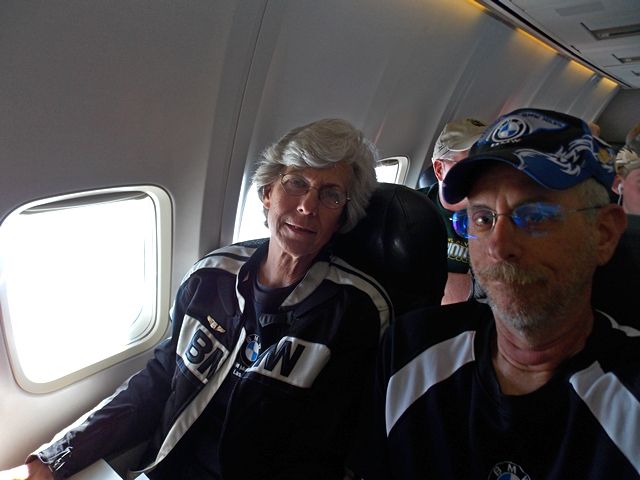 Donna managed to get a picture of Metlakatla from the air as we flew over it on our way to land in Ketchikan.
Nice view of Alaska from the air.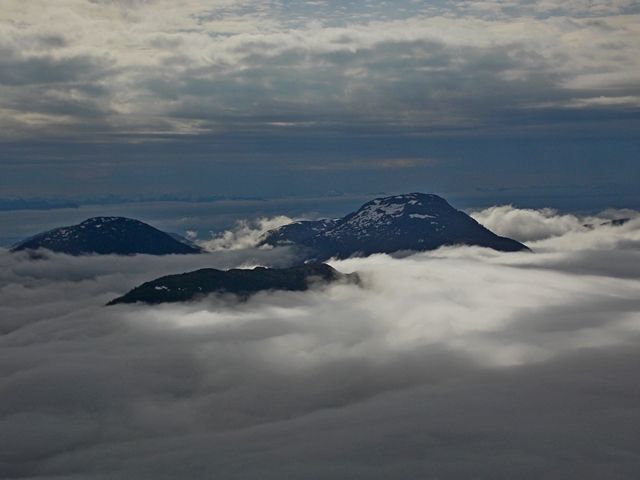 My sisters Eileen and Karen picked us up at the airport, then an hour and a half ferry ride to Metlakatla. My sister Eileen had flown up earlier from Vegas and had been visiting Karen for about a week before we arrived. Riding the ferry.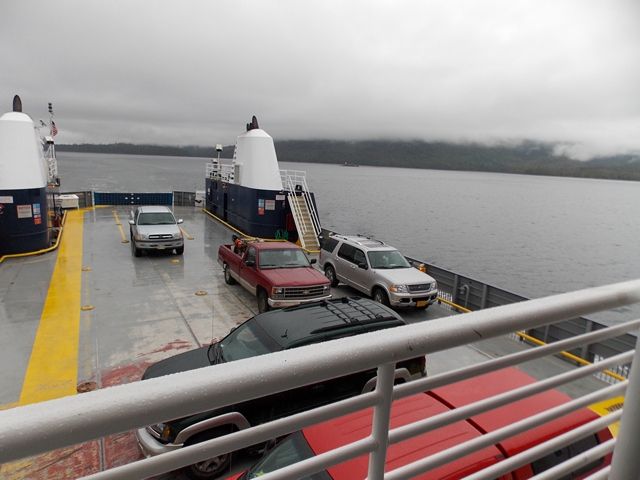 What a long day, I had to do two of my least favorite things, planes and boats over deep water, but after several years of trying, we were finally in Alaska visiting my sister Karen!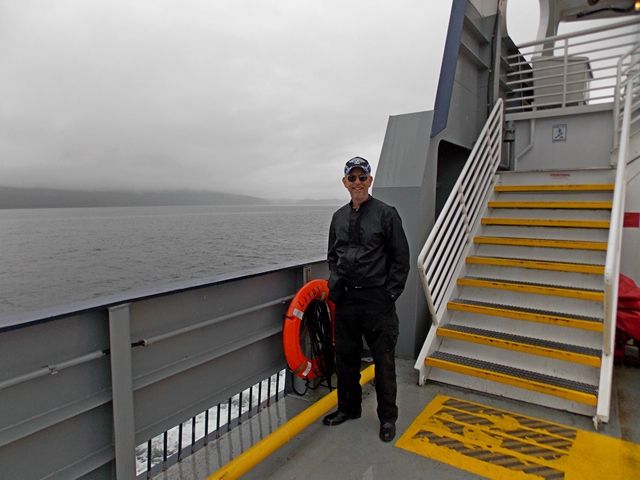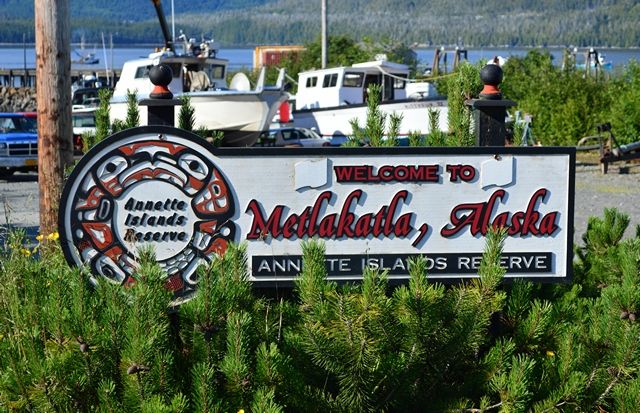 We had dinner that evening at the Tuck-Em Inn.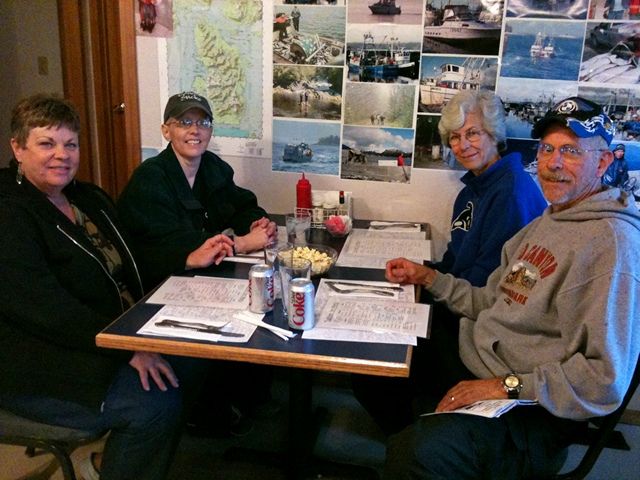 The next morning Karen took us around the island. We saw many bald eagles and enjoyed the view of the bay.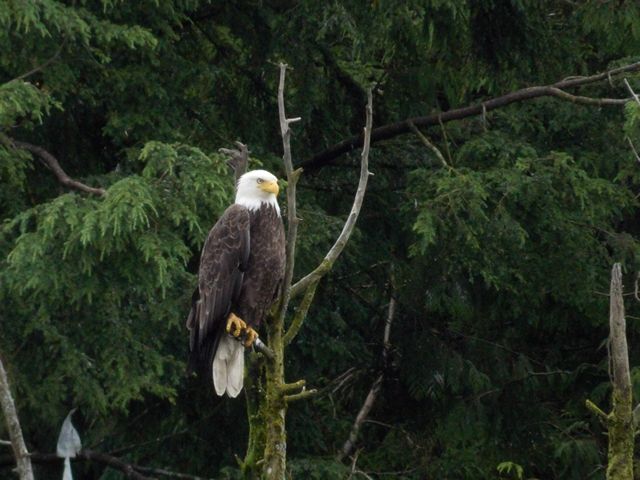 A float plane was taking off around the fishing boats.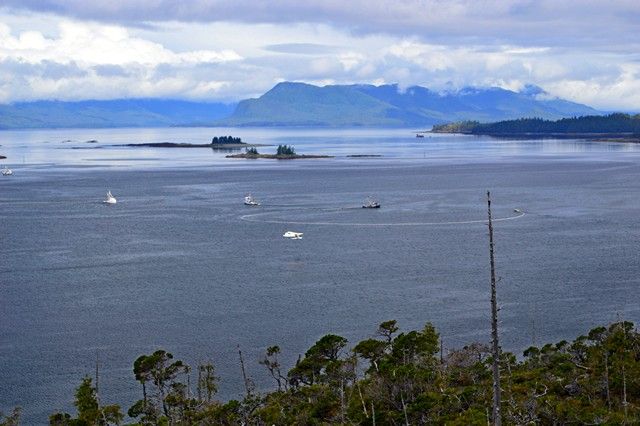 Me, Donna, Karen & Eileen enjoying the day.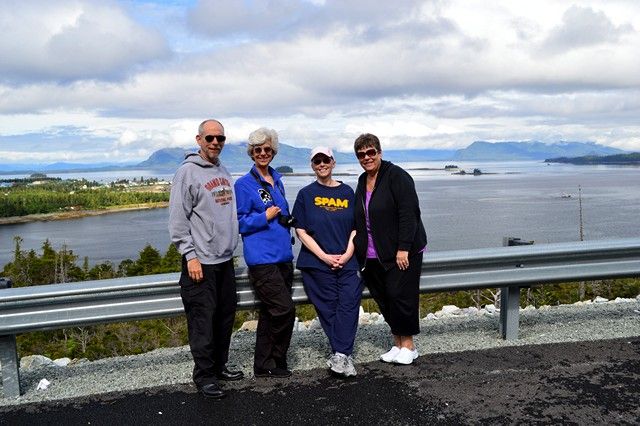 That evening, one of Karen's co-worker's had us into their home for the best deep fried halibut I have ever eaten. Donna, Karen, me, Bruce Guthrie, his wife Deanna, and Eileen. Deanna cooked the fish, Thank you Deanna!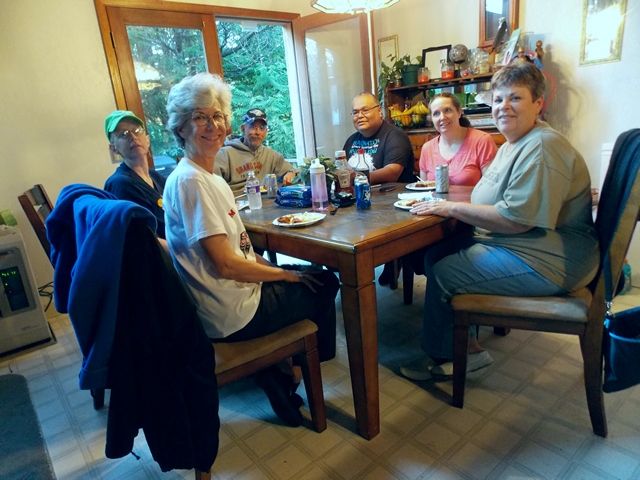 The next morning we took the ferry back to Ketchikan, to get on our flight.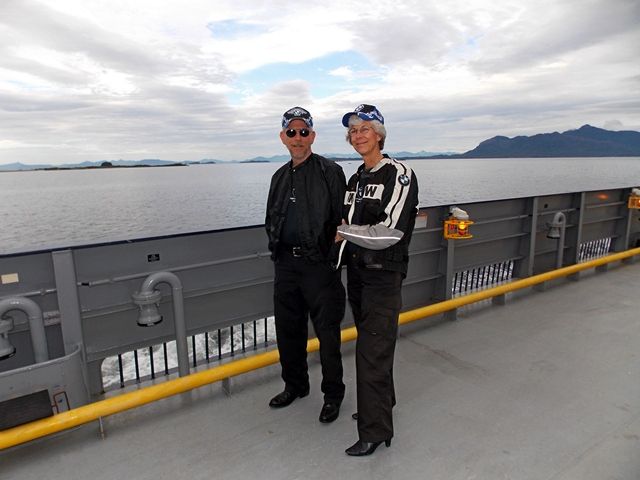 Then, before we had to leave, Karen & Eileen took us to the Totem Bight State Historical Park, and we walked the tour of totem poles that had been restored from Native villages in Alaska.
Donna coming out of a clan house.
A link to the Park, explaining a clan house: http://dnr.alaska.gov/parks/units/totembgh.htm
A big "thank you" to my sister Karen for waiting patiently for us to make it up to "her" island for a visit. We really enjoyed this part of our trip.
Thanks again to Tom & Jo for sharing part of our trip, we can't wait to do it again!
End of Part 1, Part 2 coming shortly…thanks for coming along