Birthday Getaway May/June 2012
I had three more vacation days I had to use or lose, so I took my birthday weekend off for a great 5 day trip.
First though, a couple of items to cover.
I bought beadriders.com seat covers for both Donna & I in August of 2010 after our trip to Glacier National Park. These work great and have been a welcome addition to our touring accessories. On our way back from our Hungry Mother trip last month, my seat cover began to unravel and a few of the beads came off. I taped over the affected area so I wouldn't loose any more beads. I contacted the beadriders web site by email and explained the problem. Even though the seat covers had just gone over the warranty period, beadriders told me to ship them back and they would repair the cover for no charge. I got them back two days before this trip, fixed and ready to use. I have had many other riders ask about them and Donna & I always recommend them to other riders, now I will also be able to add the great customer service I received. Thank you beadriders.com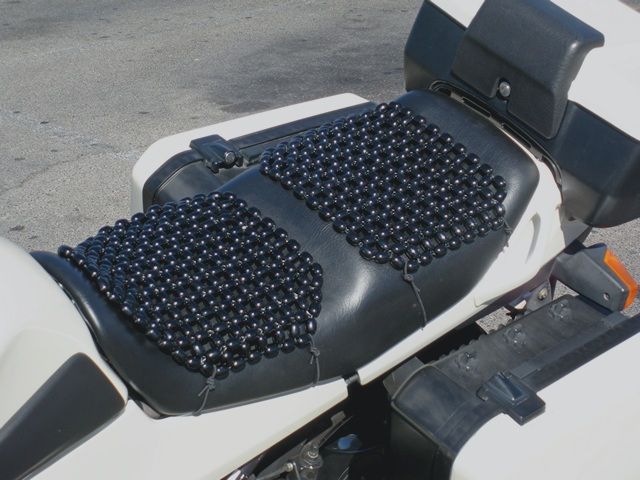 We also had new cameras for this trip. Donna's little Nikon Coolpix finally fell off the bike one too many times and quit working after almost five years. So I gave her an early birthday gift, a new Nikon Coolpix L810, 16 megapixel camera. Her pictures for this trip look great with this new camera.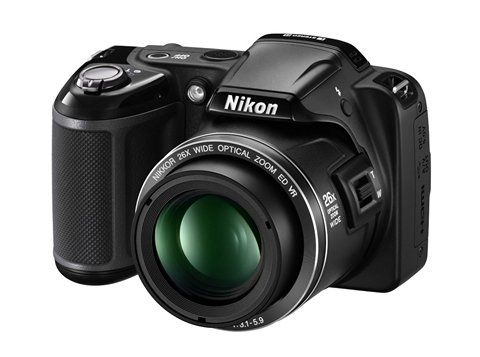 I bought a new Nikon D3200, 24 megapixel camera. I will be adding a commercial photo page, and wanted to upgrade. I will be trying to market & sell my pictures in the near future. This ride report will have some of my work, as some samples of what I will be making available for sale. Nikon cameras have been my choice for photography for over 34 years.
We also tried out an intercom system on this trip.
I had been looking at them for awhile, but the price kept me from getting one. I just wanted a driver to rider system, didn't want to pay for all the extra stuff, like connecting to a phone, GPS, or MP3 player. A co-worker had one he was no longer using, so he gave it to us to try on this trip. It worked really well, although the unit kept slipping off my helmet. The price is right, so I will be buying it from him. With a few modifications, it will be another accessory to make touring more enjoyable.
OK, away we go.
The route:
We left Las Vegas around 9am. A perfect day! Only one small glitch, my Garmin quit working – this model just doesn't work well on motorcycles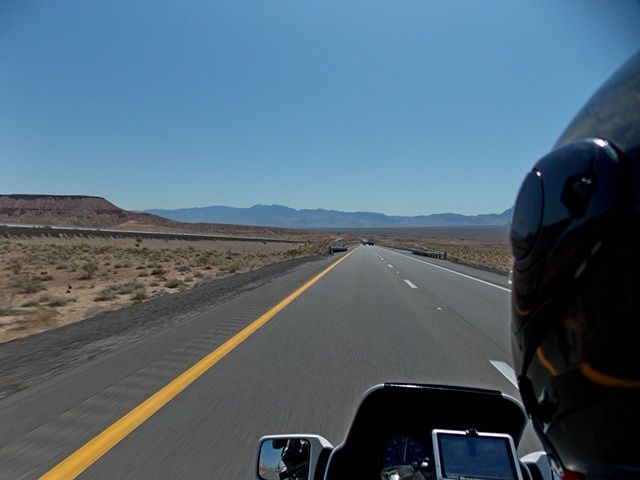 Through the Virgin River Gorge.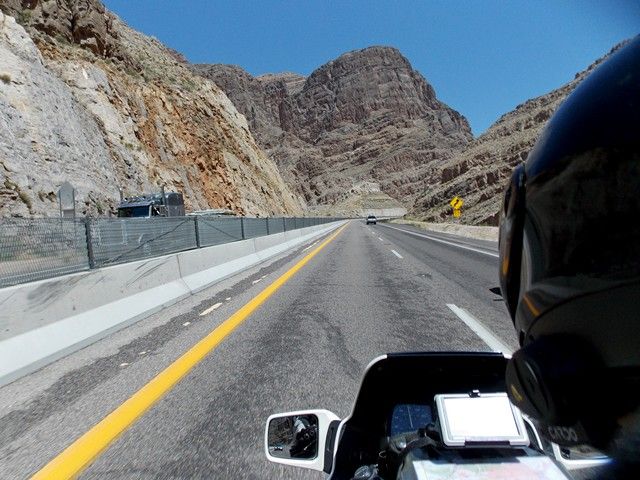 Our first stop was in St. George, UT. One of our favorites, a Crackerbarrel restaurant for breakfast. Love those rocking chairs!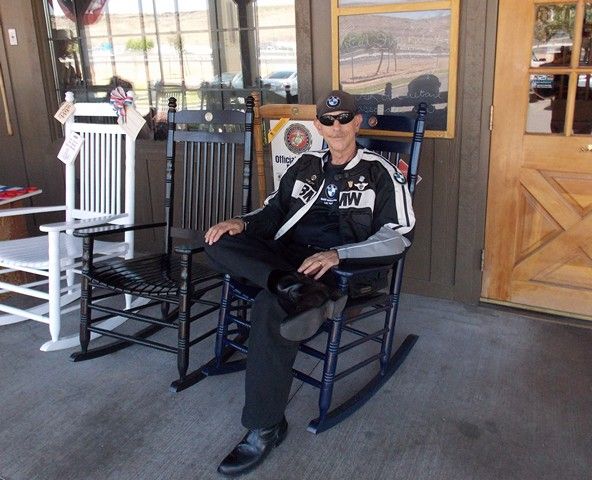 On Hwy 59 in Utah, a short wait (less than ten minutes) for some construction. This was the only construction we ran into on this trip.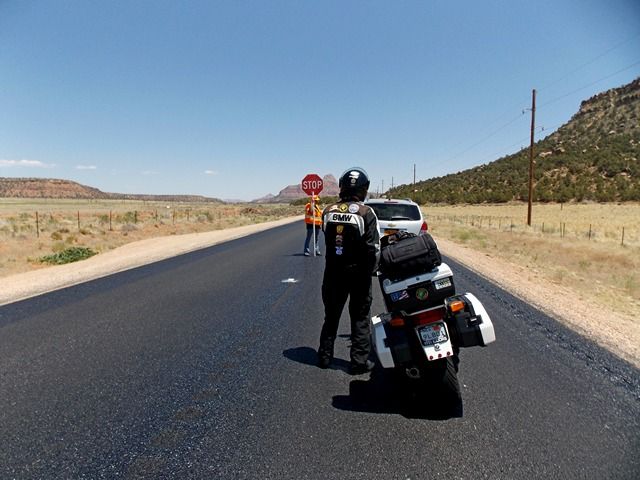 Hwy 389 in Arizona, near Pipe Springs, had the road all to ourselves.
Going up on Hwy 89A towards Jacob Lake, out of the desert and into the Kaibab National Forest.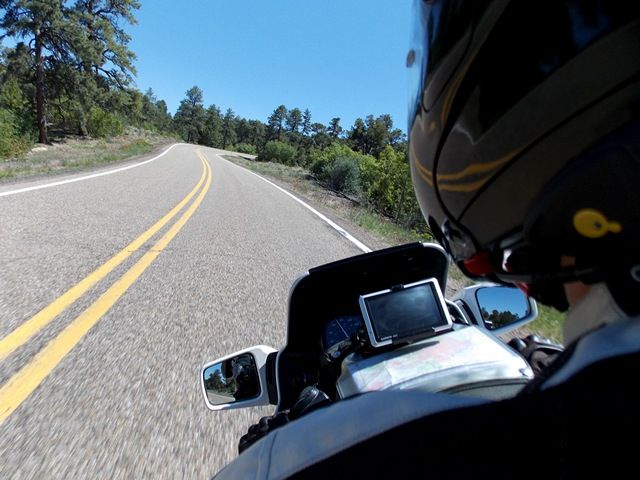 We stopped at Jacob Lake and took a short break, then back down into the desert.
As you come down the grade, you can see the highway stretch across the desert valley, nice red cliffs parallel the highway. Perfect ride for motorcycles.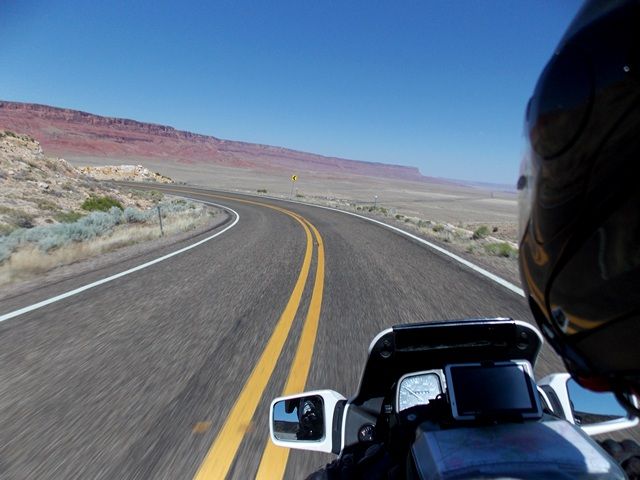 Across the desert, a long stretch. Not too hot yet in late May.
Nice scenery as you turn north towards Marble Canyon.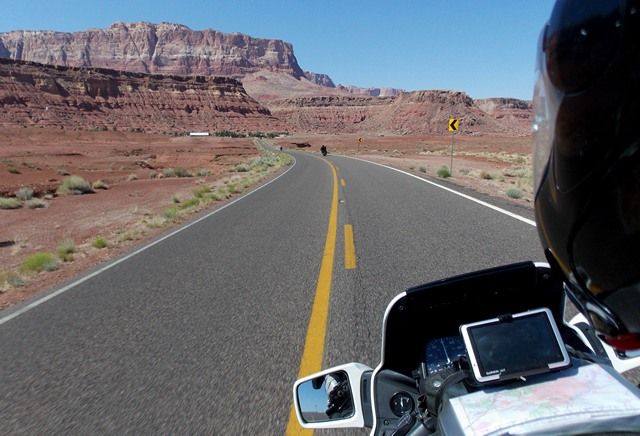 East side of the Vermilon Cliffs National Monument.
Almost to our first overnight stop in Page, AZ. Tons of rock blasted and hauled away to build this highway!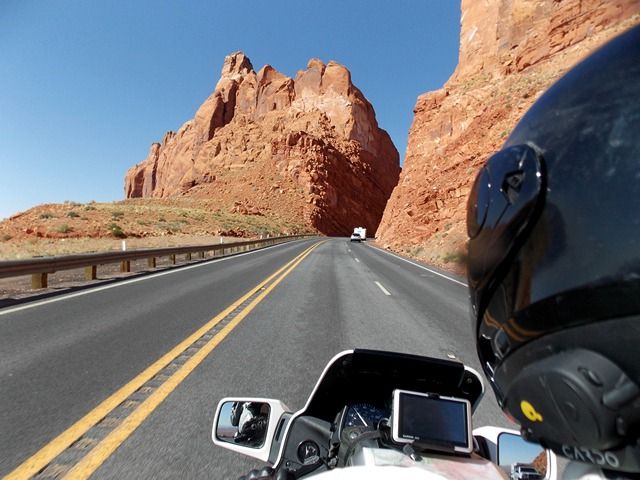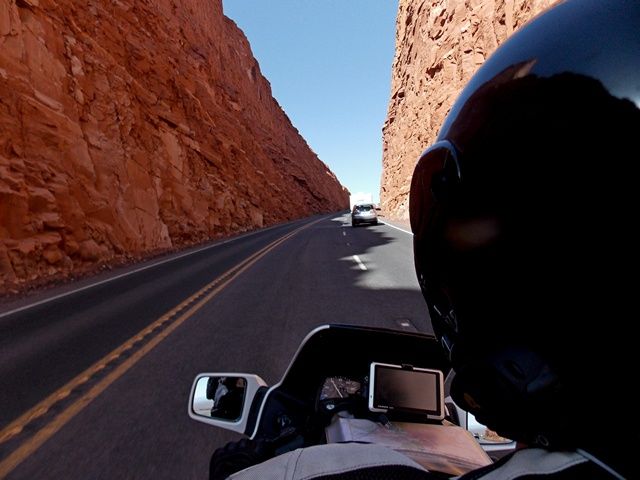 We checked into our motel, but it was too early to quit for the day, so we rode out to the Glen Canyon National Recreation Area. This is part of the National Park Service, so Donna used her National Park card to get us in. I did some photography, a good place to start using my new camera.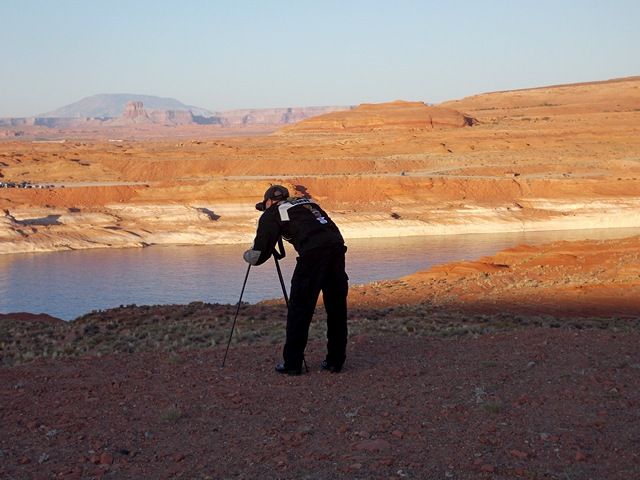 A good area to start, Lake Powell.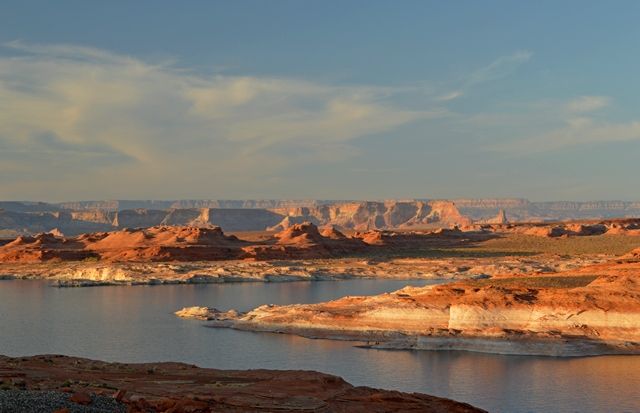 Biking and photography is hard work, we took a break and just enjoyed the late afternoon.
A good backdrop for our bike portrait.
We rode back into Page, and walked from our hotel to the Fiesta Mexican restaurant. This was our second time to eat at this restaurant, and the food was great. Perfect end for our first day.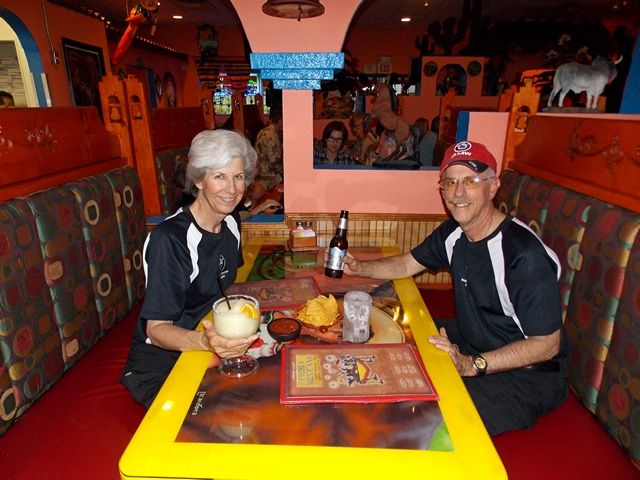 We were up early and on the road, on our way out to the Horseshoe Canyon. It is 4 miles south of Page on Hwy 89.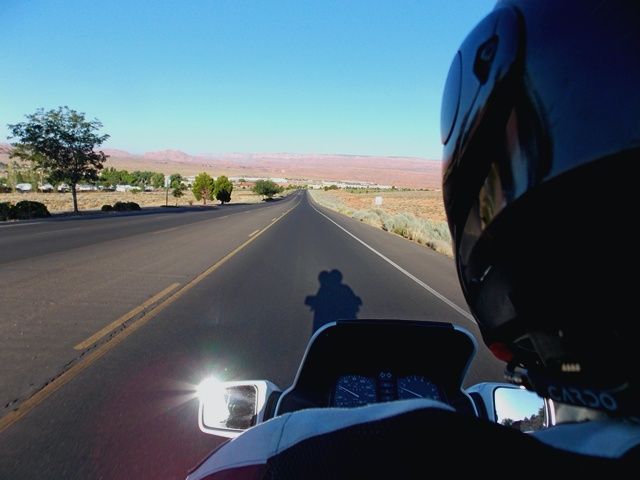 We wanted to get out to the canyon before it got too hot, it is about a 3/4 mile hike to view the canyon. Time for more photography.
Getting set up. You can walk right up to the edge, no safety barriers, it is an almost straight drop to the river below.
Donna's shadow while she takes a few of me.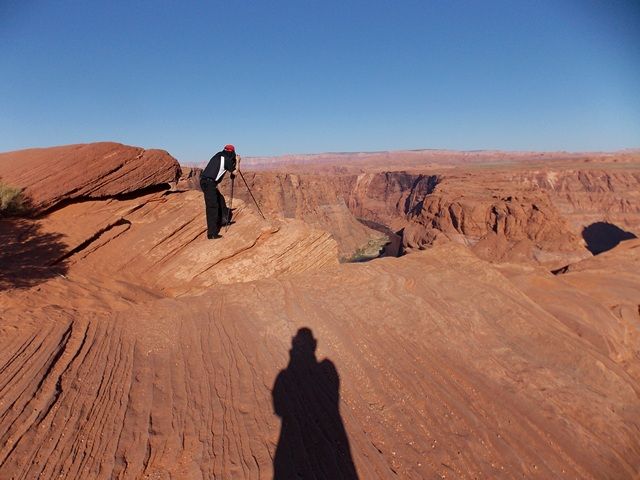 Donna also did a little wildlife photography.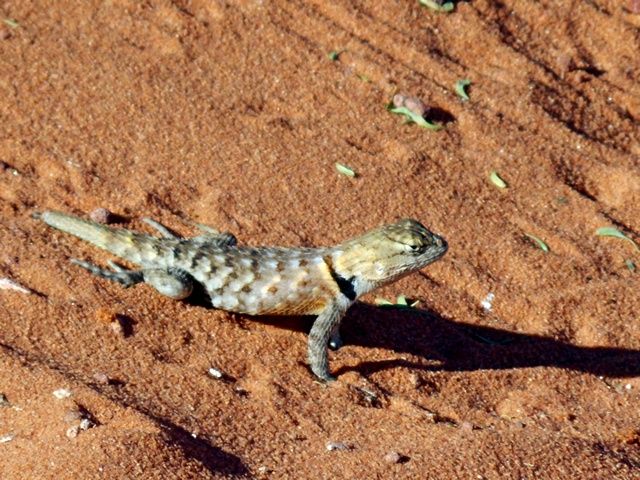 Horseshoe Canyon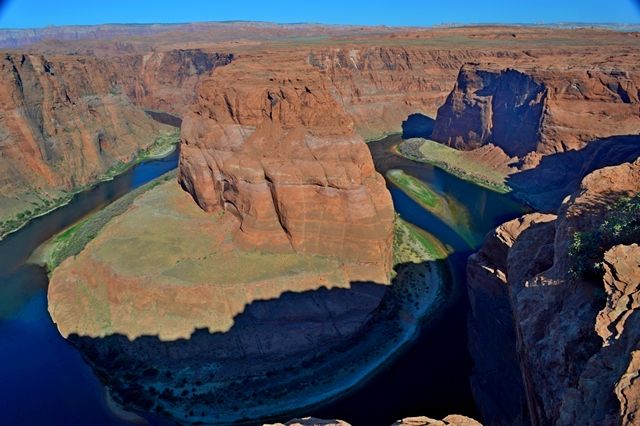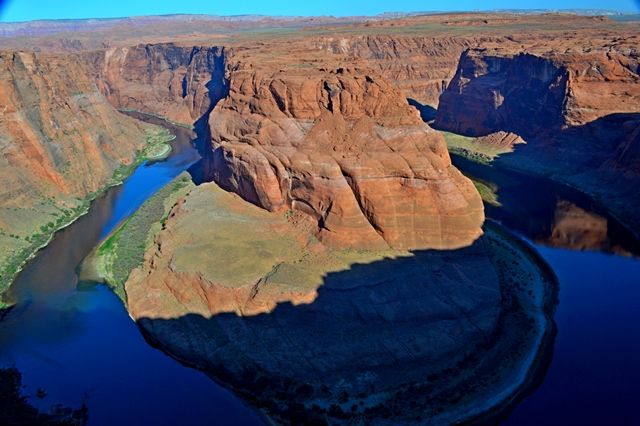 Just as we were getting ready to hike back out, a large group of Japanese tourists arrived.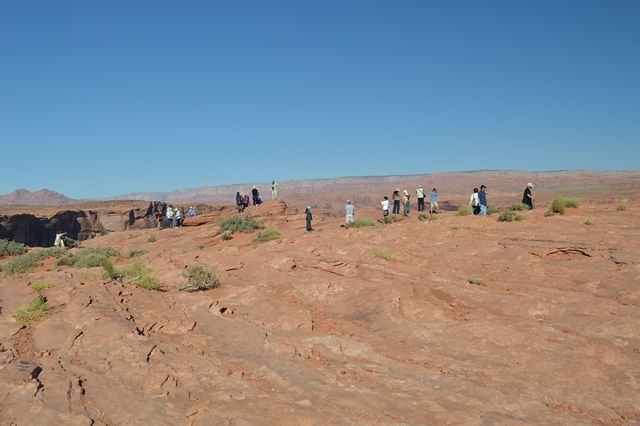 Donna (center) hikes back to the parking area. Only one little hill to hike up & down, about 20 minutes hiking each way. Glad we did this early, it was starting to warm up by the time we got back to the parking area.
Our little deck shoes weren't the best for hiking through red silt & sand. Donna empties out the sand.
We went back and checked out of our motel, then a very good breakfast at the Ranch House Grill. We had eaten there on our previous visit to Page.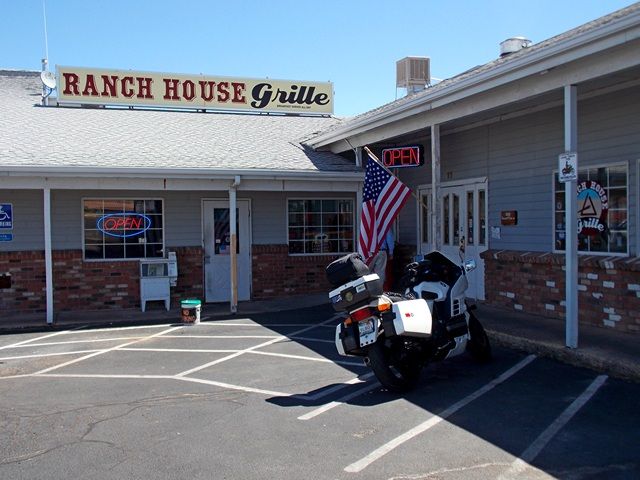 Our next destination was Monument Valley, had Hwy 98 almost all to ourselves.
Agathla Peak, at 6890 feet, is a big landmark, lets us know we are getting close to Kayenta, AZ.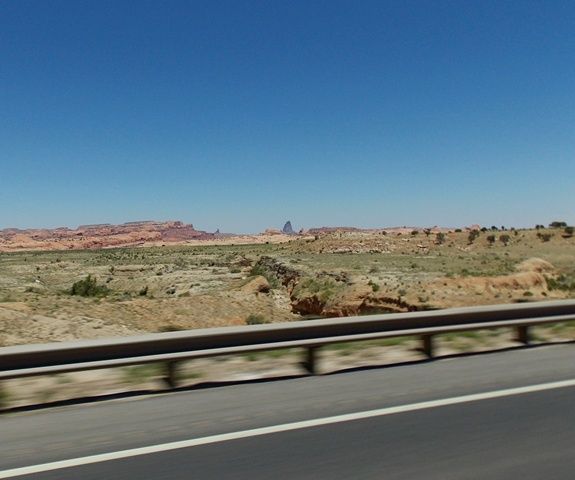 A closer look at Agathla peak from Hwy 163.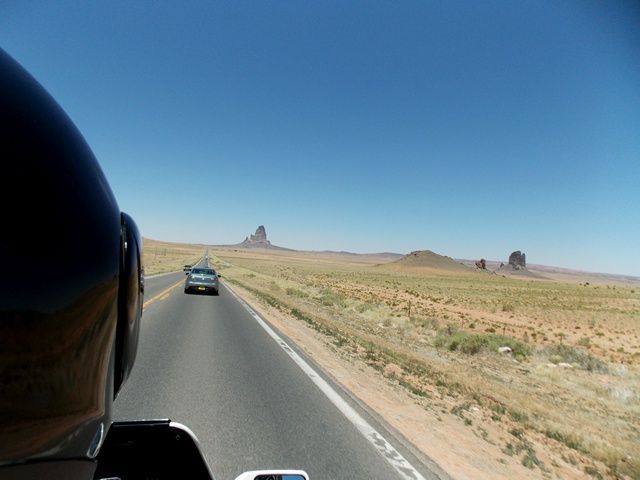 We stopped in Kayenta, gassed up and had a short break, then north on Hwy 163. Monument Valley comes into view.
The Navajo Nation has made some great improvements at Monument Valley. They had added a motel and a visitor center, we spent over an hour there, doing some photography and having lunch. There are no paved roads through the Valley, we did ride through when we had our car back in 2007. There are also guided tours with Navajo guides, but we didn't use them this trip. This is one of my favorite places to visit & photograph.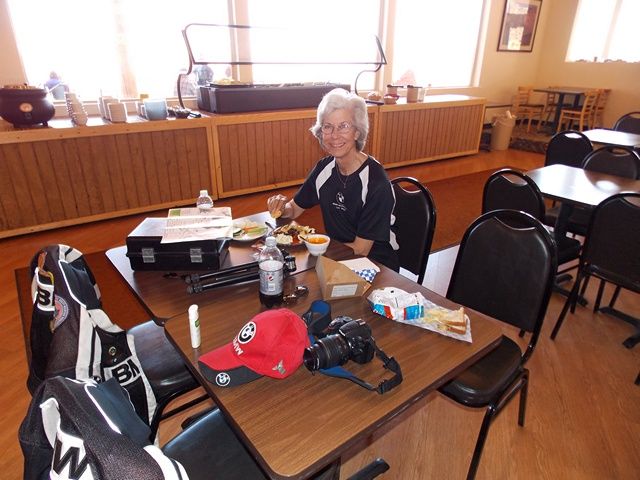 West Mitten & East Mitten Buttes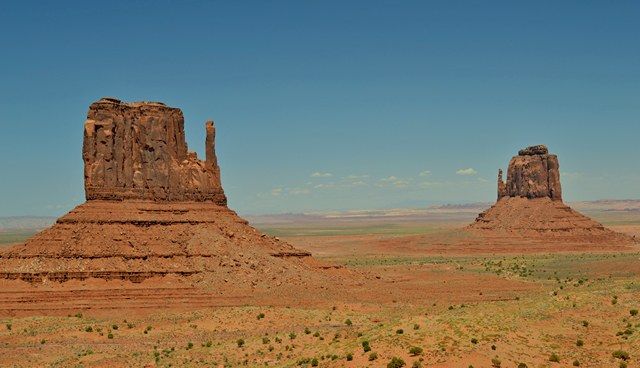 West Mitten Butte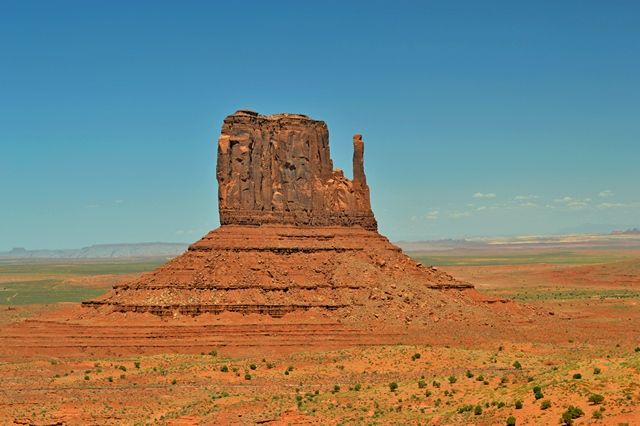 West, East & Merrick Buttes

We had to get the sign at the entrance (another addition made by the Navajo Nation), but I cut out some of the display. It was a little tricky getting the Beemer there, soft red silt & gravel. I hope the Nation paves this pull-off in the future.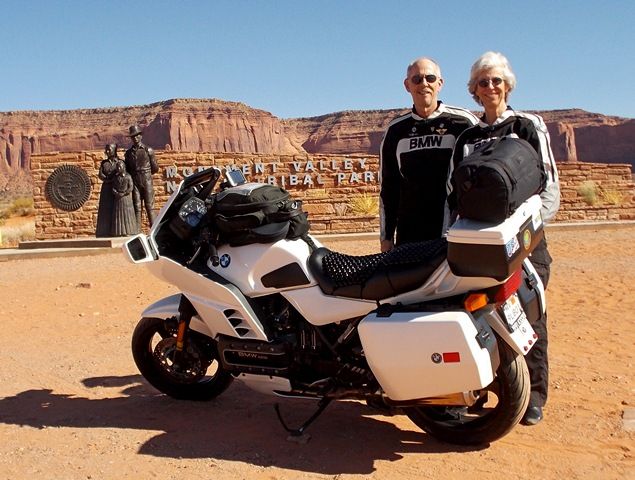 Not much traffic, so I had to get the "Forrest Gump" running scene area.
We stayed in Mexican Hat, UT. at the San Juan Trading Post & Motel. We had stayed there on previous trips, nice motel and cafe.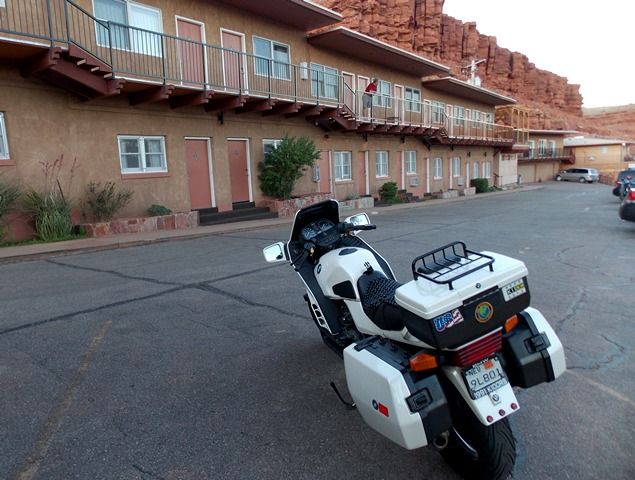 We had planned on eating dinner at the "Swinging Steakhouse", but decided to get our dinner to go from the cafe and eat at one of the tables set up outside near the San Juan river. Another great day of riding in beautiful country.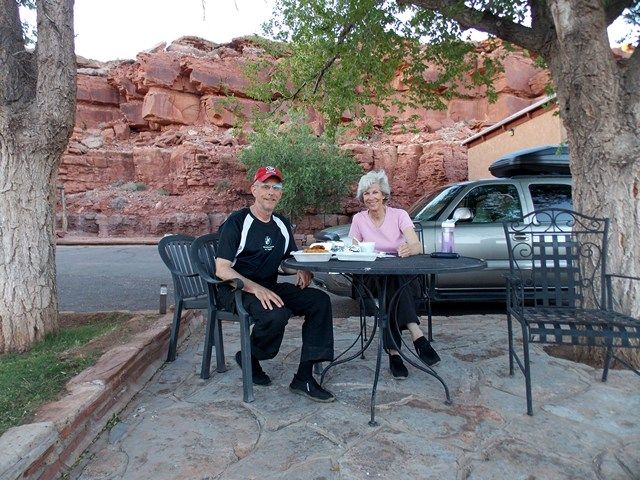 The river runs right in front of the motel.
Another perfect morning to ride, passing by the "Mexican Hat" rock formation.
A better closeup of the "Hat". I took this photo back in 2007, using my old Nikon FE2.
Our first stop of the day in Bluff, UT. I had some good banana bread & Donna had fruit yogurt.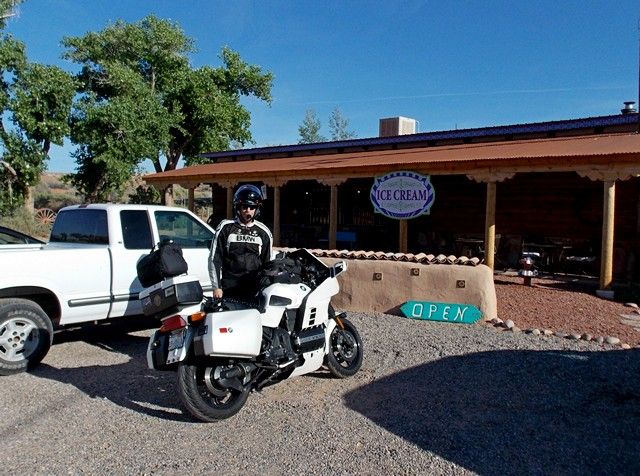 The manager at the San Juan Trading Post told us about a shorter route to Cortez, CO. So we followed her advice and took the Ismay Trading Post road near Aneth, UT. NOTE: Google maps doesn't have this road in its system, so it shows our route going down to Hwy 160.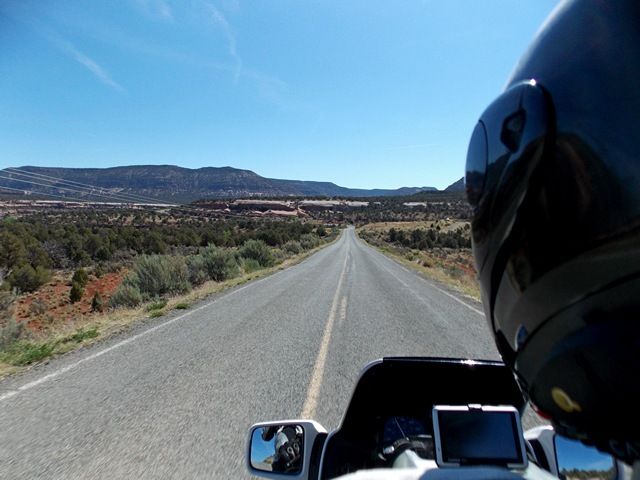 We then turned east on Road G, which was a fun little road passing some farm country in Colorado.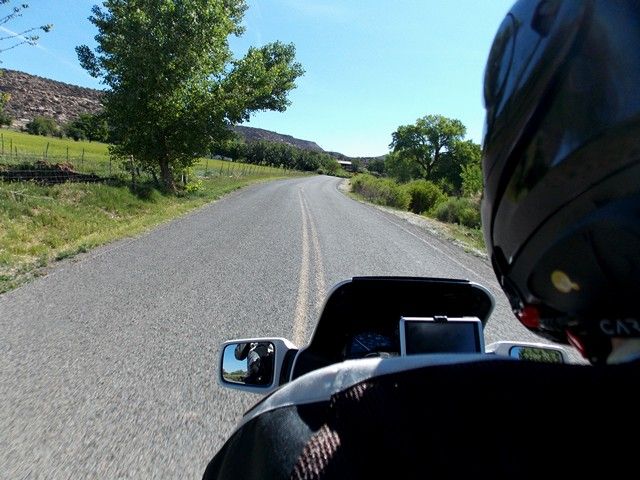 It took us into Cortez. We gassed up there and had some coffee.
We then took Hwy 145 north, climbing into mountain country.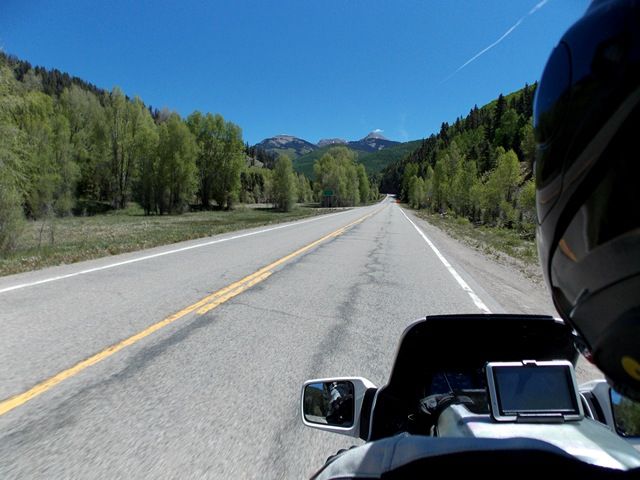 Our next stop was in the little town of Rico. Had a nice little lunch sitting outside at Herk's Cafe.
Wonderful view.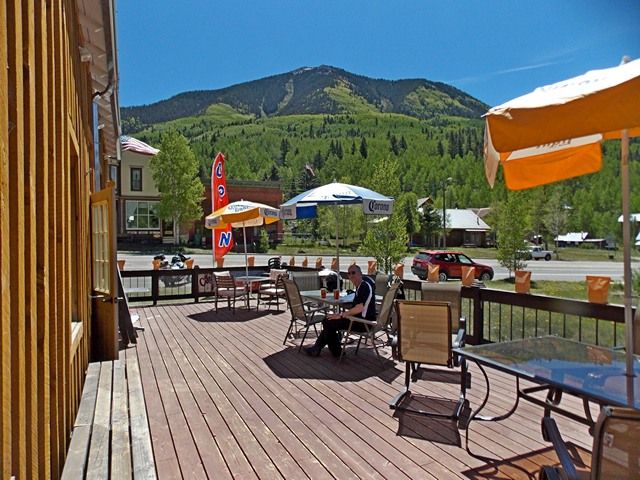 High mountains coming into view, we love riding in the high country!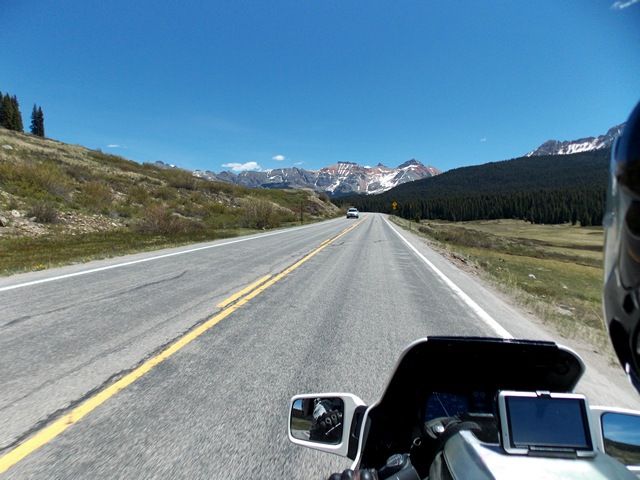 We stopped at an overlook area for these photos. This is the kind of photography I will have for sale.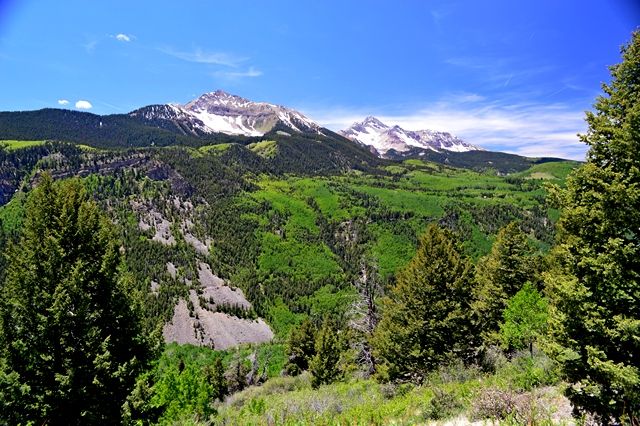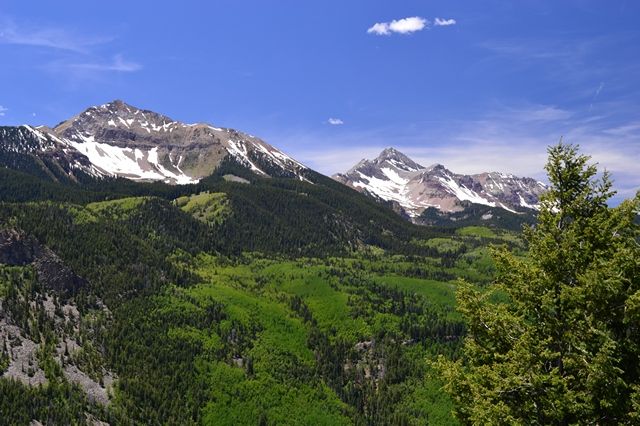 Following another bike into Telluride.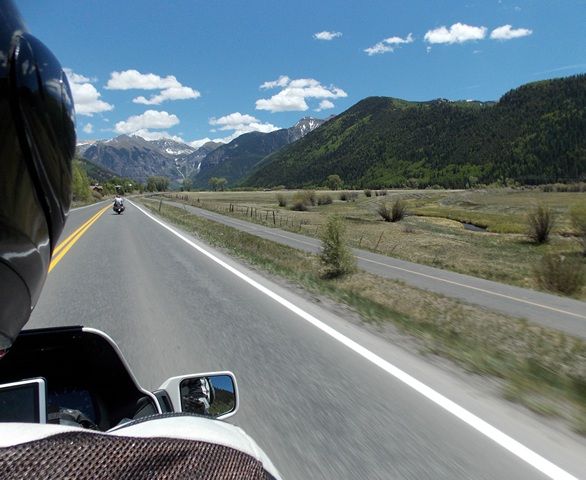 We didn't ride all the way into Telluride, but we did stop to capture this.

On Hwy 62 towards Ridgway, CO.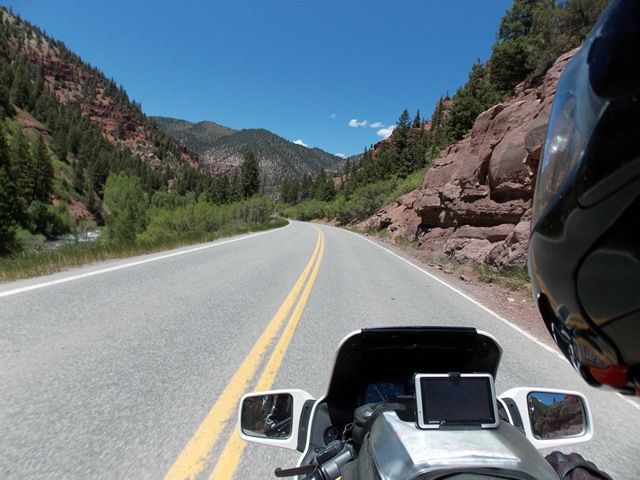 Coming into Ridgway, where we stopped and took a short break.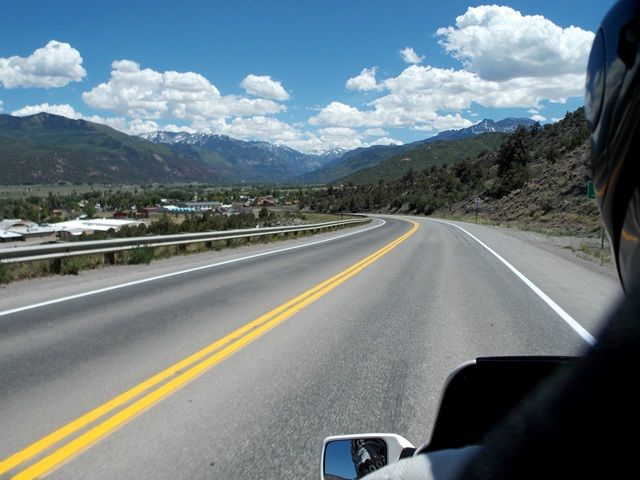 South on the San Juan Skyway, Hwy 550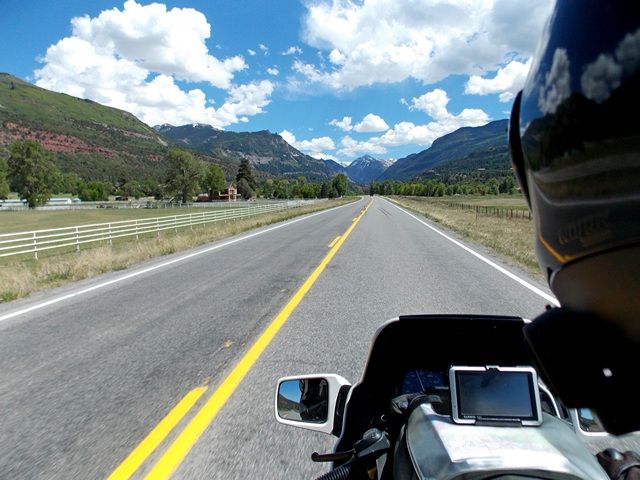 Passing through Ouray, CO.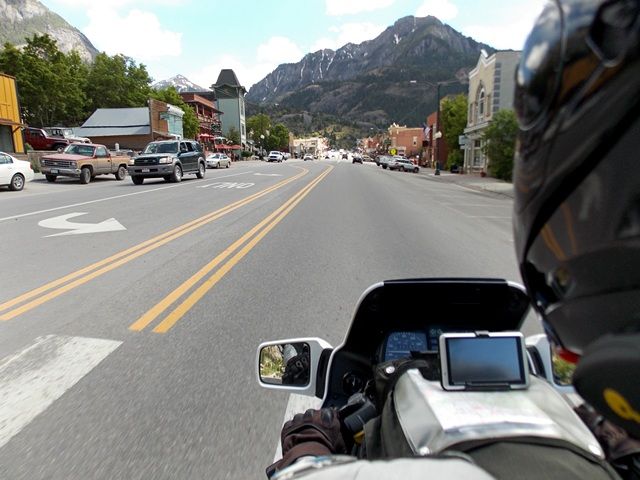 Just a beautiful ride.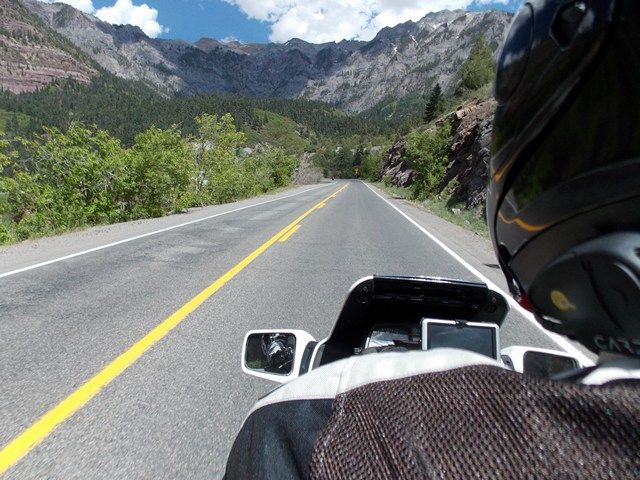 No guard rails, long way down.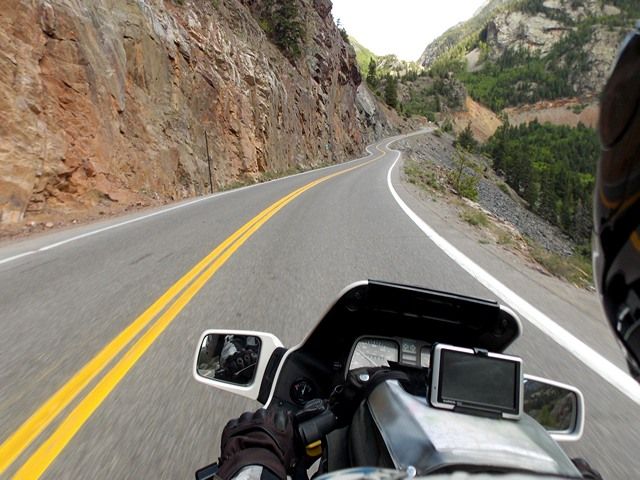 Looking back north.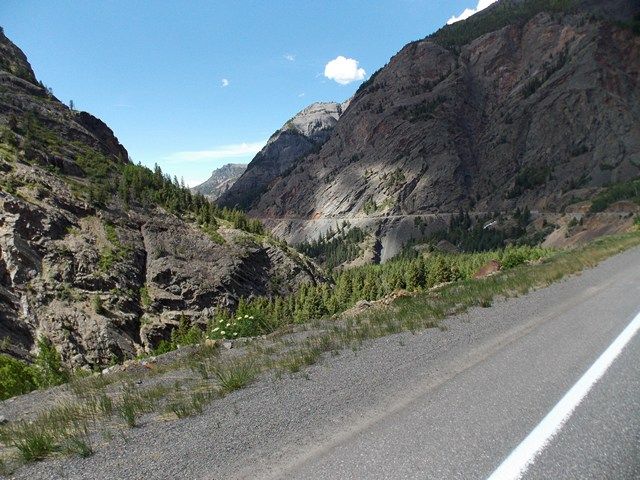 We stopped at one of the overlook parking areas, for a few pictures.
The San Juan Skyway, after every curve, or swithcback, another great view.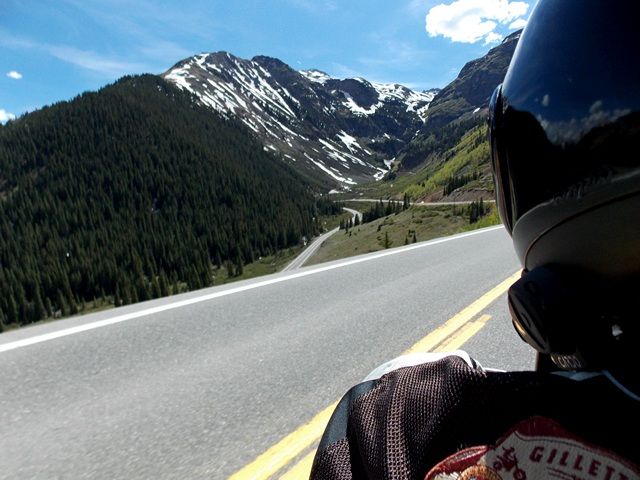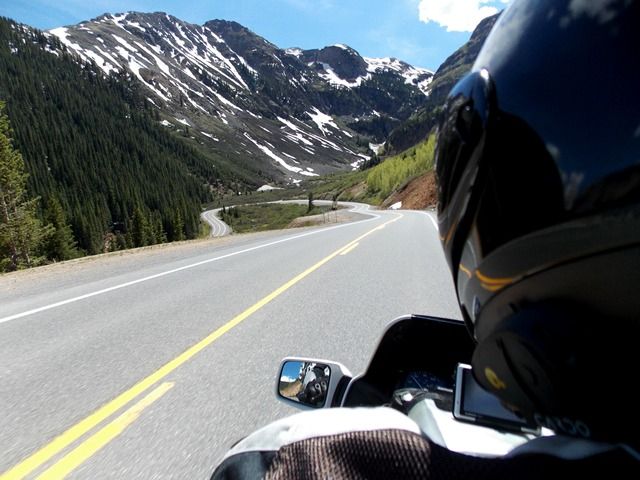 This was a great time to ride this highway, weather was perfect and not too much traffic. I'm sure after school is out and vacation season starts, this will be a very crowded ride.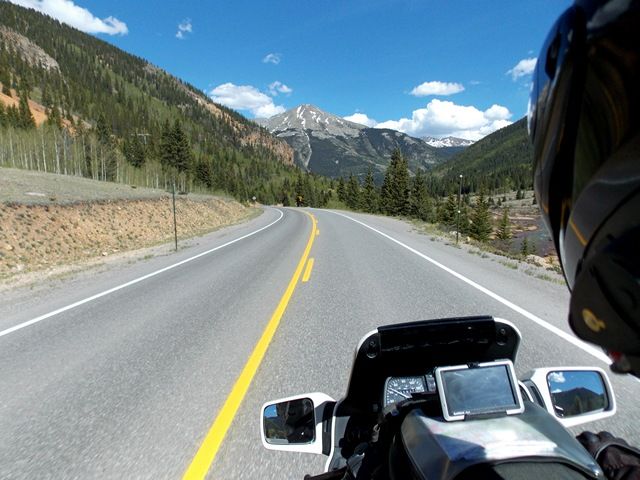 Approaching the Idarado Mining Co. pull-off.
We stopped at the pull-off and enjoyed the view. The yellow and orange rock are left over from the mine tailings.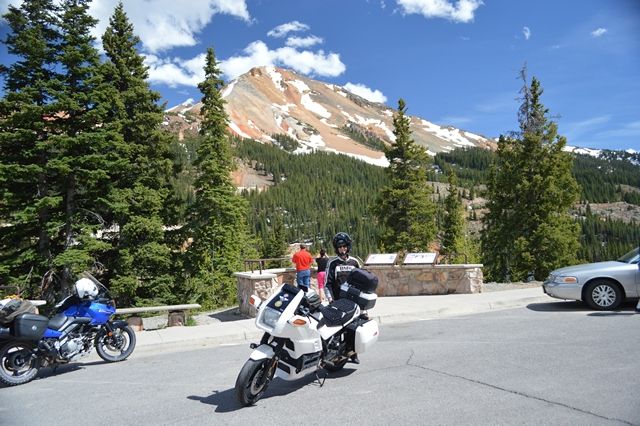 We are having fun now..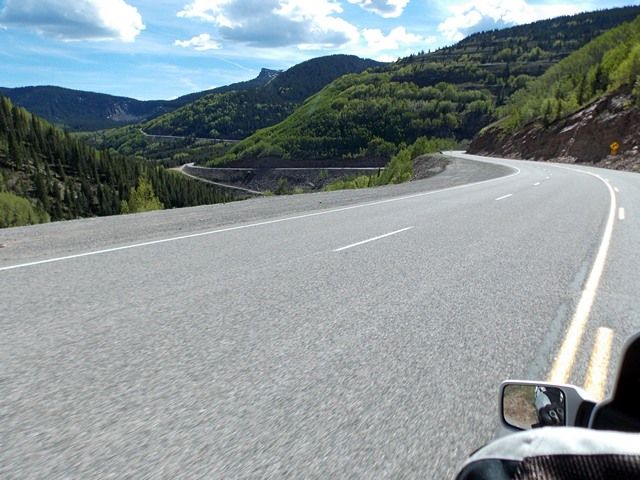 Some other views.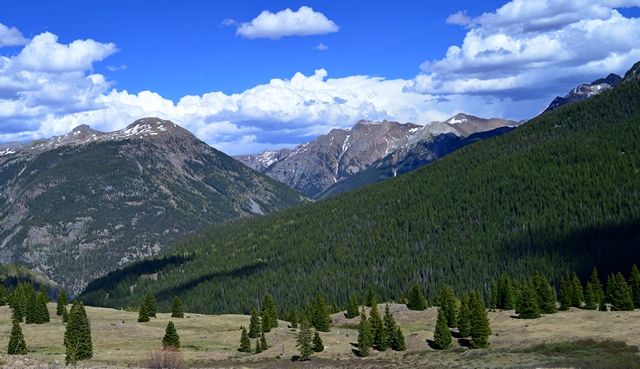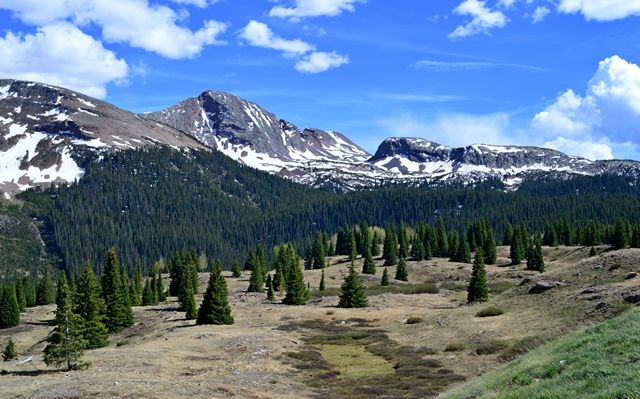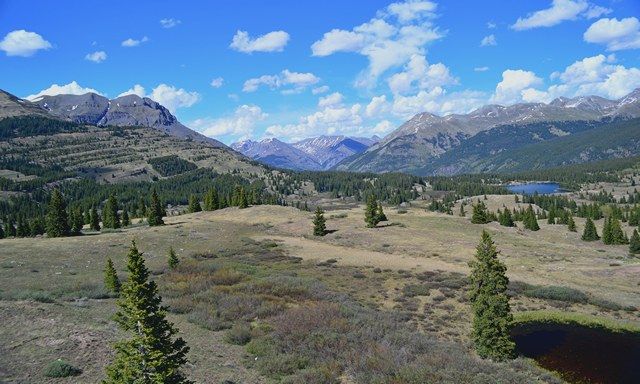 We stayed at the Iron Horse Inn (a huge motel) in Durango, rode a short distance from our motel and had a very good dinner at the Serious Texas Bar-B-Q.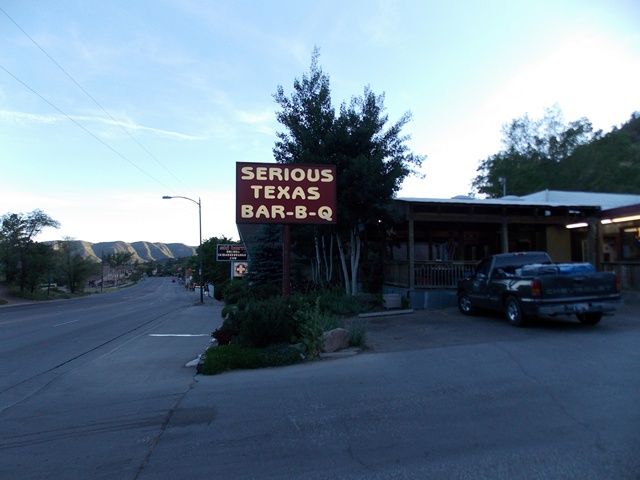 Enjoying my ribs at the outside dining area.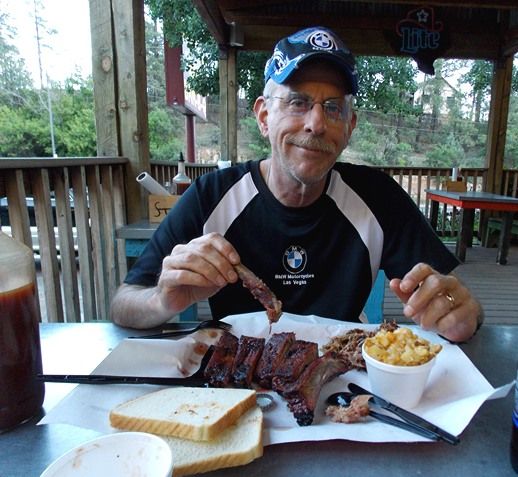 Early start heading back west on Hwy 160 towards Cortez.
We stopped in Cortez and had breakfast, lots of cars & pickups at this cafe, so we joined them and had a nice breakfast. Storm clouds went north.
Then back into the desert.
We had to stop at the Four Corners, the Navajo Nation has also made some nice improvements here. Added another refrigerator magnet to our collection. There was quite a line to take pictures.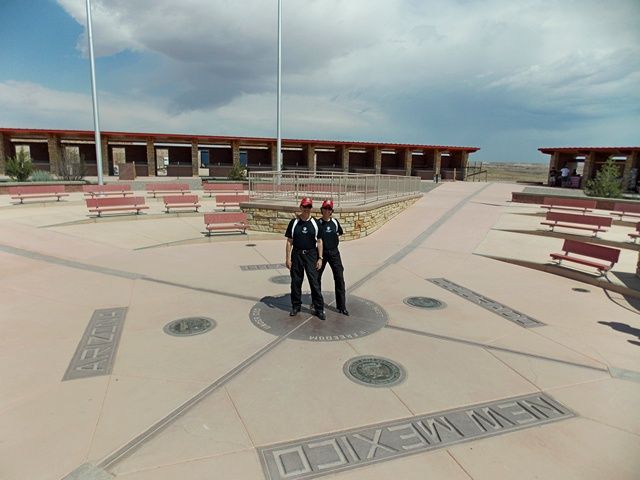 Lots of other bikers and tourists enjoying the weather, Four Corners was busy.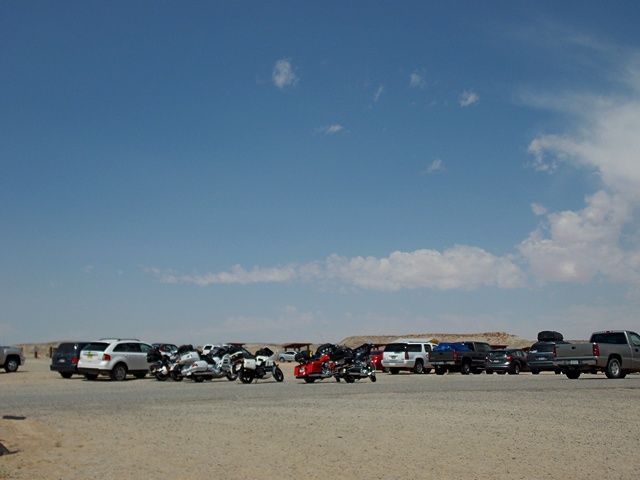 On Hwy 160 headed west, lots of wide open nothingness to enjoy.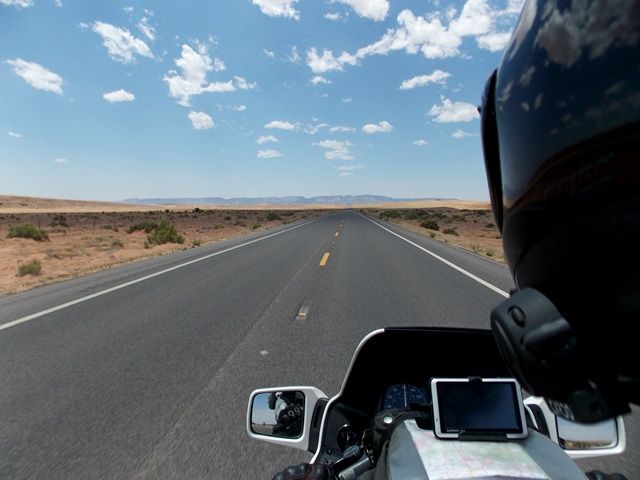 Agathla Peak from the east, getting close to Kayenta.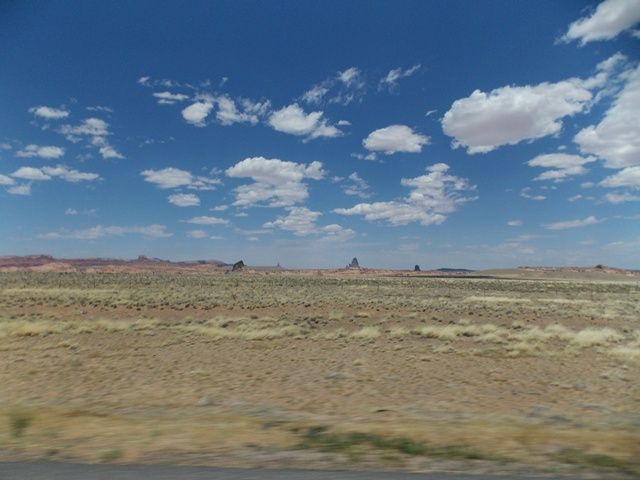 Time for a "boots off" break in the shade.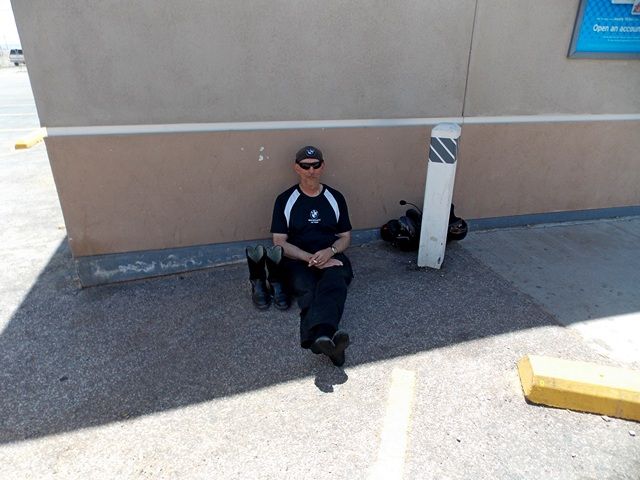 The wind really picked up as we approached Tuba City, strong winds stayed with us all the way to Flagstaff. South on Hwy 89, almost to Flagstaff.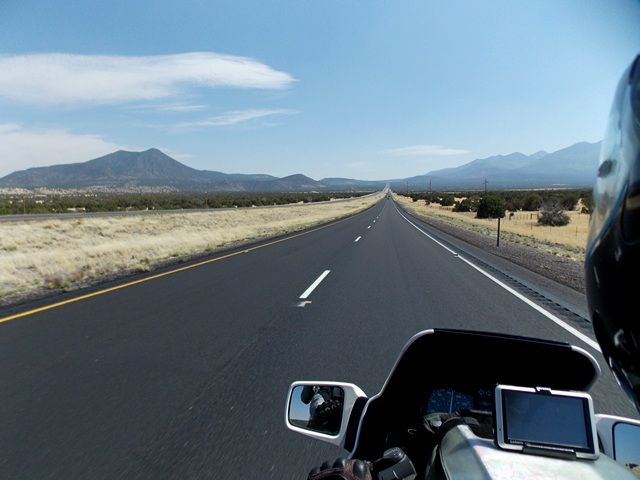 Our final stop in Williams, AZ. We had another great dinner at Rod's. If you find yourself in Williams, Rod's is a can't miss steakhouse, best onion rings on the planet!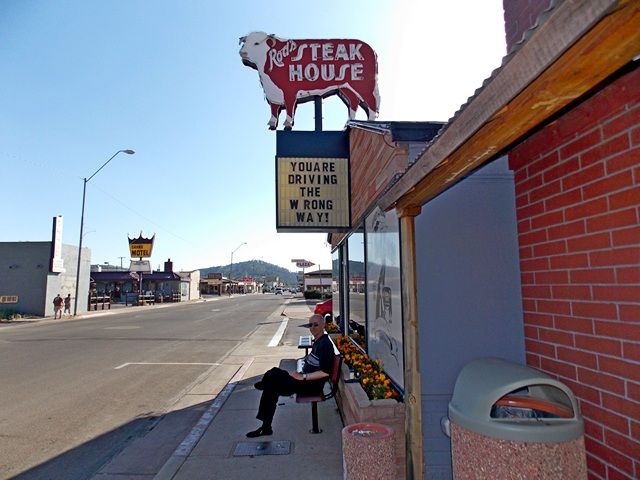 We thought about walking the town after dinner, but settled on the swing in front of our motel. Another great day!
Coffee at sunrise, just the way to start my birthday.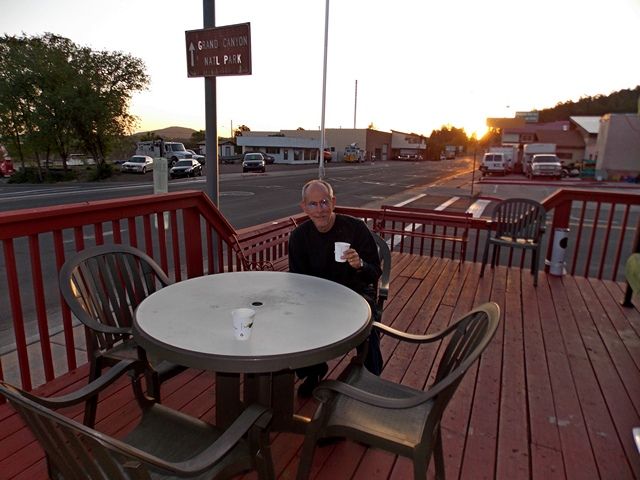 Then breakfast at Goldie's RT 66 cafe, they opened right after I took this pic.
Got another early start, perfect morning.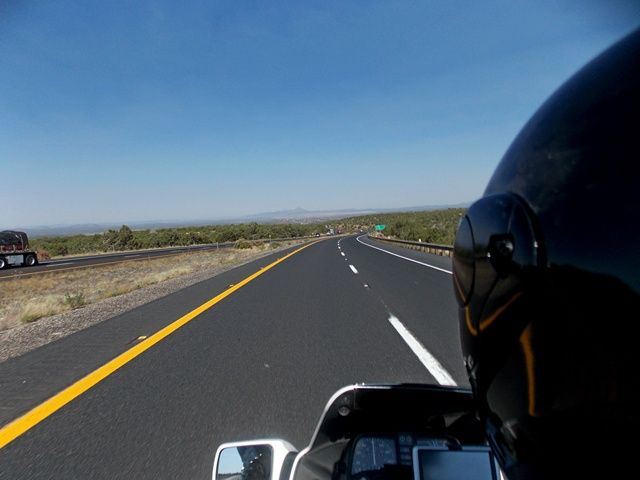 Hwy 93 north towards Vegas. A long 70 miles until the Hoover Dam.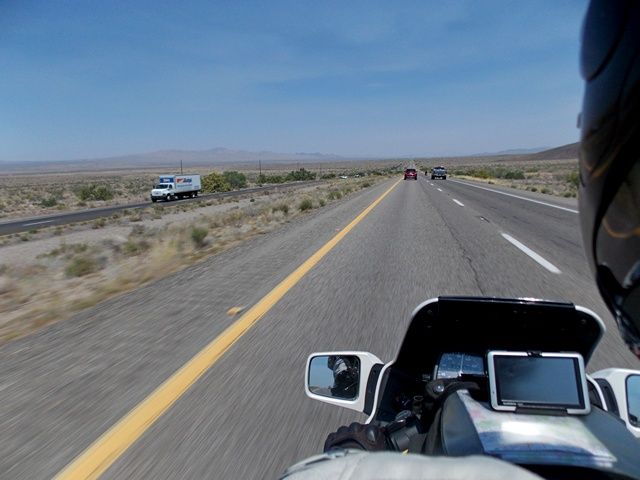 Getting close to the O'Callaghan – Tillman bridge.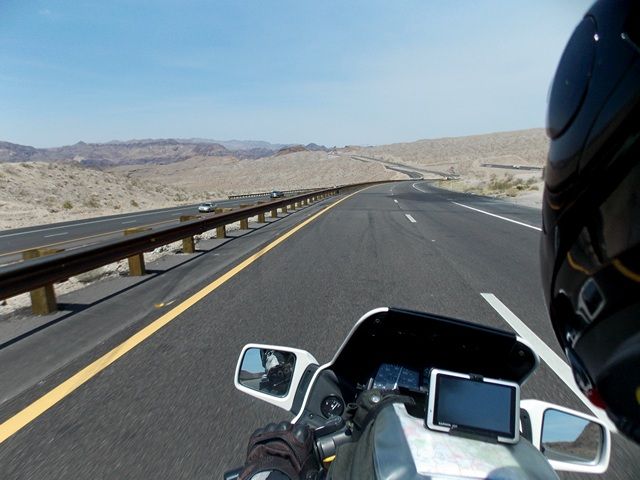 On the bridge, unless you know where it is, the only way to know you are on it, is seeing people walking on the north side of the bridge.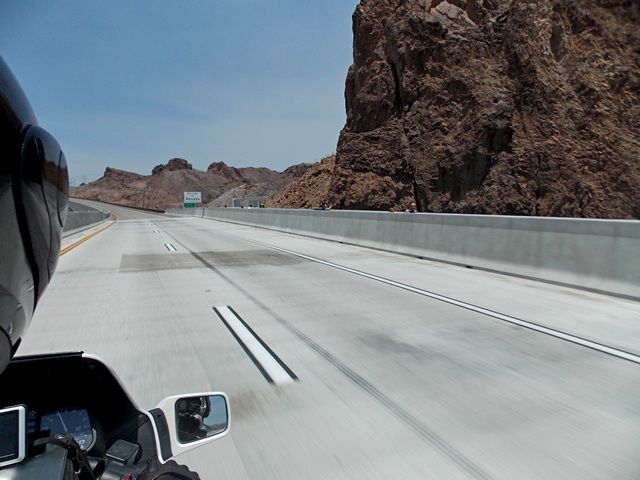 Las Vegas ahead, almost home.
A great way to spend my birthday!
Total miles for this trip – 1411
Total cost for gas – $119.49
Total gallons used – 28.88
Averaged 49 mpg
I hope to have my photography site available soon.