Hungry Mother State Park, VA. The Trip Home to Las Vegas
Day 12
Sunday morning came and it was time to head back to Las Vegas.
The route home.
It was very foggy Sunday morning, so we didn't get the early start we wanted, but waited until 7:30 am to hit the road. It was foggy for about the first 40 miles, then the sun burned through the fog and it was great riding weather.
Our first stop for the day was in Morristown, TN. We wanted to visit the boyhood home of Davy Crockett, unfortunately the house tour was closed. The tours only run Tuesday through Saturday. We walked around the house (which is a replica) , I was very disappointed that we couldn't get inside, so we settled for a few pictures of the outside, then found the "Davy Crockett Restaurant" and had breakfast.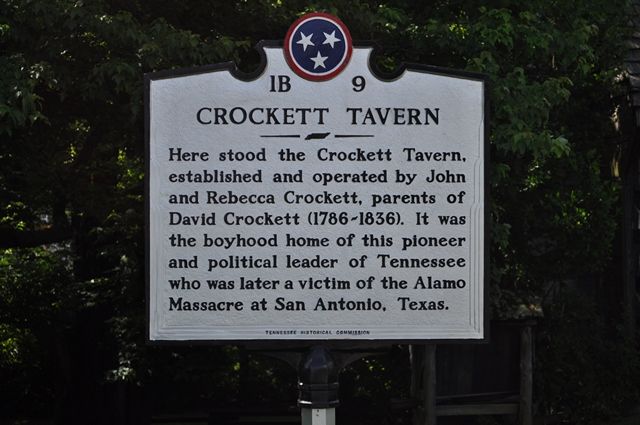 Riding through Knoxville.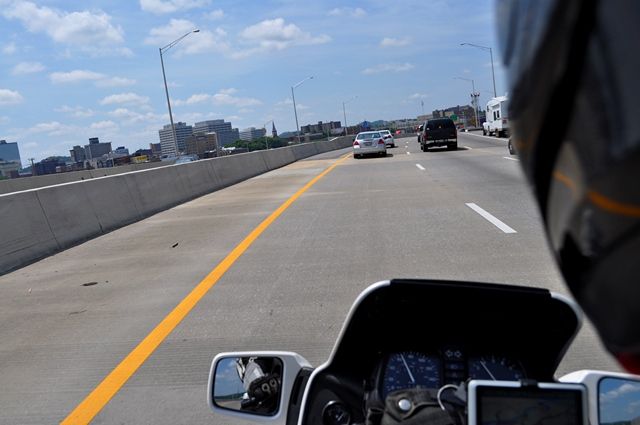 It was a very nice ride on I-40 across scenic Tennessee. Riding through Nashville, Donna tried to get a picture of the skyline, but ended up getting something quite different.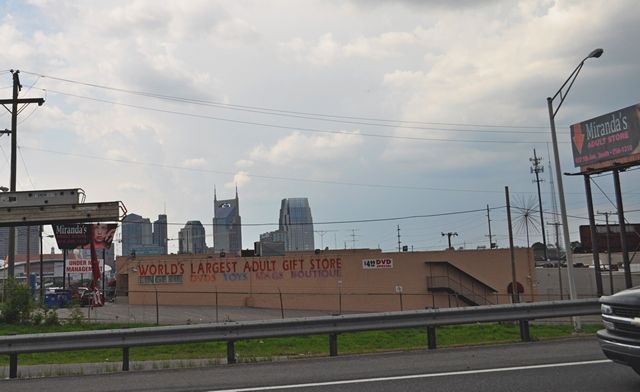 The weather was starting to get very dark, with ominous clouds as we rode through Nashville, so we decided to call it a day. We checked into our hotel, and using the Garmin, found a movie theater 5 miles away. We found the theater, bought our tickets for the Avengers and had a quick dinner at a Burger King next to the theater. Just as we parked at the movie parking lot a violent thunderstorm began. The lighting was directly over us, the thunder was instant and very loud. The rain came down in sheets, we got under the building's front overhang just in time. We enjoyed the movie, and after the final scene (be sure and sit through all the credits to get the last little scene) we walked outside to a wet parking lot, but no rain.
We only covered about 375 miles for the day.
Day 13 (Monday)
The skies had cleared and we had a nice sunny day to ride until we started to get close to Memphis.
It looked like rain again, but as we crossed over into Arkansas, it cleared up. We stayed dry and stopped for the night in Russellville. We had dinner at a Chinese buffet and called it a day.
Total miles for the day – 410
Day 14 (Tuesday)
It was still cloudy, but we didn't have any rain until we reached FT. Smith. It was a light drizzle, but the truck spray on the I-40 made it a little more challenging. We had a new rear tire put on at the WestMark Yamaha dealer, which took about an hour.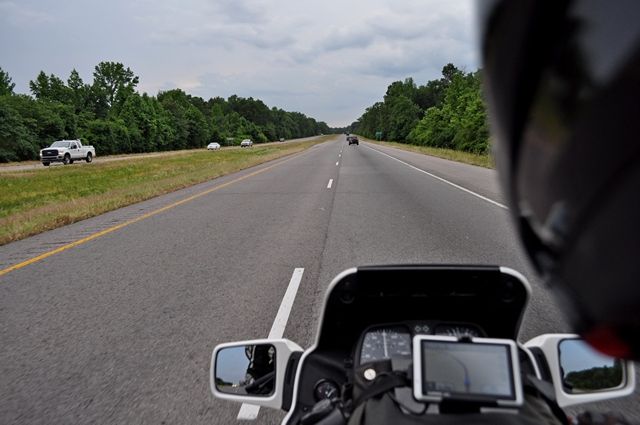 We stopped in Roland, OK. and had breakfast at the 4 Star Diner. It was another diner that served RT 66, and was still thriving, located near an Indian casino just off I – 40.
The weather cleared as we rode through Oklahoma City.
Oklahoma City.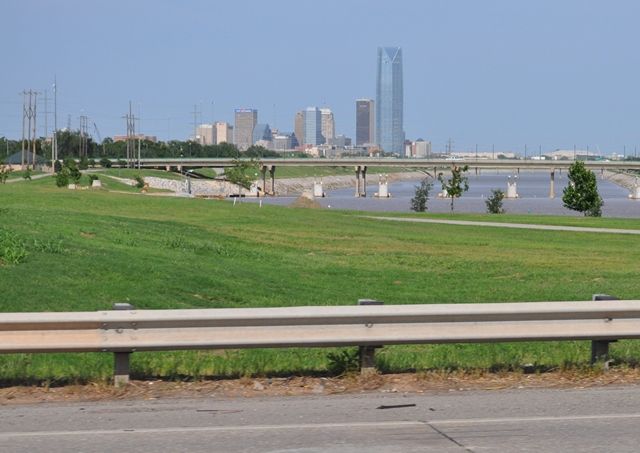 We enjoyed the rest of the ride and stopped for the day in Clinton, OK.
Our motel was right next to a Mexican restaurant, so we had another pretty good Mexican dinner.
Total miles for the day – 360
Day 15 (Wednesday)
The weather was perfect, we started early trying to make up for some of the lost time due to the weather and the tire change. Our first stop was for coffee at McLean, TX. While we were having coffee a local gentleman pulled up in his ranch pickup. He had on some very colorful cowboy work boots.
That's one of the things I love most about traveling across America, all the different cultures & ways of life this country offers. I'm sure he would have had some stories that were as colorful as his boots.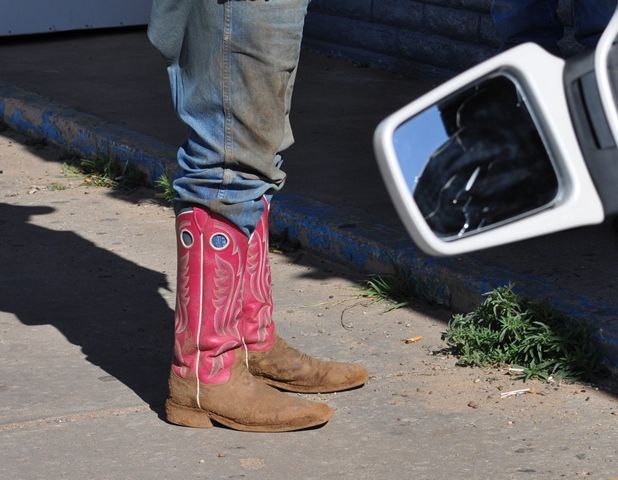 Just east of Amarillo, we sighted a familiar landmark, the leaning water tower.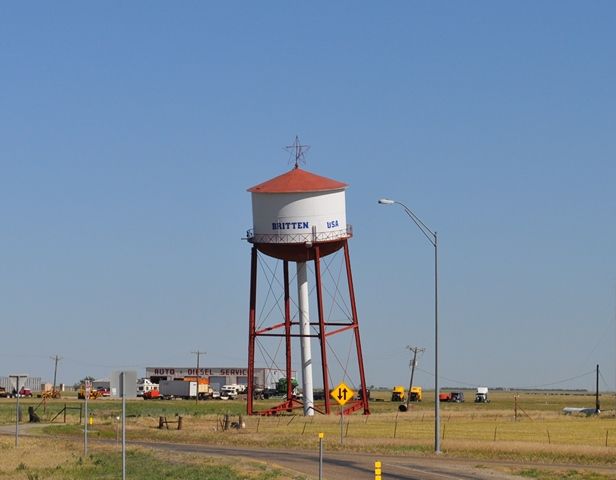 A link about the leaning water tower – www.roadsideamerica.com/tip/1266
Riding through Amarillo, we stopped and had breakfast at one of our favorites – a Crackerbarrel restaurant.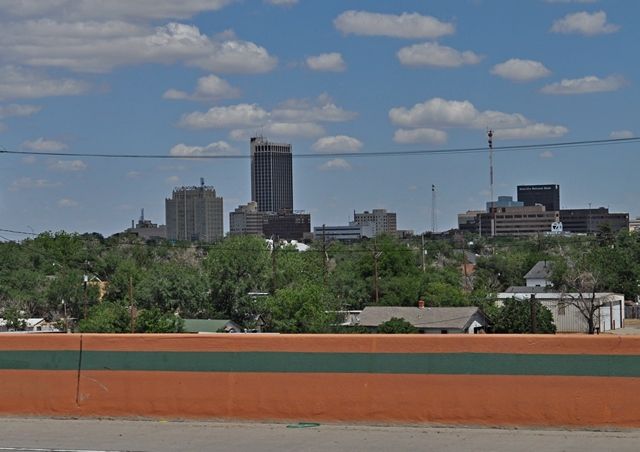 West of Amarillo, another famous west Texas landmark, the Cadillac Ranch on RT 66.
A link about the Cadillac Ranch – www.roadsideamerica.com/story/2220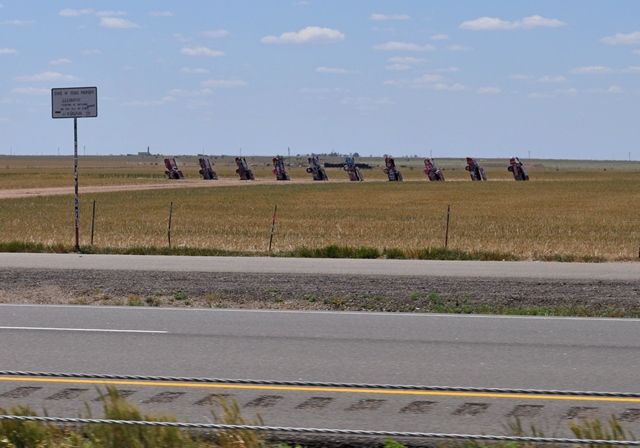 A beautiful day to ride across west Texas.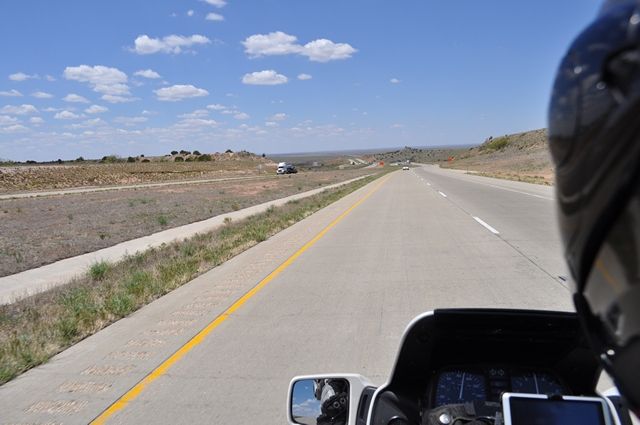 Into New Mexico, the scenery was a little better.
It was warming up, time for a cold drink stop at an old RT 66 gas station in Newkirk, NM.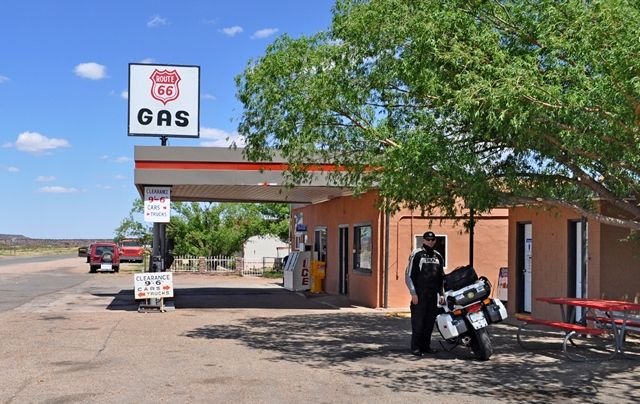 The wide open spaces of New Mexico.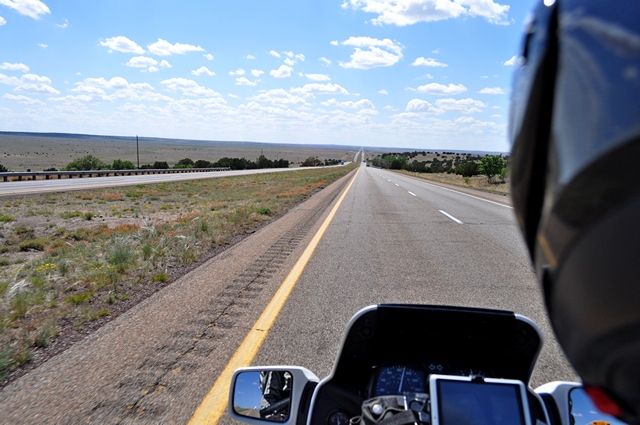 We missed most of the rush hour in Albuquerque, but another storm was getting close, however it stayed to the south of us.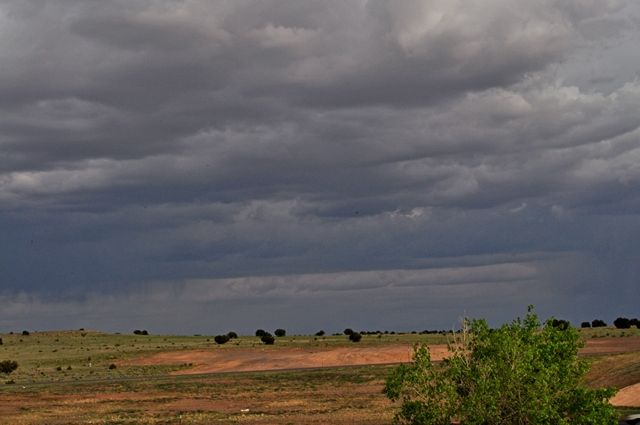 Almost to our final stop for the day, nearing Sky City Casino/Hotel.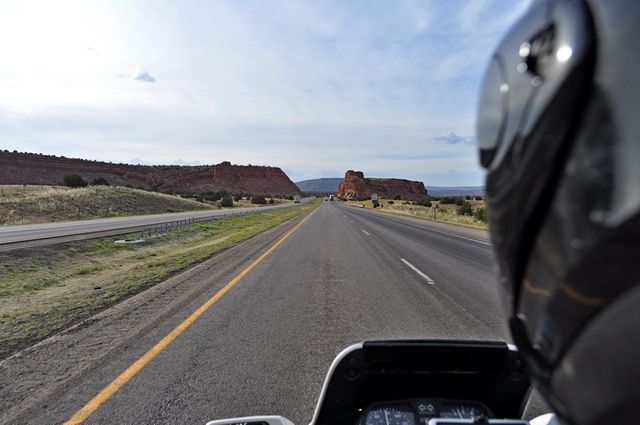 We had dinner at the casino buffet and crashed early. Total miles for the day – 520
Day 16 (Thursday)
We were up and ready to go early, looking forward to getting home by the end of the day. This truck pulled out of the lot ahead of us, he had a few things to say…
The weather again was perfect for riding.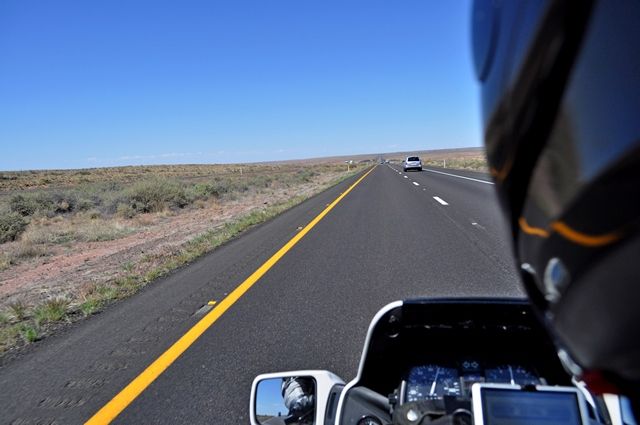 I was getting a little tired, so we stopped at this nice rest area in Arizona, where I caught about a 30 minute nap.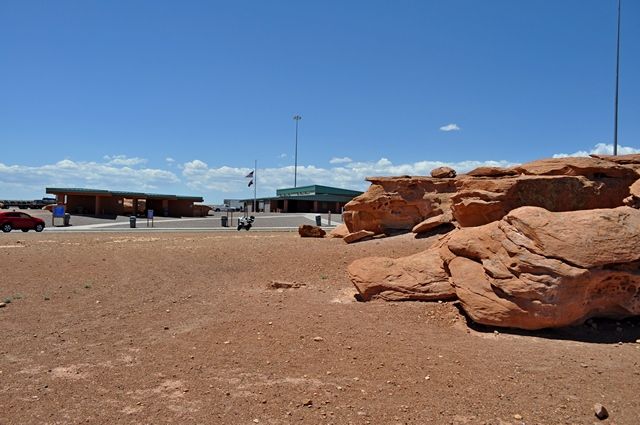 The picnic table was not too uncomfortable and I dosed off quickly. At least I had some shade.
Approaching Flagstaff, which is at the base of those mountains.
We stopped in Seligman, another old RT 66 town for our last break.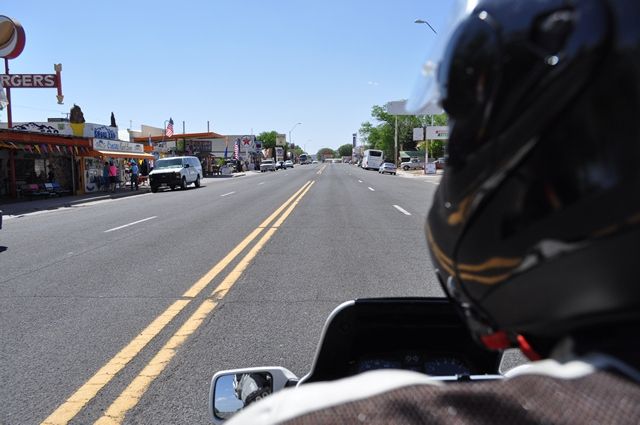 And enjoyed some homemade pie with a tall ice tea at the Westside Lilo's Cafe.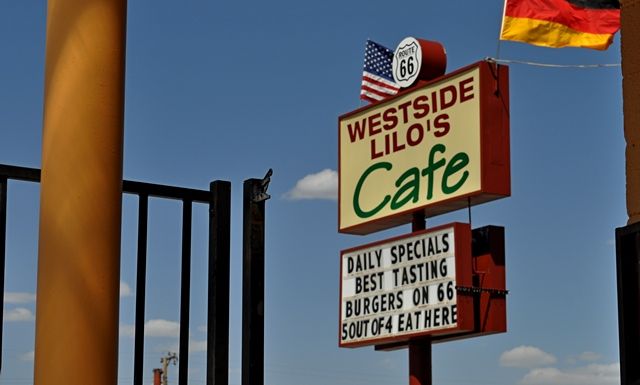 Enjoying the patio with our pie. (I like to sit where I can watch the bike, like most bikers.)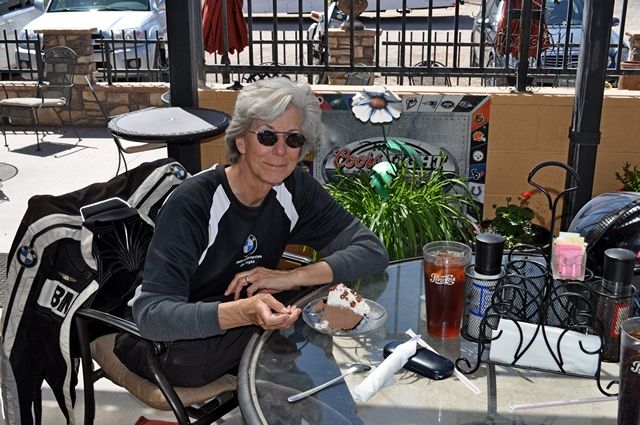 On the home stretch, almost to Kingman, AZ.
The last 100 miles always seems the longest, but, at last Las Vegas comes into view. It was very hazy due to a big sand storm the day before in Phoenix.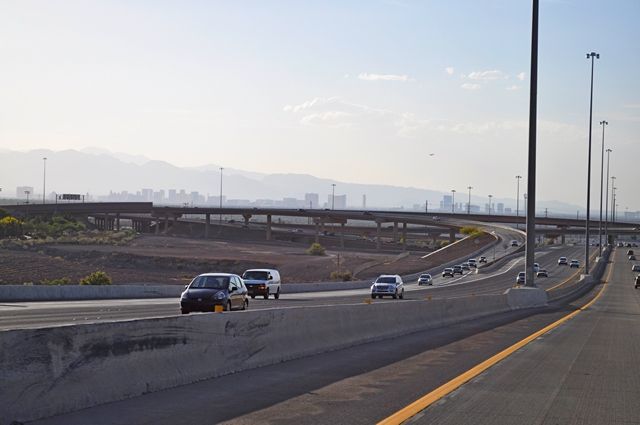 Home at last, arrived at 6:45 pm. Time for a cold frosty adult beverage. Total miles for the day – 523
Odometer when we started.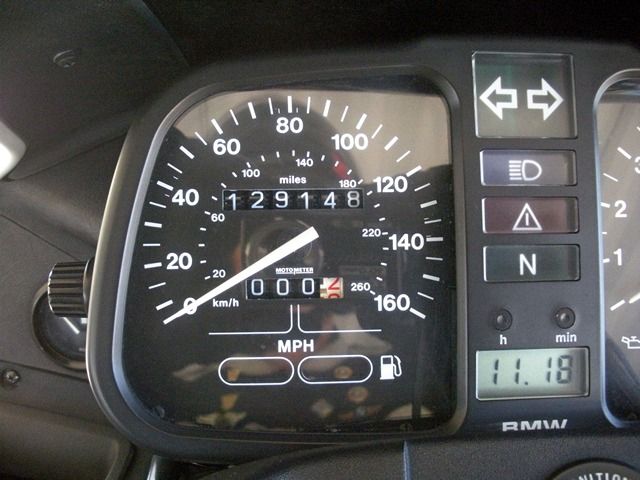 Final odometer.
Sixteen days, 5,677 miles.
Total gallons used 120.18
Miles per gallon – 47.23
Total fuel cost $483.71
This was our 2nd longest trip on the bike (last year's Bloomsburg, PA. trip was 6,074), a few of my observations on this trip:
Our first visit with Alyson & Ben, in a town I lived in 50 years ago, was a great bonus!
Meeting and riding with a group with the same model motorcycle was great fun. Learning from other people and seeing what they have on their bikes to make riding better was educational. Meeting with a very diverse group, making new friends, made this trip a little more special. The cabin & lodge at the state park were fantastic, a great location for a get together. Thanks again to the K11OG forum users for inviting us to attend!
For us, this was new country to ride in & explore, it was nice seeing all that green instead of desert brown. I hope we can ride this part of the country again. Riding the "Tail of the Dragon" was fantastic!
We stayed in motels for 12 of the 16 days, our favorite had to be "The Two Wheel Inn". Several others had rocking chairs – a big plus for me!
For this trip, I included a couple of extra days for travel and any unexpected problems, we needed them, so I'll plan this way again for our future trips. Having an emergency contingency fund was another plus.
We took all the bypasses around big cities, saved us from getting in rush hour traffic a couple of times. I definitely prefer black top interstate highways to concrete. Some of the concrete bypasses were in horrible condition and made for a very bumpy ride.
The weather was very good for us this time of year, we only got wet on a couple of days.
The BMW ran like always, replacing the starter after 132,000 miles did not affect how much fun we had on this trip.
Donna took some video of our ride on the "Dragon". This was our first attempt at this, I'll post it up as soon as I learn how to edit.
This just came in the BMWMOA magazine, we did this ride with the group on day 10. Thanks Steve – for being ahead of the BMWMOA curve, and yes, it is a great ride!
We can't wait until our next trip !!