2015 November Patagonia AZ and Organ Pipe National Monument
We had a free night's stay at the Stage Stop Inn in Patagonia, AZ. that we had to use before the end of the year, so off we went on a two day trip. We had won a silent auction at the 1st BMW Ironhorse rally back in April for the free night.
The route: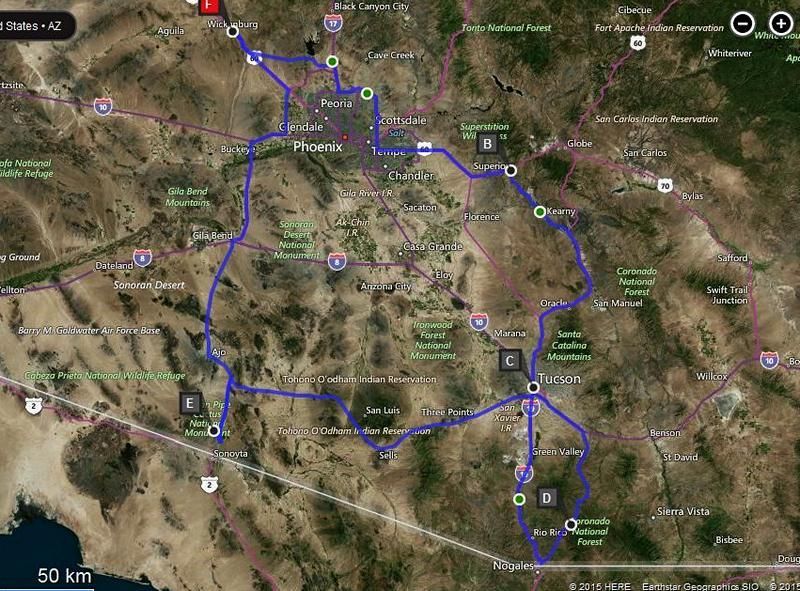 Note: Mapquest has "improved" their website and it is in the writers opinion – just awful! Bing's map-site has also changed and will not embed the map without having to click on the "full map", so I will just be using a screen capture photo from now on. Progress indeed ??
Our first stop was in Phoenix at the MotoGhost BMW shop for a new set of tires and the 6,000 mile oil change. Omar, Geoff, and their technicians have my K bike running better than when it was new! I cannot recommend them enough for their knowledge of "classic K's". Nothing against dealer BMW shops, but when the technician is younger than the bike – I get a little nervous. I had Pirelli – Angel GT's put on.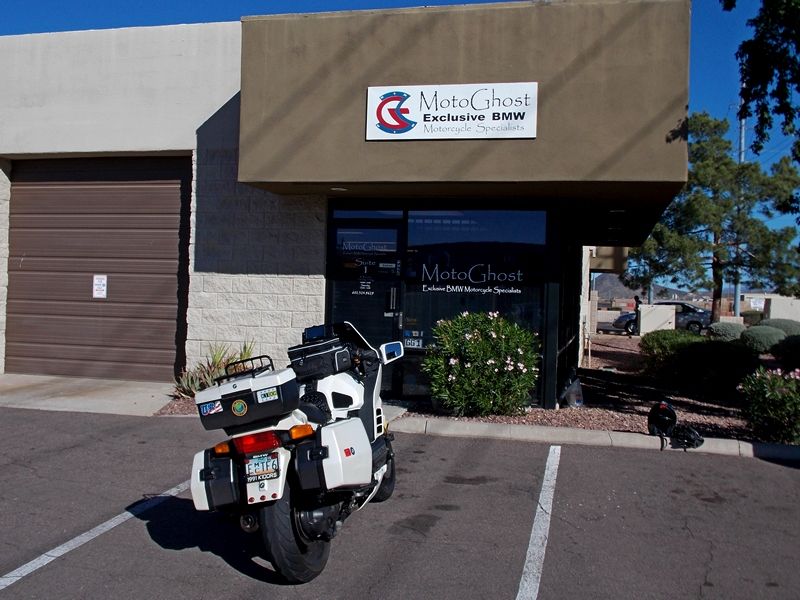 A couple of hours later, off we went. I wanted to travel on roads we hadn't been on, so we took HWY 60 east to Superior. An absolutely perfect day to ride!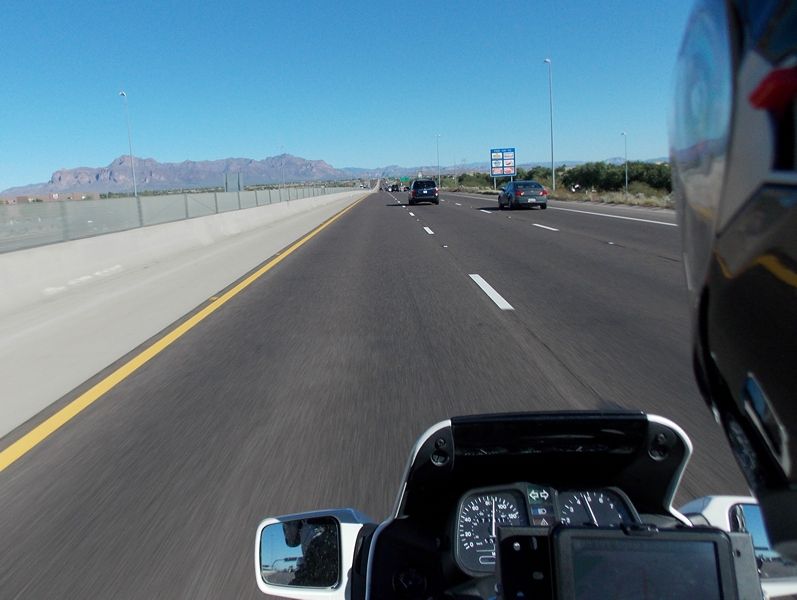 A quick stop for gas & a sandwich in Superior.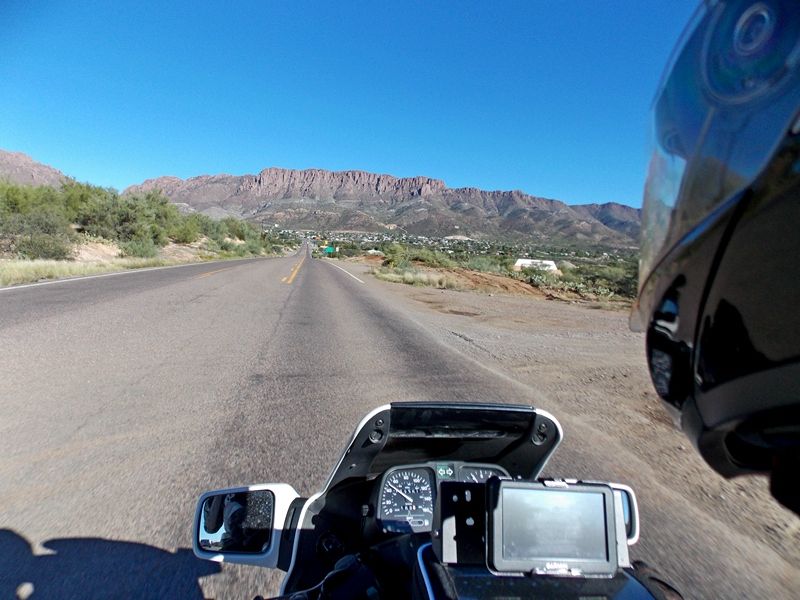 South on HWY 177, a nice ride with some nice wide sweepers.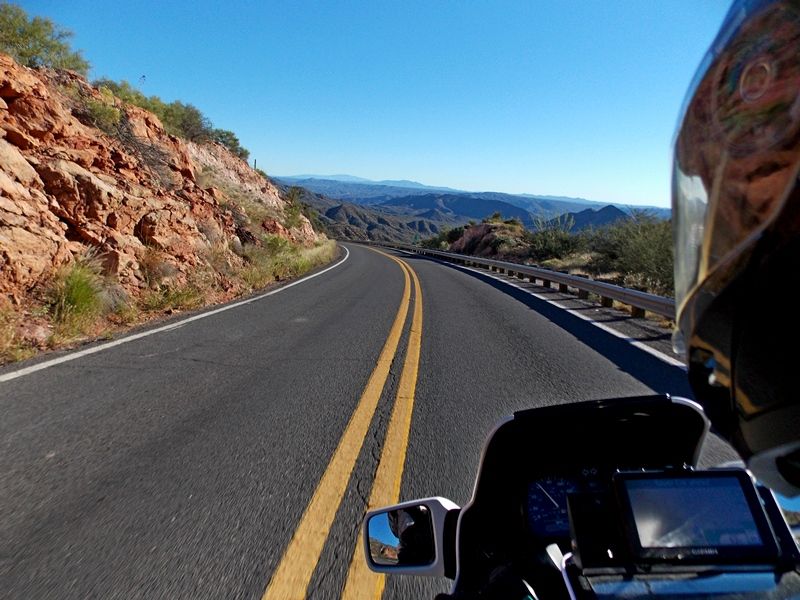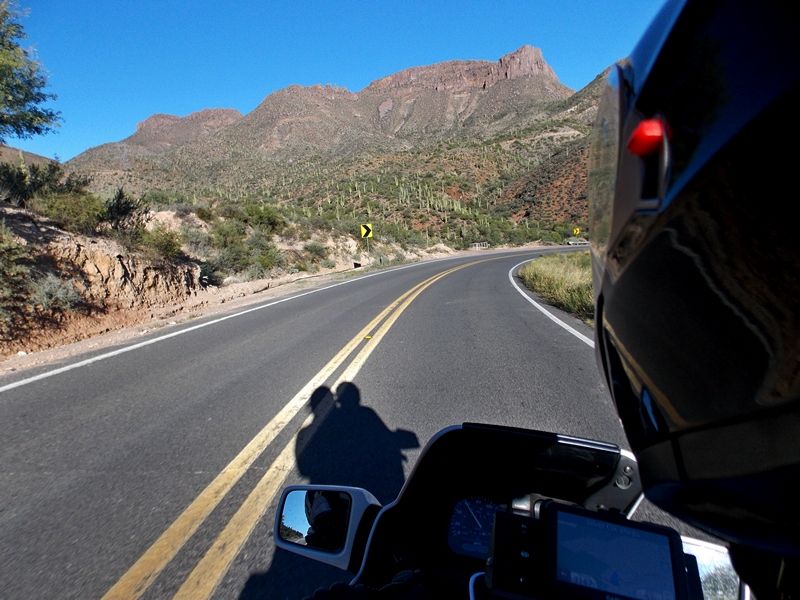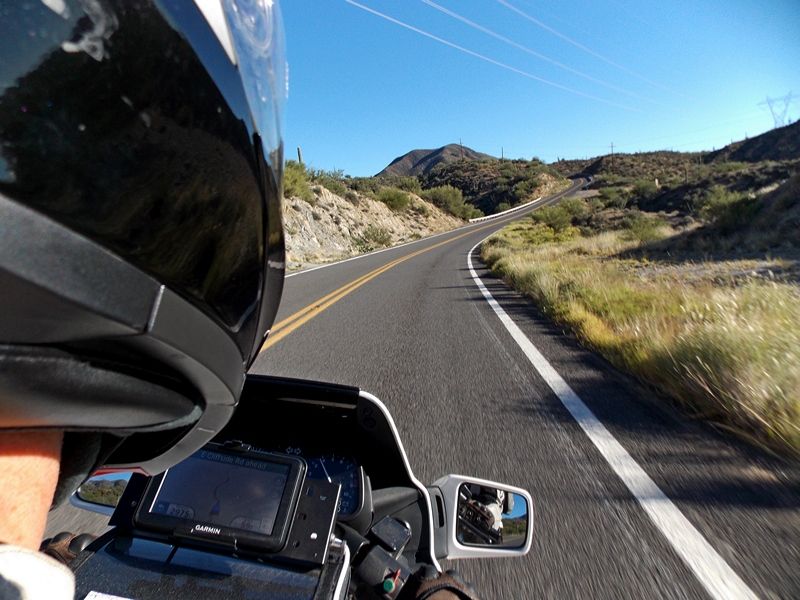 At Ray, AZ. a very large open copper pit.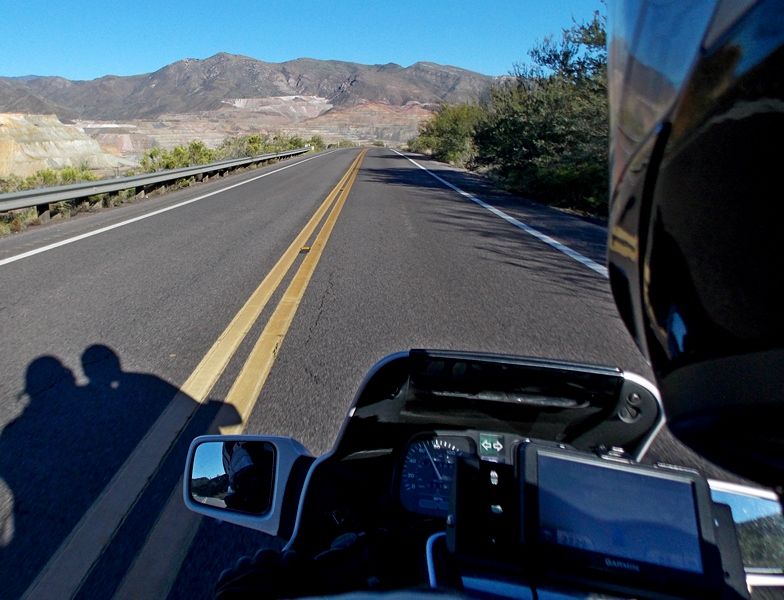 We could not see the bottom, and there was no place to pull over to look. It is still in operation as we could see the very large dump trucks down in the pit.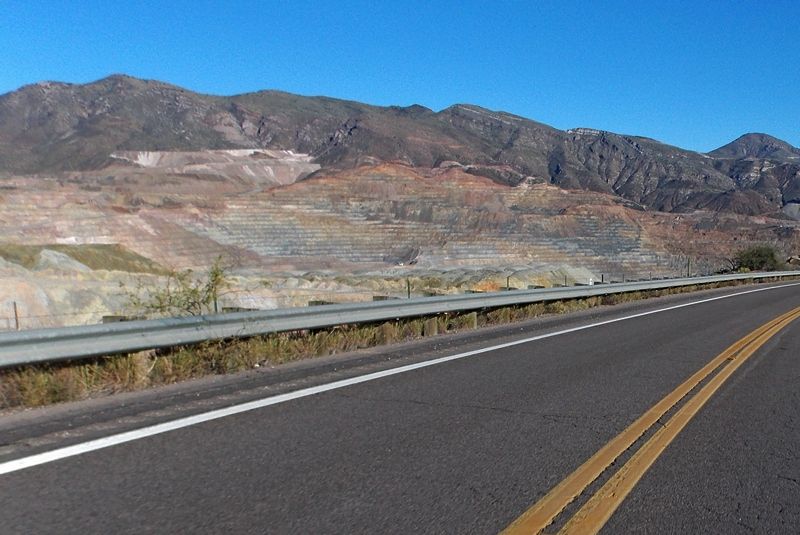 At Hayden, AZ. an oil refinery and a large smelter plant for the copper from the mine at Ray, AZ. It really doesn't show in the photo, but the one smoke stack was very high!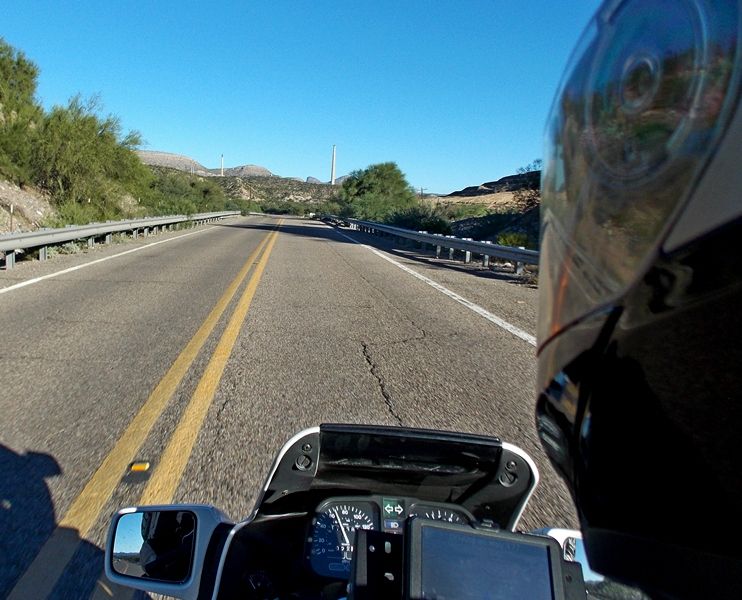 Almost to Tucson.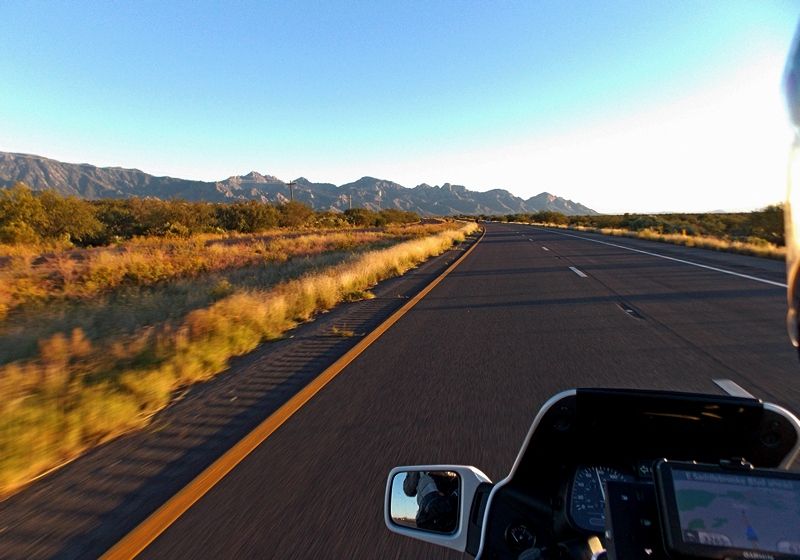 It got dark after we gassed up and the temperature dropped into the high 40's as we covered the last 50 miles to Patagonia, the first time in many years that we rode into the night. My Denali LED lights really light up the night. We arrived right at 7 pm. The hotel was decorated for Halloween, several kids came in for their candy as we checked in. An employee was dressed up as the other figures in the lobby, and was sitting in the (empty center chair in the pic) chair. I didn't realize he was a live person until he handed out the candy to the kids! I thought he was a prop, and I thanked him profusely for not scaring the crap out of me when I walked by him to check in. I didn't realize he was a live person until he handed out the candy to the kids!
Lynne and Gerry took very good care of us; also included in our stay was a free dinner at their restaurant, the Wild Horse. We enjoyed a very good Mexican dinner along with (for me) a frosty adult beverage. Gerry informed us that the pool was a cool 65 degrees. Even though no one was using it, I could not convince Donna that we should go "skinny dipping"! Visiting with Gerry the next morning I learned he had a 1984 BMW K100RT and did some riding with the Arizona Beemers club, so we may run into them in the future. Their website – http://www.stagestophotelpatagonia.com/
The next morning was a brisk 40 degrees, so we walked around the park area across from the hotel and took in some of the history of Patagonia. The train depot had been renovated and is now the municipal courthouse. From old photos at the depot, the train tracks had been right in front where the sidewalk is now.
The only gas station looked to be my kind of place, note the name, but he only had regular gas, so "no sale"!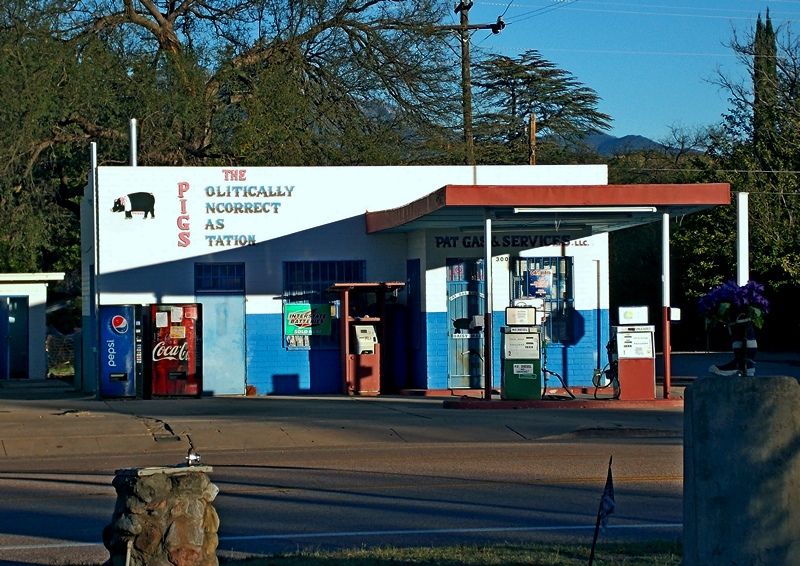 Donna strikes a pose at the flagpole.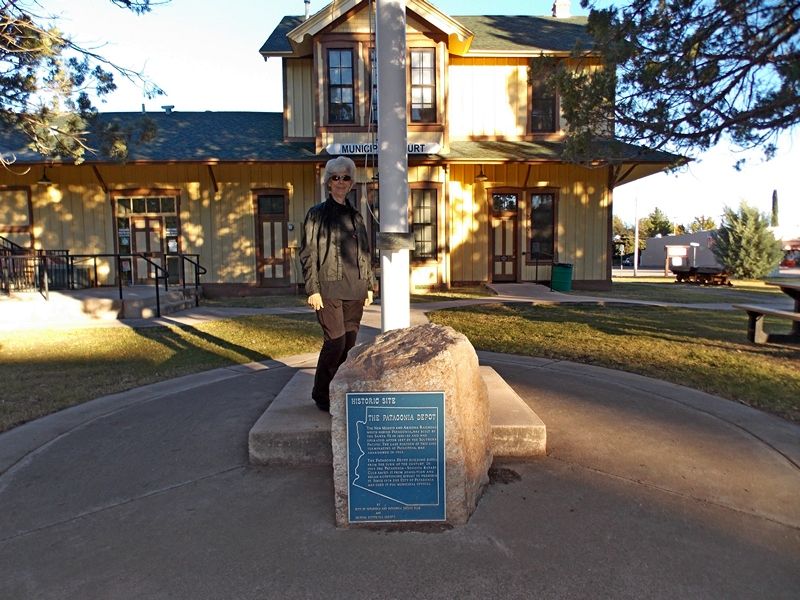 A handyman's special! The outhouse was right out the door.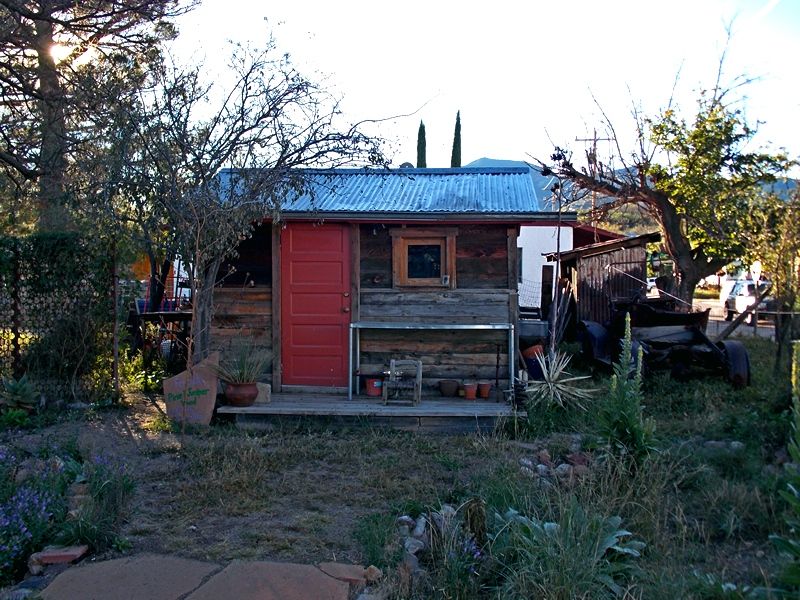 There was a sign out front that this cabin (more like a shack) was in the process of being restored.
Time for breakfast.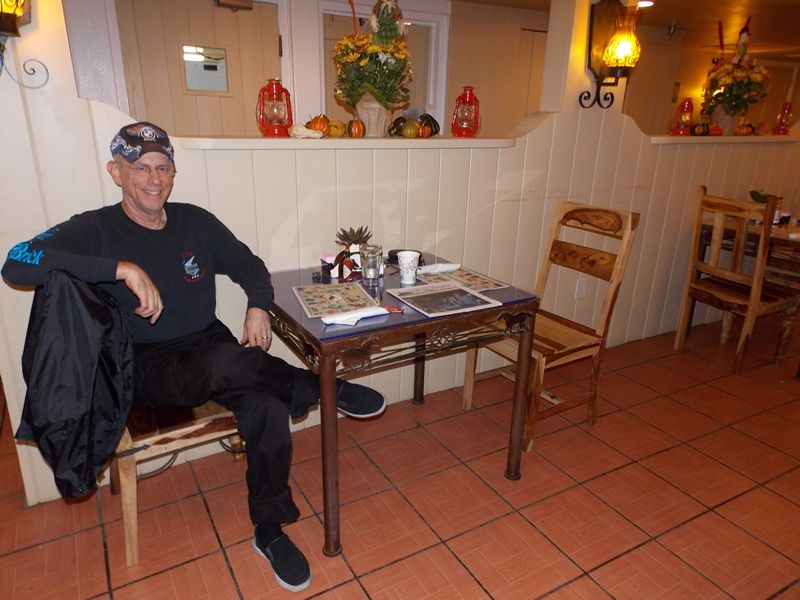 Donna wanted a picture of the inside, so here it is!
The hotel had an outside seating area, but it was still a little chilly for outside dining.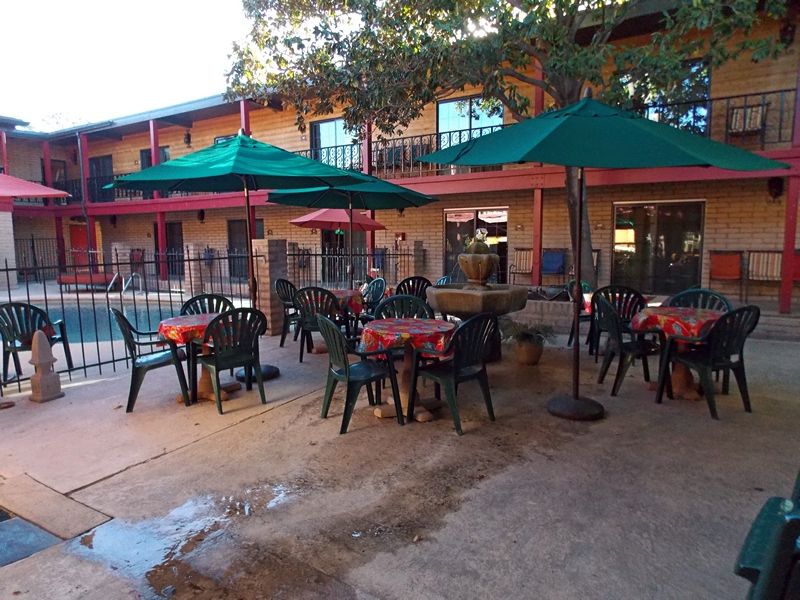 Roses were in bloom around the pool, Donna wanted this picture posted!
By 9 am, it was warm enough to get going.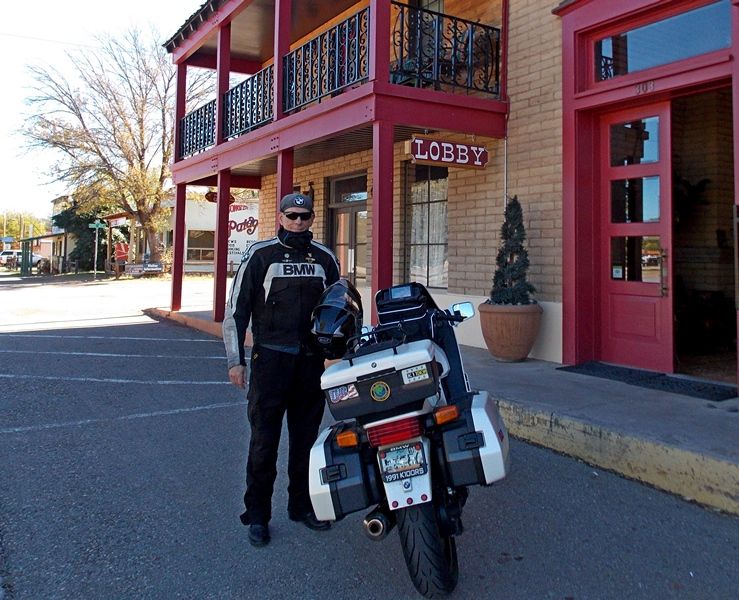 South on HWY 82, the moon was still visible.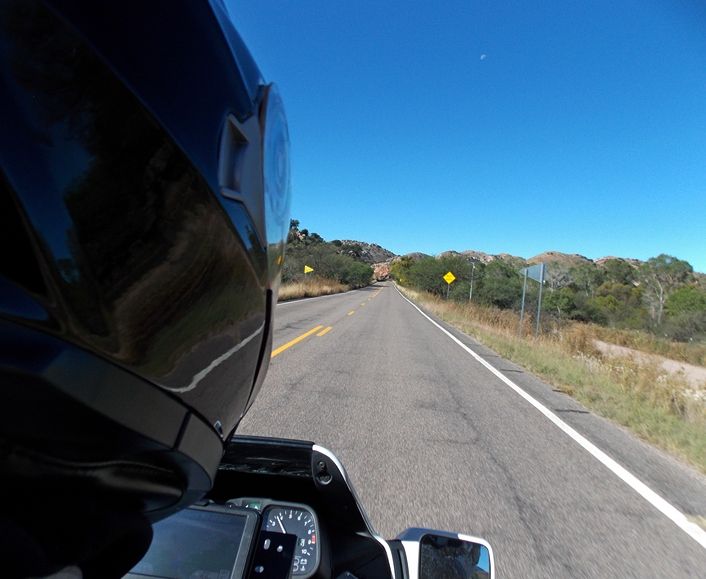 This is why….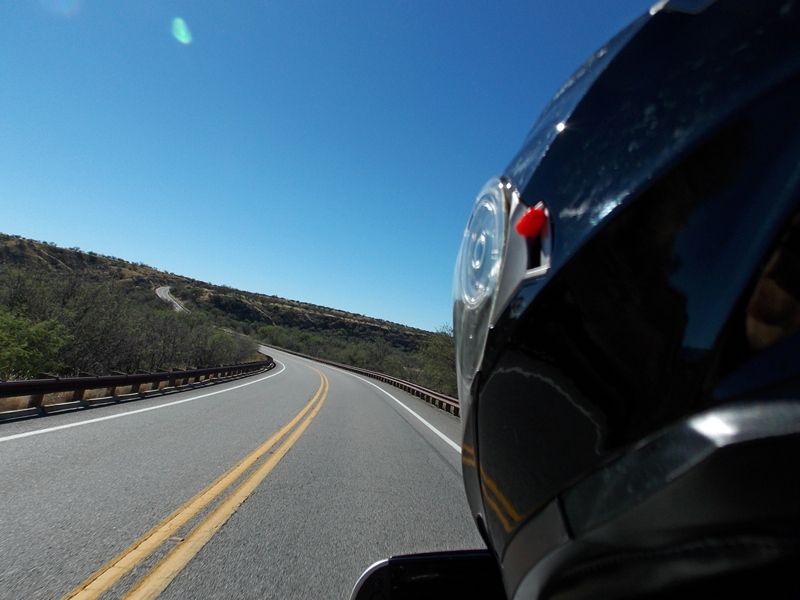 Donna always seems to get 2 or 3 of these, but I give her credit for this one, getting the moon!
Almost to Nogales.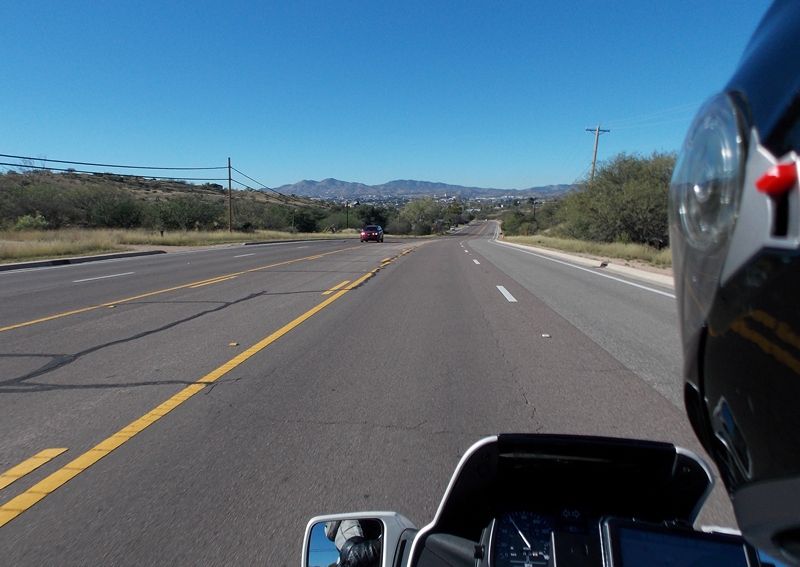 Our first of many Border Patrol checkpoints for the day, on I 19. We were always waived through.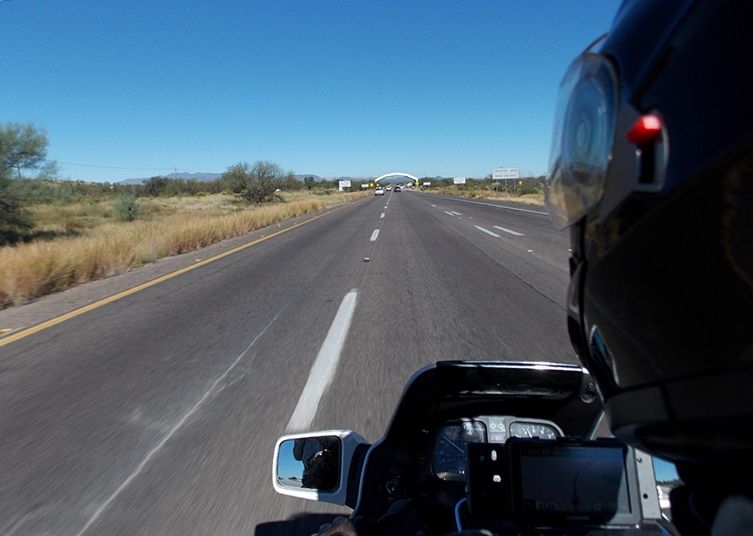 Lots of nothing to look at on HWY 86. This was pretty much our view for the rest of the day!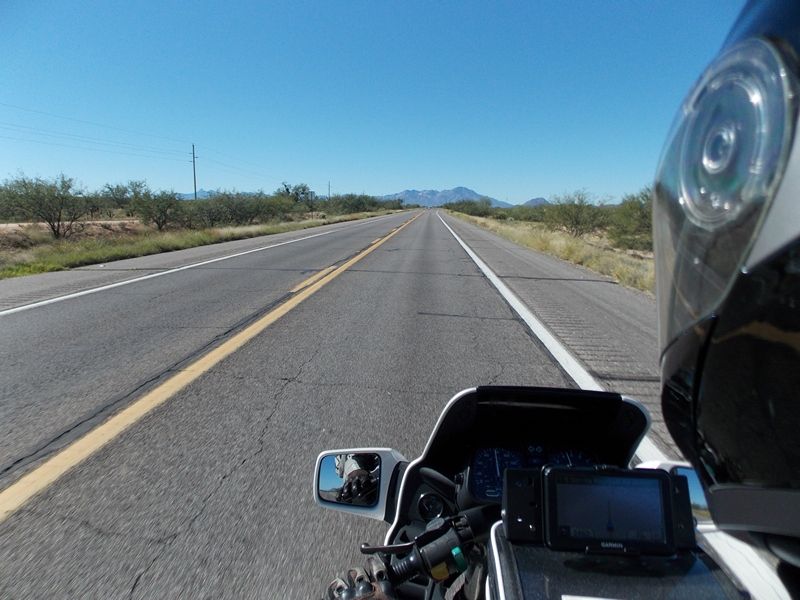 We stopped for a butt break and gassed up at Three Points, a combination Chevron, Ace Hardware & grocery store. I think Donna just likes getting a picture of herself taking pictures.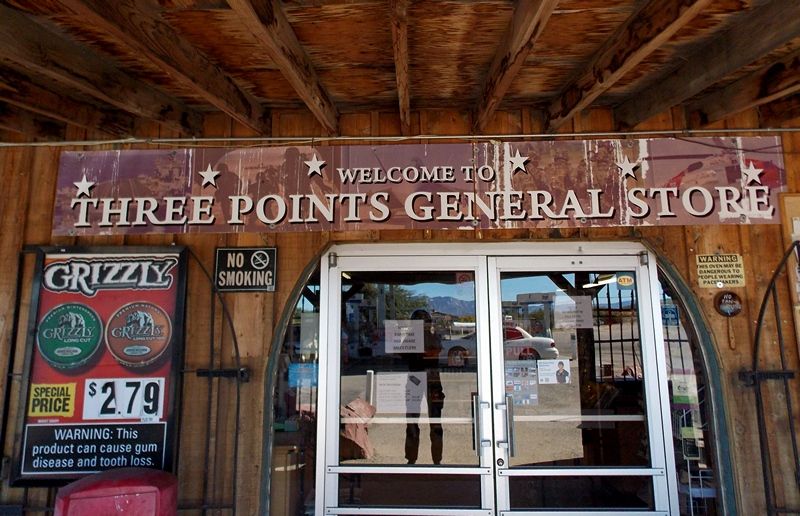 You can't see them, but there were honey bees everywhere around the pumps and I mean many. We peeled off our cold weather gear here as it was starting to get warm.
This was a long 100 mile stretch from Three Points to Why.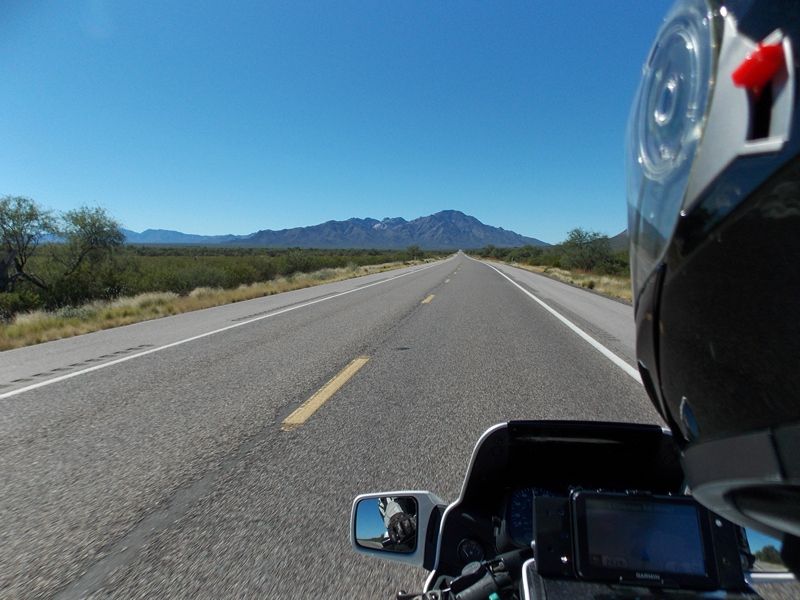 We didn't see much other traffic. The cruise control that our friend Drake Smith put on is a real wrist saver!
Gassed up at the casino / convenience store in Why. Nope, no gambling!
Going south on HWY 85 to the Organ Pipe National Monument. It is marked on my Arizona state map as a scenic route, I'm not sure about that. The Monument has two off road loops, but I don't take the BMW off the pavement unless absolutely necessary, so we didn't really get to see much of the scenery.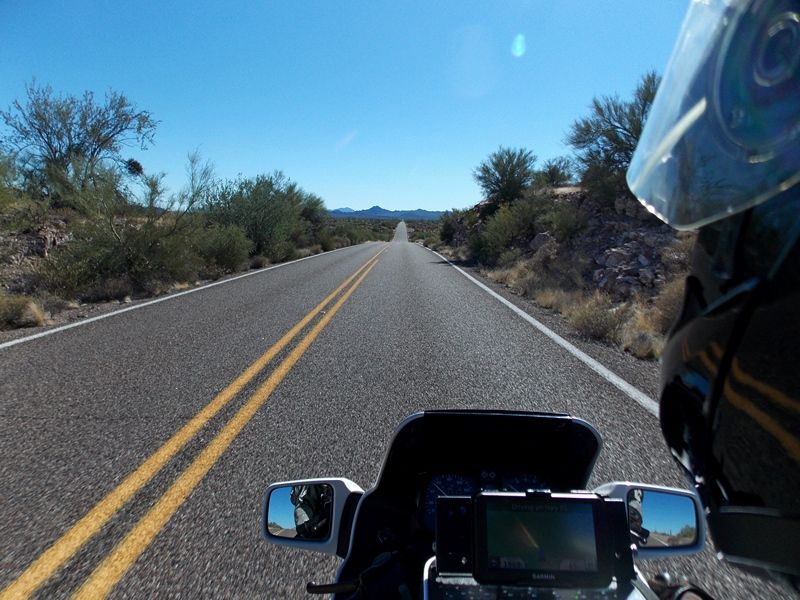 We rode it to the border with Mexico, the town of Lukeville.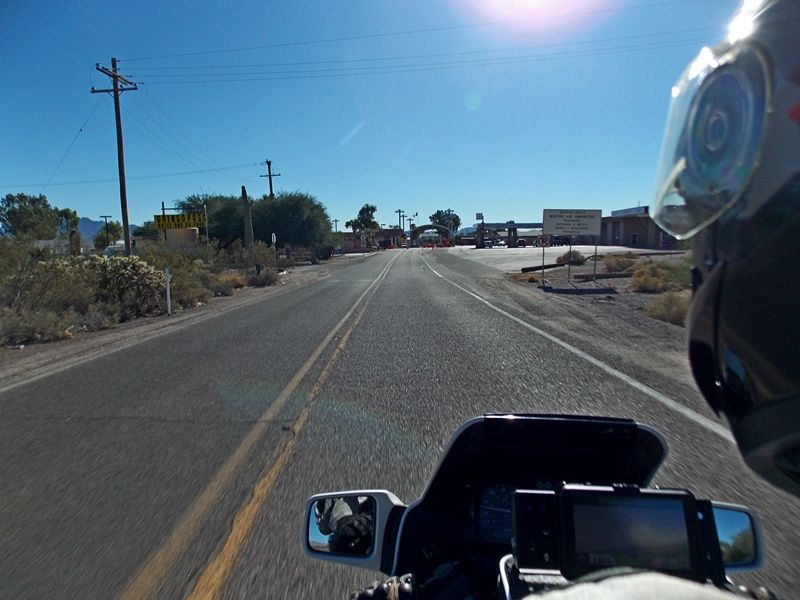 We did not get our usual "Kodak" moment photo, the gravel was very deep & loose, plus there was no one around to take it for us.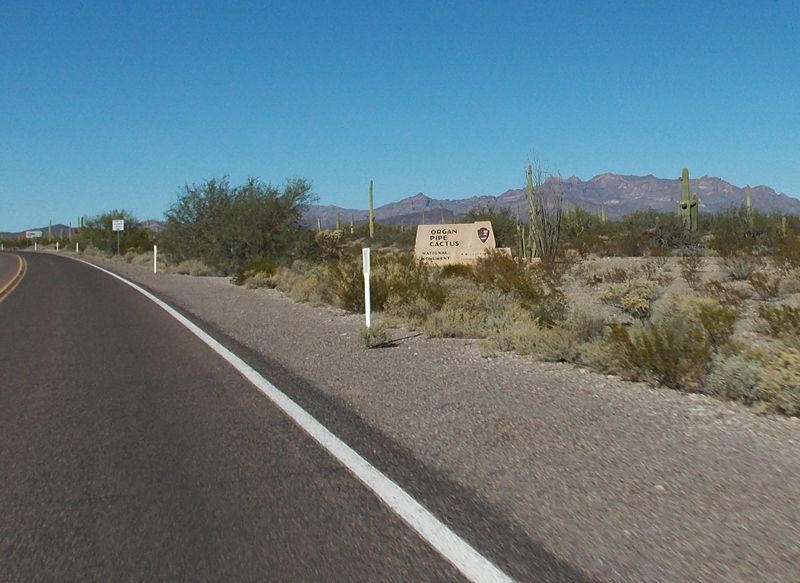 There were only 2 paved pullouts in the Monument, so I didn't take but 3 photos. The Ajo mountains.
Donna didn't have to wait long this time.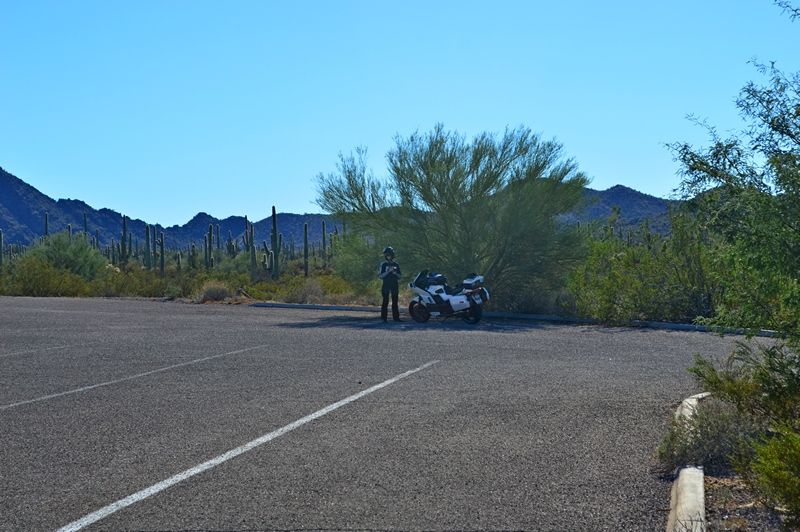 Back on HWY 86 heading north. Another check point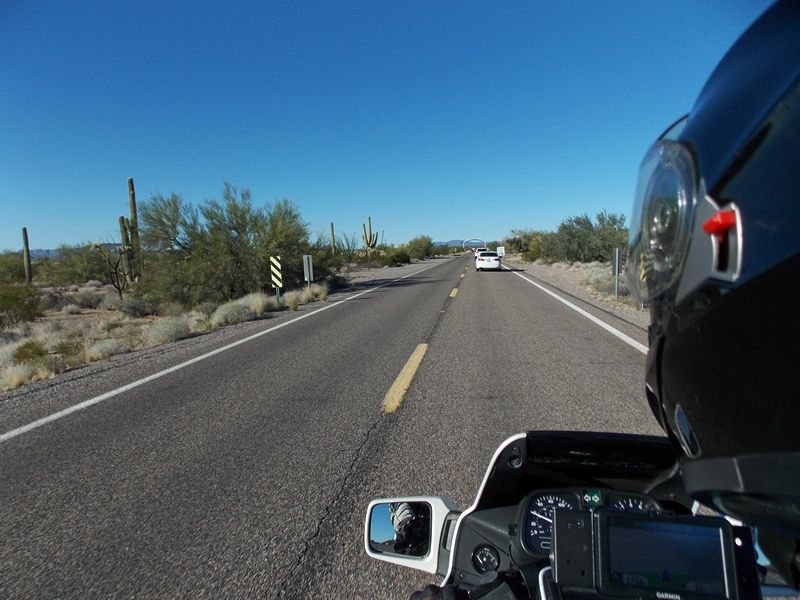 The town of Ajo, AZ.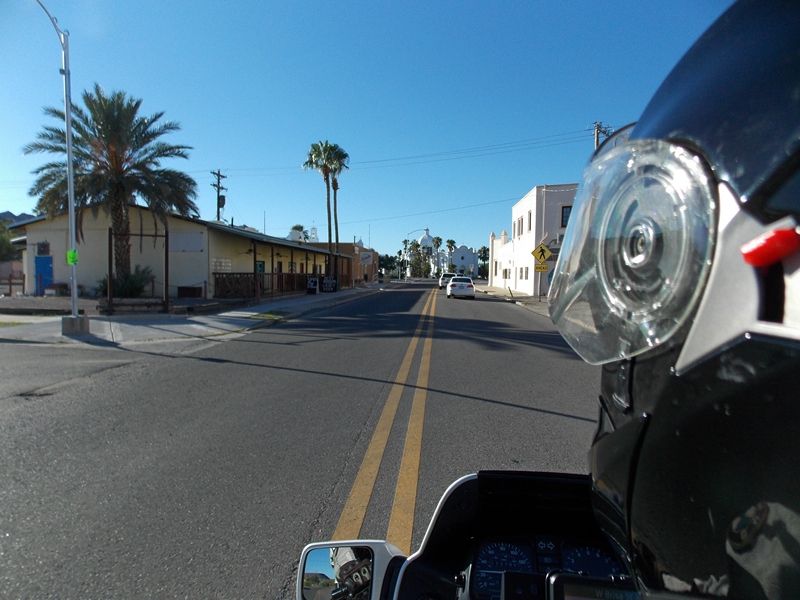 This RV park advertisement was not far from the truth…
Almost as scenic as west Texas.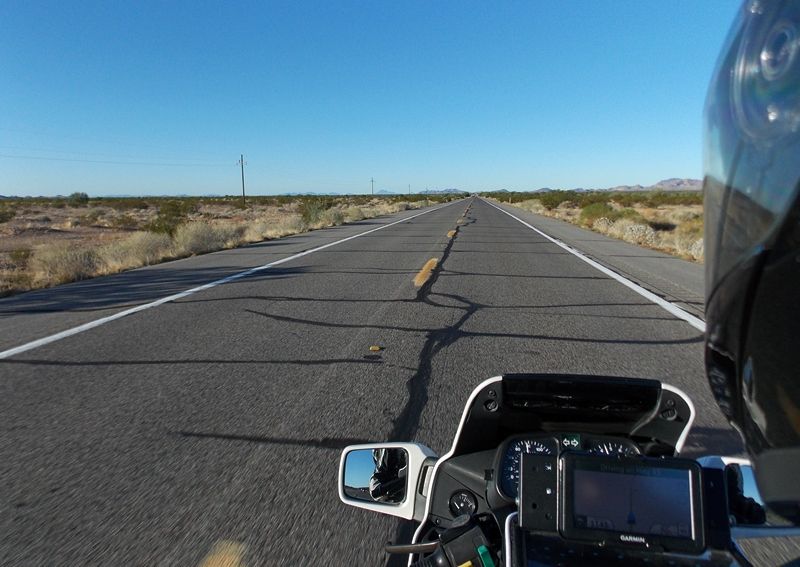 Almost to Buckeye, the sun was setting fast. Donna's last pic of the trip.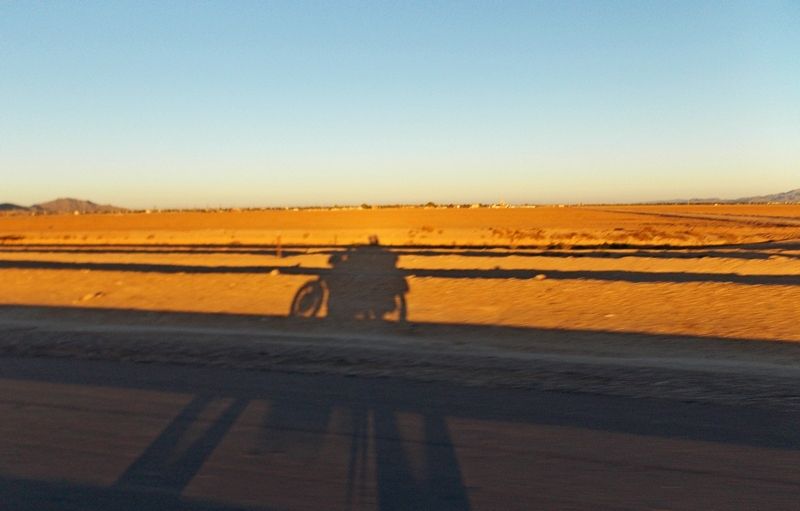 Home in the dark, but I had my customary frosty adult beverage to celebrate another safe trip!
Definitely not the most scenic country to ride through, but we can say we have been to the border with Mexico at Lukeville through the Organ Pipe National Monument. Perfect weather and the BMW ran without issues, always a plus.
Donna took 262 pictures
I took 3
Total miles – 709
Total gas used – 14.11 gallons
Total spent on gas – $35.07
MPG average – 50.24